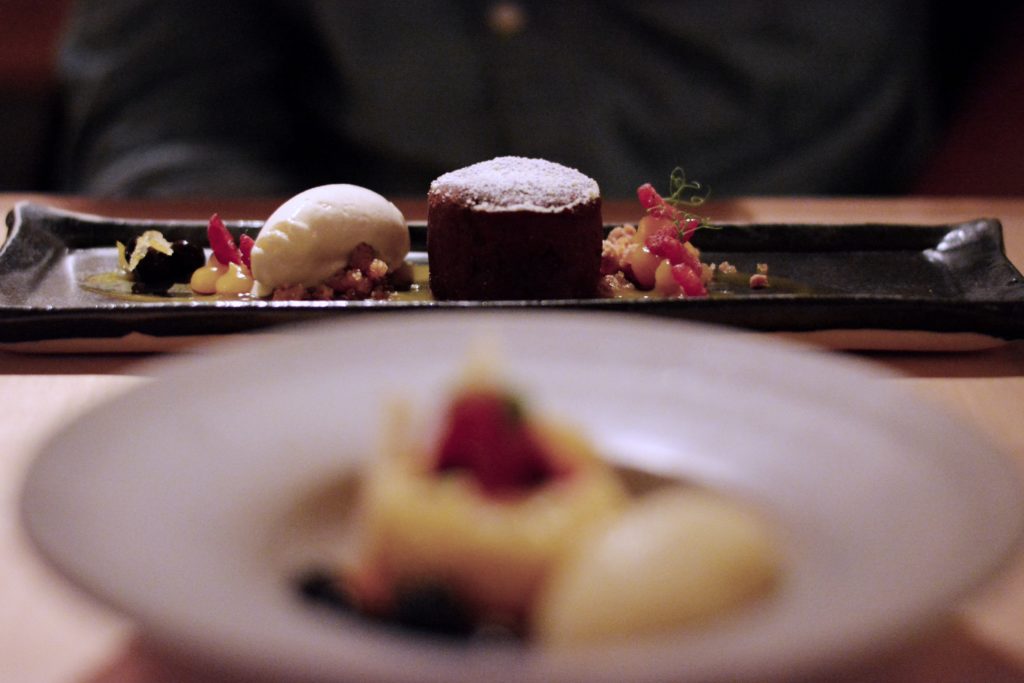 A few days ago we had a very special evening. We had been invited to Emiko, the Japanese restaurant at Louis Hotel in the center of Munich. The Japanese food we had been used to was sushi so once we had tried what else the Japanese kitchen has to offer a few weeks ago we immediately became fans of it. This is why we had really high expectations and let me tell you – these were exceeded.
The Emiko's team warmly welcomed us and showed us our table in the beautiful restaurant which is cozy and still rather minimalistic. The lights are covered with colourfully printed fabrics and give a very soft light. After taking a seat we ordered a glass of sweet wine which was amazing.
At Emiko the order concept is sharing. So what ever you order will be put in the middle of the table and you share each dish. For me the concept is perfect as you can try several things without being full after the first dish. As we like surprises we chose to order the waiter's choice consisting of six dishes. We were able to tell the waiter if there is anything we do not like at all and from then on totally relied on him. He did a great job. Any dish was delicious. We had the following menu and I can recommend any single plate:
– tataki tuna with pickled pear and ginger
– beef tatar with sesame and shiso
– spicy avocado in carrot coat with cashew-togarashi-cream
– softshell crab roll on wasabi cream
– grilled leek served with miso-black sesame sauce
– Entrecôte from Argentina with fried vegeables, rice and tamarind sauce
I can't even say which of these dishes I liked best because they all were amazing. As dessert we had a chocolate cake with a liquid core fruit and ice cream and a Yuzu tarte with icecream, mango gelee and fresh fruit as well. This was the perfect end of an unforgettable evening.
If your are curious now or already a fan of Japanese food you should definitely try the Emiko. Maybe you are celebrating a birthday soon or any other kind of special occasion you should take the opportunity and reserve a table soon. I assure you – you will love the Emiko!
Now have a happy week everyone,
xx Feli
Vor ein paar Tagen hatten wir einen Abend der besonderen Art. Wir waren ins Emiko, das japanische Restaurant im Louis Hotel im Herzen Münchens, eingeladen. Wenn wir japanisch gegessen haben, dann immer Sushi; bis wir vor ein paar Wochen in die wahre Kunst der japanischen Küche eingeführt wurden und seitdem echte Fans geworden sind. Unsere Erwartungen waren also entsprechend hoch und eines kann ich schon einmal vorweg nehmen – sie wurden übertroffen.
Das Emiko-Team hat uns herzlich begrüßt und uns an unseren Tisch begleitet. Das Restaurant ist gleichzeitig heimelig und dennoch relativ schlicht gehalten. Die Lichter, die mit bunten Stoffen bespannt sind, machen im ganzen Raum ein wunderbar weiches Licht. Wir nahmen also unsere Plätze ein und haben einen wunderbar lieblichen Wein bestellt.
Und schon ging es los. Das Bestell-Konzept des Emiko basiert auf Sharing. Das heißt, alles was bestellt wird, landet in der Tischmitte und wird geteilt. Gerade für unentschlossene wie mich, ist das Konzept optimal, denn so kann man viel probieren und ist dennoch nicht gleicht mit dem ersten Gericht satt. Weil wir Überraschungen lieben, haben wir uns entschieden die Waiter's Choice zu bestellen. Die gibt es im Emiko entweder bestehend aus sechs oder acht Gerichten. Wir haben uns für sechs Gerichte entschieden und konnten unserem Waiter nennen, was wir überhaupt nicht gerne essen. Daran angepasst, hat er ausgewählt und das unheimlich erfolgreich. Jedes einzelne Gericht war eine absolute Gaumenfreude. Hier übrigens unser Menü, bei dem ich jedes Gericht nur empfehlen kann:
– Tataki Thunfisch mit eingelegter Birne und Ingwer
– Beef Tatar mit Sesam und Shiso
– Spicy Avocado im Karottenmantel mit Cashew-Togarashi-Creme
– Softshell Crab Rolle auf Wasabicreme
– Gegrillter Lauch im Ganzen serviert mit Miso-schwarzer Sesamsauce
– Entrecôte von argentinischen Rind mit gebratenem Gemüse vom Viktualienmarkt, Reis und Tamarindensauce
Ich kann wirklich nicht sagen, was davon am besten geschmeckt hat. Wahrscheinlich war es einfach die Kombination aus so vielen leckeren Zutaten. Als Nachtisch haben wir es uns nochmal richtig gut gehen lassen und ein Schokotörtchen mit flüssigem Kern mit frischem Obst und Sorbet sowie ein Yuzu-Törtchen ebenfalls mit Früchten und Sorbet auf einem feinen Mangogelee bestellt. Das war der krönende Abschluss eines ganz tollen Abends.
Wenn ihr jetzt neugierig geworden seid, oder sowieso ein Fan japanischen Essens seid, dann solltet ihr nicht länger warten und direkt einen Tisch im Emiko reservieren. Vielleicht gibt es ja schon bald einen passenden Anlass wie einen Geburtstag oder eine andere Gelegenheit, um sich einmal wieder etwas ganz besonderes zu gönnen?! Ich garantiere auch jedenfalls, ihr werdet das Emiko lieben!
Jetzt wünsche ich euch einen schönen Start in die neue Woche,
xx Feli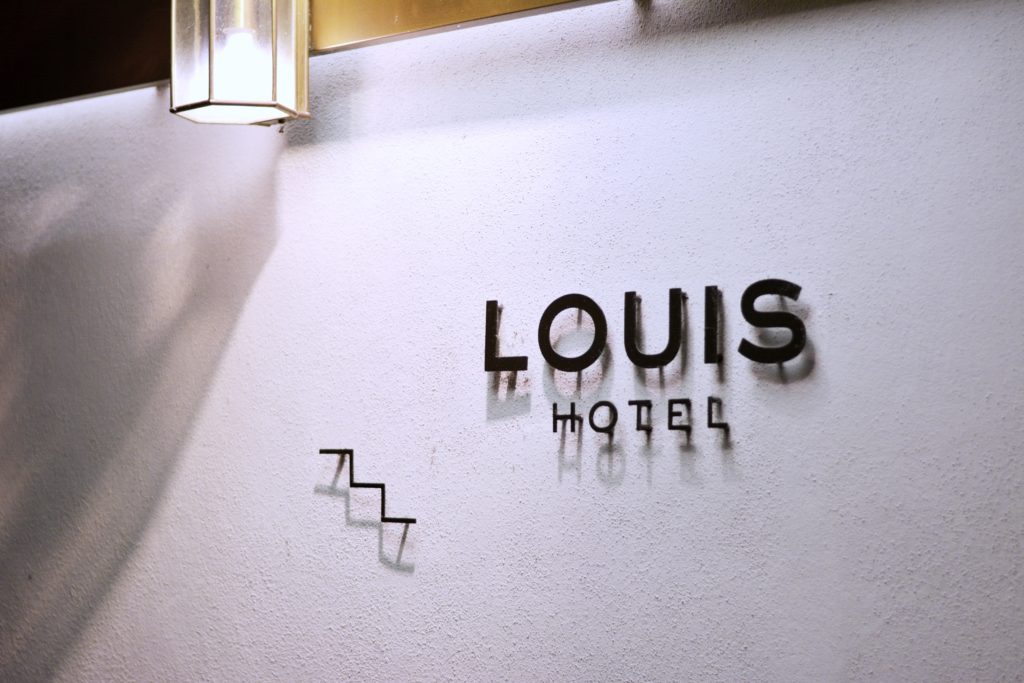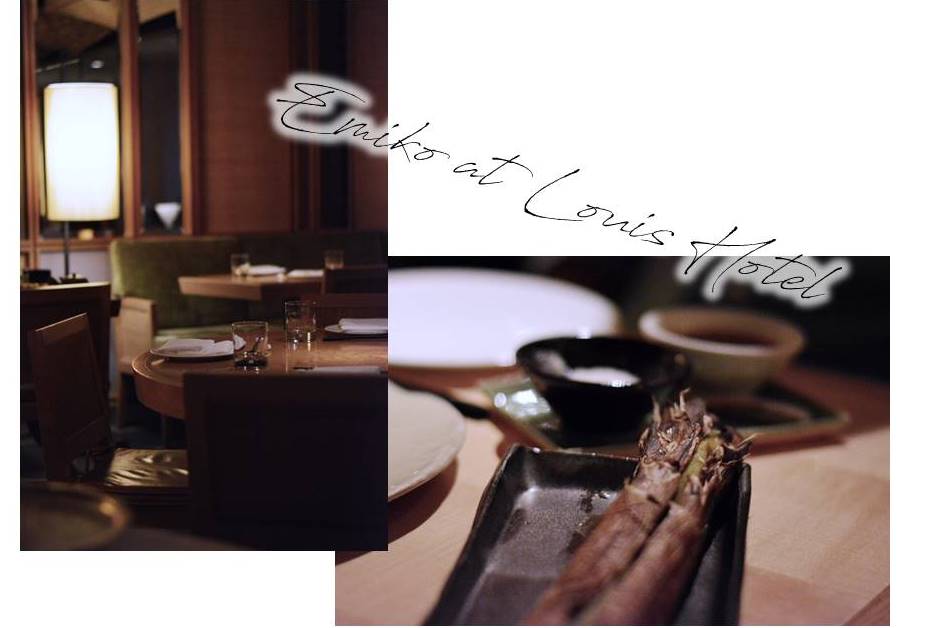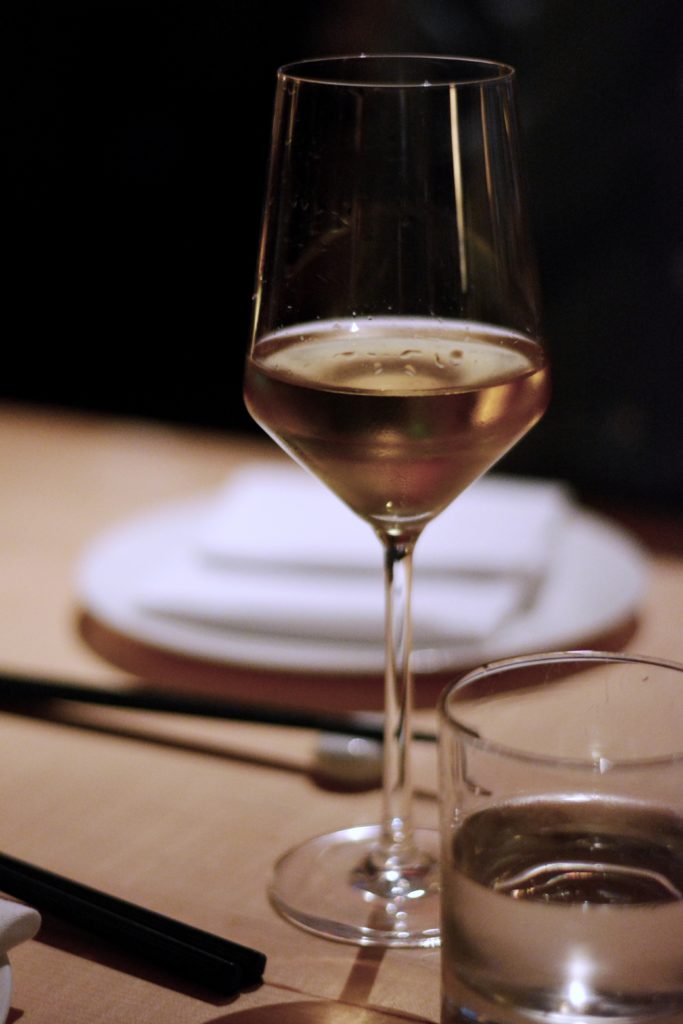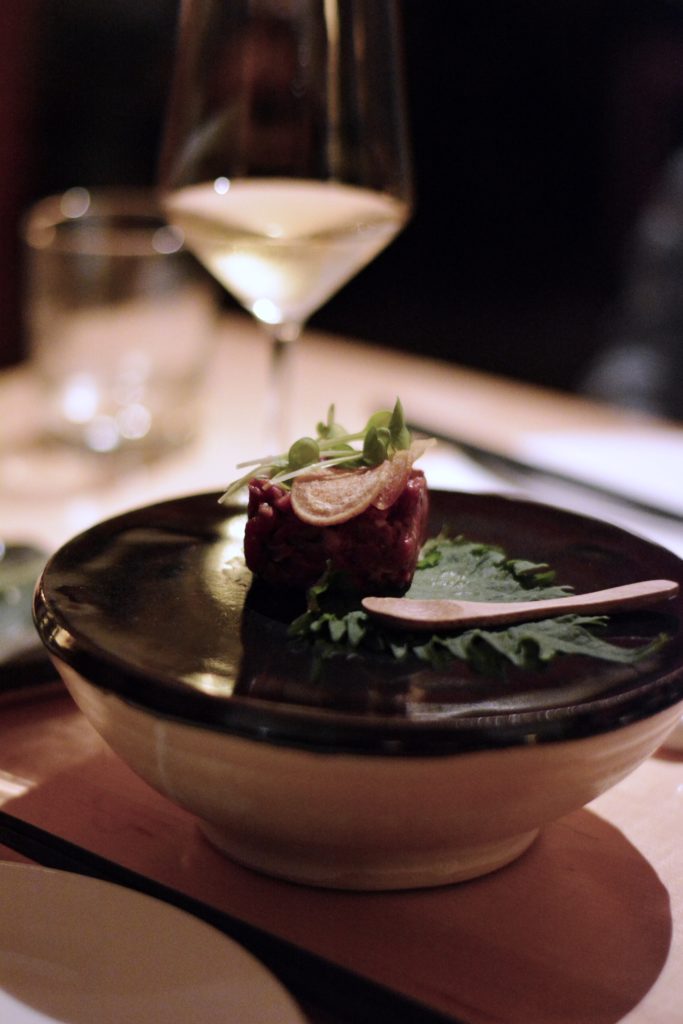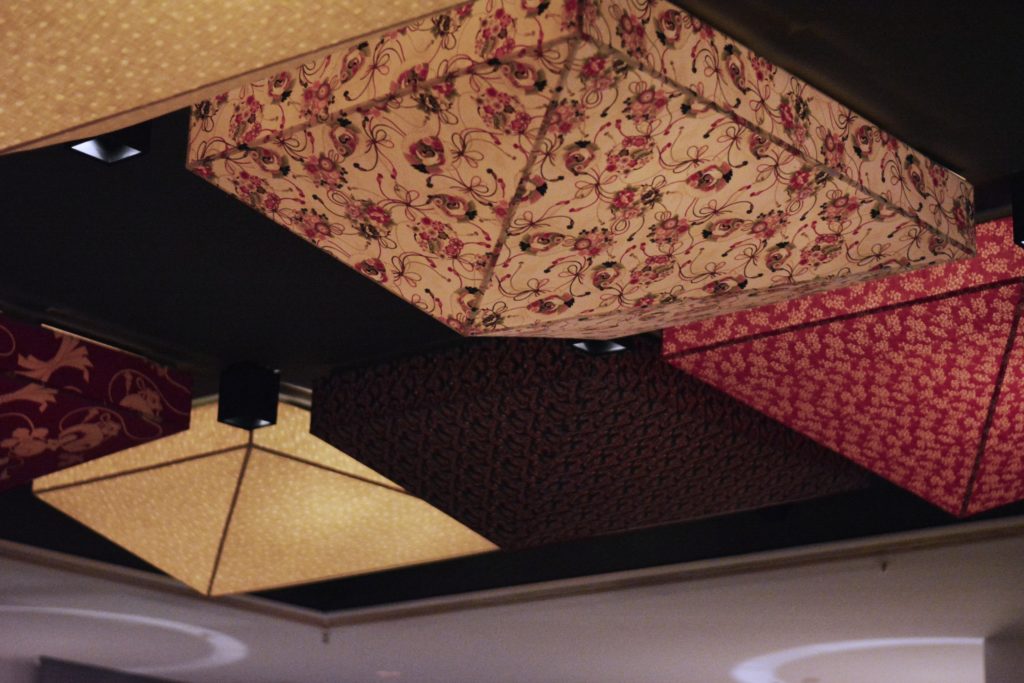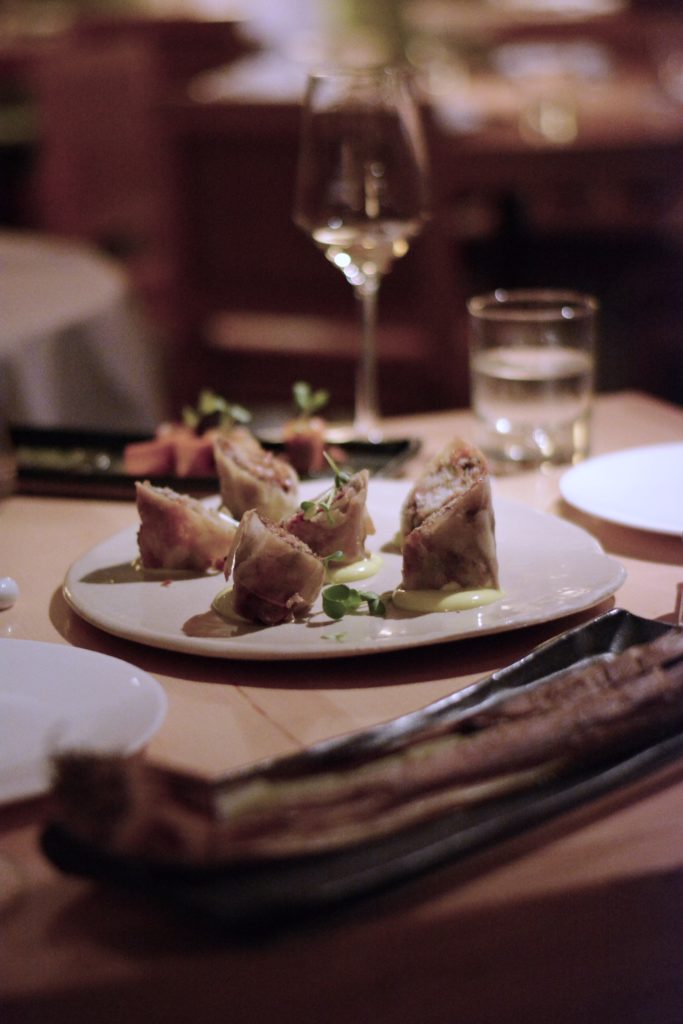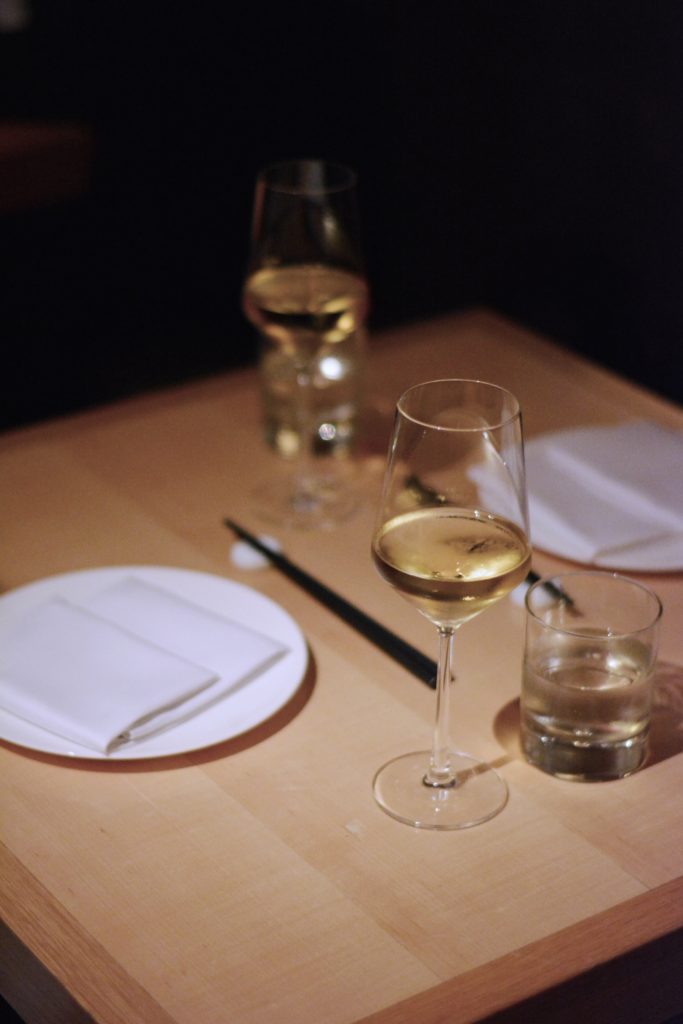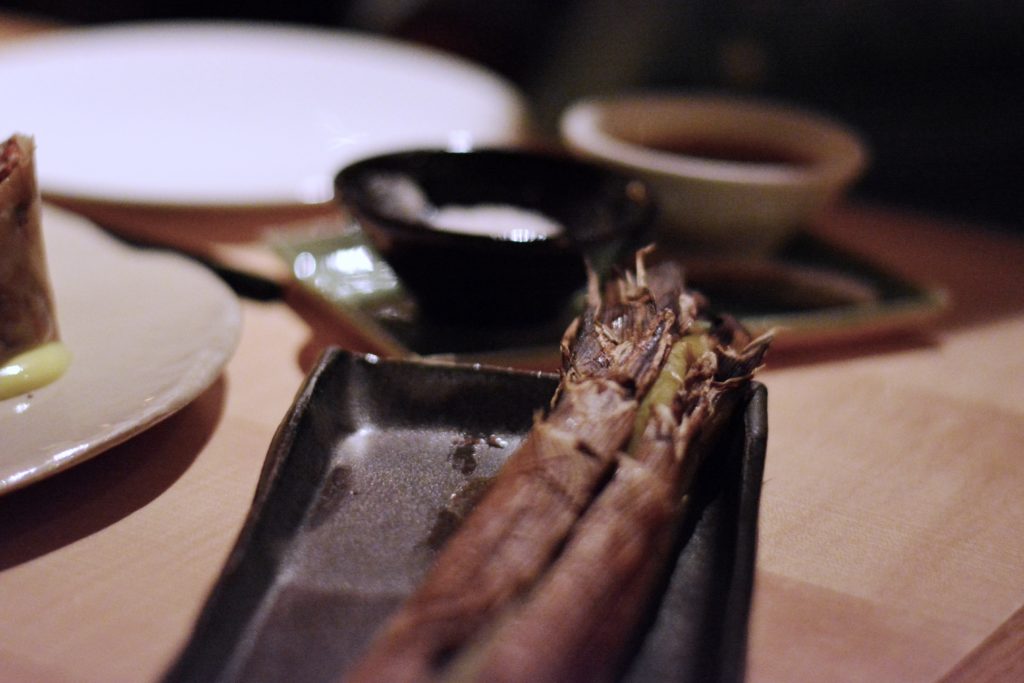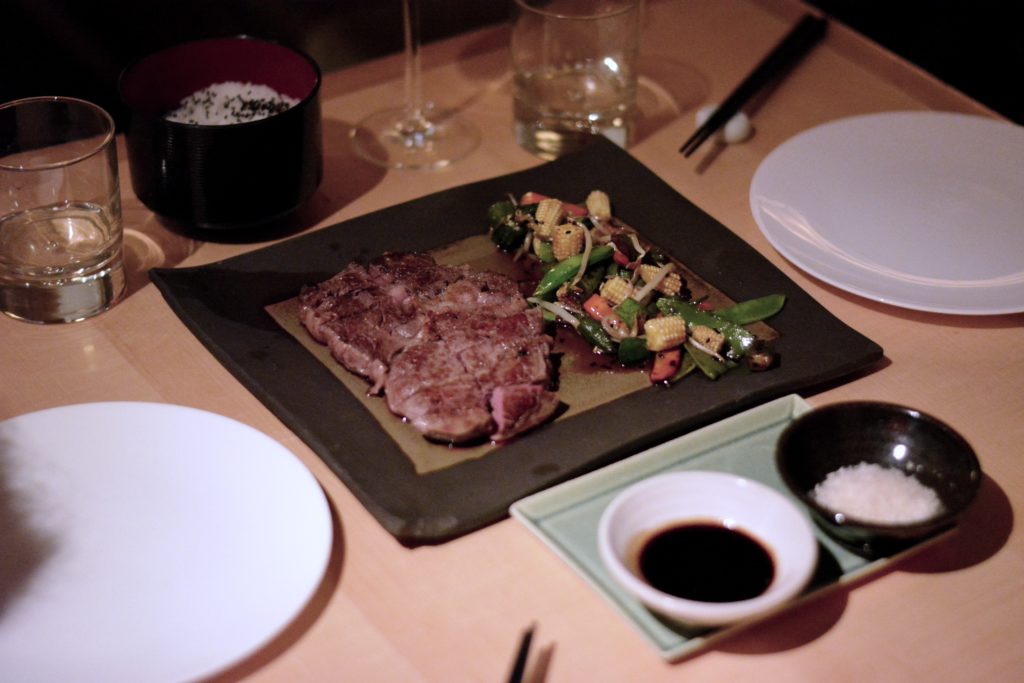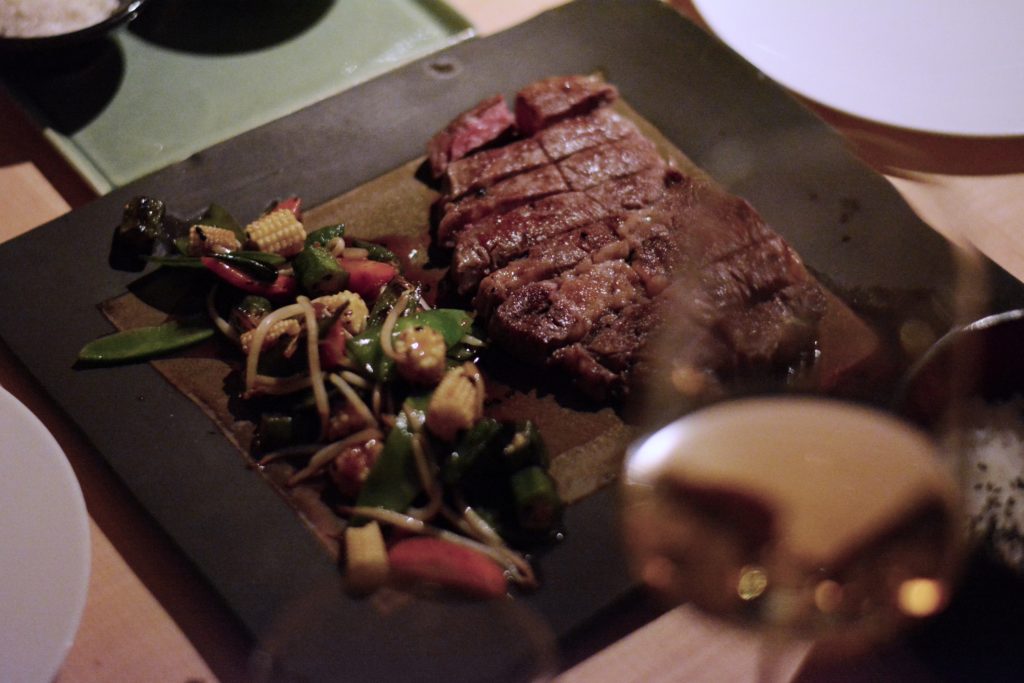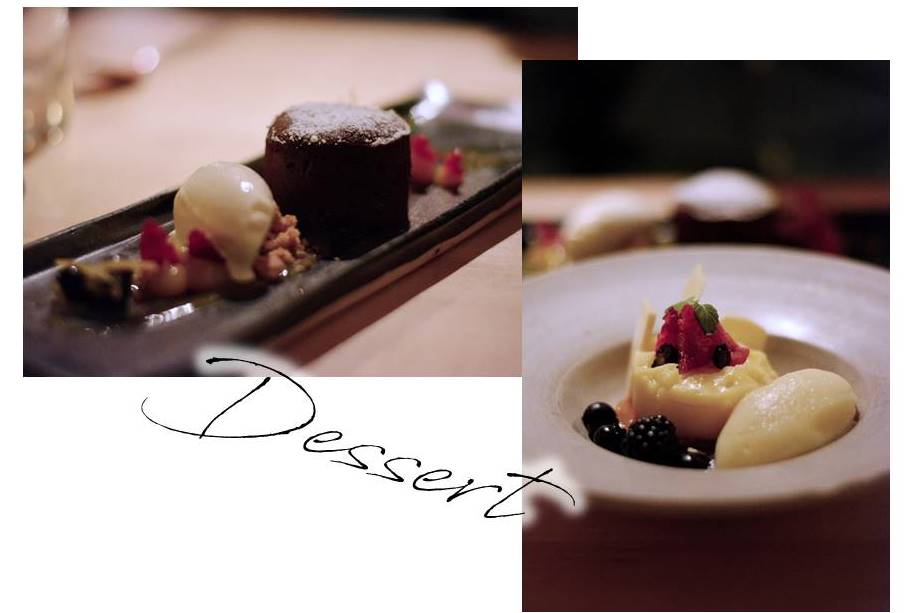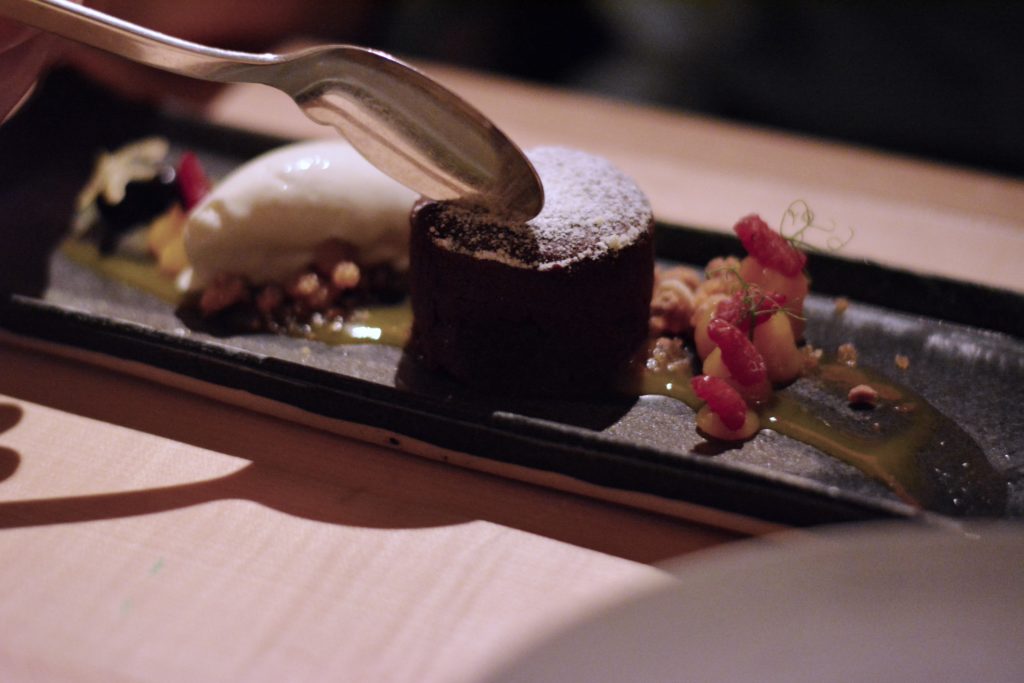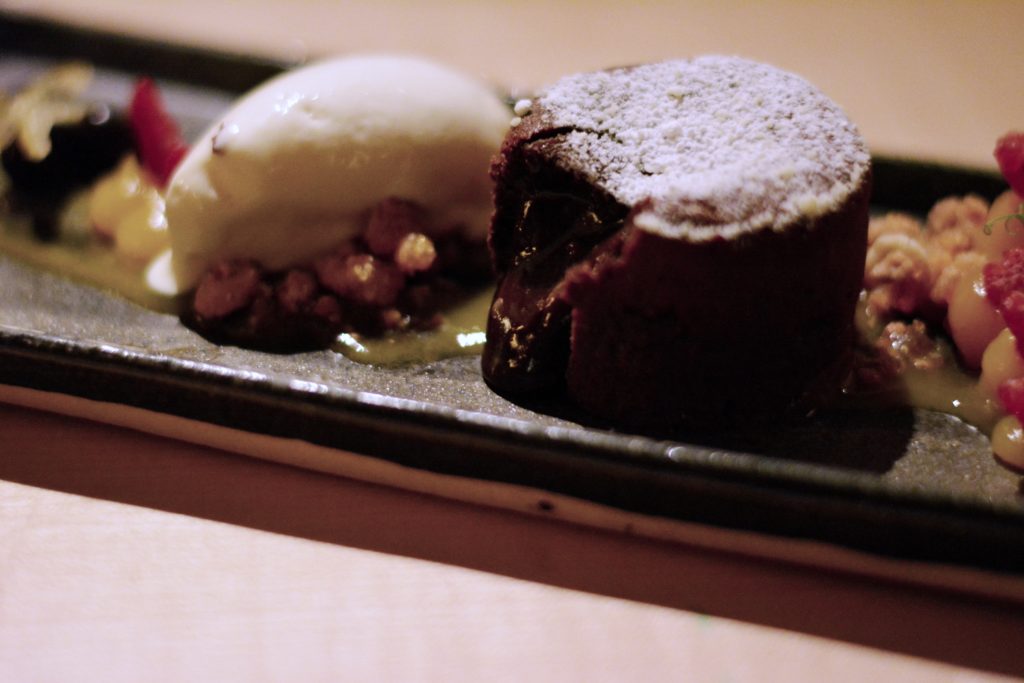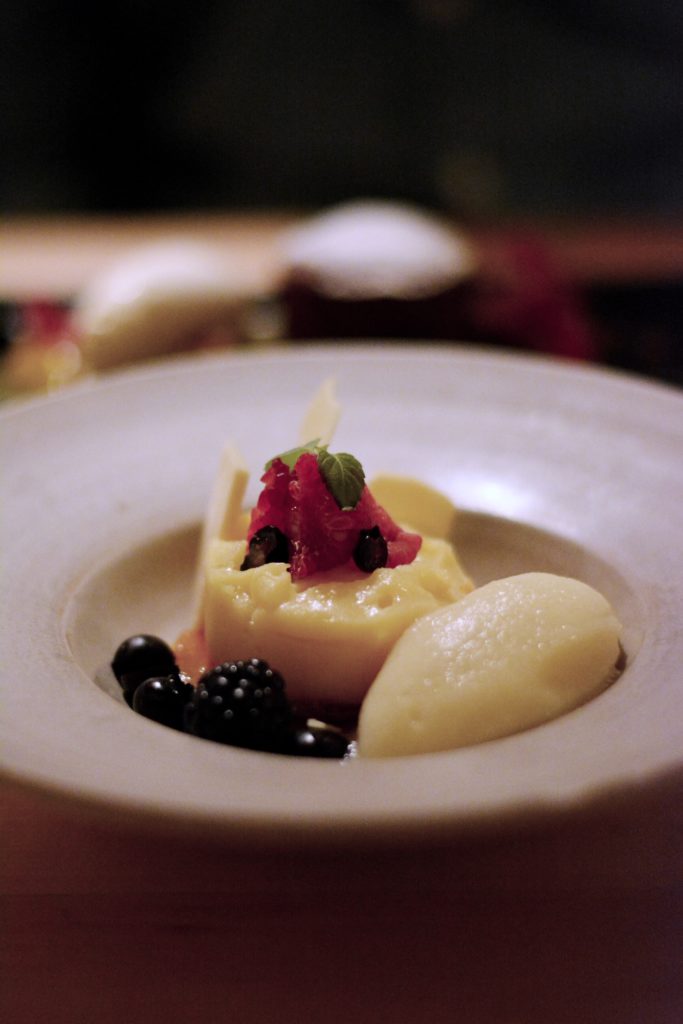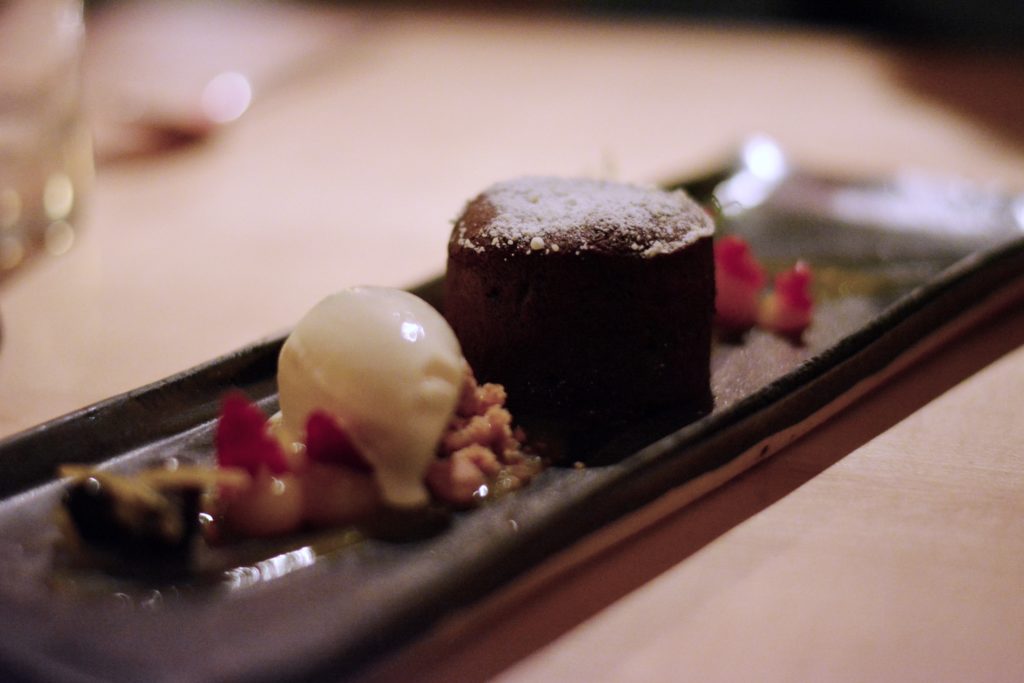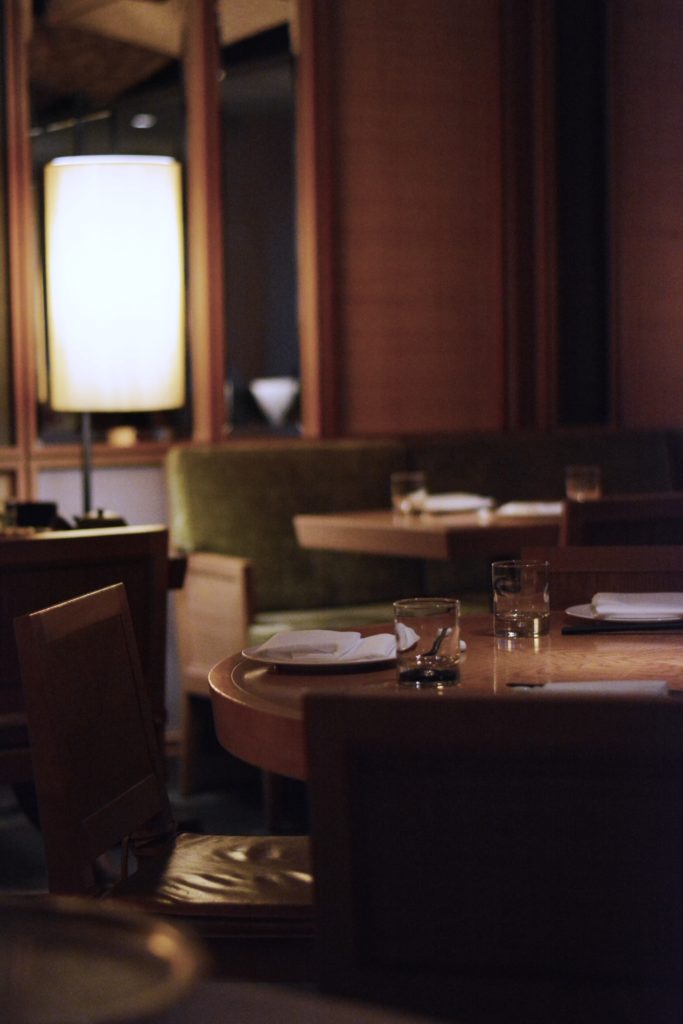 Ad/Werbung: In collabortion with the Emiko./In Zusammenarbeit mit dem Emiko.