Werbung I Ad
ENG
Hello everyone!
It's been a while since I last posted something on here. But today I am back with a little home update. In my opinion, often when a room lacks cosiness and character that is not because of missing furniture but because of naked walls. That was the case in my flat as well so today you'll get an update from the place have been living in for almost two years now and that definitely did get an amazing new vibes with some wall art I found on Printler.
You don't know Printler? Well then you shouldn't stop reading just yet!
DE
Hallo ihr Lieben!
Seit meinem letzten Beitrag hier ist eine Weile vergangen. Aber heute melde ich mich mit einem kleinen Home Update bei euch zurück. Denn wenn es einem Raum an Gemütlichkeit und Charakter mangelt, liegt das selten an fehlenden Möbeln und viel mehr an kahlen Wänden. Deshalb gibt es also heute einen Einblick in die Wohnung, in der ich inzwischen seit knapp zwei Jahren wohne und die dank Wall Art von Printler ein wundervolles Update bekommen hat.
Printler kennt ihr nicht? Dann lest mal schleunigst weiter!
Welcome to the universe of Printler
Genuine Wall Art adds to a home. What we hang on our walls can tell us about memories, dreams, desires and much more. Or simply look great along with our interior. Photography, watercolor, mixed media, graphic art. What is it that you like best for your home? Or do you even enjoy combining different styles?
Printler is NOT just another posters shop. Printler works with amazingly talented local artists, photographers and painters to be able to offer authentic, unique wall art and ensure they are getting paid a fair compensation for their hard work. All art prints are made to order which means they only get printed once an order is placed. The printing process takes place in an atelier in beautiful Stockholm, Sweden. 
Photography, watercolor, mixed media, graphic art. What is it that you like best for your home? Or do you even enjoy combining different styles? With Printler, you will discover thousands of creative artists with an enormous breadth and skill, who create wall art with a variety of techniques. All Printler artists have their own shop to which they refer their customers. In their galleries you will find a collection of their artwork, particularly suitable as a beautiful interior detail. The selection at Printler is large so you can definitely find something for every room.
Willkommen in der Welt von Printler
Gelungene Wall Art macht ein Zuhause einfach aus. Was wir an unsere Wände hängen erzählt von Erinnerungen, Träumen, Wünschen und so viel mehr. Oder sieht schlicht und einfach genial zu unseren Lieblingsmöbeln aus. Ob Fotografien, Aquarelle, Illustrationen, grafische Werke. Was habt ihr am liebsten? Oder kombiniert ihr gar gerne verschiedene Stile? 
Printler ist aber nicht einfach nur noch ein Postershop von vielen. Printler arbeitet mit wahnsinnig talentierten, lokalen Künstler*innen, Fotograf*innen und Maler*innen zusammen und kann somit authentische, einzigartige Wall Art anbieten während besagte Künstler*innen fair für ihre geniale Arbeit entlohnt werden. Übrigens werden alle Art Prints made to order gedruckt, also erst dann, wenn eine Bestellung eingeht hergestellt und das alles im eigenen Printler Atelier im schönen Stockholm.
Alle Künstler*innen präsentieren eine persönliche Auswahl ihrer Kunst in ihrer eigenen Galerie auf Printler. Dadurch ist die Vielfalt grenzenlos und für jeden Raum in der Wohnung ist das ideale Motiv dabei.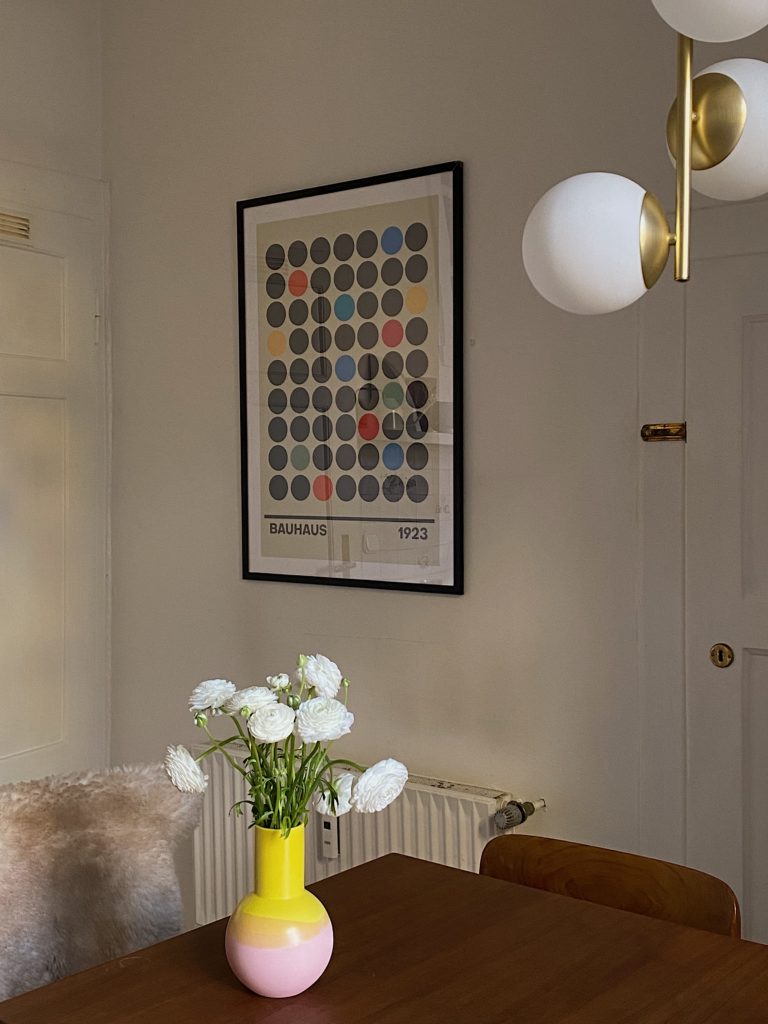 The Wall Planner
With so many different artist being available at Printler also the selection of posters is huge. To help you find the right art, it's categorized by trends, themes, colors and types of rooms. Once you have saved your favorites, you can use Printler's amazing Wall Planner tool to help you put together your own picture wall.
Step 1 is to mark your favorite posters with a heart. In step 2 your arrange the selected posters in your preferred manner whilst choosing between the available sizes. Each poster is available in
21×30, 30×40, 50×70 und 70×100 centimeters. When using the Wall Planner you can easily and within second change the size of each poster to find the one you like best for your case. Also choose the correctly sized frame – 3 colors available – and other gadgets like clips or smart picture hooks with every poster. That way hanging your final result at home will be super easy and I am sure you'll be extremely proud and happy about the very unique wall of art you'll habe created. 
All posters and prints are quality checked before they are sent to you. Printler takes great pride in maintaining a quality that makes a distinct difference – it is their promise to us as customers and to all the artists who allow us to shop their work over Printler. 
Der Wandplaner
Durch die Vielseitigkeit der Künstler*innen ist ebenso das Printler Portfolio unheimlich facettenreich. Der Shop ist daher nach Trends, Themen, Farben und Räumen kategorisiert. Die Fotowand in meinem Wohnzimmer kennt ihr vielleicht schon. Sie zusammen zu stellen war garnicht so einfach. 
Genau dafür hat Printler eine geniale Lösung entwickelt: Den
Wandplaner
.
In Schritt 1 wählst du deine Lieblingsposter aus und markierst sie mit einem Herzchen. In Schritt 2 stellst du die ausgewählten Poster nach belieben zusammen und kannst dir ansehen, wie deine Bilderwand aussehen würde. Du kannst innerhalb des Tools mühelos zwischen den verschiedenen Postergrößen 21×30, 30×40, 50×70 und 70×100 switchen und so das Ergebnis ganz nach Belieben und innerhalb von Sekunden anpassen. Zu jedem Poster kannst du übrigens auch unkompliziert direkt den Rahmen in der richtigen Größe oder anderes Zubehör wie Posterklemmen oder Smart Hooks wählen. So wird das Aufhängen zuhause zum Kinderspiel.
Übrigens werden alle Poster vor dem Versand auf Qualität geprüft, denn die macht den Unterschied und höchste Qualitätsansprüche sind nicht nur Bestandteil der Firmenphilosophie von Printer, sie sind außerdem ein Versprechen an die Kund*innen sowie die Künstler*innen, die uns gemeinsam mit Printler Zugang zu ihren Werken erlauben.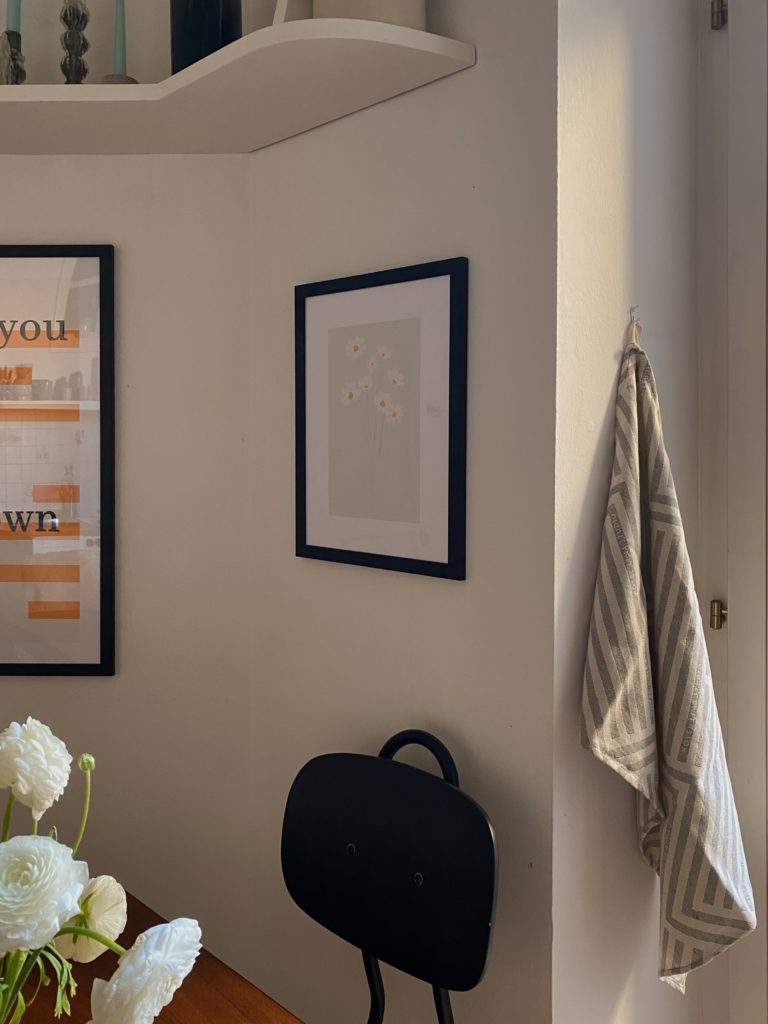 My Printler wall art favorites
Over the past 1.5 years this apartment became a real home. Still for example in the kitchen is was lacking the right vibes. I had hung a couple of posters I brought from the previous flat but they just didn't meet the look I was aiming for. When looking through the Printler posters I had a hard time choosing wall art for the kitchen as well. Not because I couldn't find anything I liked but because there was so much I enjoyed looking at that it was hard to make a final choice.
About the second poster 'You Can Go Your Own Way' (also from William Lars Gustafsson) I chose I especially like the message. We all can go our own ways. But it can be hard. People then to compare themselves to others but everyone should just go the way that works best for them. I have to remind myself of that quite often. Everyone has their own level of energy, their own motivation, their own speed. Stop comparing yourself to others and just do your thing.
And then there is the art print I chose for our restroom door. It has a window and to ensure privacy there was a quite weird piece of 'art' hung in front of mentioned window. 'Oh merde' btw means 'oh sh*t' in English and I thought it was quite funny to have this on the loo door, don't you think? I hope our future guests will forgive me for the bad joke. 😉
Meine Printler Wall Art Favoriten
In den letzten 1,5 Jahren, die ich in meiner Wohnung wohne, ist sie zu einem echten Zuhause geworden. Zum Beispiel fehlte aber der Küche der richtige Vibe. Ich hatte einige der Poster aus der alten Wohnung dort aufgehängt, sie haben aber einfach nicht den Look getroffen, den ich mir vorgestellt hatte. Als ich dann durch die Printler Poster klickte, fiel mir die Wahl dann doch schwerer aus gedacht. Nicht, weil mir nicht gefallen hätte. Das Gegenteil war der Fall – es gab zu viele Poster, die meinen Geschmack trafen.
Jetzt könnte ich mit meiner Auswahl aber zufriedener nicht sein. Das größte Poster für die Küche ist das 'Bauhaus 1923 Poster' von William Lars Gustafsson in der Größe 70×100 cm. Besonders die Farbkombi und der Retro Look sprechen mich an.
Beim zweiten Poster meiner Auswahl 'You Can Go Your Own Way' (ebenfalls von William Lars Gustafsson) hat mich vor allem die Message gefesselt. Wir alle können unsere eigenen Wege einschlagen. Aber das ist nicht immer leicht. Menschen tendieren dazu, sich mit anderen zu vergleichen. Dabei sollte jeder seinen eigenen Weg finden und auch ich selbst muss mich daran immer wieder erinnern. Jeder hat ein anderes Energielevel, eine andere Motivation, eine andere Geschwindigkeit durchs Leben zu gehen. Hört also auf, euch an anderen zu messen und macht euer Ding. 
Das dritte Poster in der Küche – eine florale Illustration von Sanny Lundgren – hat mich emotional und ästhetisch abgeholt und die Kombi aus allen drei Postern hat mir dann so gut gefallen, dass es eben genau diese Konstellation geworden ist. 
Und dann wäre da noch der Art Print, den ich für die Tür unserer Toilette ausgewählt habe. Die hat nämlich ein Fenster und um bisher hier die nötige Privatsphäre zu garantieren, hing an der Tür ein etwas eigenartiges, bedrucktes Metallschild. Das Poster 'Oh Merde' von Ute Arnold macht sich hingegen viel besser an der Tür. 'Oh merde' ist übrigens Französisch für 'Oh Sch***e'. Irgendwie passend für die Tür an der es hängt, oder? Ich hoffe unsere zukünftigen Gäste verzeihen mir den Wortwitz. 😉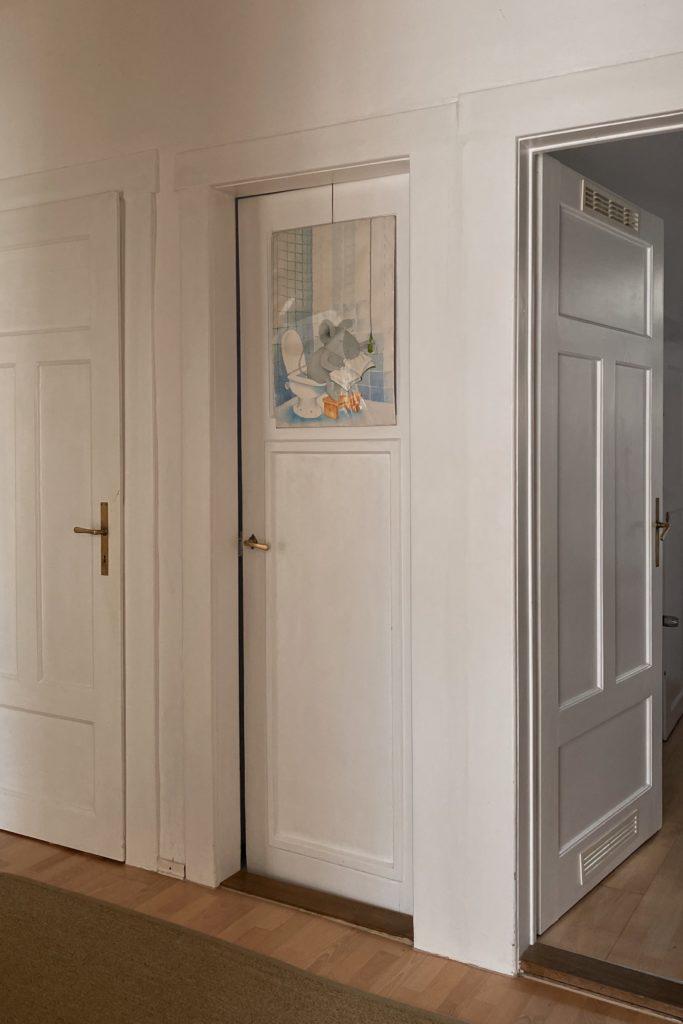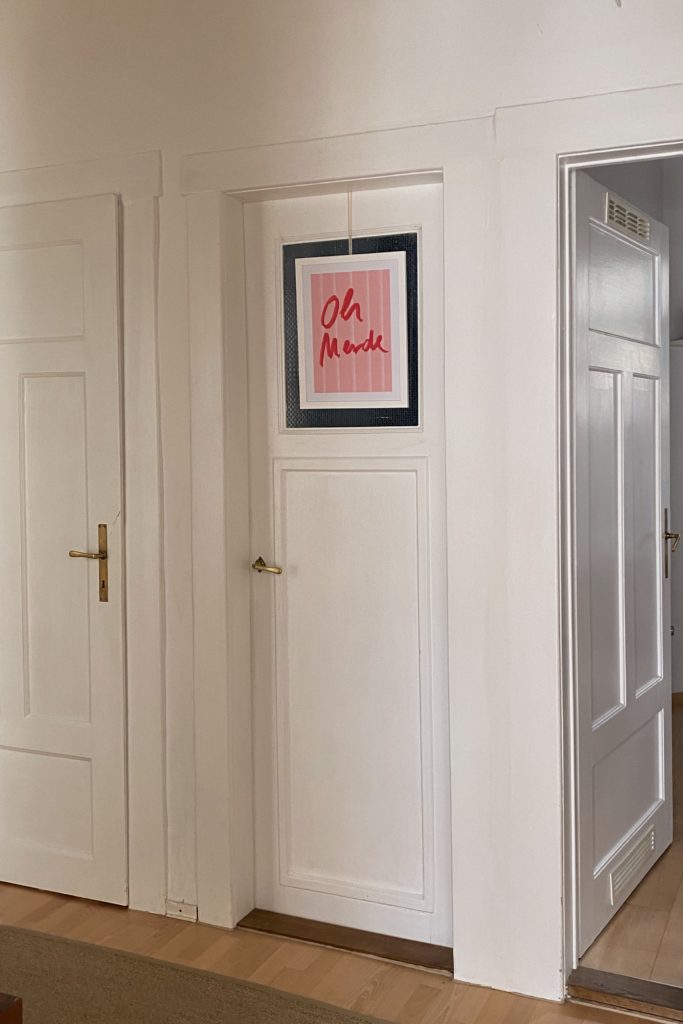 How do you like the result?
I am super excited I finally was able to finish the kitchen's look and give the hallway a new look by putting a different piece of art on our loo door. 
Are you ready to give your home a fresh up with Printler? The I have amazing news for you:
Use PASSIONHEARTS30 at the checkout to save 30% on your whole Printler order from 25.03.2022 till 27.03.2022. And that does not only include the posters but also frames as well as fine art prints.
If you have any question, please leave a comment. I am happy to help wherever I can. 
And now have fun scanning Printler for your new eye catching wall art for your home. 
Yours, feli
Wie gefällt euch das Ergebnis?
Ich freu mich riesig, dass die Küche ein Update bekommen hat und auch unser Gang durch das neue Poster and der Tür einen neuen Look hat.
Seid ihr auch bereit für ein bisschen frischen Wind in euren vier Wänden? Dann hab ich tolle News für euch im Gepäck:
Mit dem Code PASSIONHEARTS30 spart ihr ab 25.03.2022 bis einschließlich 27.03.2022 30% auf ALLES bei Printler, also natürlich auf die Poster sogar auf die Rahmen und Fine Art Prints.
Habt ihr Fragen dazu? Die könnt ihr einfach in die Kommentare packen und ich beantworte sie euch gerne.
Viel Spaß also bei der Suche auf Printler nach euren neuen Eyecatchern für Zuhause. Und bis bald!
Eure Feli