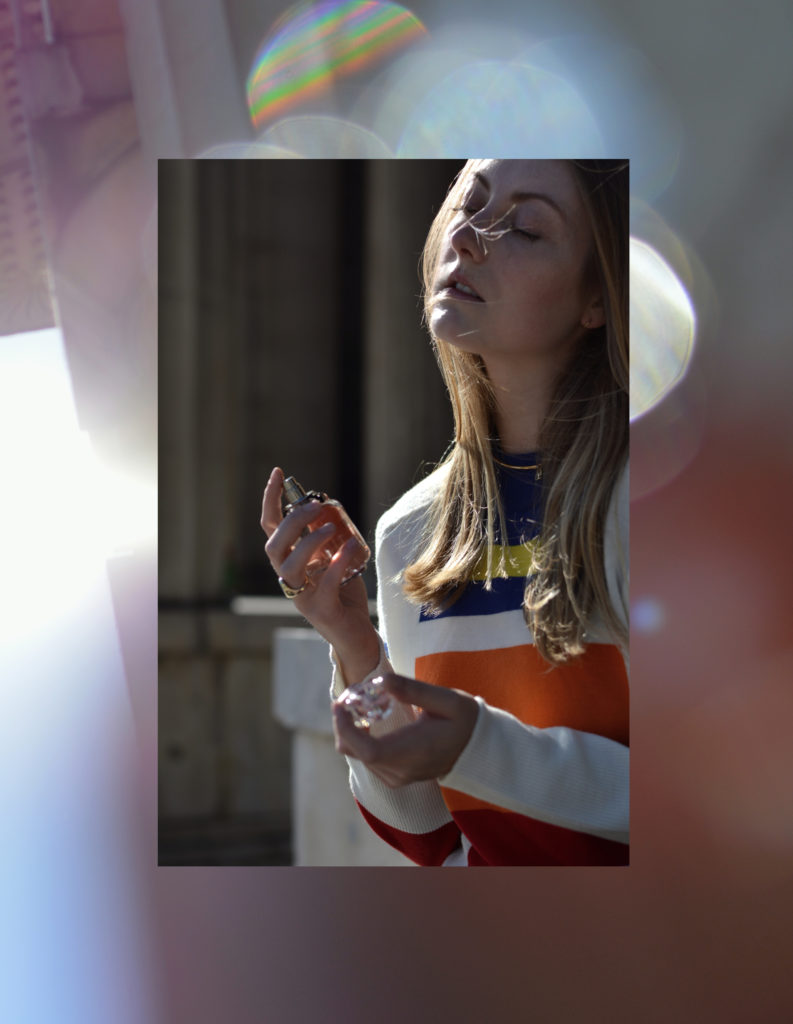 Werbung/Ad
ENG
L'Interdit – the forbidden. This was the first perfume of Givenchy which was launched in 1957. This was the beginnig of a constantly growing perfume collection for women and men. Now Givenchy L'Interdit is back.
It convinces with an intensive and daring composition of orange blossoms, tuberose and Arabian jasmine. Furthermore I am a huge tuberose fan (by the way this is not a rose) and was very curious about the scent when Flaconi.de asked me if I was interested in testing L'Interdit for you. It is not a fresh scent, rather sweet. And usually I don't like sweet, floral perfumes too much. However this perfume convinced me anyway. I think it perfectly fits the cold winter season.
By the way Givenchy L'Interdit is known as having been the favourite perfume of Audrey Hepburn. The launch of the new version therefore can be seen as hommage to this inspiring woman. The flacon follows a clear, minimalistic design, perfectly created for elegant ladies.
By the way I received the perfume twice to be able to give one of them away to one of you. So visit the Passion Hearts Instagram account and fulfil the requirements to enter the give away. Maybe soon L'Interdit will be yours then.
Good luck,
xx Feli
DE
L'Interdit – das Verbotete. Dies war der erste Duft des Pariser Modehauses Givenchy welcher 1957 erschien. Es war der Beginn einer immer größer werdenden Kollektion an Parfüms für Damen und Herren. Nun ist Givenchy L'Interdit zurück.
Er besticht mit einer intensiven und gewagten Duftkomposition. Die Kopfnote ist Orangenblüte, die Herznote eine Kombination aus Tuberose und arabischem Jasmin. Als riesiger Fan der Tuberose (die ist übrigens keine Rose, sondern eine Pflanze mit hübscher weißer Blüte) war ich unheimlich neugierig, als Flaconi.de mich gefragt hat, ob ich Lust hätte, den Duft für euch zu testen. Als frischen Duft kann ich L'Interdit nicht bezeichnen. Und ich bin für gewöhnlich kein Fan von süßen, blumigen Parfums. Dennoch hat mich dieses überzeugt und ich muss sagen, gerade für die bevorstehende kalte Jahreszeit finde ich L'Interdit aber sehr passend.
Übrigens ist Givenchy L'Interdit als der Lieblingsduft von Audrey Hepburn bekannt. Man kann also sagen, die Neuauflage ist eine Hommage an diese großartige Persönlichkeit. Der Flakon des Dufts folgt einem klaren und minimalistischen Design, sehr elegant und passend für echte Ladies.
Übrigens habe ich das Glück, des Duft zwei Mal erhalten zu haben, um einen davon an euch zu verlosen. Also besucht doch den Passion Hearts Instagram-Account und erfüllt die Teilnahmebedingungen. Dann gehört der Duft vielleicht schon bald euch.
Viel Glück,
xx Feli
AD:
This post was published in paid collaboration with Flaconi.de.
WERBUNG:
Dieser Beitrag ist in bezahlter Zusammenarbeit mit Flaconi.de.