Werbung/Ad
ENG
The past weeks were filled with crazy emotions – deep sadness, euphoric happiness, foggy melancholy, endless laughs. The relationship that meant everything to me ended unexpectedly and painfully and if my family and friends had not been by my side these days I woulnd't have known how to overcome this extremely hard time. And it still is not easy but somehow it has to go on.
Moving to a new home was a very important step as well and I really could not image any better flatmates. These girls are the best.
Due to my unstable mental condition also Passion Hearts was suffering a little. There were too many other things to get into order first. Nevertheless this project since its beginning has always been meaning a lot to me and of course I want to keep it up.
That is why I prepared a new blogpost for you and want to show you a streetstyle I recently shot with my friend Lisa. Plaid shirts are pretty much everywhere this season again. They are timeless wonders which add a certain undone touch to any look and are a guarantee for not being cold. That is why of course also I could not resist creating my very own plaid shirt look for you wearing a shearling jacket, dark blue flared jeans and cowboy boots – which are by the way another extremely hyped trend lately.
As I know some of you will also be asking about the funny seethrough bag I will tell you where it is from right away: Mango. And it is on sale for less then 10€ even! Hurry before it is sold out.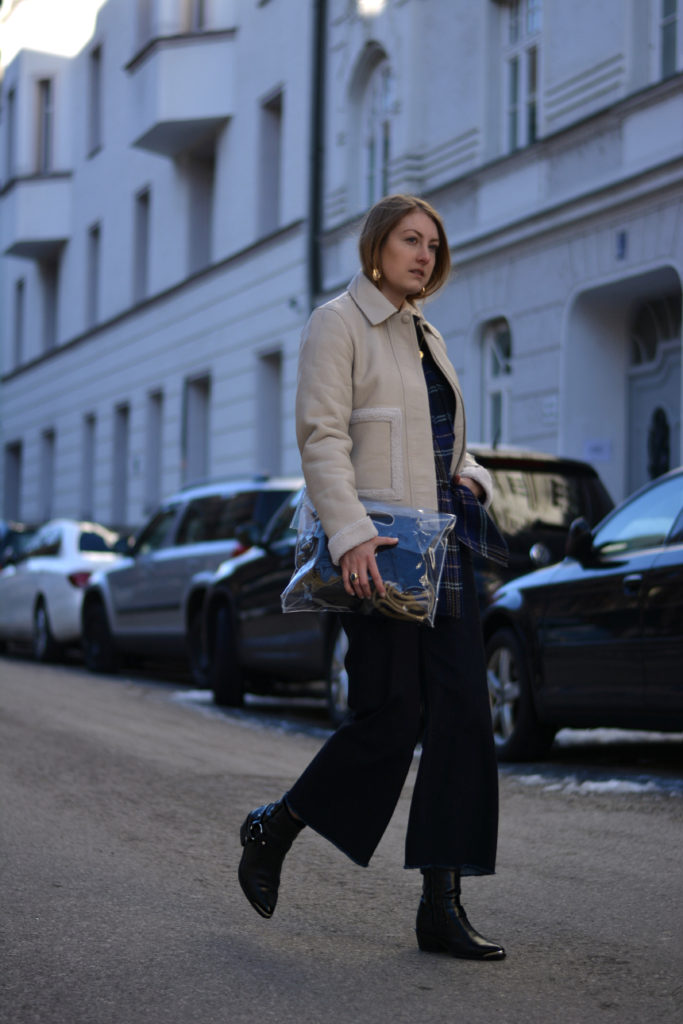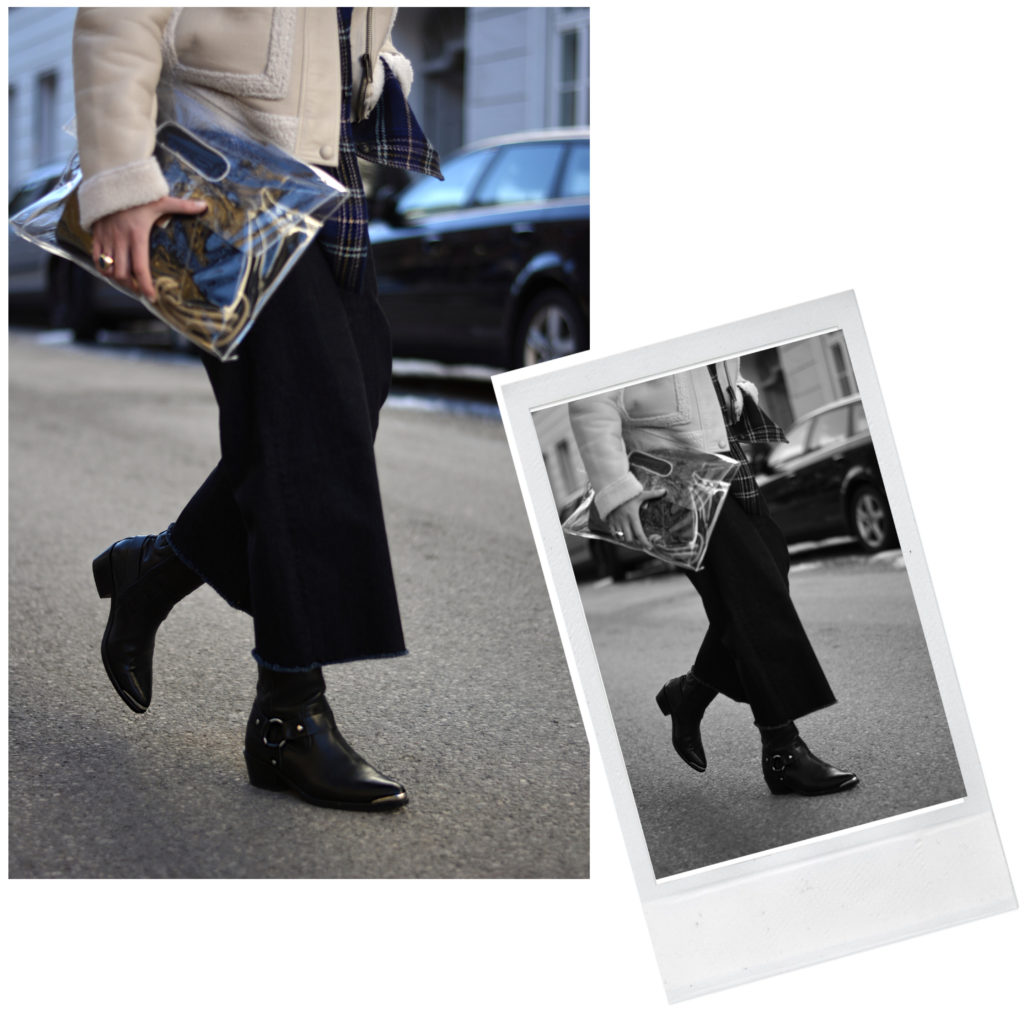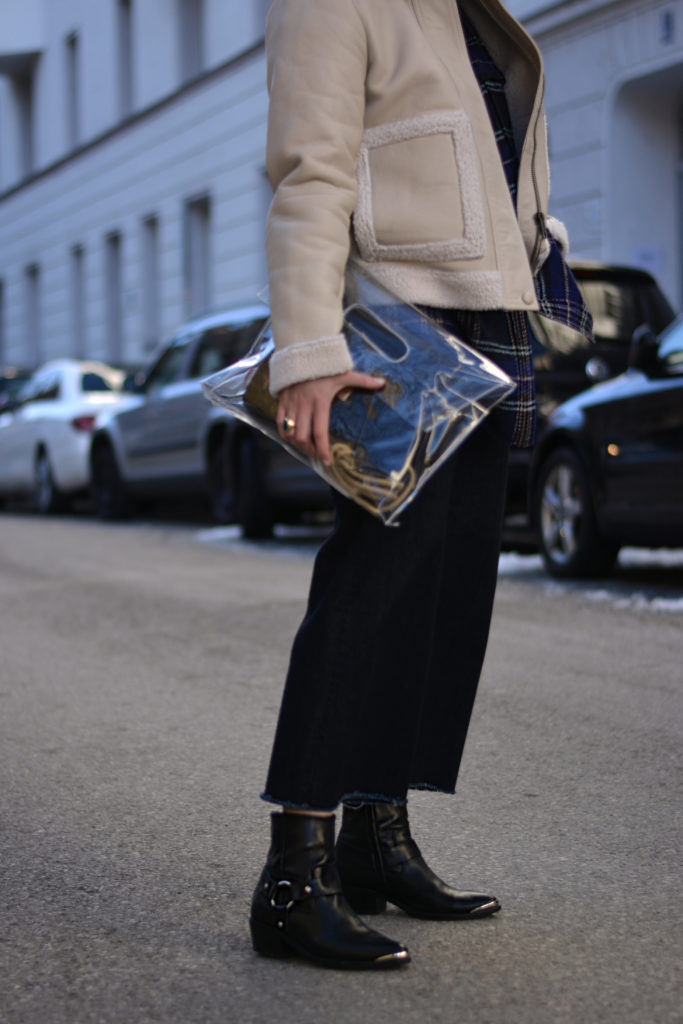 DE
Die letzten Wochen waren für mich gefühlstechnisch eine Achterbahnfahrt – tiefe Trauer, euphorische Glücklichkeit, trübe Melancholie, endloses Lachkrämpfe. Meine Beziehung, die mir alles bedeutet hat, hat ein jähes, unerwartetes und schmerzhaftes Ende genommen und das hat mich erst einmal aus dem Leben gerissen. Ich habe mich gefühlt, als würde ich unter Wasser gedrückt, aber mein Körper wäre gelähmt und könnte dagegen nicht ankämpfen. Ohne meine Familie und meine Freunde hätte ich diese schreckliche Zeit, für die ich kaum Worte habe, wohl kaum heil überstanden. Und es ist nach wie vor nicht leicht, nur weitergehen muss es nunmal dennoch.
Auch der Umzug in ein neues Zuhause hat viel geholfen und ich könnte mir keine schätzenswerteren Mitbewohnerinnen vorstellen.

Aufgrund meines psychisch angeschlagenen Zustands hat auch Passion Hearts etwas gelitten. Es gab einfach andere Dinge, die Vorrang haben mussten. Nichtsdestotrotz liegt mir viel an meinem Blog und deshalb soll es damit auch weitergehen.

Heute habe ich deshalb einen neuen Blogpost zum Thema Karohemden für euch. Nicht nur sind Karohemden wunderbar zeitlose Begleiter, sondern gleichzeitig ein Garant dafür, dass man nicht frieren muss. Ich trage mein Karohemd zusammen mit einer Shearlingjacke, einer dunklen weiten Jeans und Cowboy Boots – um die kommt man aktuell übrigens auch kaum herum.
Und weil ich weiß, dass einige von euch danach fragen werden, verrate ich es euch gleich: meine transparente Tasche ist von Mango und im Sale aktuell für unter 10€ erhältlich.

Why don't you try the look yourself? It is perfectly easy as you can even wear almost everything underneath a plaid shirt: a tee, a sweater, a dress. To find you the perfect plaid shirt I suggest you visit Planet Sports. They have a huge variety of plaid shirts in nearly any colour combo and shape currently.
Probiere doch auch du den Look einmal aus. Er ist so wunderbar einfach, denn unter ein Karohemd kannst du nahezu alles trage: ein T-Shirt, einen Sweater oder sogar ein Kleid. Ich kann den Webshop von Planet Sports übrigens aktuell besonders empfehlen. Die Auswahl an Karohemden ist einfach riesig.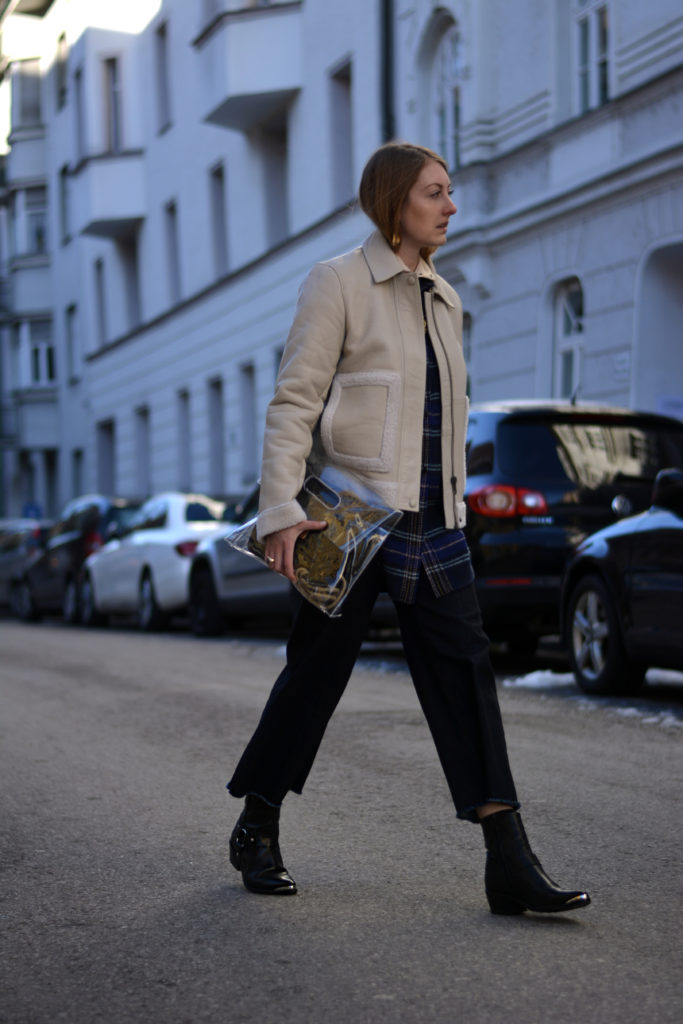 SHOP THE LOOK


AD
This post contains affiliate links. I receive a provision by sales from the links however the price itself doesn't change for you. Items marked with * were gifted or borrowed from the brands or shops named.
WERBUNG
Dieser Beitrag enthält Affiliate Links. Bei einem Kauf über einen Affiliate Link, erhalte ich eine Provision. Der Kaufpreis selbst verändert sich für euch dadurch nicht. Die mit * markierten Produkte wurden mir von den genannten Marken bzw. Shops ausgeliehen oder kostenlos zur Verfügung gestellt.