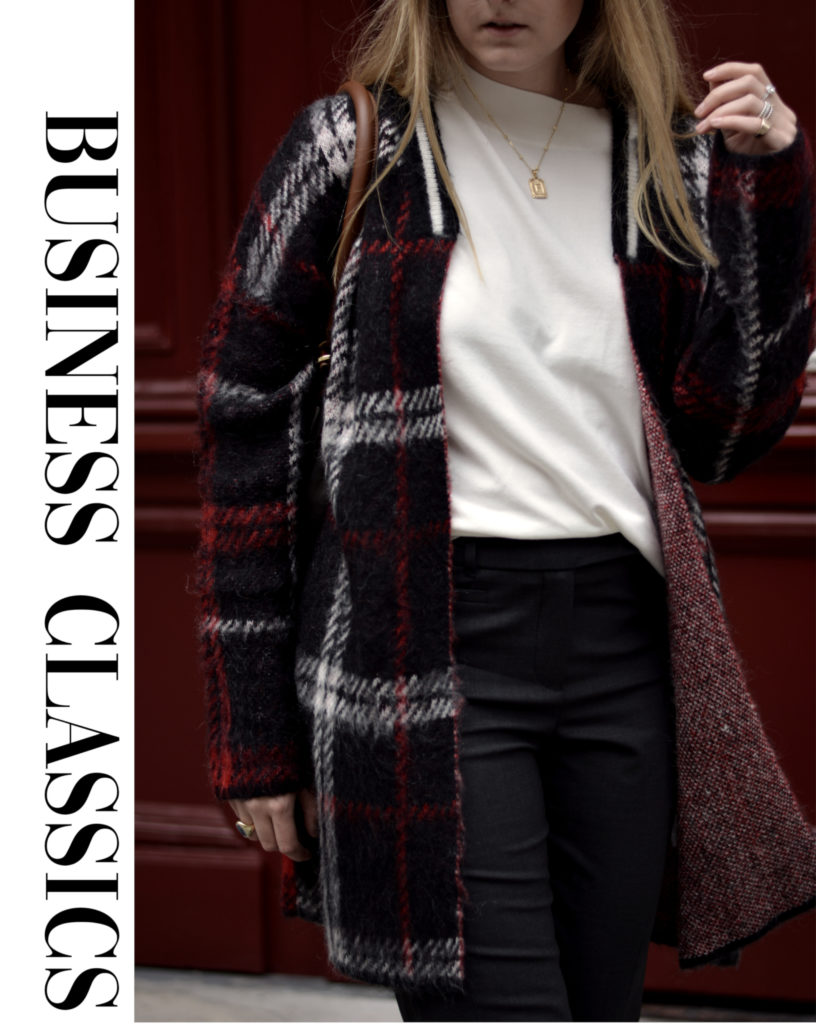 Werbung/Ad
ENG
Hi fashion-community, I am happy to welcome you back on my blog. Today's article is about my perfekt autumn office look which I found at TAIFUN. I am wearing an off-white short-sleeved sweater and dark grey wool pants. Both pieces are rather minimalistic but this is exactly what I appreciate most about them. That way I can combine them with numerous other pieces and create new outfits over and over again. Furthermore I would like to stress the pieces' amazing quality. That way they keep their shape perfectly and are long-term favourites.
I expect office outfits to be elegant but at the same time comfortable. Therefore I am not a fan of wearing tight blazers and skirts as well as high heels. You feel exactly the same way? Then you should scroll to the end of this post. There you can shop my TAIFUN pieces right away.
I completed my autumn office look with a chequered cardigan and patent shoes as well as a cognac brown bag from Maison Heroine. This bag is the perfect companion for every business women as it has a special pocket for business cards as well as another one with the exact perfect size for a tablet.
If you like my autumn office look click here for more lovely knitwear of TAIFUN und here for their current pants selection.
Have fun shopping your new TAIFUN pieces  – no matter if you wear them in the office or during your free time – and visit Passion Hearts soon again.
xx Feli
DE
Hallo liebe Fashion-Freunde, heute gibt es einen neuen Blogpost für euch. Dieses Mal geht es um einen herbstlichen Office-Look, den ich rund um zwei klassische Pieces von TAIFUN gestylt habe – nämlich einen creme-weißen Pullover mit einem wunderschönen breiten Kragen und kurzen Ärmeln und einer dunkelgrauen Hose aus Schurwolle, die aktuell voll im Trend liegen. Beide Teile sind zwar sehr schlicht, jedoch genau das schätze ich sehr. So sind sie nämlich richtige Allrounder und
funktionieren mit vielen verschiedenen anderen Kleidungsstücken.
Die hohe Qualität eine ist eine Eigenschaft, die ich besonders hervorheben möchte – denn so behalten diese beiden sehr klassischen Teile ihre Form und bereiten umso länger eine echte Freude. Ich finde es übrigens besonders wichtig, dass ich mich auch im Büro elegant und dennoch bequem kleide. Ein enges Kostüm und hochhackige Schuhe sind daher nichts für mich. Geht es euch auch so? Dann scrollt doch direkt mal ans Ende dieses Beitrags. Dort habe ich euch die beiden TAIFUN-Styles zum Nachshoppen verlinkt.
Ich habe mein Outfit mit einem karierten Strickmantel ergänzt und trage dazu Lack-Stiefeletten zum Schnüren und eine cognacfarbene Tasche von Maison Heroine. Dieses Modell ist übrigens gerade für echte Business Women besonders gut geeignet, denn die Aufteilung im Inneren ist bis ins Detail durchdacht und bietet beispielsweise ein Fach für Visitenkarten und eines, welches die optimale Größe für ein Tablet hat. Dezenter Schmuck rundet meinen Look ab.
Wenn euch mein herbstliches Outfit fürs Büro gefällt, findet ihr hier weitere echt schicke Strickware von TAIFUN und könnt hier außerdem einen Blick auf das Hosen-Sortiment der Marke werfen.
In diesem Sinne wünsche ich euch viel Spaß beim Shoppen eurer Herbst-Looks – ob fürs Office oder auch für die Freizeit – und freue mich wenn ihr bald einmal wieder auf Passion Hearts vorbei schaut.
xx Feli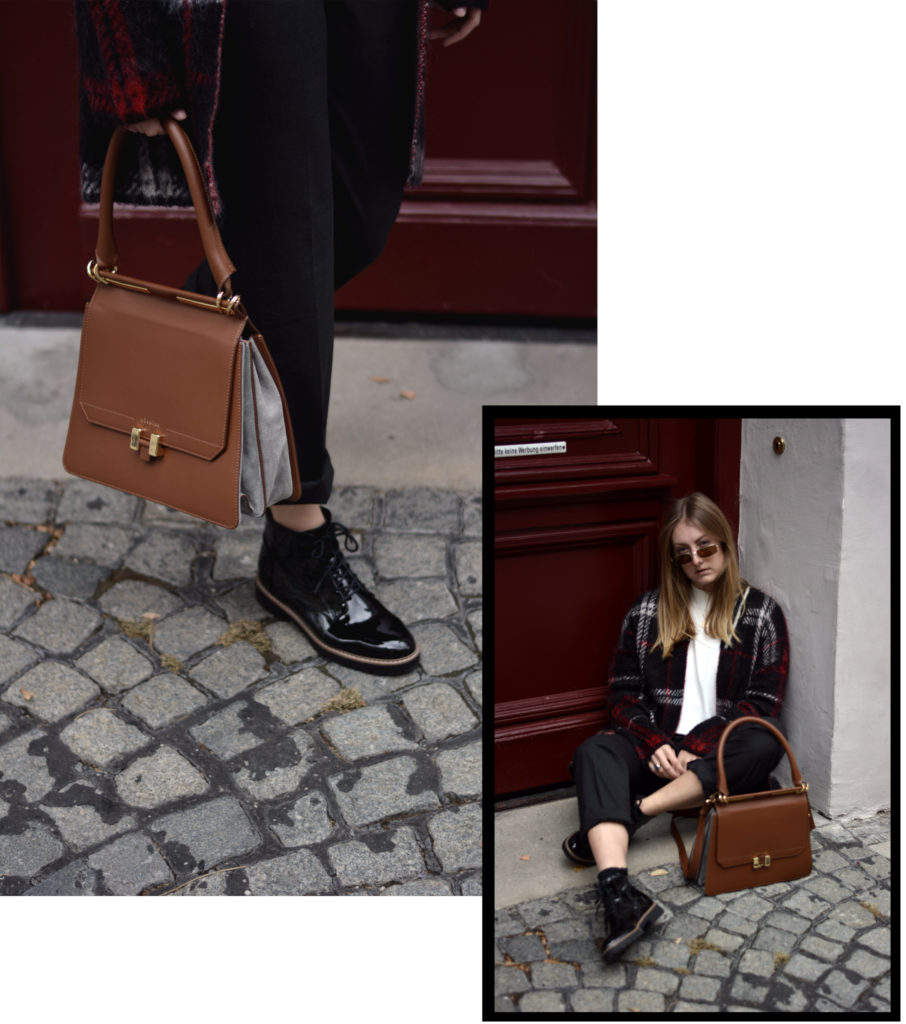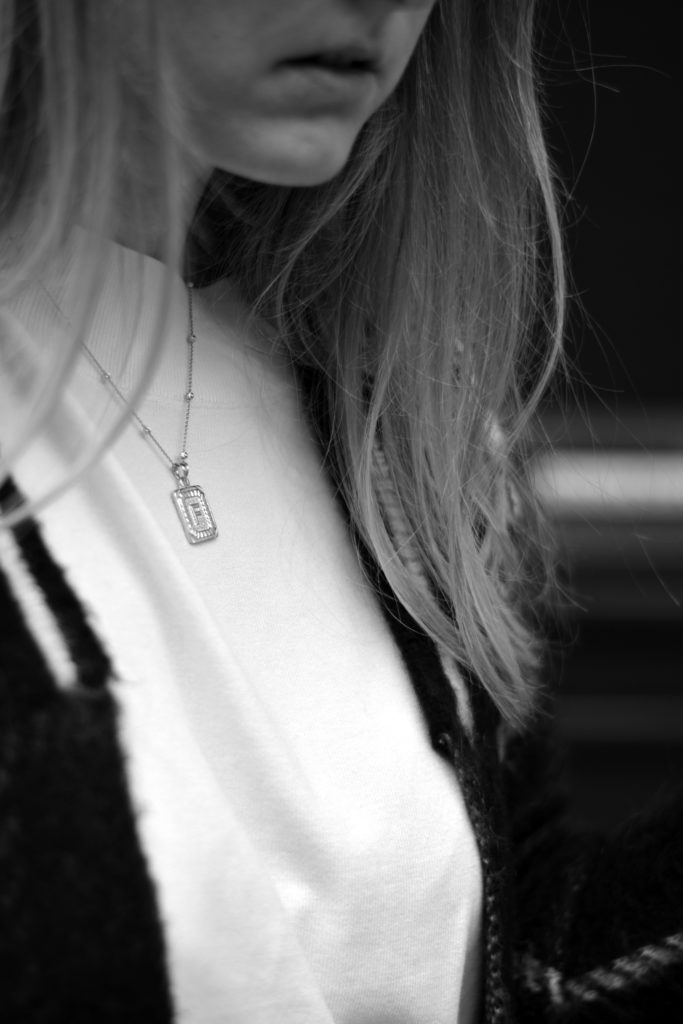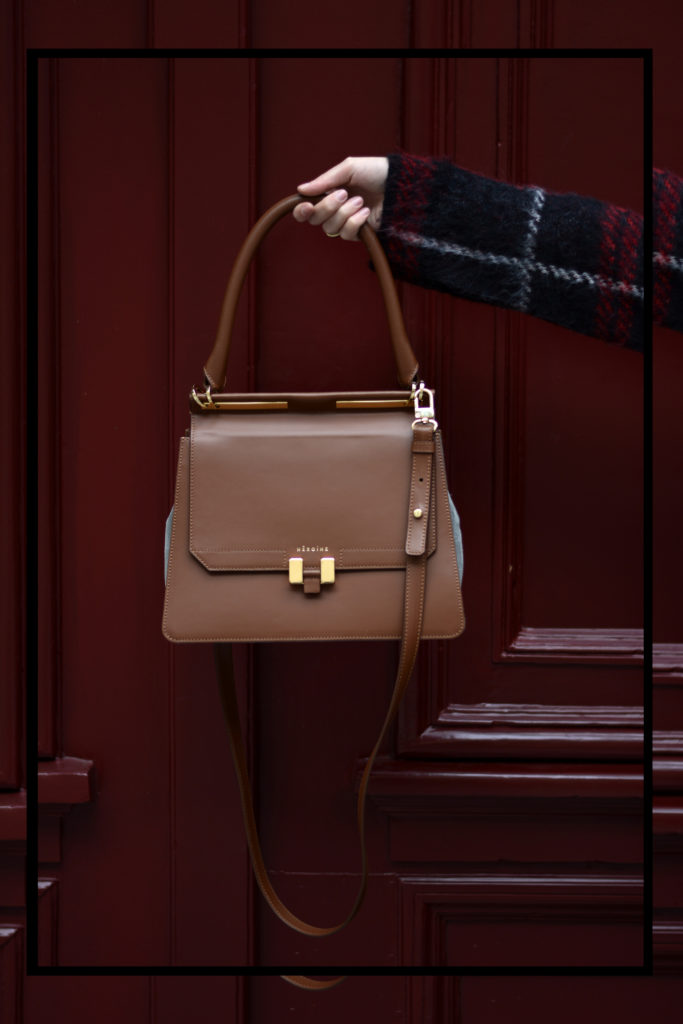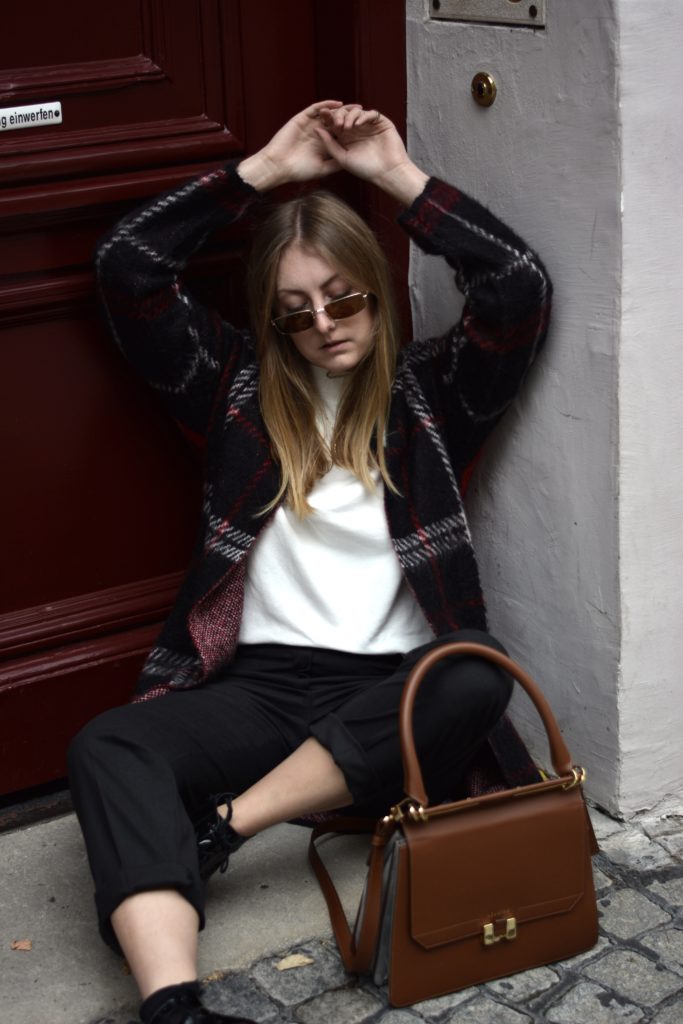 SHOP MY LOOK
Cardigan/Strickmantel: OUI*
Sweater/Pullover: TAIFUN*
Woolpants/Wollhose: TAIFUN*
Necklace/Kette: Suenos Jewellery*
Sunglasses/Sonnenbrille: Carrera*
Shoes/Schuhe: Deichmann*
AD:
This post was published in paid collaboration with TAIFUN.  It furthermore contains affiliate links. I receive a provision by sales from the links however the price itself doesn't change for you. Items marked with * were gifted by the brands or shops mentioned.
WERBUNG:
Dieser Beitrag ist in bezahlter Zusammenarbeit mit TAIFUN entstanden. Er enthält zudem Affiliate Links. Bei einem Kauf über einen Affiliate Link, erhalte ich eine Provision. Der Kaufpreis selbst verändert sich für euch dadurch nicht. Die mit * markierten Produkte wurden mir von den genannten Marken bzw. Shops kostenlos zur Verfügung gestellt.