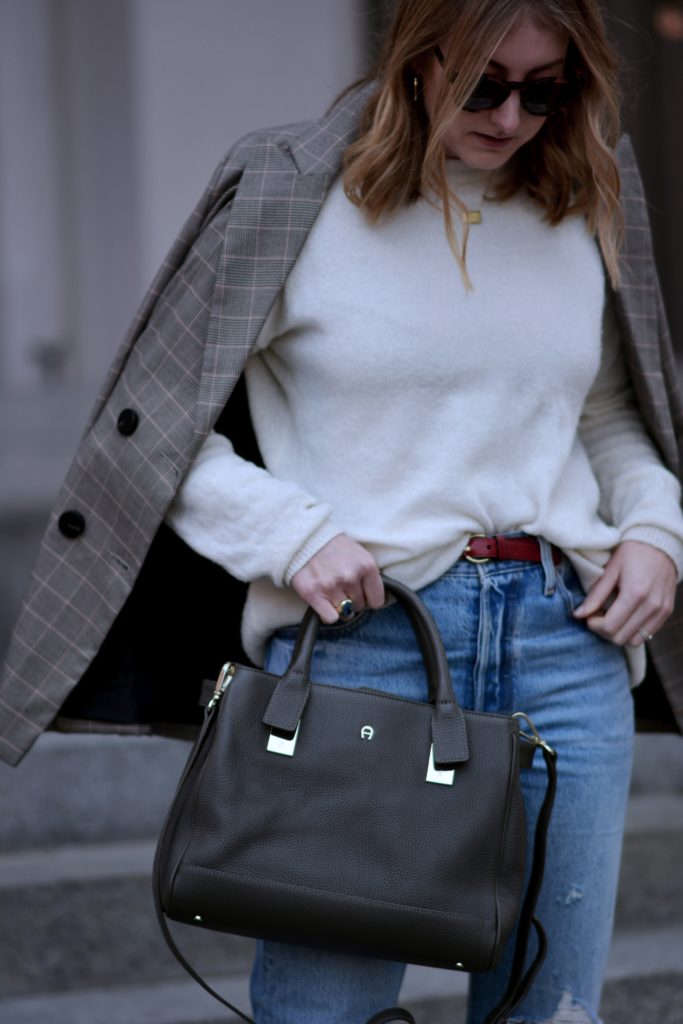 ENG
This year the winter here in Munich is not really performing well but there are so many winter clothes hanging in my closet keen to see sunlight. That's why I have been to the mountains two days ago to finally breathe some winter air. However I am missing winter the mild weather here in Munich also has its benefits as that is why I can show you looks like today's one or the one from last week. Today's blogpost is all about very special accessories as my attitude towards jewellery, bags and any other kinds of accessories changed a lot in the past few years. Quality is much more important to me than having a lot of everything.
Handbags
You can always only wear one bag at a time, can't you? So why have a huge collection? I rather have few good ones and this is why I made myself a special Xmas gift this year – a new Aigner bag. You can tell about the great quality at first sight. The leather is amazingly smooth and the timless colour fits so many different looks that this bag is a real all-rounder. For this look I am wearing my new bag with a glencheck blazer from Pull & Bear that by the way is on sale right now, some Levi's denims and an oversized sweater.
Jewellery
Also when it come to jewellery I am rather into quality than quantity. I don't want to say that costume jewellery can't look good but I just value high quality so much more. My dad has been wearing his seal ring as long as I can remember and my sister, brother and I have been fascinated by this very special piece of jewellery ever since. So I decided some years ago to get one myself as well and I am wearing it almost every day since the say it was ready.
Sunglasses
Last but not least let's talk about sunglasses – my kryptonite. I just can't get enough and however I have been preaching about quantity earlier I am having some struggels here. However quality is of big importance here to secure your eyes from damage I could get new sunnies every couple of weeks. Luckily you can get really good sunnies at very reasonable prices already. For example I bought this very beautiful model from Marc Jacobs at Tk Maxx some months ago and it was not expensive at all. I just love wearing my sunglasses matching my current mood. Therefore I could sometimes wear different sunnies every day of the week.
To shop my look just scroll to the end of this blogpost. Enjoy!
xx Feli
DE
Der Winter hier in München lässt uns nach wie vor ganz schön im Stich und dabei habe ich so tolle extra warme Teile im Schrank hängen und im Schuhregal stehen, die endlich auch mal ans Tageslicht möchten. Deshalb war ich vor zwei Tagen in den Bergen, um ein bisschen Winterluft zu schnuppern und die Pisten unsicher zu machen. Immerhin hat man mit zwei Ski an den Füßen ein bisschen Winter-Feeling. Ganz so übel ist das milde Wetter hier aber auch nicht, denn so können Looks wie dieser oder der der letzten Woche für euch geshootet werden. Dieses Mal dreht sich alles um Accessoires der besonderes Art. Über die Jahre hat sich meine Einstellung gegenüber Schmuck, Taschen und sonstigen Accessoires nämlich in eine andere Richtung entwickelt. Ich lege, anders als noch vor ein paar Jahren, immer mehr Wert auf Qualität als auf die Menge an Dingen. 
Handtaschen
Man kann bekanntlich immer nur eine Handtasche zur gleichen Zeit tragen, es sei denn man hat kein Problem damit, schräg von der Seite angeguckt zu werden. Was bringt es dann etliche Taschen zu haben? – Eben, rein garnichts. Deshalb lieber wenige aber dafür gute. Zu Weihnachten habe ich mir aus diesem Grund selbst mit einer neuen Tasche von Aigner eine große Freude gemacht. Das tolle weiche hochwertige Leder sieht man der Tasche auf den ersten Blick an und die zeitlose Farbe lässt unzählige Kombimöglichkeiten zu. Im heutigen Look trage ich sie zu Jeans, einem Lässigen Pulli in offwhite und einem Glencheck-Blazer von Pull & Bear der aktuell übrigens im Sale.
Jewellery
Auch bei Schmuck setze ich inzwischen mehr auf Qualität als Quantität. Schmuckstücke, die mir am Herzen liegen, trage ich sowieso fast täglich. Beispielsweise meinen Siegelring mit Familienwappen. Mein Papa hat einen solchen Ring seit vielen Jahrzehnten und immer haben meine Geschwister und ich dieses tolle Schmuckstück, das eine ganz besondere Aura umgibt, bewundert. So habe ich mir vor ein paar Jahren selbst einen solchen Ring von meinen Eltern gewünscht. Er bereitet mir, wann immer ich ihn trage, die größte Freude. All der günstige Modeschmuck, den ich früher so viel getragen habe, liegt inzwischen in irgendwelchen Schubladen. Natürlich ist auch Modeschmuck eine tolle Alternative und sieht oft klasse aus, die Qualität kann jedoch mit echtem Schmuck einfach nicht mithalten.
Sunglasses
Last but not least Sonnenbrillen – meine allergrößte Schwäche. Das tolle Modell von Marc Jacobs aus dem heutigen Post habe ich vor einigen Monaten bei TK Maxx erstanden und auch hier setze ich auf Hochwertigkeit. Eine Sonnenbrille sieht zwar schnell gut aus, jedoch soll sie etwas ganz Wertvolles, nämlich unsere Augen schützen. Nicht bei jeder Sonnenbrille achtet der Hersteller darauf, weshalb ich gerne zu bewährten Marken greife, denen ich auch in Sachen Sicherheit vertraue. Bei Sonnenbrille mache ich jedoch was die Quantität anbelangt schon an und zu eine Ausnahme. Sonnenbrillen trage ich nämlich meist je nach Stimmung und die kann sich von Tag zu Tag ändern. Da darf es dann schon mal mehr Auswahl sein.
Wenn ihr nun bis ans Ende dieses Blogposts scrollt könnte ihr meinen Look nachshoppen. Viel Spaß dabei und bis bald,
xx Feli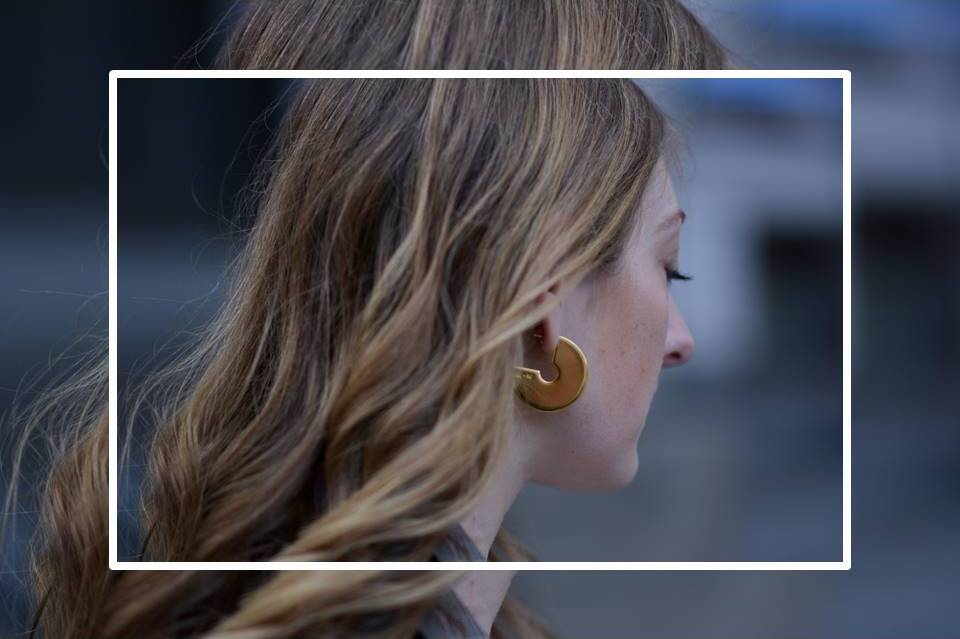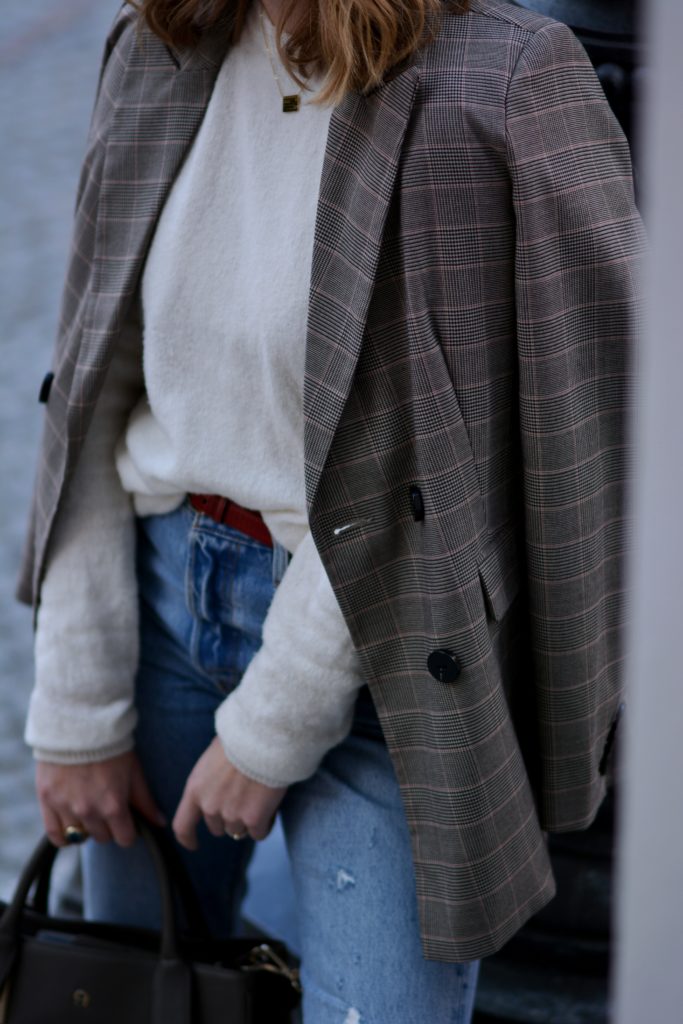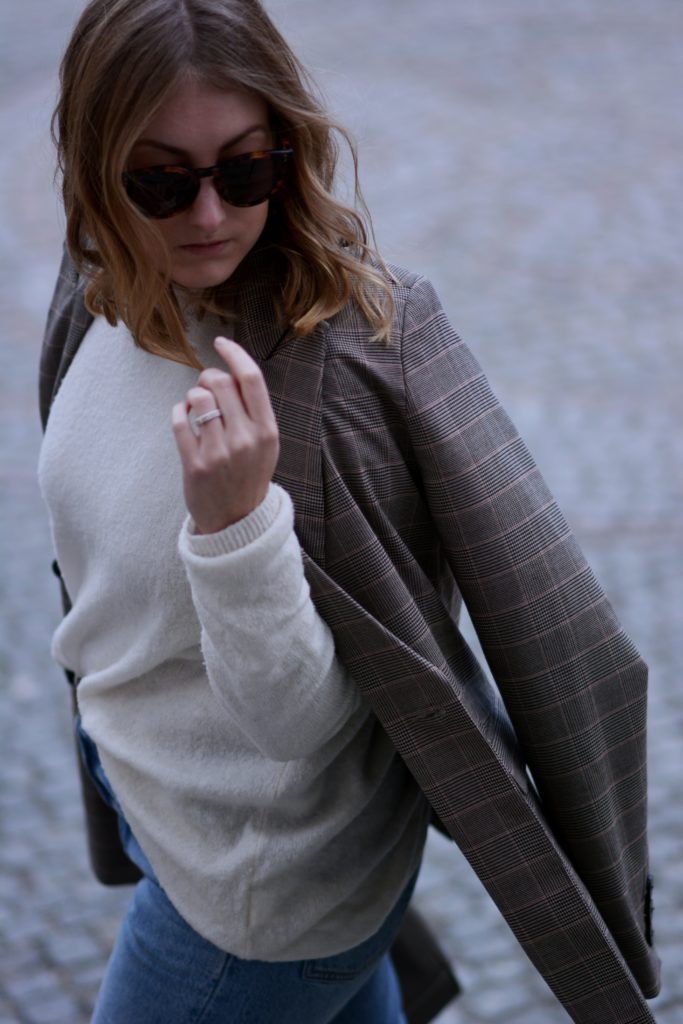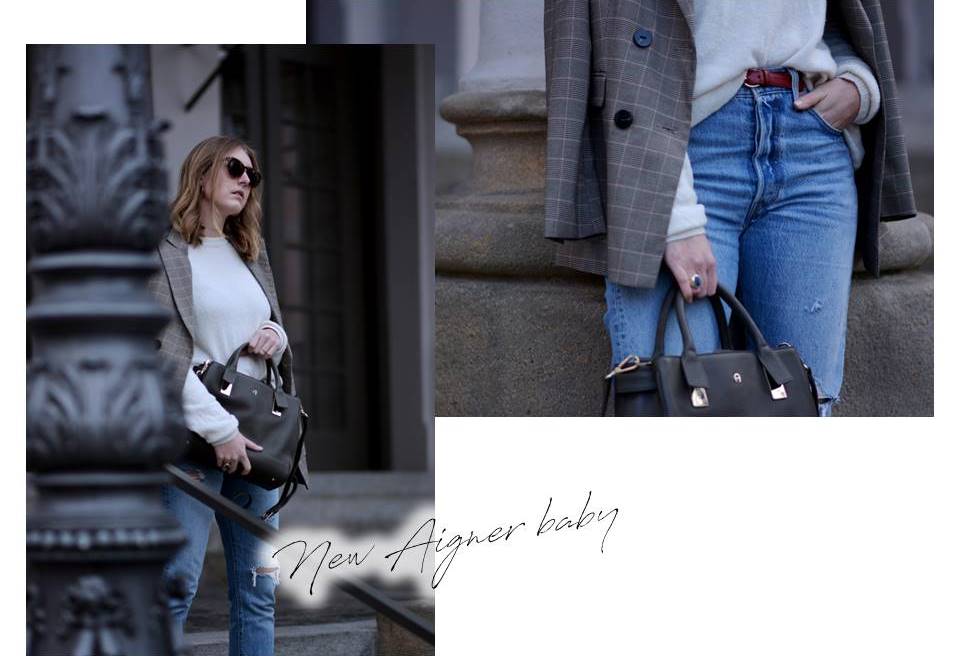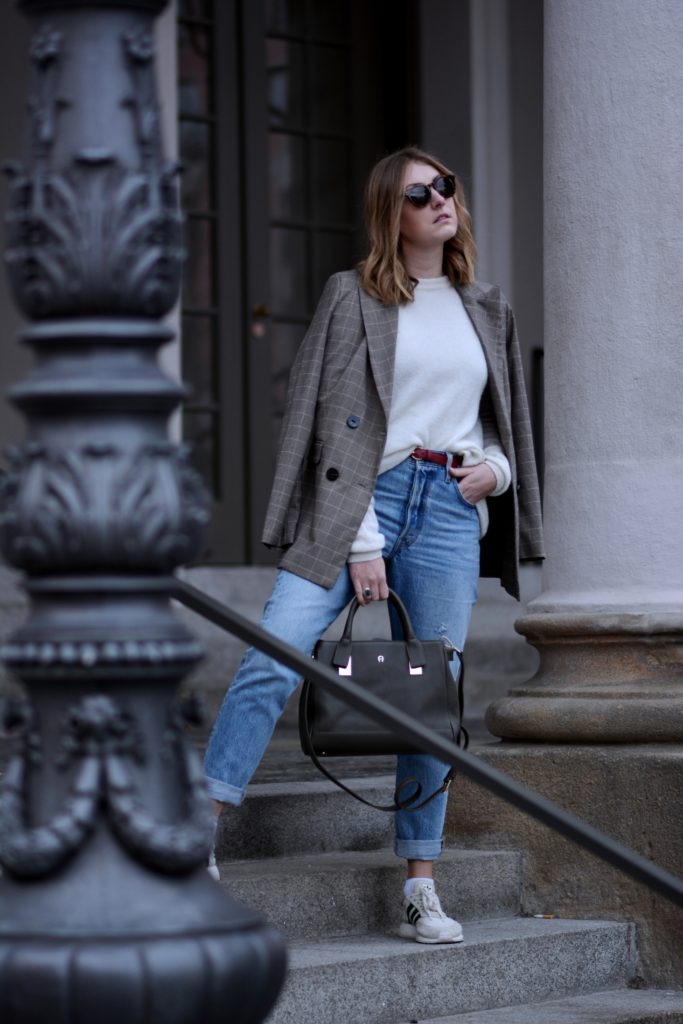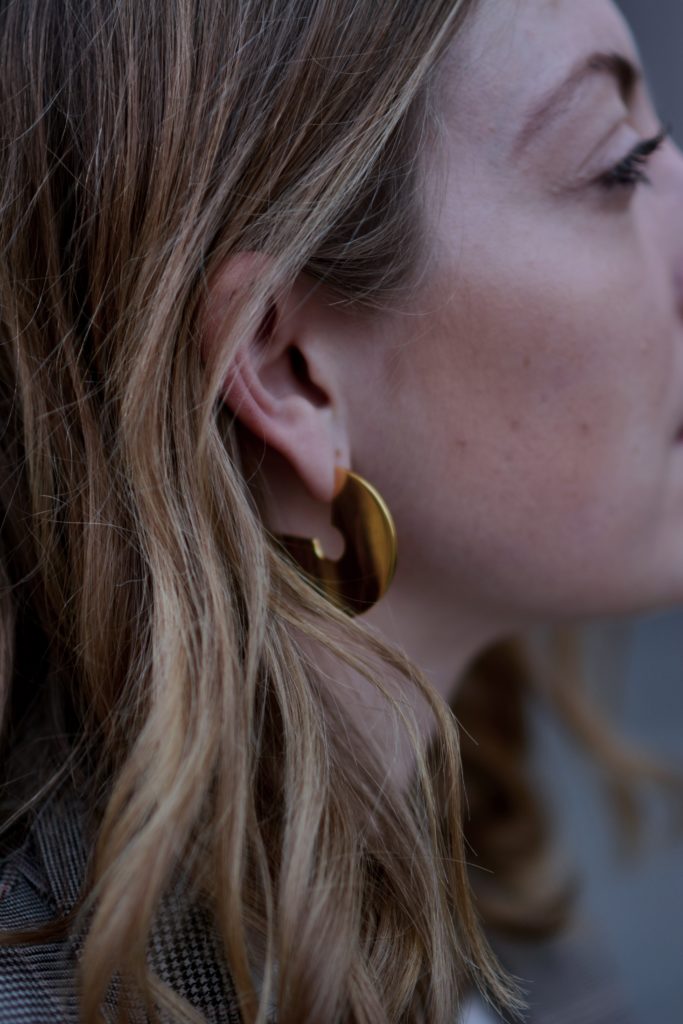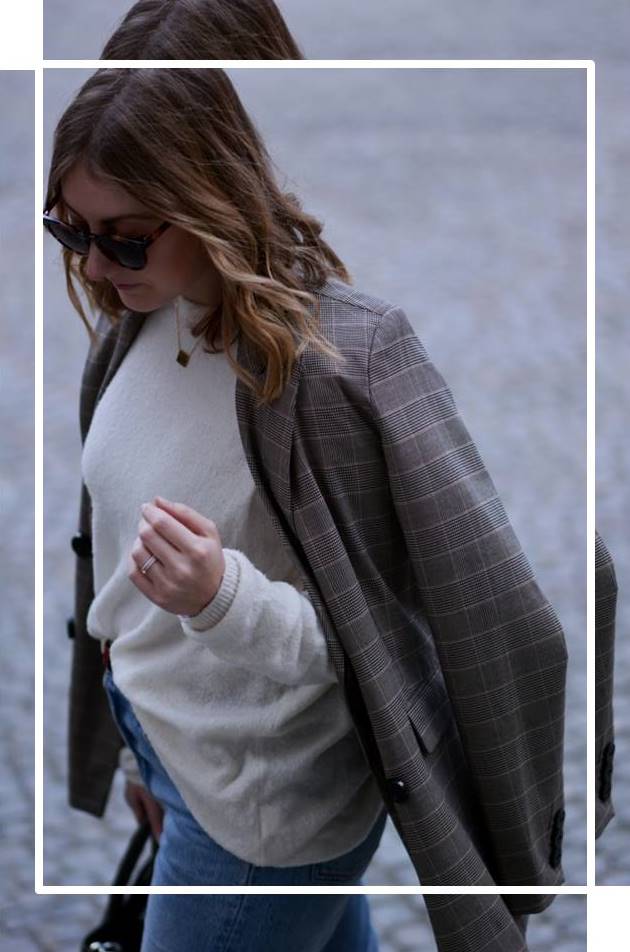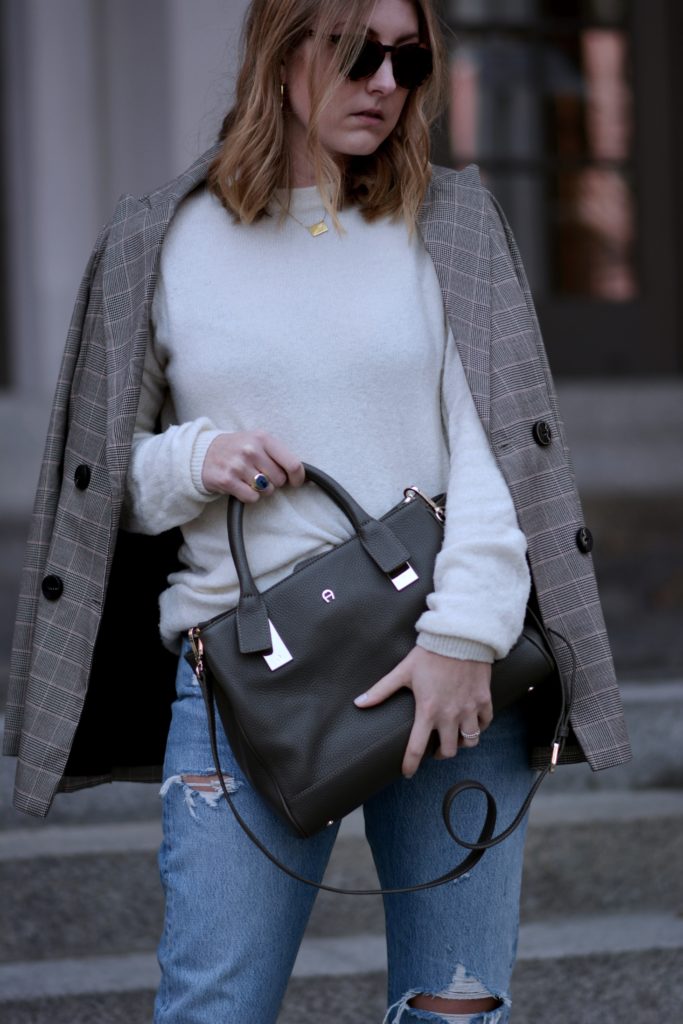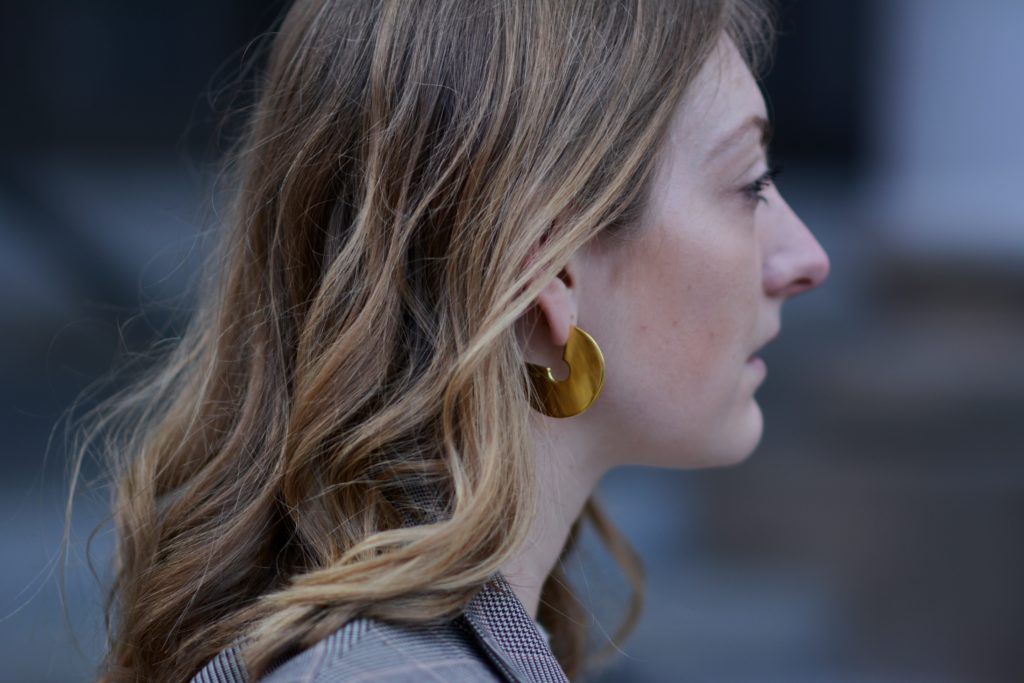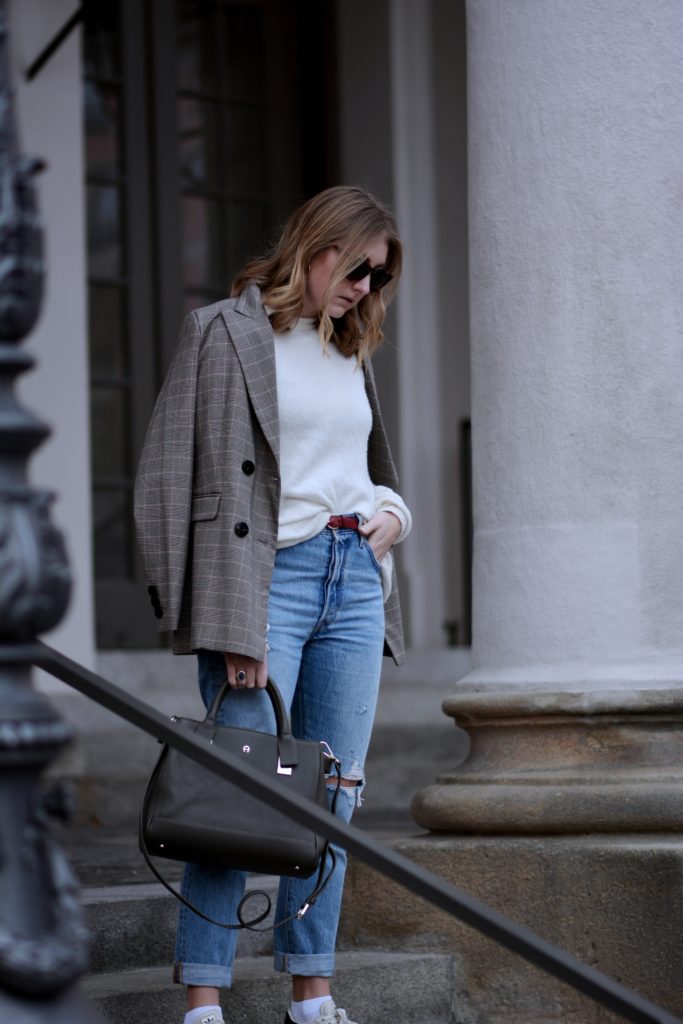 SHOP THE LOOK
Sweater/Pullover: American Vintage
Blazer/Blazer: Pull & Bear – similar here
Pants/Jeans: Levi's via AboutYou.de*
Bag/Tasche: Aigner – similar here
Sneakers/Sneaker: Adidas via Footlocker.de*
Sunglasses/Sonnenbrille: Marc Jacobs – similar here
Earrings/Ohrringe: PD Paola
AD: This post contains affiliate links. I receive a provision by sales from the links however the price itself doesn't change for you. The items marked with * were sponsored by the brands or shops named./WERBUNG: Dieser Beitrag enthält Affiliate Links. Bei einem Kauf über einen Affiliate Link, erhalte ich eine Provision. Der Kaufpreis selbst verändert sich für euch dadurch nicht. Die mit * markierten Produkte wurden mir von den genannten Marken bzw. Shops kostenlos zur Verfügung gestellt.