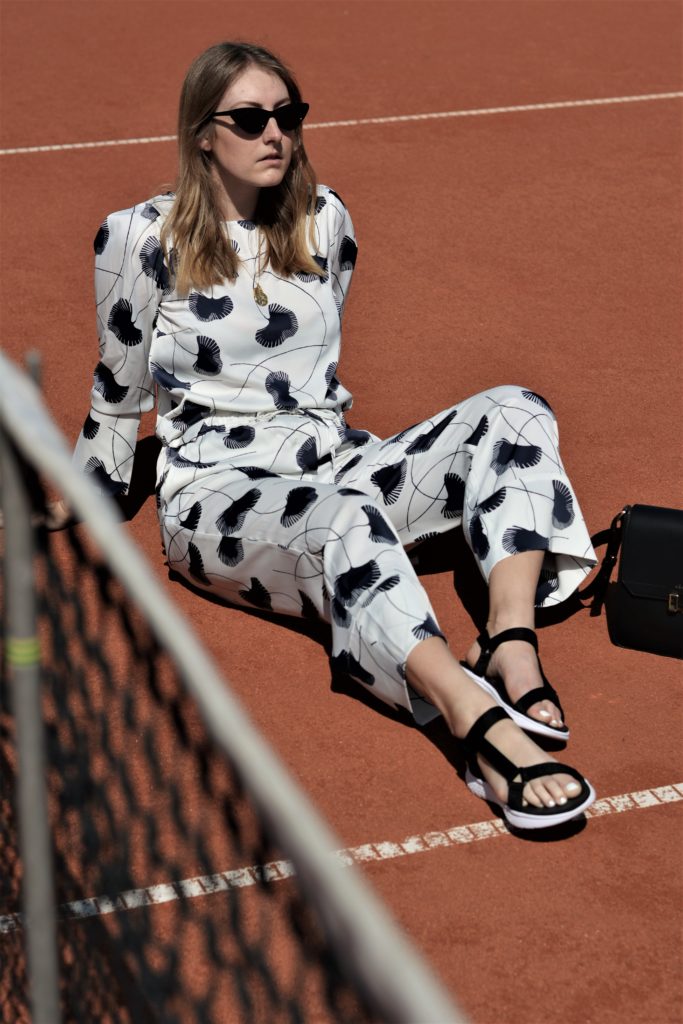 ENG
Back from a little internet time-out I would like to share this new outfit post with you. Actually it is a two-outfits post and it is all about one subject: bathing slides. When first the classsic Adidas slides had their huge come back some seasons ago I was not sure whether this trend will be continued. But more and more brands discovered that these shoes are  so much more than just something to wear when going to a public swimming pool's dressing rooms.
The trend developed and not only the classic shape with one big strap over the toes is all over Instagram but also strapped versions become more and more popular.
But some of you might be wondering how to wear bathing slides. I have two suggestions: wear them in an elegant way or keep it sporty.
How to wear bathing slides in an elegant way?
I decided to show you this version wearing a patterned set from And Less consiting of a blouse and wide leg pants. It is a great look to wear for a summer party or just a throll through the city and having a coffee with a friend. In this case I decided to wear plateau slides with black textile straps from FILA. They allow me to wear a chic outfit but add a good dose of nonchalance. Together with a little bag and cat-eye sunnies I am perfectly prepared for the next garden party and will be able to dance between the flowers all night as there is probably nothing more comfy than these slides.
How to wear bathing slides in a sporty way?
It might sound easy to wear bathing slides in a sporty way but let's be honest. No body wants to look like coming right from the sports center. Therefore I decieded to wear pieces who combine two things: a sportive look but elegant materials. The green flowing Marie Lund blouse with track stripes in blue and white reminds of vintage tennis tricots and matches perfectly with the embroidered  Tommy Hilfiger denim skirt. I added white PUMA bathing slides with a mother-of-pearl strap. These are at the same time casual but elegant due to the shimmering surface. Some golden jewellery and especially the round Porsche Design sunnies complement the look perfectly.
To but it in a nutshell wearing bathing slides doens't require whichcraft but a little precaution when choosing the right look. Add a little more elegance than you might be used to, to avoid that your outfit looks too trashy. I am sure you will love the result! By the way: my bathing slides are from Deichmann. Check out their part of their huge range here:

I am looking forward to welcome you soon back here on the blog.
Bye for now,
xx Feli
DE
Nach einer kleinen Internet-Auszeit bin ich heute zurück mit einem neuen Outfitpost für euch. Dieses Mal gibt es sogar zwei Look zu einem bestimmten Thema: nämlich Badeschuhe. Als die klassische Adilette vor einigen Saisons wieder den Weg zurück in die Modemagazine und auf die Blogs dieser Welt fand, war ich unsicher, ob dieser Trend lange vorhalten würde. Mehr und mehr Marken wurden aber auch das Potential dieses einst belächelten Fußkleids aufmerksam und schnell bekamen Badeschuhe die Chance auf allgemeine Popularität. Sie waren nicht mehr nur noch für den Weg in die Umkleide der öffentlichen Schwimmbäder geeignet, sondern zu größerem bestimmt.
Was mit dem klassischen Schlüpf-Schuh mit einem breiten Riemen quer über die Zehen begann, wurde schnell weiterentwickelt und immer neue Designs fanden ihren Weg in die Herzen der Fashionistas.
Wie man den Schuhtrend trägt, ohne direkt etwas gammelig zu wirken, möchte ich euch an zwei Looks zeigen: einem eleganten Look und einer etwas sportlicheren Variante.
Wie trägt man Badeschuhe auf elegante Art und Weise?
Für den ersten Look habe ich mich für einen Zweiteiler der dänischen Marke And Less entschieden. Dieses Set passt prima zu einer Sommer Party oder einem Stadtbummel inklusive Kaffeepause mit einer Freundin. In diesem Fall trage ich Plateau Sandalen mit schwarzen Stoffriemen der Marke FILA. Sie verpassen dem Look eine gute Dosis Lässigkeit und ich kann darin sogar die ganze Nacht auf der Garten Plarty zwischen den Blumenbeeten tanzen ohne Fußschmerzen fürchten zu müssen. Abgerundet wird der Look übrigens mit einer klassischen schwarzen Tasche und einer angesagten Cat-Eye Sonnenbrille.
Wie trägt man Badeschuhe in einem sportlichen Look?
Im ersten Moment mag es wohl simpel klingen, Badeschuhe in einen sportlichen Look zu integrieren, jedoch kann das auch ganz schnell etwas plump wirken, wenn nicht auf die richtigen Details geachtet wird. Mein Trick: achtet auf die Materialien, die ihr tragt. Ich trage in diesem Fall eine fließende grüne Bluse mit Streifendetails in weiß und blau von Marie Lund, die an alte Tennis-Trikots erinnert. Dazu habe ich mich für einen Tommy Hilfiger Jeansrock entschieden, dessen Stickerei auf der Tasche die Farben der Bluse wieder aufgreift. Meine Wahl fiel auf PUMA Badeschlappen in weiß mit einem perlmuttfarbenem schimmernden Riemen. Die schimmernde Oberfläche verpasst dem Schuh den nötigen Touch Glamour. Zu guter letzte dürfen ein wenig Schmuck und meine elegante runde Porsche Design Sonnenbrille zum Komplettieren des Looks nicht fehlen. 
Um es noch einmal kurz für euch zusammenzufassen: Badeschuhe zu stylen ist kein Hexenwerk, ein paar Kleinigkeiten wie die richtige Wahl des Looks sowie die passenden Accessoires sind dennoch zu beachten. Ich bin sicher, eure Looks werden klasse aussehen. Meine Badeschuhe sind übrigens von Deichmann und hier findet ihr einen Teil der riesigen Auswahl:

Ich freue mich, euch schon bald wieder hier auf dem Blog begrüßen zu dürfen.
Bis bald,
xx Feli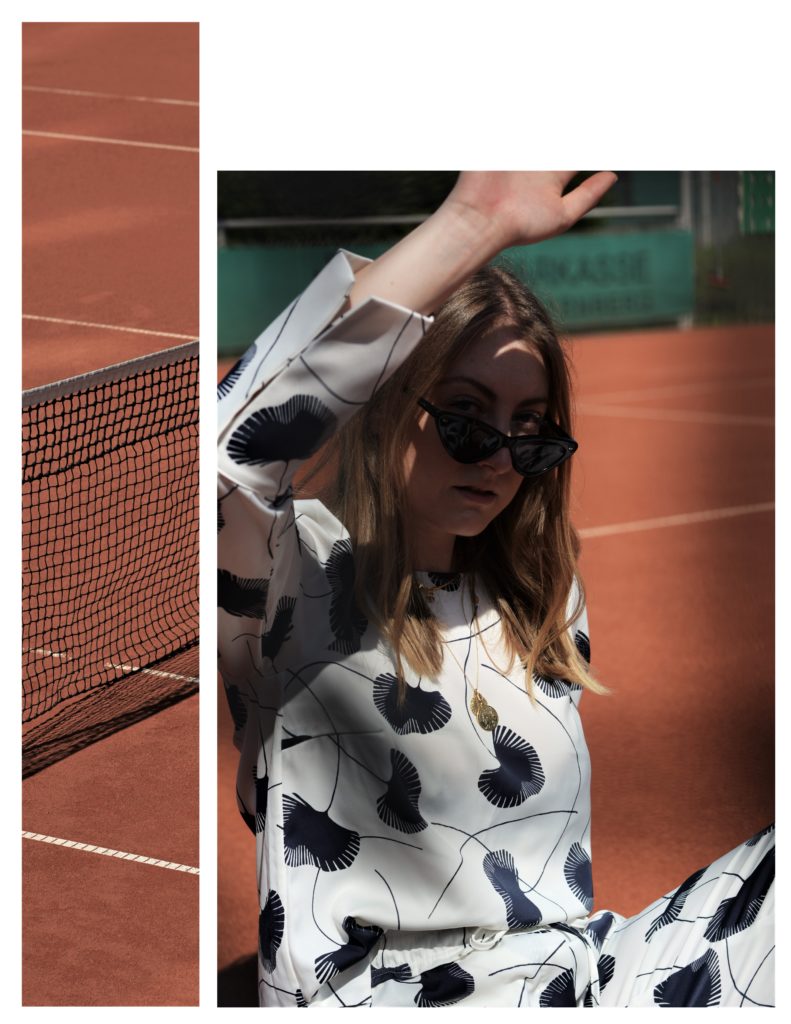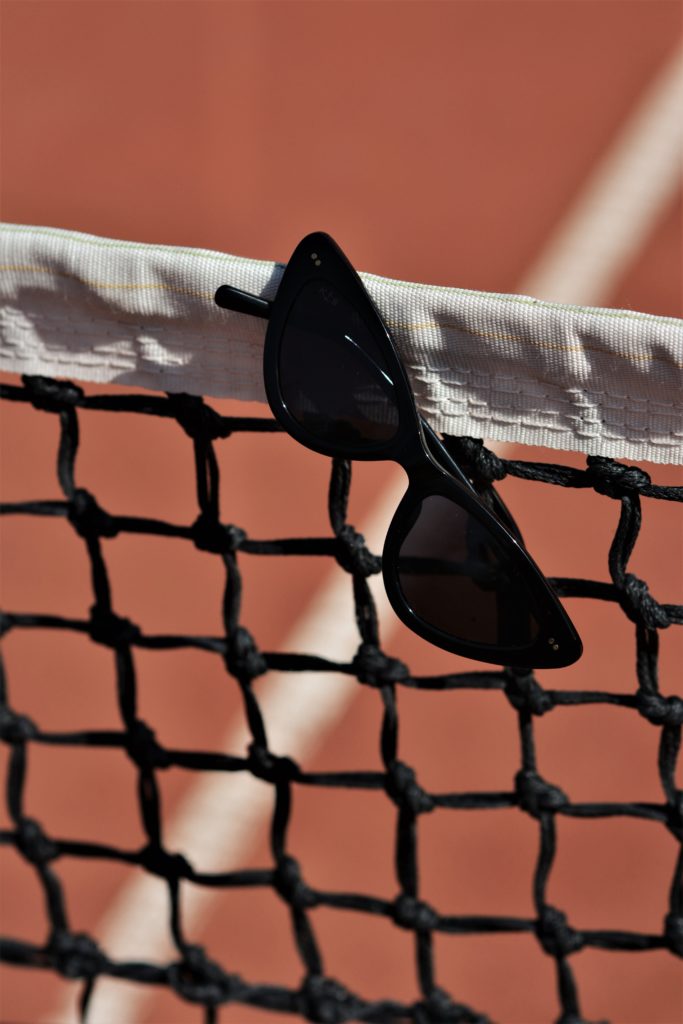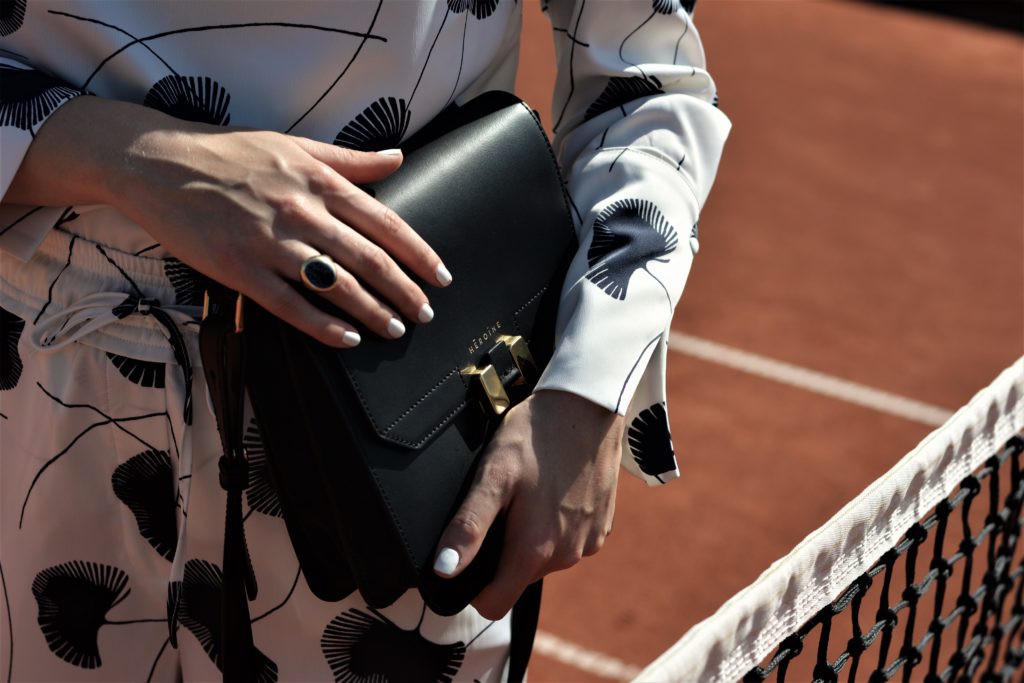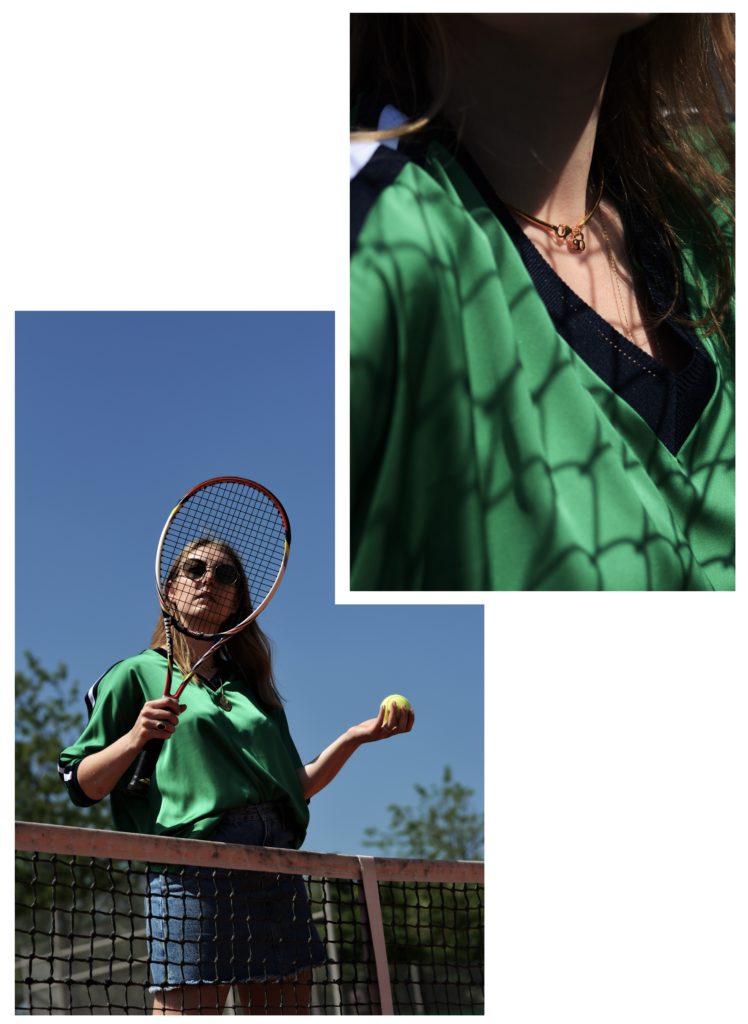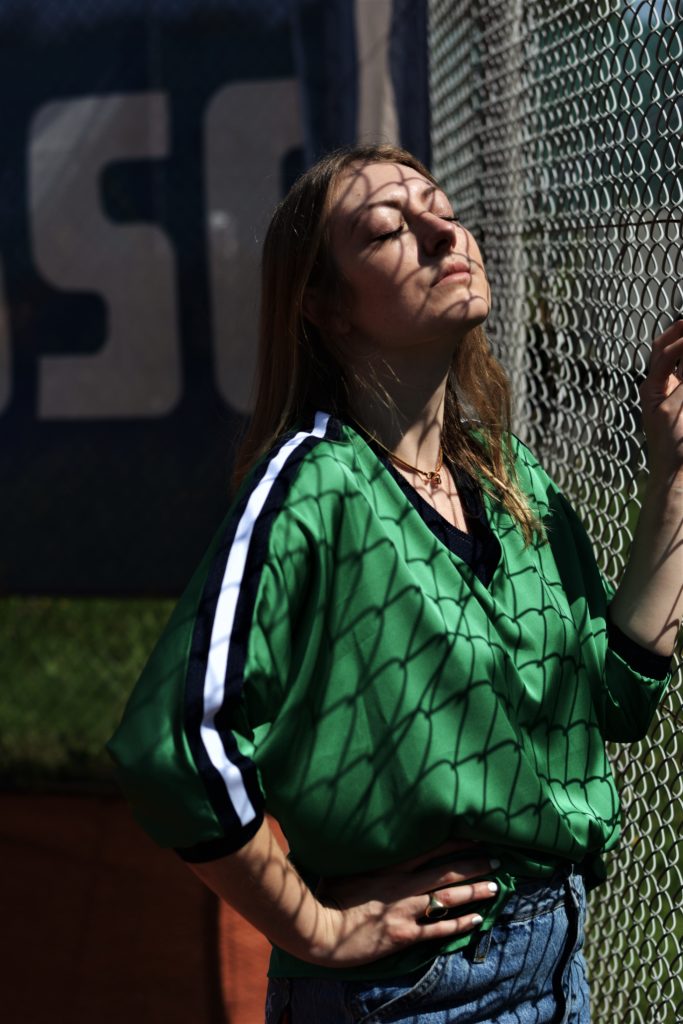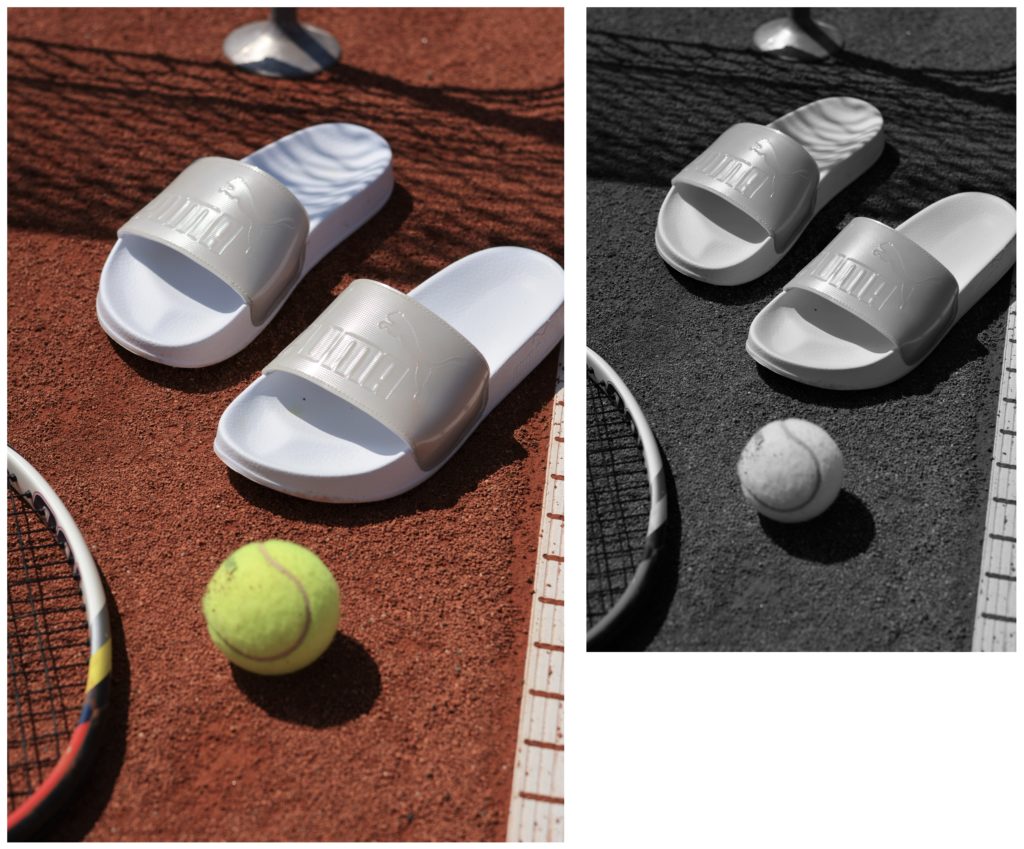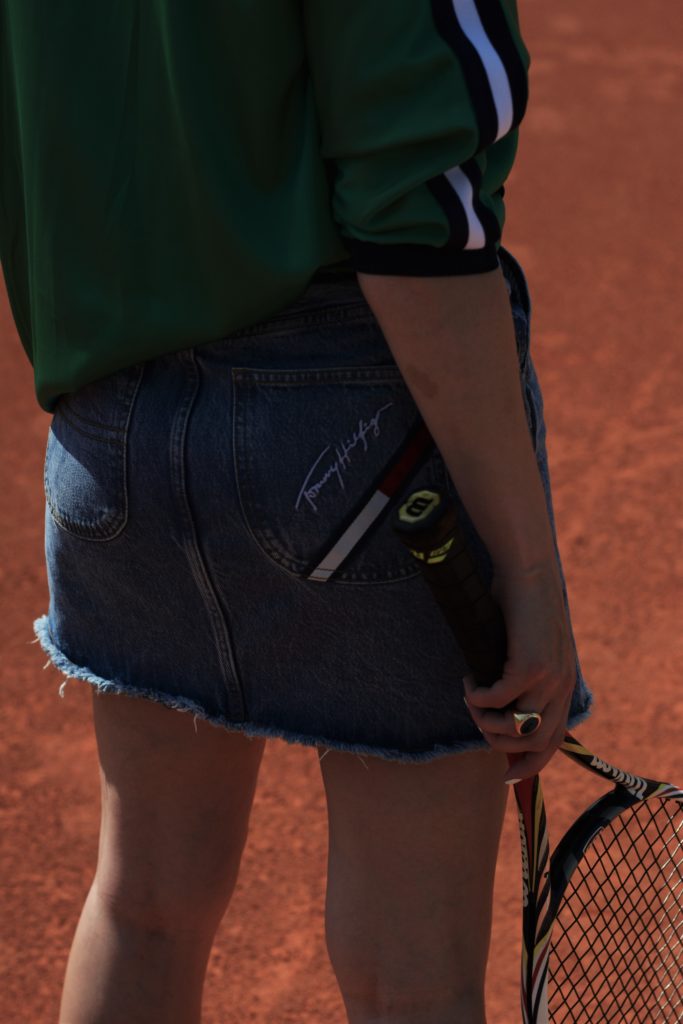 SHOP THE LOOK
LOOK 1
Blouse/Bluse: And Less*
Pants/Hose: And Less*
Bag/Tasche: Maison Heroine
Shoes/Schuhe: FILA via Deichmann*
Sunglasses/Sonnenbrille: Kapten & Son by LeGer via About You*
LOOK 2
Blouse/Bluse: Marie Lund*
Skirt/Rock: Tommy Jeans via About You*
Shoes/Schuhe: PUMA via Deichmann*
Choker/Choker: Ariane Ernst*
Sunglasses/Sonnenbrille: Porsche Design*
AD:
This post was published in paid collaboration with Deichmann. It furthermore contains affiliate links. I receive a provision by sales from the links however the price itself doesn't change for you. Items marked with * were gifted by the brands or shops named.
WERBUNG:
Dieser Beitrag ist in bezahlter Zusammenarbeit mit Deichmann entstanden. Er enthält zudem Affiliate Links. Bei einem Kauf über einen Affiliate Link, erhalte ich eine Provision. Der Kaufpreis selbst verändert sich für euch dadurch nicht. Die mit * markierten Produkte wurden mir von den genannten Marken bzw. Shops kostenlos zur Verfügung gestellt.