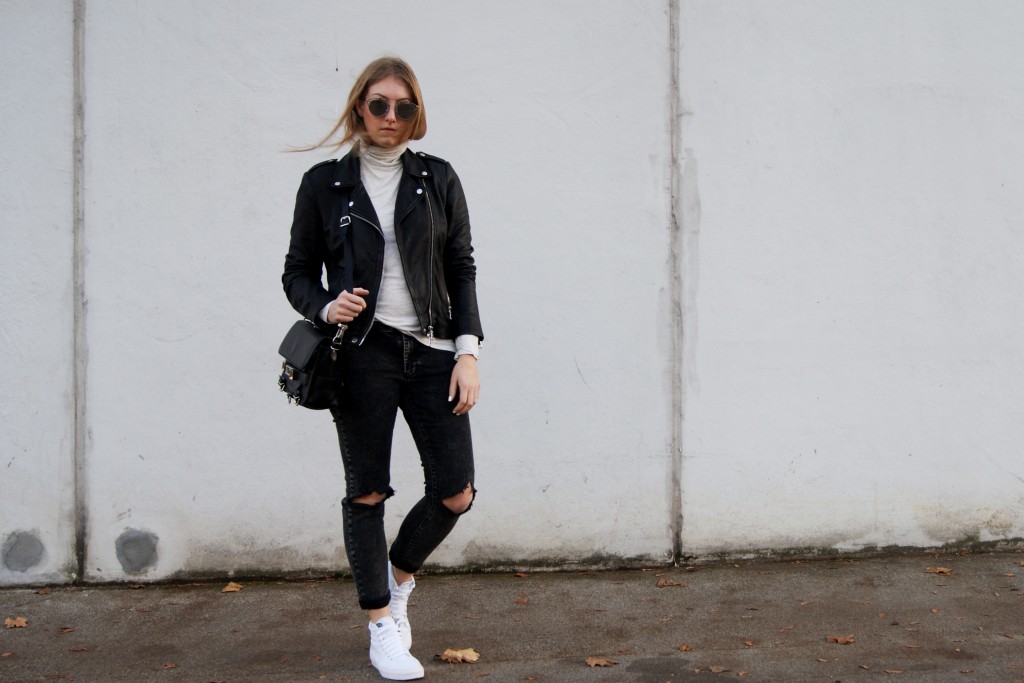 Too many sneakers? This expression does not exist in my world! It is not that I would not love my heels, boots and sandals as well but is there anything more comfy than sneakers? And there was one pair that was missing in my collection – the Vans Sk8-Hi. And those of you who know me well were for sure able to tell they needed to be white. I found them online in the DefShop. Their slogan is "definately you" and if you have one look into their shop I am sure you'll agree. They offer shoes and sportswear for any kind of taste. You can for example shop my shoes here. Maybe you are still looking for some Christmas presents?
Together with by new sneakers I am wearing a SET leather jacket, t-neck longsleeve shirt, ripped jeans, Proenza Schouler bag and Dior So Real sunnies. Last but not least I completed my outfit with a bangle by Tiffany & Co.
Some of you might find the combination of skaters' shoes and Tiffany jewellery strange but I like it anyway and think both match with the leather jacket perfectly.
I'd love to read your opinion on my outfit in a comment!
xx Feli
Zu viele Sneaker? Diesen Ausdruck gibt es in meinem Wortschatz nicht. Es ist ja nicht so, dass ich meine High Heels, Boots und Sandalen nicht lieben würde, aber was gibt es bequemeres als Sneaker? Und ein Paar hat in meiner "Sammlung" noch gefehlt: die Sk8-Hi von Vans. Und die unter euch, die mich kennen, hätten sicher sofort sagen können, dass sie weiß sein würden! Fündig bin ich im DefShop geworden – einem Onlineshop für Schuhe und Sportswear. Der Slogan des Shops mach ihn aus – definately you! Denn dort findet sich für jeden Style-Typ ein Teil, das definitiv ein Lieblingsteil sein wird. Meine Schuhe findet ihr zum Beispiel hier. Vielleicht fehlen euch ja noch ein paar Weihnachtsgeschenke?
Zusammen mit meinen neuen Schuhen trage ich eine Lederjacke von SET, ein graues Rollkragenshirt, löchrige Jeans, meine Proenza Schouler Tasche und Dior So Real Sonnenbrille. Und nicht zu vergessen einen silbernen Armreif von Tiffany & Co.
Manche von euch denken sicher die Kombi aus Skateschuhen und Tiffany Schmuck "geht ja garnicht" – finde ich aber nicht! Gerade weil beides so unterschiedlich ist und trotzdem perfekt zur Lederjacke passt, liebe ich den Look.
Was haltet ihr davon?
xx Feli