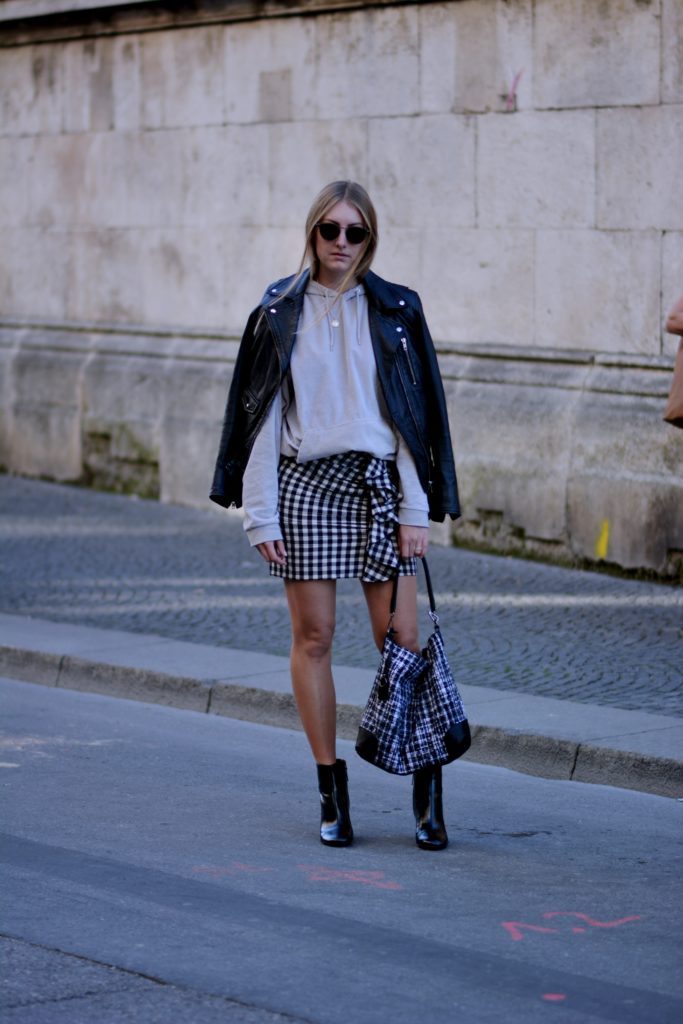 Hello my loves, here we go with a blogpost showing two competely different looks that only have two things in common: I am wearing leather jackets and a casual checkered sachet from EMILY & NOAH – the newest member of my bag family. Don't women have a very special relationship with their bags? I am sure you do as well. Our bags hide our secrets, we confide them everything. Somehow our bags contain our whole lives – mobile phones, wallets and diaries. We rely on our bags like we rely on our best friends.
So whenever I buy a new bag it is like winning a new friend and when this chequered EMILY & NOAH sachet joined my bags collection I could not have been happier. The best thing is that the bag is a 3-in-1 piece. It is reversible so you can either wear the extravagant version with the chequered fabric or the black minimalistic version with leather look alike fabric outside. And there is even another black little crossbody bag with a zipper inside so you can hide the really important things. Being this versatile that bag is the perfect companion for almost every day and outfit. Isn't this a bag you would wish for yourself? And ladies: the best characteristic of my EMILY & NOAH bag is that it is affordable while being amazing in terms of quality! With only 59,99€ this bag matches with all our bank accounts. Furthermore it is available in many different shapes and colours and therefore I am sure there is the perfect one for you, too!
As I enjoy being an inspiration for you and as I also know that sometimes it supports this a lot showing you pieces combined in different looks I decided to shoot my new bag with two different looks.
Look number 1 is a combination of a classic business skirt in a differently chequered fabric than the bag to give the outfit an exciting touch, little black boots, a cozy hoodie and a leather jacket. This is a look you could even wear in the office on casual Friday.
Look number 2 is a rather leisure time, sportive style combining a simple white shirt with a striped, knitted midi skirt, sneakers and also a leather jacket. I am a passionate advocate of mixing patterns as you can see in both looks. Especially in autumn when everybody starts wearing only black and grey again I like to give the world at least a patterned kick.
Well my dears, autumn is here. So why don't you join me on my chequered and patterned mission? Be brave – you will enjoy it! Here you can find the full range of EMILY & NOAH's chequered, reversible bags. I am curious which will be your favorite.
Have fun shopping and enjoy dressing up for fall with your new EMILY & NOAH bag.
xx Feli
Hallo meine Lieben, hier kommt ein Blogpost, der gleich zwei komplett verschiedene Looks zeigt, die nur zwei Dinge gemeinsam haben: Ich trage jeweils eine Lederjacke und meine neue karierte Beuteltasche von EMILY & NOAH – neuestes Mitglied meiner Taschen-Familie.  Haben wir Frauen nicht immer ein ganz besonderes Verhältnis zu unseren Taschen? Ich bin sicher, auch euch geht es so. Unsere Taschen bergen unsere Geheimnisse, wir vertrauen ihnen so ziemlich alles an. Irgendwie steckt doch nahezu unser gesamtes Leben in unserer Handtasche – Handy, Geldbeutel, Terminkalender. Wir verlassen uns auf unsere Handtaschen, wie auf eine gute Freundin. 
Wann immer also eine Tasche zu meinem Sammlung hinzu kommt, ist es so als würde man einen Freund dazu gewinnen und deshalb habe ich mich über dieses karierte Exemplar von EMILY & NOAH riesig gefreut. Das besondere an der Tasche ist, dass es quasi drei Taschen in einer sind. Man kann die Tasche wenden, sodass das Karomuster nach innen verschwindet und einem strapazierfähigen Material im Lederlook weicht. Außerdem ist innen noch eine kleinere Tasche mit langem Träger und Reißverschluss, in der sich die wirklich wichtigen Dinge verstauen lassen. Dadurch, dass die Tasche so vielseitig ist, lässt sie jedes Outfit toll aussehen. Entweder verpasst sie dem Look durch das Muster einen aufregenden Touch oder aber sie fungiert als zurückhaltender Begleiter ganz edel in schwarz. Und Mädels: das Beste ist, die Tasche überzeugt nicht nur qualitativ, sie ist dennoch absolut erschwinglich und sprengt mit gerade mal 59,99€ wohl kaum ein Bankkonto. Abgesehen davon ist sie in verschiedenen Formen und Farben erhältlich und damit ist bestimmt auch für euch das passende dabei.
Ich bin stolz, dass ich so vielen von euch eine Inspiration sein darf und dafür ist es oft hilfreich die Kombi-Möglichkeiten eines bestimmten Teils zu zeigen. Und genau deshalb gibt es heute zwei Looks für euch.
Look Nummer 1 ist eine Kombi aus einem Business-Rock aus einem ebenfalls, jedoch anders karierten Material, kleinen schwarzen Stiefeletten, dazu einem gemütlichen Hoodie und einer schwarzen Lederjacke. Dieser Look ist für einen Casual Friday sogar office-tauglich.
Look Nummer 2 geht in eine alltäglichere und sportlichere Richtung und besteht aus einem cleanen weißen T-Shirt, einem gestreiften Feinstrick-Rock, Sneakers und ebenfalls einer Lederjacke. Ich bin eine große Verfechterin von Mustermix, wie ihr ihn in beiden Looks sehen könnt, denn gerade wenn es herbstlicher wird, greifen die meisten zu schwarz und grau und mir macht es Spaß dieser Trübheit einen Muster-Kick zu verpassen.
Nunja ihr Lieben, der Herbst ist da. Habt ihr Lust mich auf meiner gemusterten und karierten Mission zu begleiten? Seid ein wenig mutig – ihr werdet es nicht bereuen! Hier findet ihr die gesamte Auswahl an karierten Wendetaschen von die EMILY & NOAH und ich bin schrecklich gespannt, welche euer Favorit ist.
Viel Spaß also beim Shoppen und denkt doch schon vorsichtig mal an Weihnachten (es geht ja doch immer schrecklich schnell) und außerdem viel Spaß beim aufpimpem eurer Herbstoutfits mit eurer neuen EMILY & NOAH Tasche
xx Feli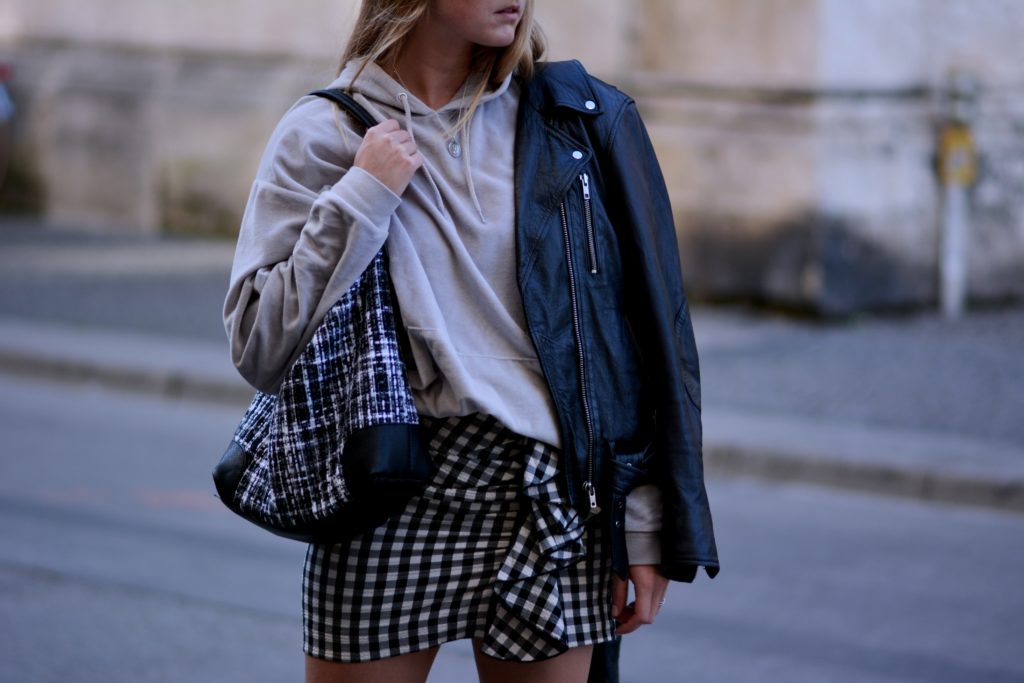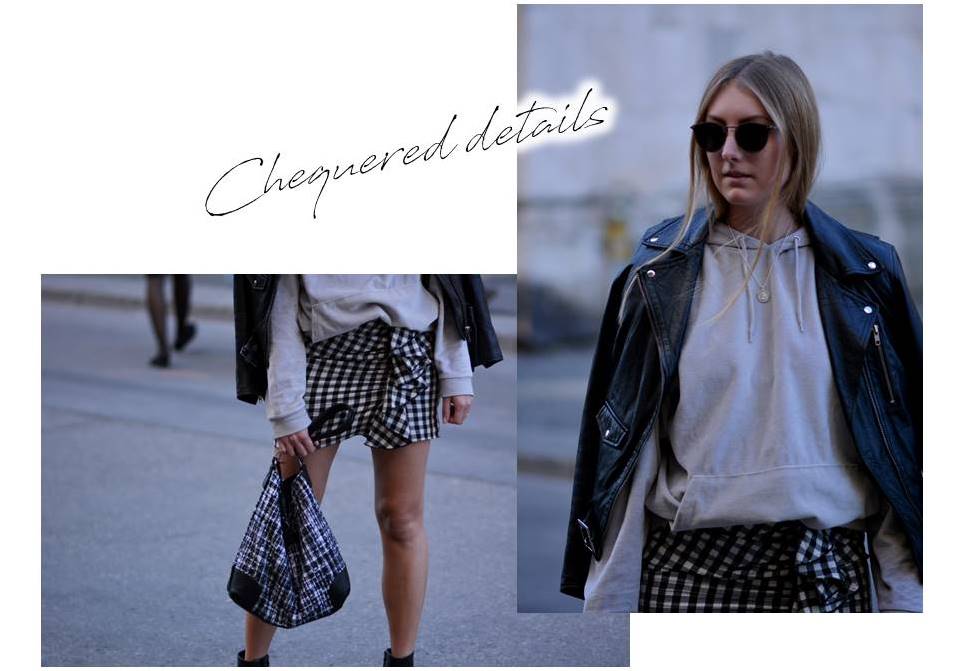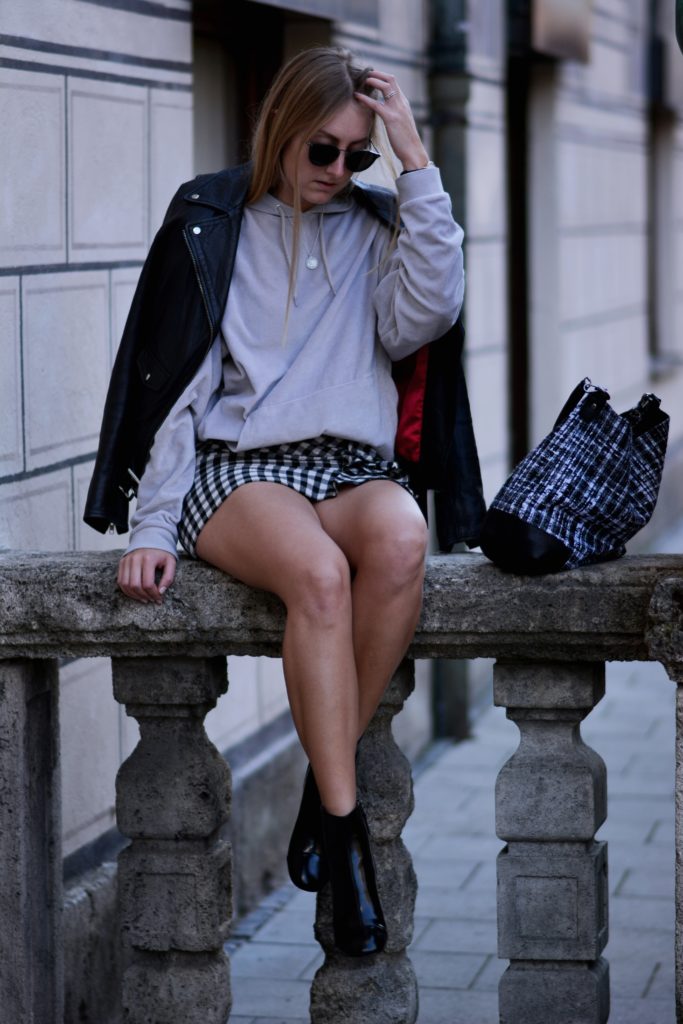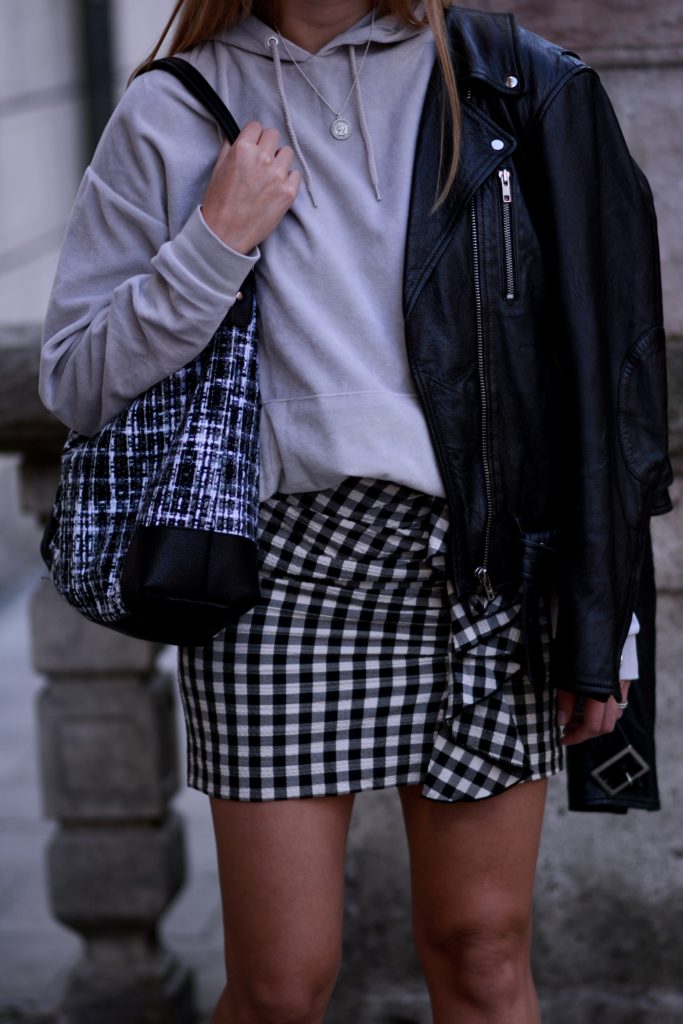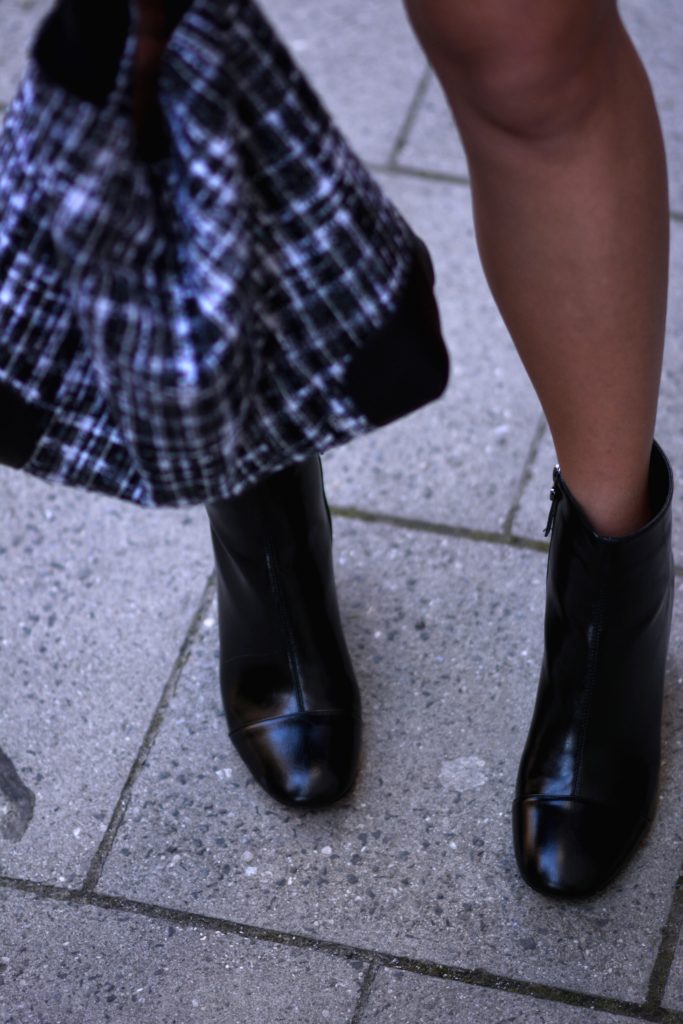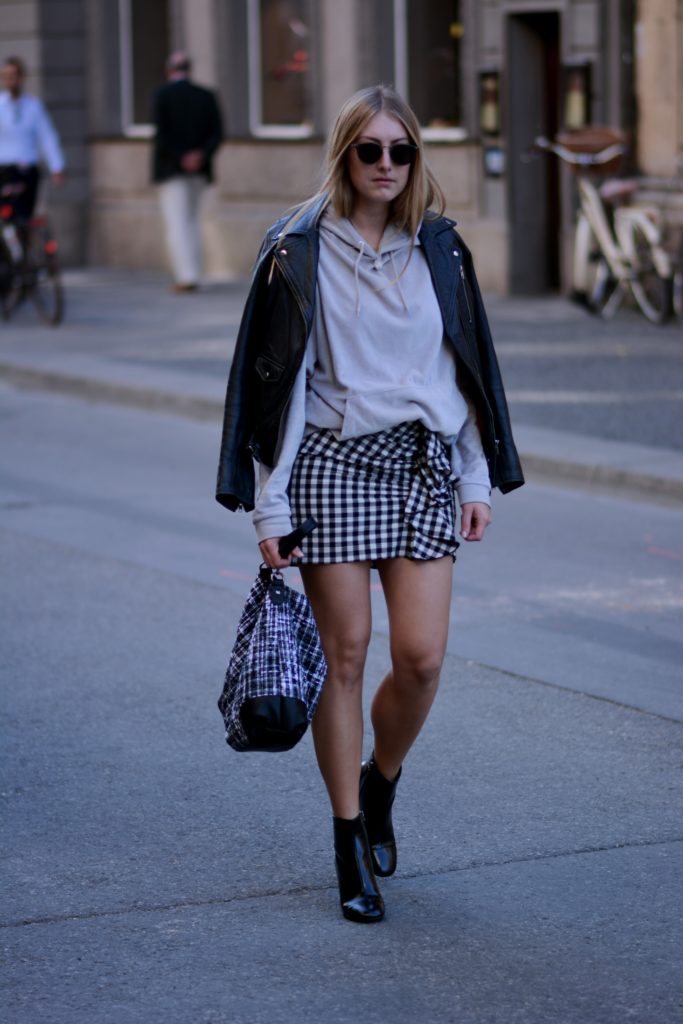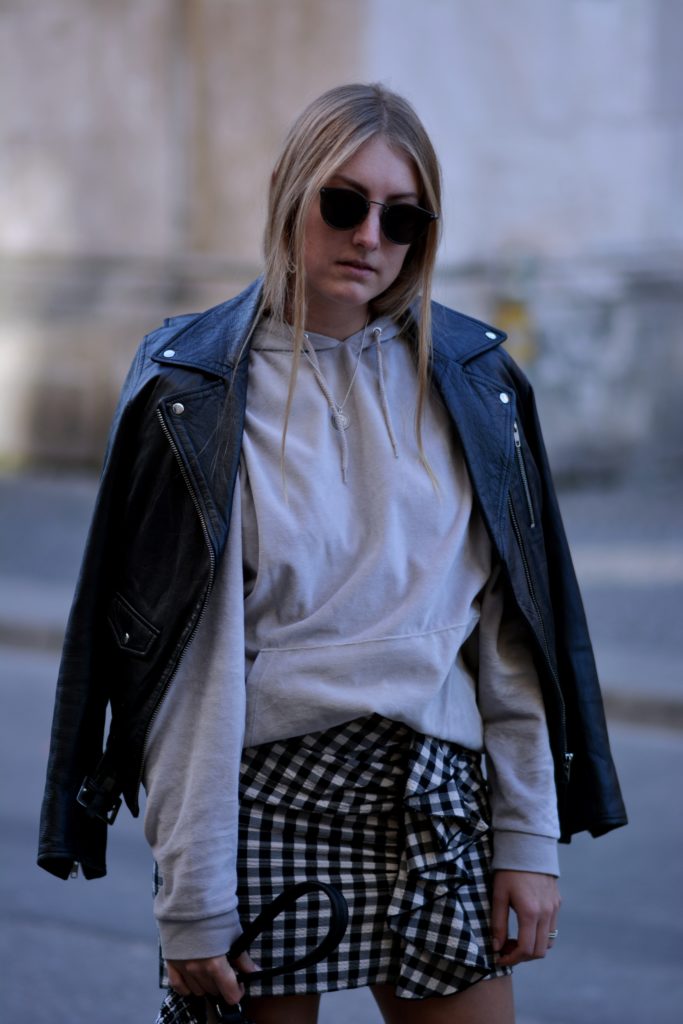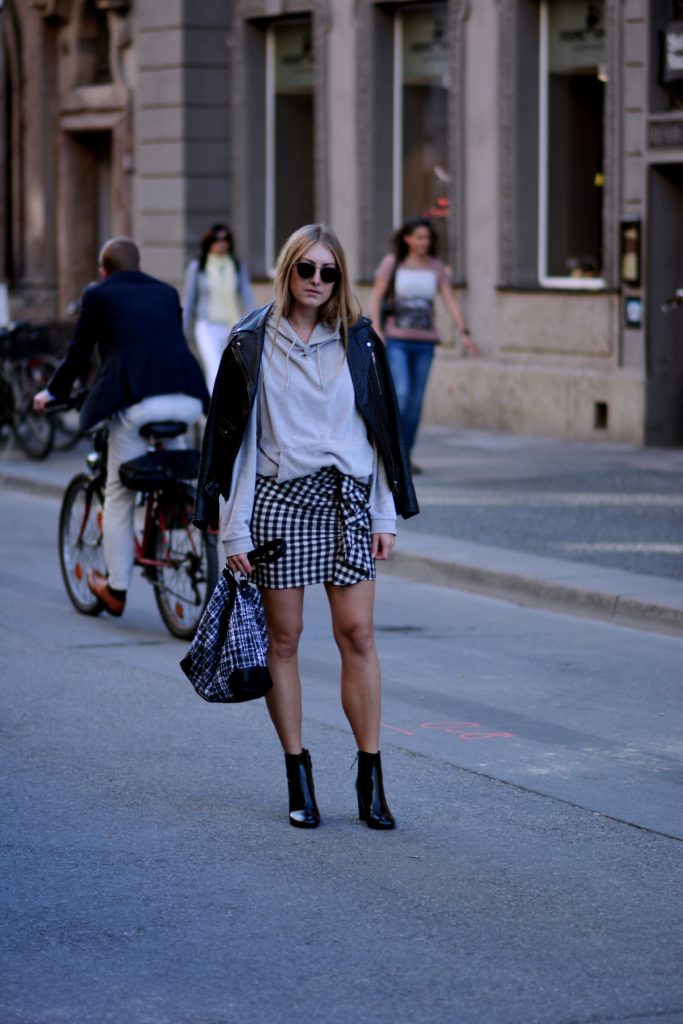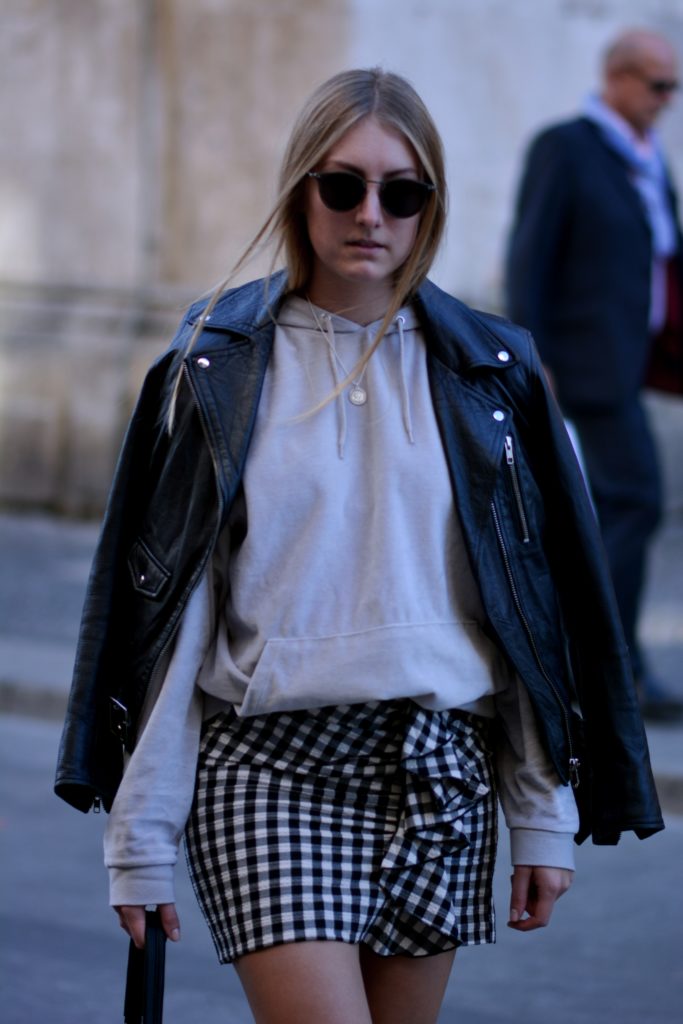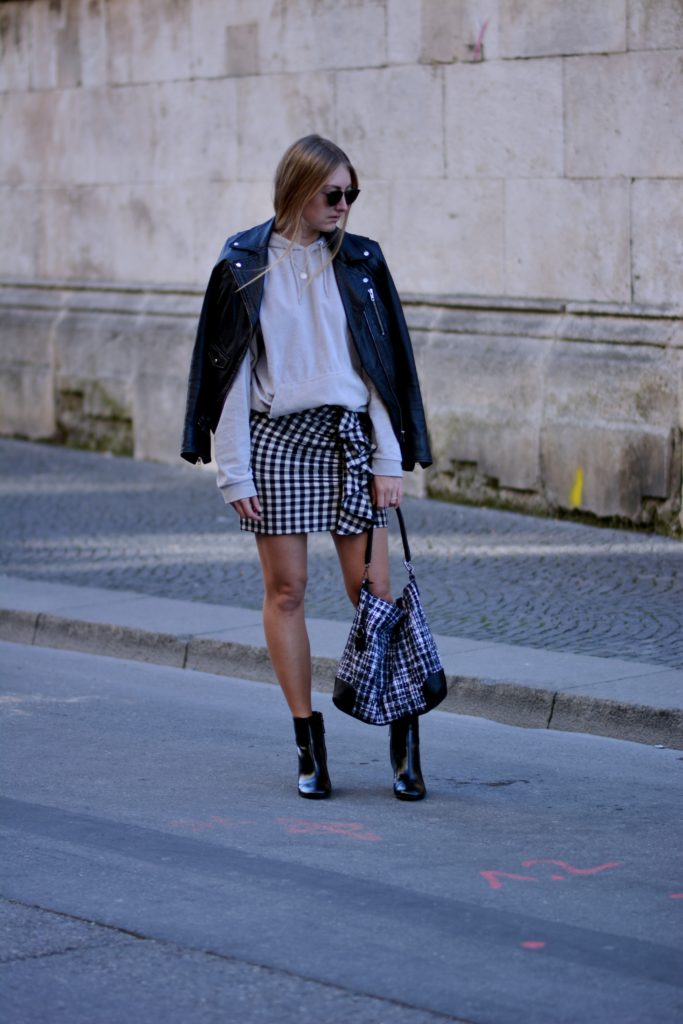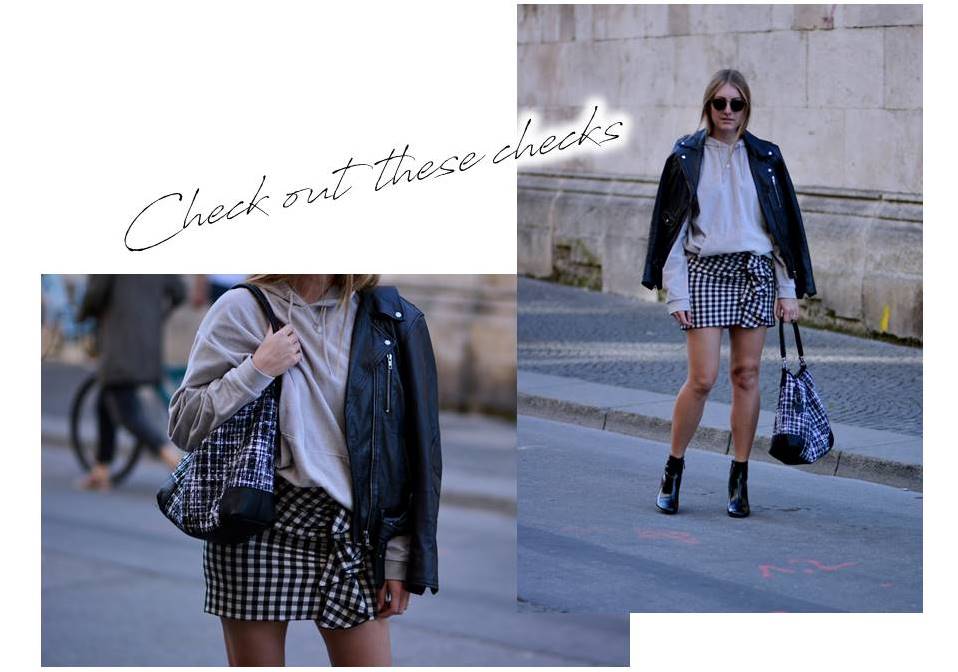 Shop look 1
Jacket/Jacke: Gipsy (similar here)
Sunglasses/Sonnenbrille: KBL* (similar here)
Hoodie/Kapuzenpullover: Asos (similar here)
Skirt/Rock: H&M (similar here)
Bag/Tasche: Emily & Noah*
Boots/Stiefel: funky buddha* (similar here)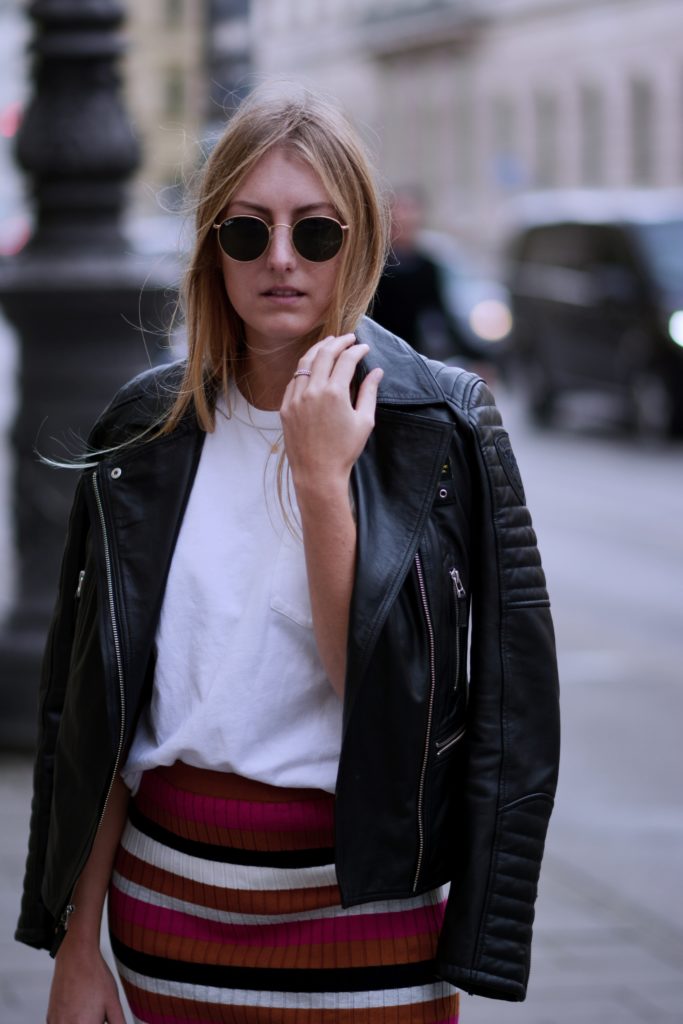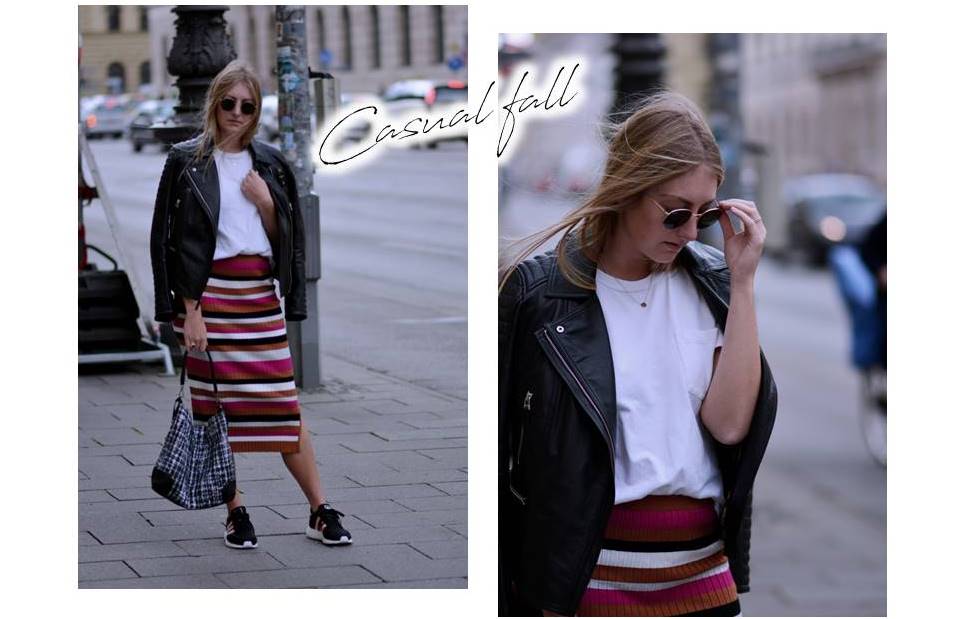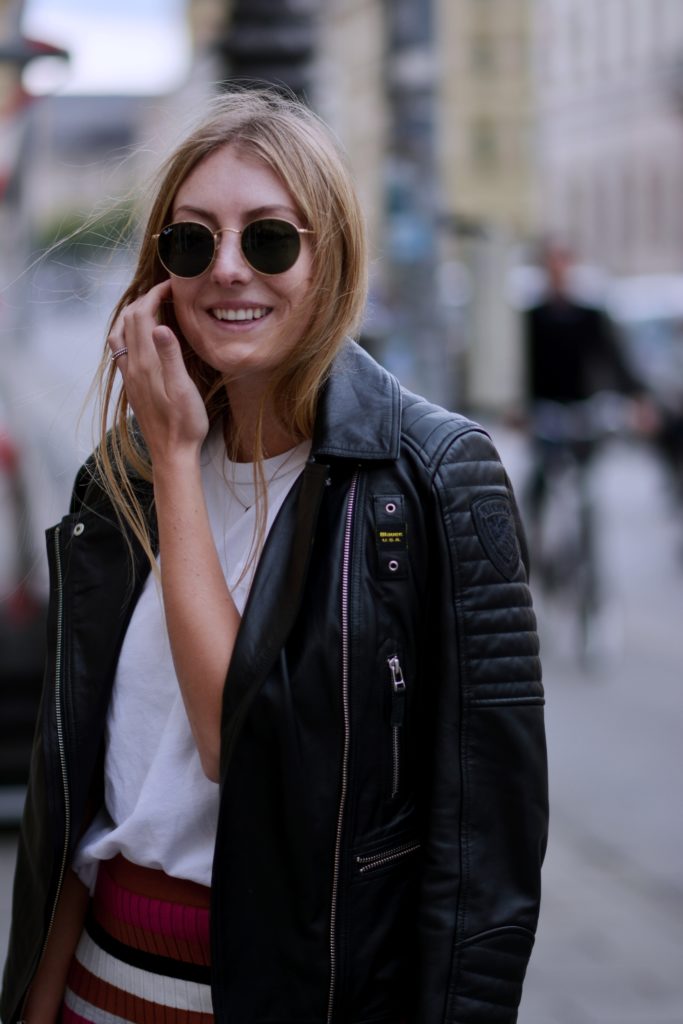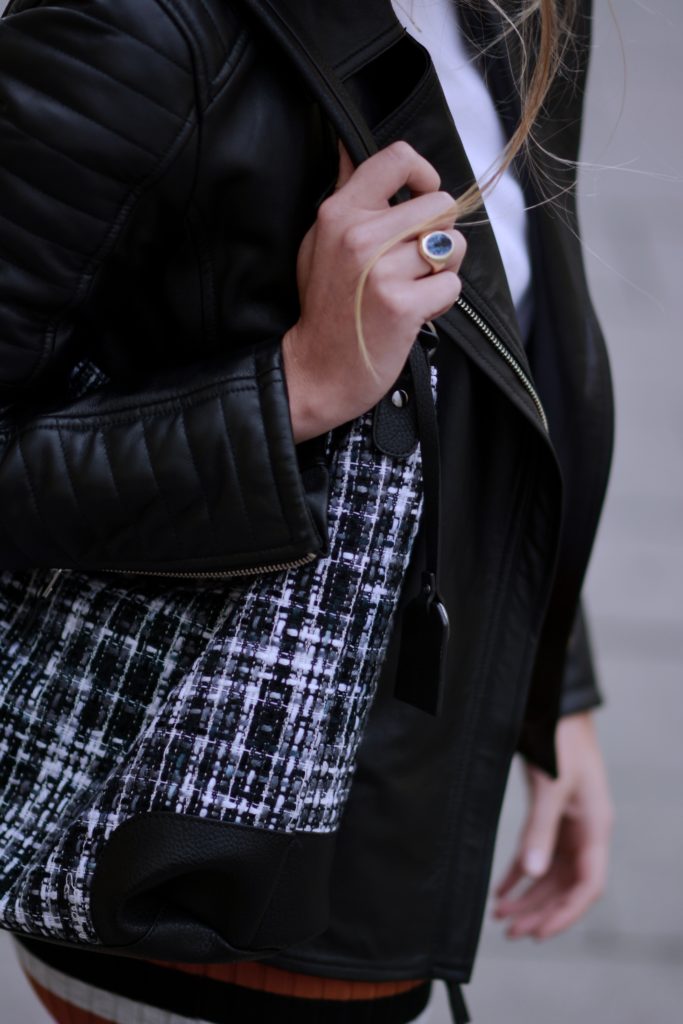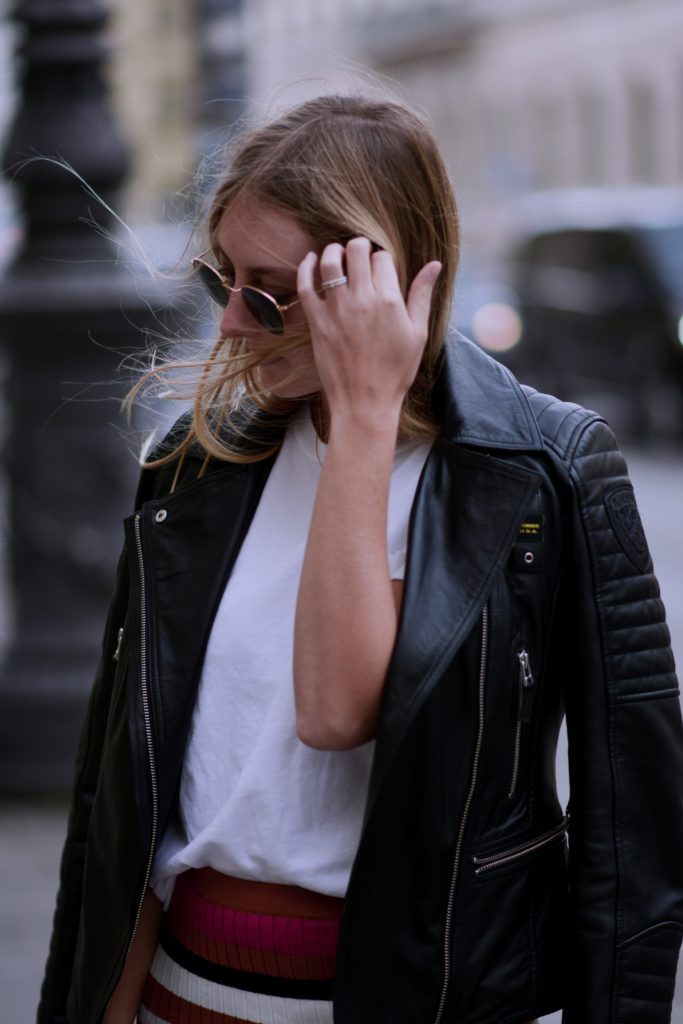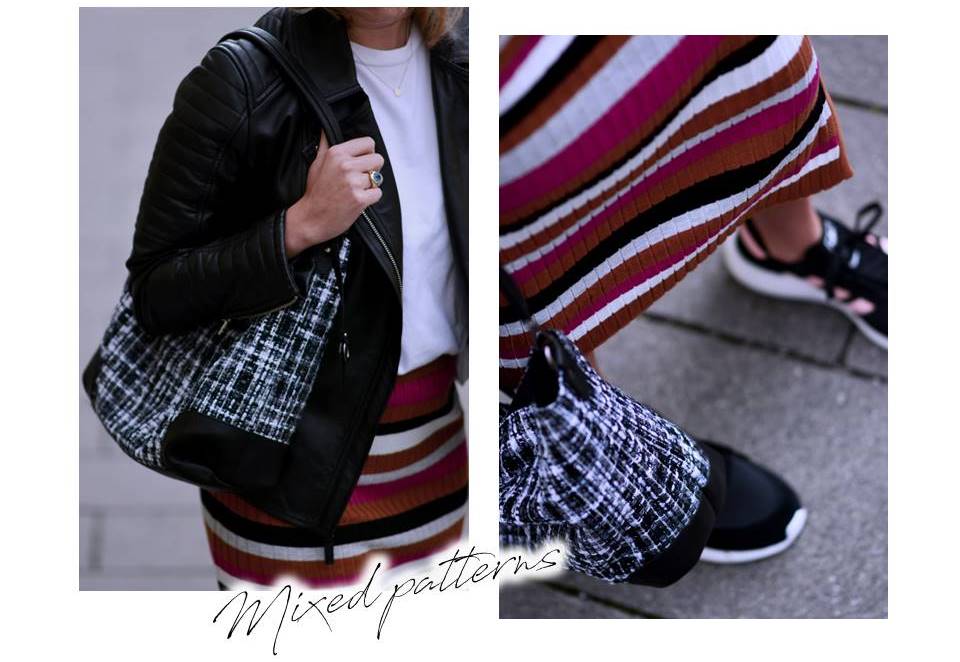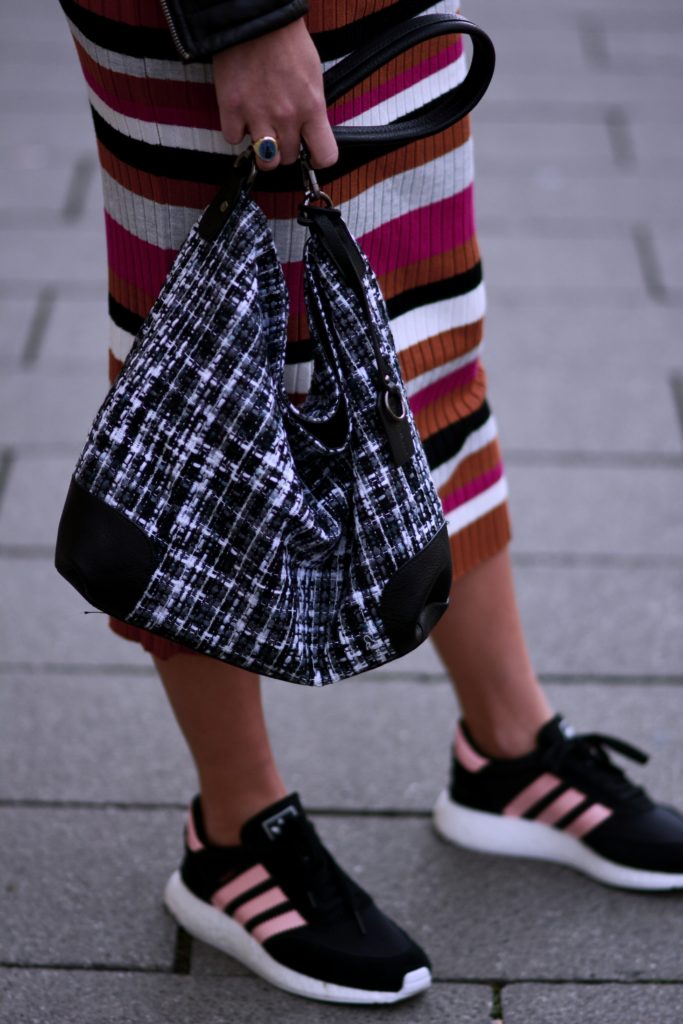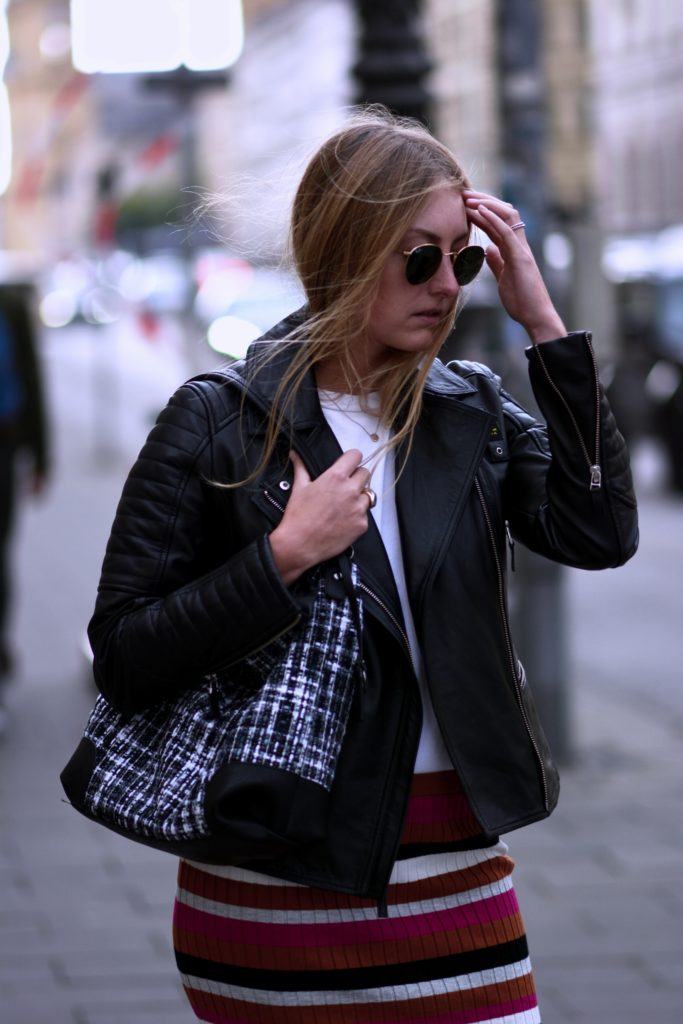 Shop look 2
Jacket/Jacke: Blauer USA*
Sunglasses/Sonnenbrille: Ray Ban
Shirt/Shirt: GAP (similar here)
Skirt/Rock: EDITED
Bag/Tasche: Emily & Noah*
Sneakers/Sneaker: Adidas via footlocker.de*
Paid collabortion with the EMILY & NOAH./Bezahlte Zusammenarbeit mit EMILY & NOAH.
AD/WERBUNG: This post contains affiliate links. I receive a provision by sales from the links however the price itself doesn't change for you. The items marked with * were sponsored by the brands or shops named./Der Beitrag enthält Affiliate Links. Bei einem Kauf über einen Affiliate Link, erhalte ich eine Provision. Der Kaufpreis selbst verändert sich für euch dadurch nicht. Die mit * markierten Produkte wurden mir von den genannten Marken bzw. Shops kostenlos zur Verfügung gestellt.