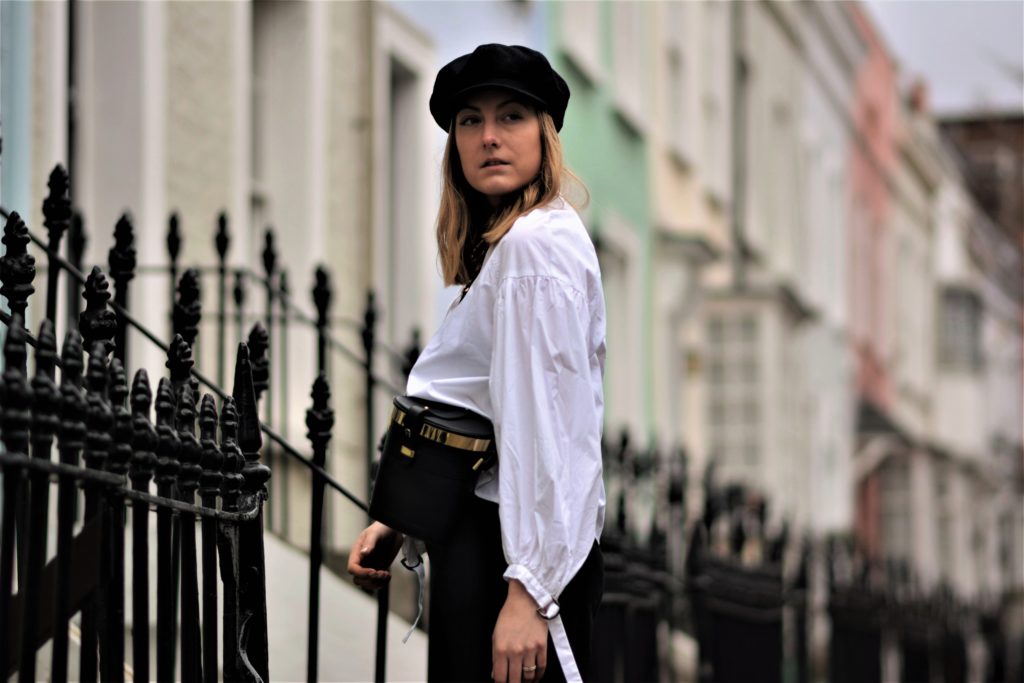 ENG
Hello folks, here we go with my first outfit post from London. The unsettled weather made shooting in London way more difficult that we thought. But some rain free moments gave us enought time to finally shoot this outfit in London Chelsea. The lovely English townhouses with their often colourful painted doors are more than charming and created thee perfect atmosphere to shoot this look. Most of them are painted white but in this little street every house had another colour and therefore were close to magical. I thought this only existed in movies.
But now let's talk about this outfit. I was wearing a black and white look which only my signet ring and socks with colourful studds from Calzedonia gave a little touch of colour. My black Marciano flared pants match perfectly with a white blouse with statement sleeves from Zara. The look is finished with a baker boy hat that I found at Topshop, suede pumps from Guess with golden heels and my little Aigner bucket bag.
Did you know that bucket bags were the first bags? This makes them real classics that will probably never be "out of fashion". At the end of this blogpost I linked you some bucket bags so let yourself be inspired and have a lovely week!
xx Feli
DE
Hallo ihr Lieben, hier ist er: mein erster Outfit-Post aus London. Das unbeständige Wetter in der britischen Haupststadt hat uns das Shooten sehr viel komplizierter gestaltet, als wir uns das eigentlich vorgestellt hatten. Und dennoch ist es uns gelungen in einer kurzen niederschlagsfreien Zeit diesen tollen Look im Stadtviertel Chelsea zu shooten. Die hübschen kleinen Straßenzüge mit den typisch englischen Reihenhäusern, wobei jedes Haus eine kleine Treppe zur oft bunt lackierten Haustür hat, haben einfach einen tollen Charme. Für uns waren sie der perfekte Foto-Spot. Oft sind die Häuser alle fein säuberlich weiß gestrichen. In der Straße, in welcher wir diesen Look fotografiert haben, hatte allerdings jedes Haus einen eigenen Anstrich. Ich dachte, sowas gibt's nur im Film. Die zart-bunten Farben haben dem Straßenzug etwas magisches verliehen und so hat das Shooten gleich nochmal mehr Spaß gemacht.
Jetzt aber zum Outfit. Ich trage einen schwarz-weißen Look, bei welchem lediglich mein blauer Siegelring und meine Calzedonia Strümpfe mit bunten Nieten dem Look einen kleinen Farbklecks verpassen. Zu einer langen schwarzen außergewöhnlichen Marlene-Hose von Marciano mit seitlich hohen Schlitzen trage ich eine Bluse mit Statement-Ärmeln von Zara. Dazu eine Baker Boy Mütze, die ich bei Topshop erstanden habe und Wildleder-Pumps von Guess mit einem dicken, goldenen Absatz.
Außerdem hat mich meine kleine schwarze Ledertasche von Aigner mit nach London begleitet. Übrigens hat die Tasche eine Korbform. Korbtaschen waren wohl die ersten Handtaschen, die es gab und sind damit ein richtiger Klassiker der Mode-Geschichte. Mein Modell aus schwarzem Leder ist, wie ich finde, besonders zeitlos. Ich habe euch in der Leiste am Ende des Posts ein paar ähnliche Taschen verlinkt.
Also lasst euch doch ein wenig inspirieren und startet gut in die neue Woche,
xx Feli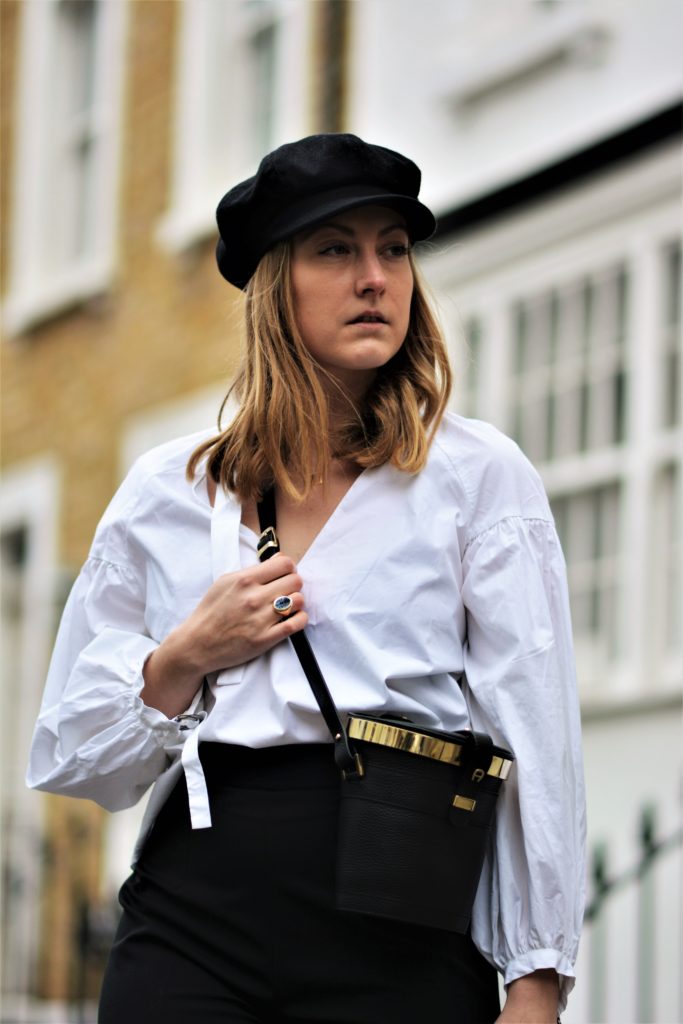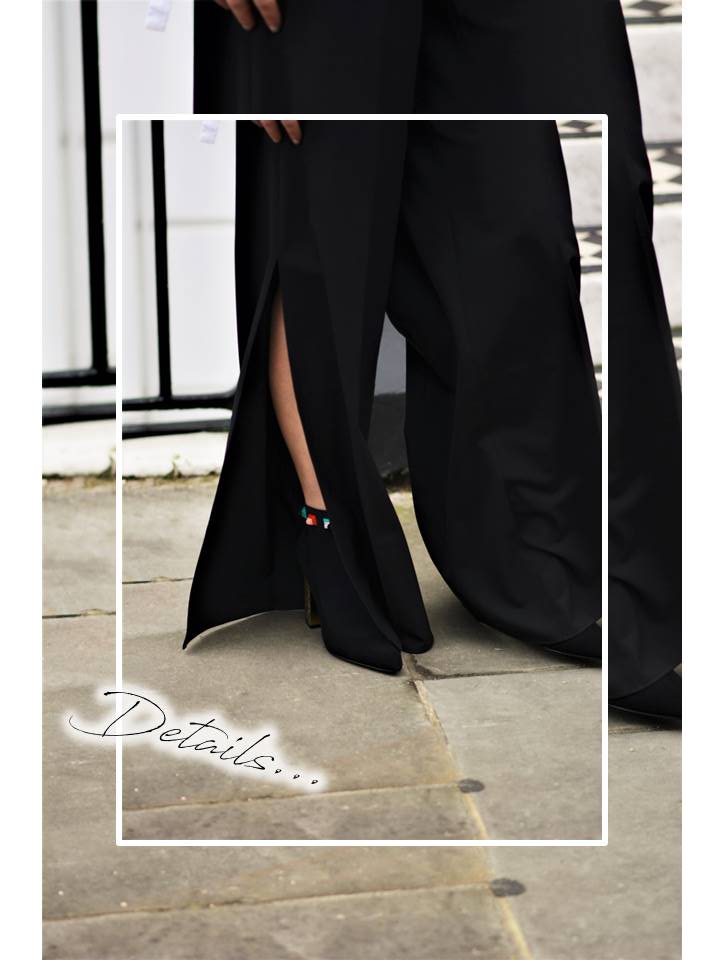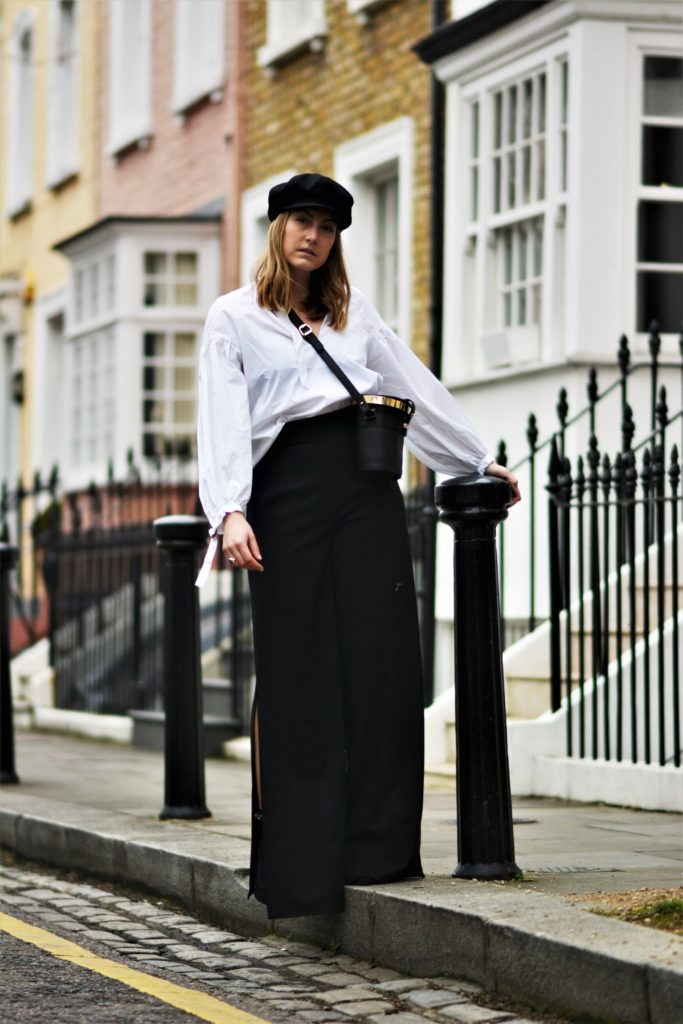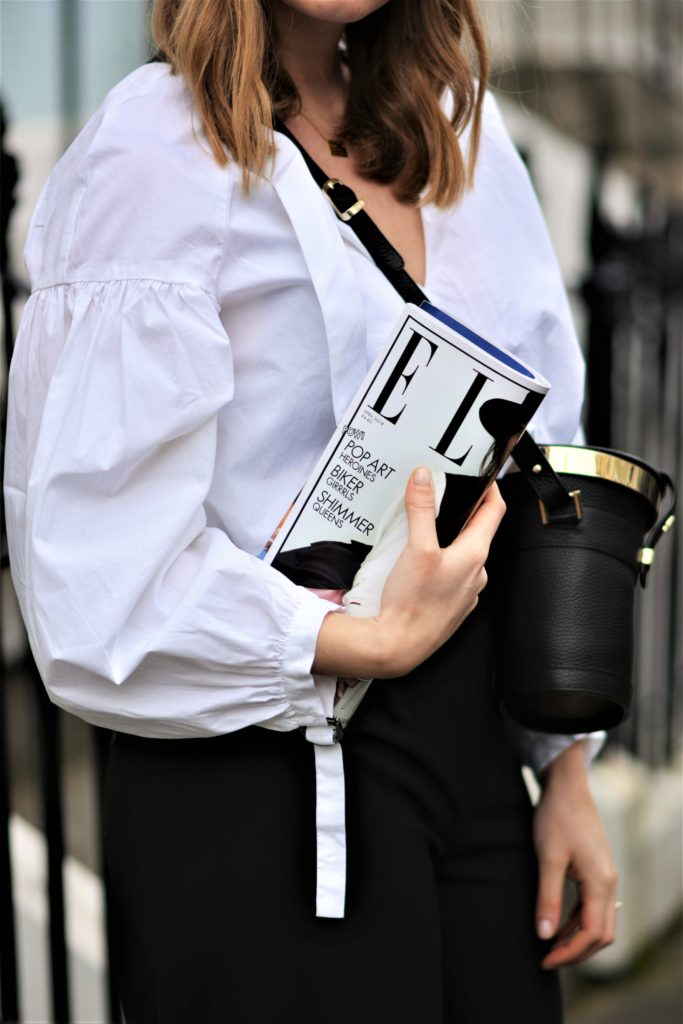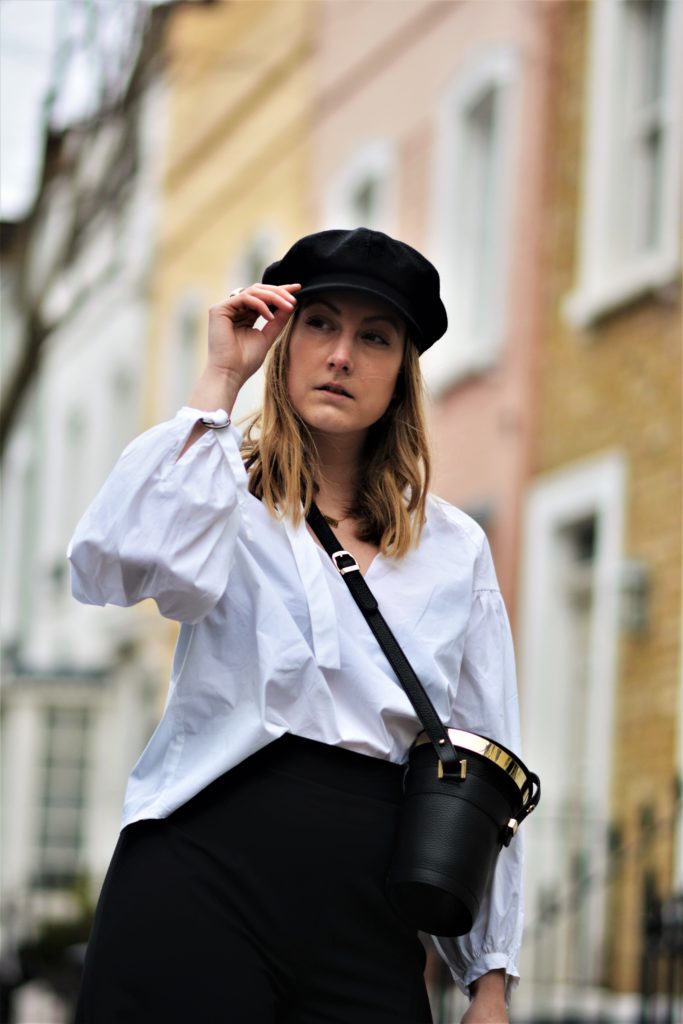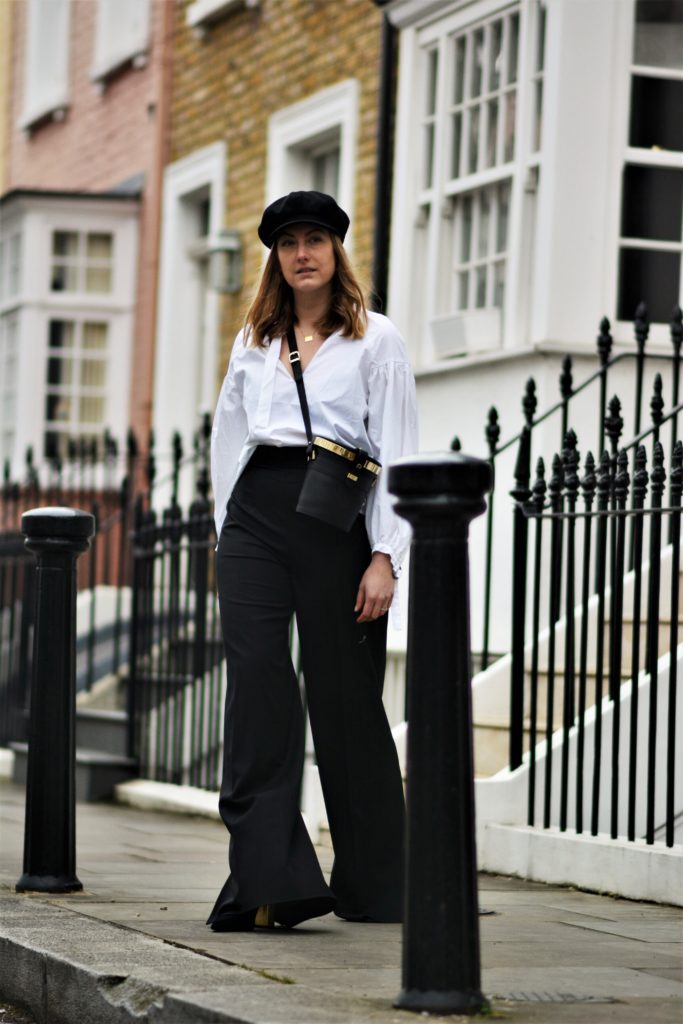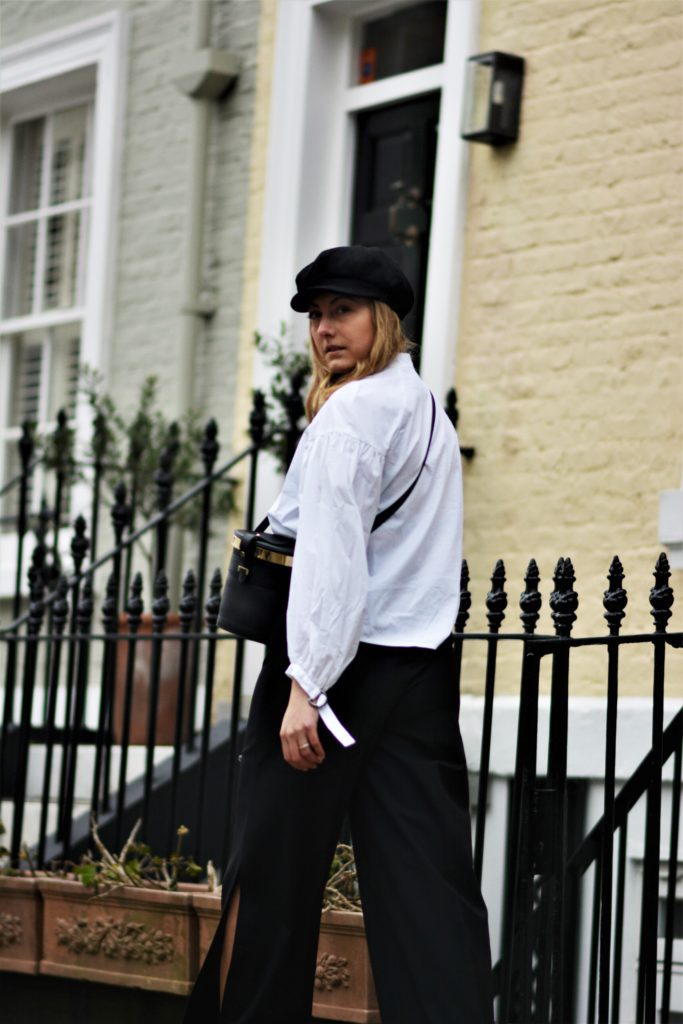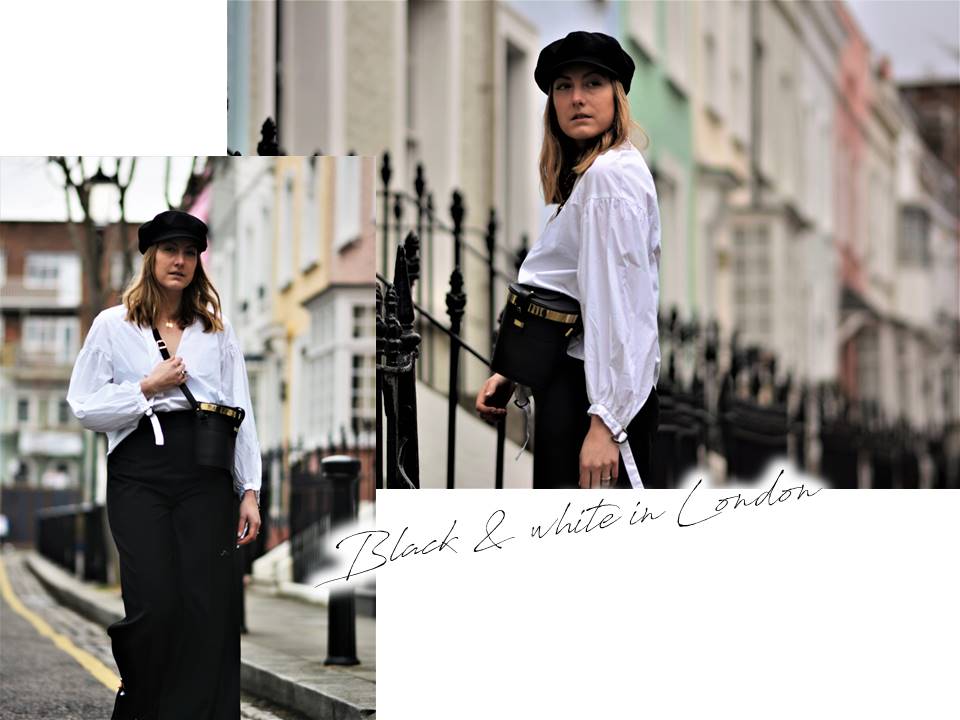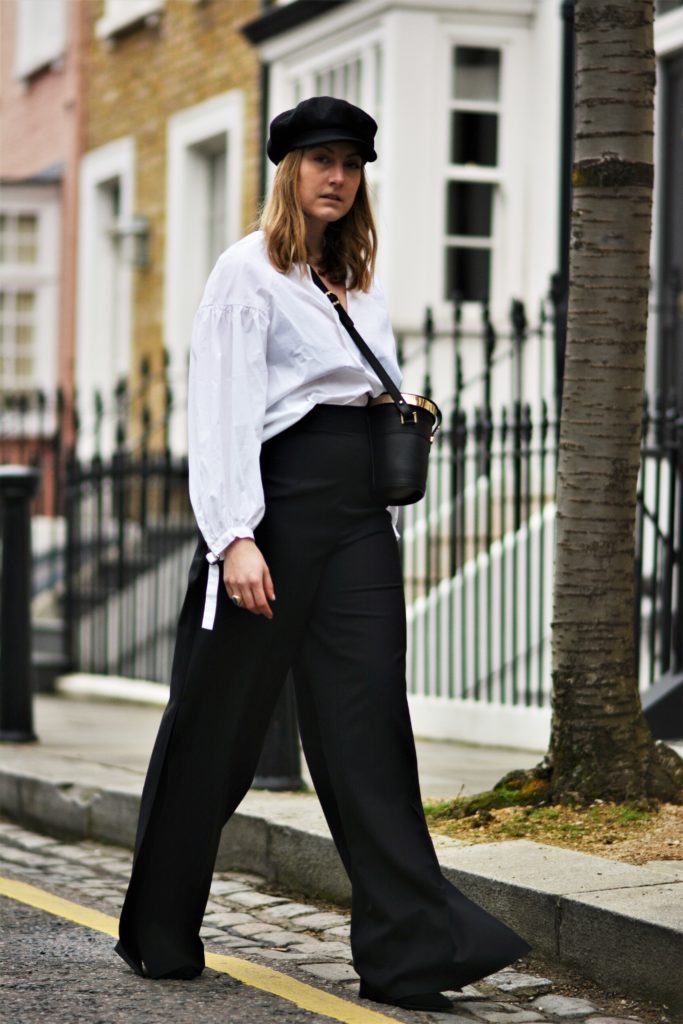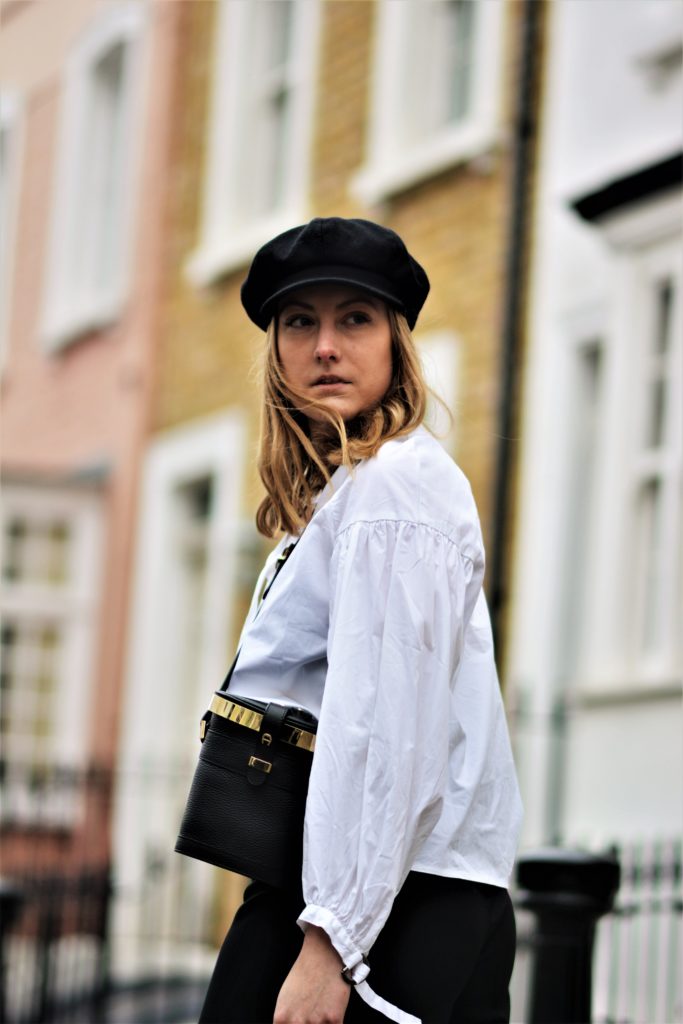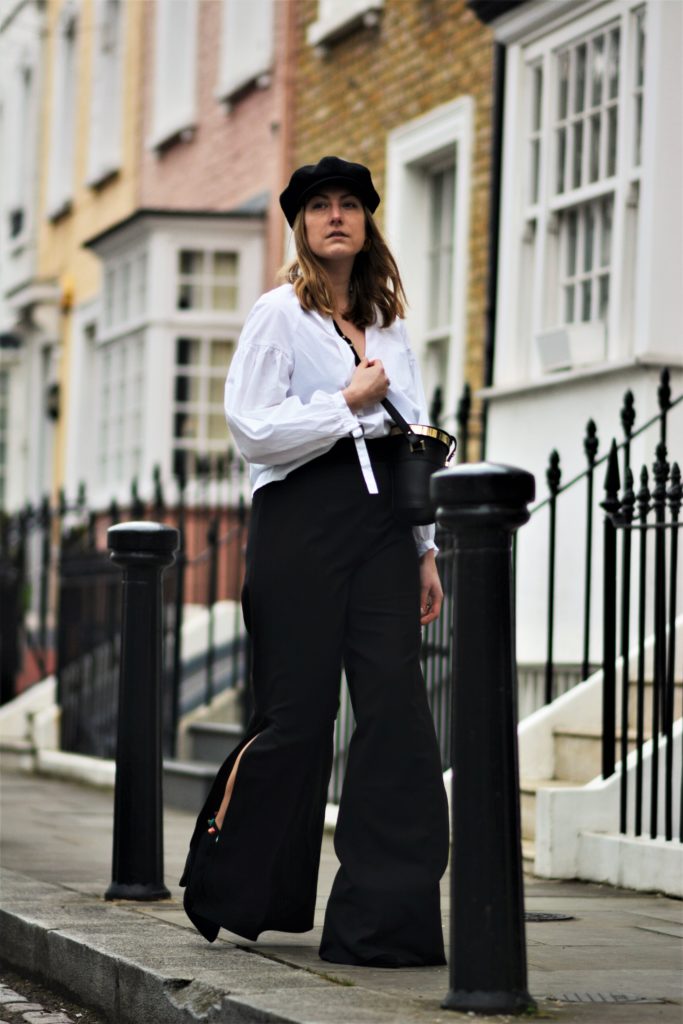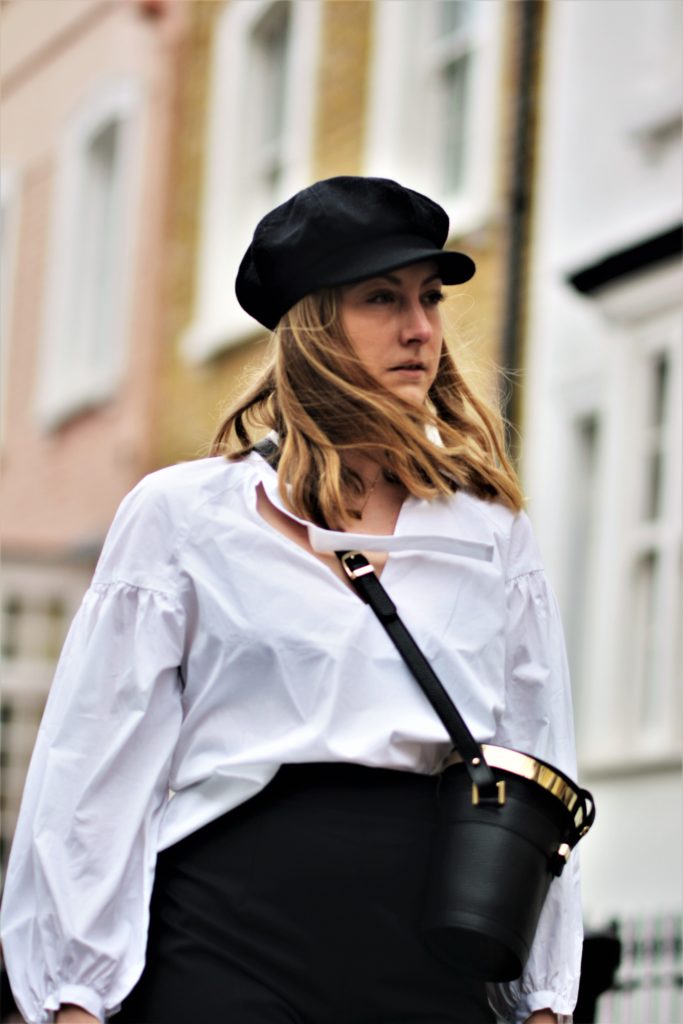 SHOP THE LOOK
Pants/Hose: Marciano*
Blouse/Bluse: Zara
Hat/Mütze: Topshop
Bag/Tasche: Aigner
Pumps/Pumps: Guess*
Socks/Strümpfe: Calzedonia
Necklace/Halskette: Flor Amazona
AD: This post contains affiliate links. I receive a provision by sales from the links however the price itself doesn't change for you. The items marked with * were gifted by the brands or shops named./WERBUNG: Dieser Beitrag enthält Affiliate Links. Bei einem Kauf über einen Affiliate Link, erhalte ich eine Provision. Der Kaufpreis selbst verändert sich für euch dadurch nicht. Die mit * markierten Produkte wurden mir von den genannten Marken bzw. Shops kostenlos zur Verfügung gestellt.