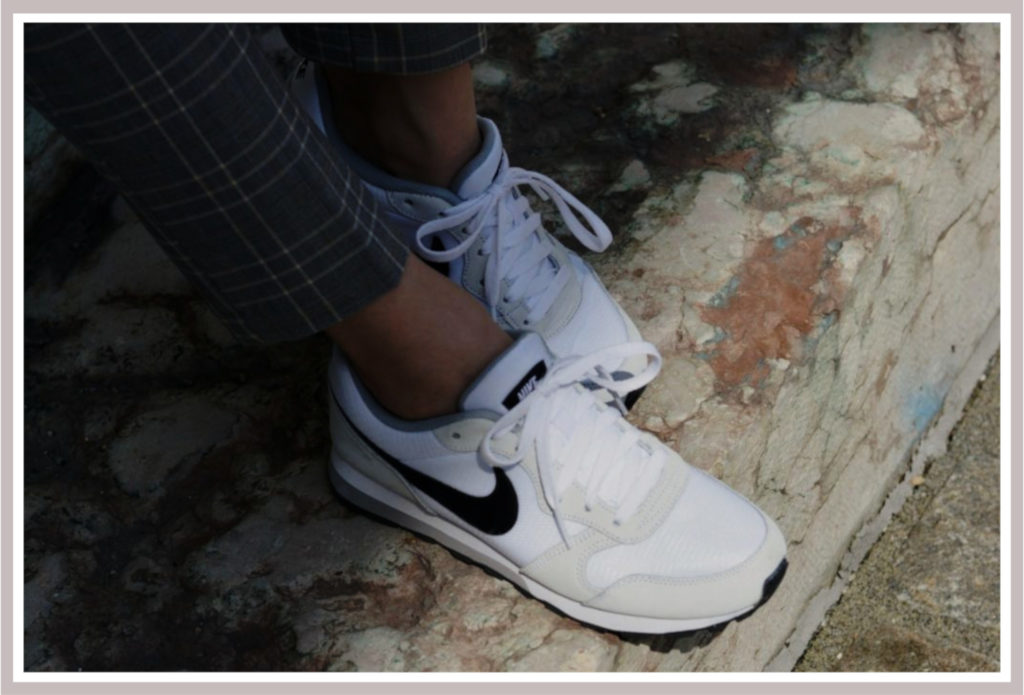 ENG
Hello guys, today I have a very special post for you, which is all about shoes and my hometown Munich. Together with other members of DEICHMANN's influencer club we decided to do a DEICHMANN blogparade on the topic "my shoes, my city". Every day of this week another influencer publishes a post about their new DEICHMANN shoes telling you guys a little more about their city.
I am the one to start today with this pair of Nike sneakers and my hometown Munich. I was born here, raised here and even did the biggest part of my studies here. My family means everything to me and as my parents, sister and brother also live in Munich this city has always been a special place for me and coming home after travelling is the best thing.
Bavaria's capital Munich is known to be a big city but also to feel like a little village. Where ever you go to in Munich you meet people you know and I like this very familiar atmosphere. And where ever you go to you can wear sneakers. No matter if I am at work, at university or at the bars and pubs – sneakers are the best companions. And this is why the topic "my shoes, my city" immediately made me think of sneakers.
I like how this type of shoes adds a little sporty touch to not matter which look – you can wear a dress, jeans or a suit, like I did for this special DEICHMANN blogparade shooting. And this pair in different shades of white with a black Swoosh goes with literally everything.
By the way we shot that look in front of Munich's "Akademie der bildenden Künste" which is the arts university and a perfect example for the stunning architecture of the city center. Once you visit Munich it is definitely worth walking through the university department. The buildings are beyond impressive.
If you are curious about which shoes the other DEICHMANN blogparade participants chose and which cities they will write about check the list below:
Timing
Tuesday, 31 July 2018
Annika – Dream around the world
Wednesday, 1 August 2018
Coco & Flo – Hafenkids
Thursday, 2 August 2018
Antje – My Antje
Friday, 3 August 2018
Laura – Laura Laura
Saturday, 4 August 2018
Inga – Sunny Inga
Sunday, 5 August 2018
Laura – @aunttommy
Have a lovely week folks!
xx Feli
DE
Hallo ihr Lieben, heute dreht sich auf Passion Hearts alles um Schuhe und meine Heimatstadt München. Zusammen mit 6 weiteren Mitgliedern des DEICHMANN Influencer Clubs geht heute nämlich ein besonderes Projekt an den Start: die DEICHMANN Blogparade. Die ganze Woche lang geht täglich ein Beitrag zum Thema "Mein Schuh, meine Stadt" auf den Kanälen der Teilnehmer online.
Ich mache heute mit einem coolen Paar Nike Sneakers und München den Anfang. München ist nicht nur mein Geburtsort, ich bin auch hier aufgewachsen und habe sogar den größten Teil meines Studiums hier absolviert. Auch meine Familie lebt hier, was der Grund dafür ist, dass München in meinem Herzen einen ganz besonderen Platz hat. Nach einer Reise nach München heim zu kommen ist für mich das Allergrößte.
München ist nicht nur die Landeshauptstadt von Bayern, sondern auch insgeheim bekannt dafür eigentlich mehr ein Dorf als eine Großstadt zu sein. Denn egal wohin man in München geht, man trifft immer ein bekanntes Gesicht. Und egal wohin man geht, Sneaker sind für mich so etwas wie der Dresscode der Stadt. Damit liegt man nie daneben und ich trage Sneaker sowohl ins Büro, als auch zur Uni und wenn ich abends unterwegs bin sowieso. Beim Thema der DEICHMANN Blogparade "Mein Schuh, meine Stadt" war es also klar, dass meine Wahl auf Sneaker fällt. 
Ich mag einfach, dass Sneaker jedem Outfit einen sportlichen Touch verpassen. Deshalb trage ich sie zu einem Kleid oder einer Jeans genauso gerne, wie zu einem Anzug, wie ich ihn für dieses Projekt geshootet habe. Das Nike Paar mit seinen verschiedenen Weiß-Nuancen und dem schwarzen Swoosh ist sowieso ein Allroundtalent.
Übrigens shooteten wir diesen Look vor der Münchner "Akademie der bildenden Künste", einem Meisterwerk der Architektur. Es repräsentiert die tolle alte Architektur der Münchner Innenstadt bestens. Ich empfehle euch also unbedingt auch das Univiertel von München zu besuchen, wenn ihr mal hier seid. Es ist wirklich beeindruckend. 
Wenn ihr inzwischen neugierig seid, welche Schuhe sich die anderen Teilnehmer der DEICHMANN Blogparade ausgesucht haben und wo sie diese und ihre Stadt der Wahl vorstellen werden, dann solltet ihr euch die folgenden Termine direkt im Kalender markieren:
Timing
Dienstag, 31. July 2018
Annika – Dream around the world
Mittwoch, 1. August 2018
Coco & Flo – Hafenkids
Donnerstag, 2. August 2018
Antje – My Antje
Freitag, 3. August 2018
Laura – Laura Laura
Samstag, 4. August 2018
Inga – Sunny Inga
Sonntag, 5 .August 2018
Laura – @aunttommy
Habt eine schöne Woche!
Bis bald,
xx Feli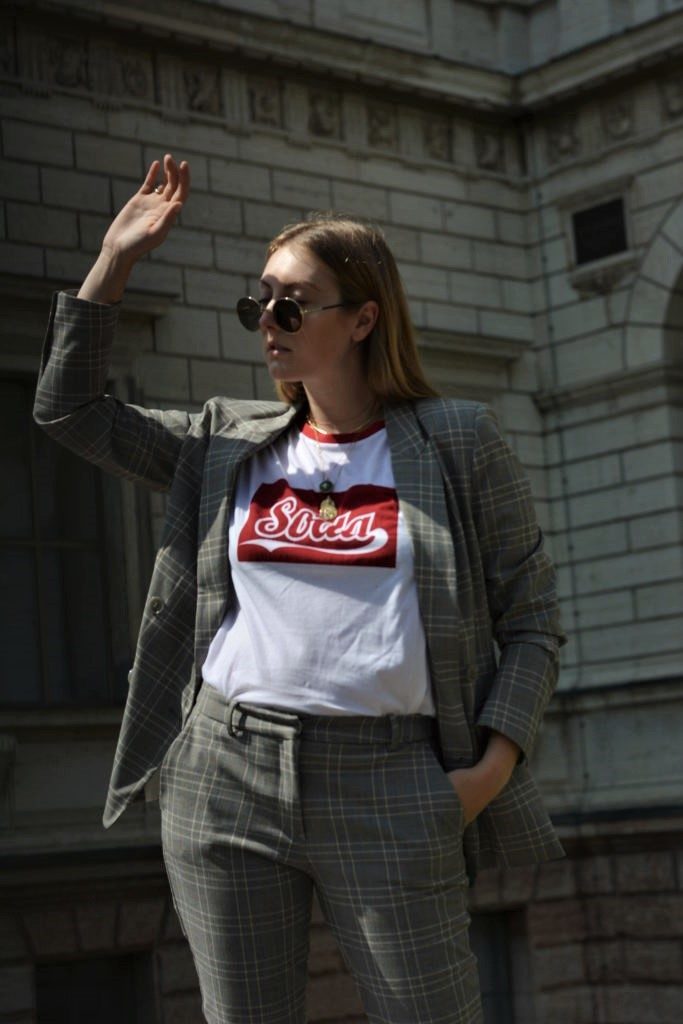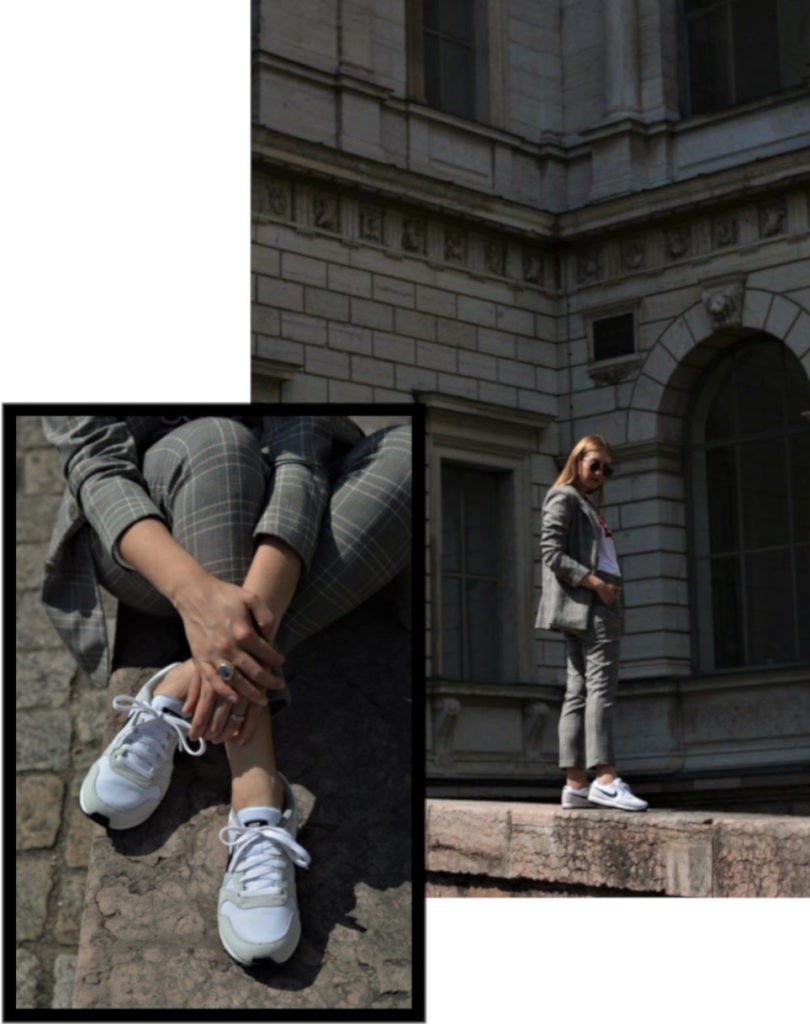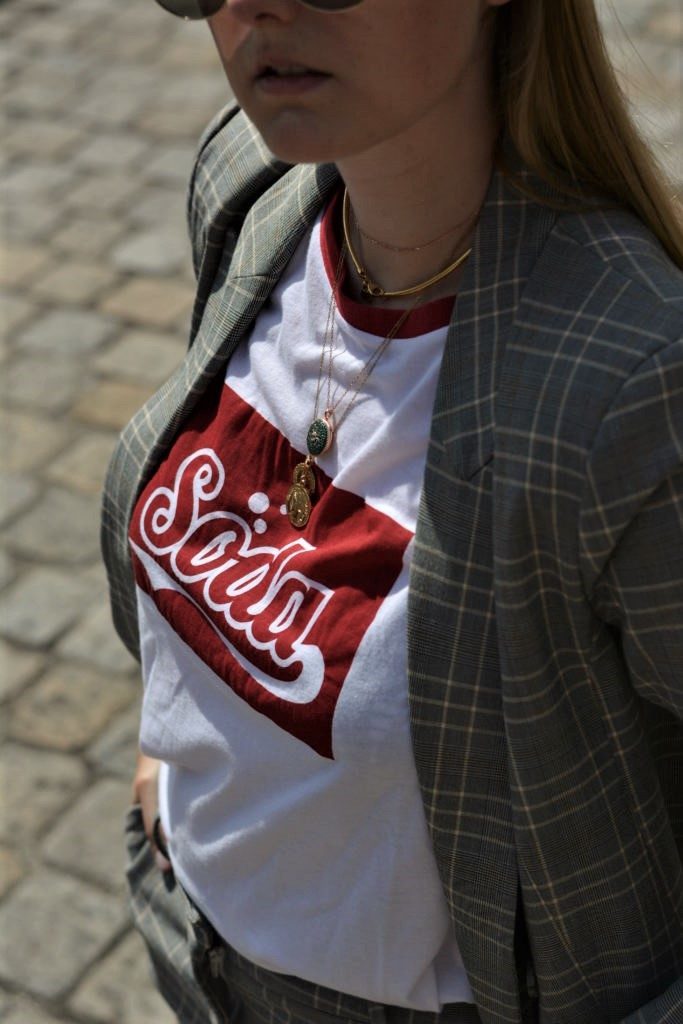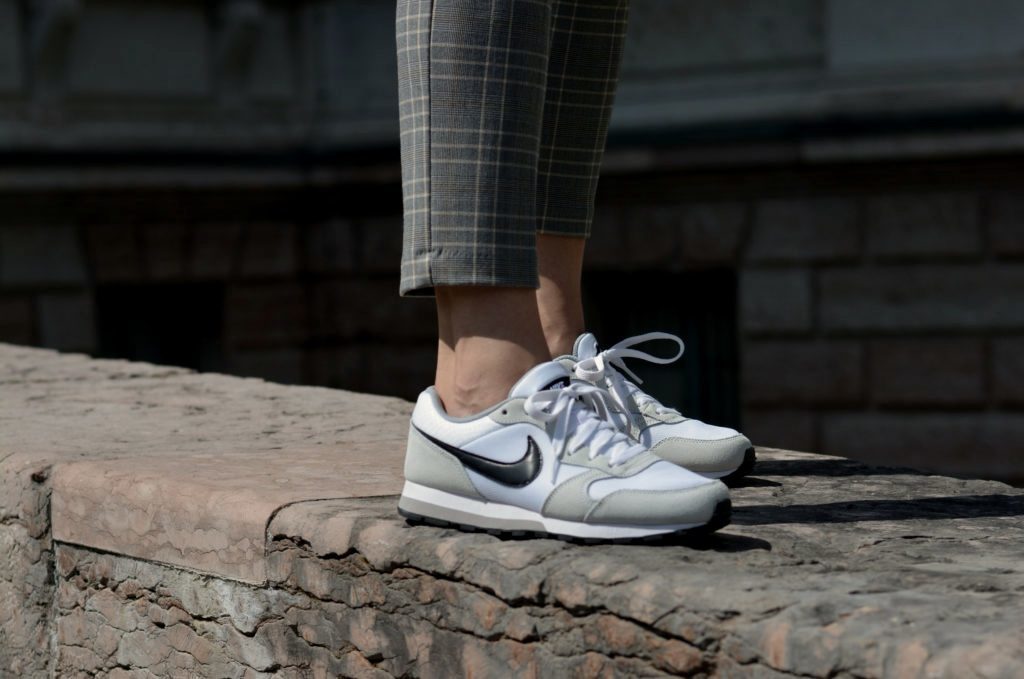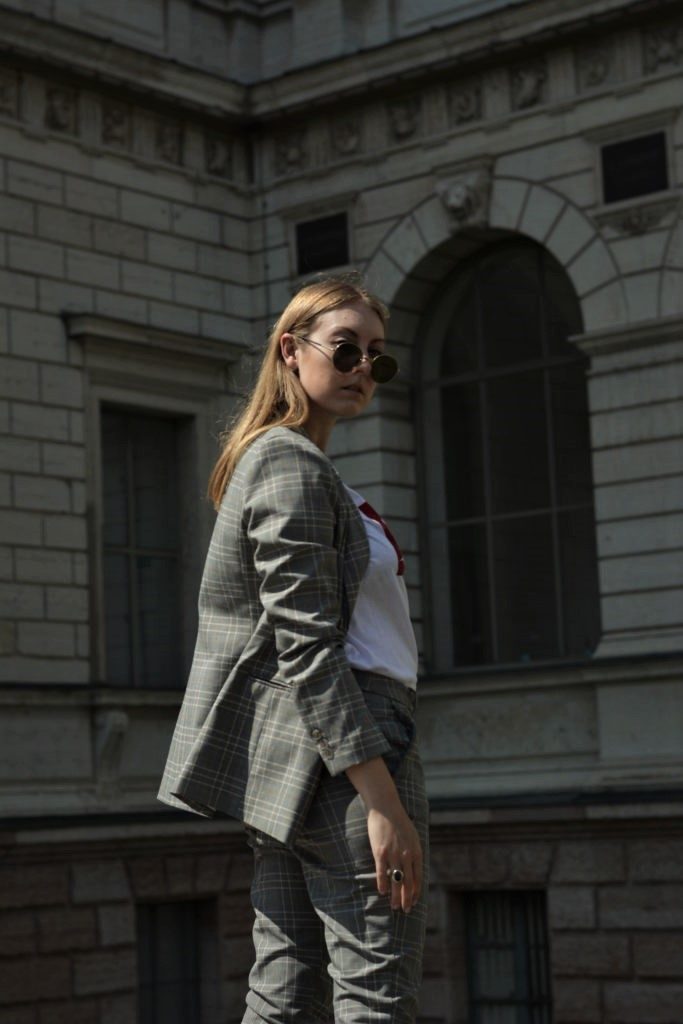 SHOP MY LOOK
Suit/Anzug: H&M
Shirt/Shirt: Sofie Schnoor*
Shoes/Schuhe: Nike via Deichmann*
Necklace with sparkling pendant/Kette mit glitzerndem Anhänger: Swarovski*
Sunglasses/Sonnenbrille: Porsche Design*
AD:
This post was published in collaboration with Deichmann. It furthermore contains affiliate links. I receive a provision by sales from the links however the price itself doesn't change for you. Items marked with * were gifted by the brands or shops named.
WERBUNG:
Dieser Beitrag ist in Zusammenarbeit mit Deichmann entstanden. Er enthält zudem Affiliate Links. Bei einem Kauf über einen Affiliate Link, erhalte ich eine Provision. Der Kaufpreis selbst verändert sich für euch dadurch nicht. Die mit * markierten Produkte wurden mir von den genannten Marken bzw. Shops kostenlos zur Verfügung gestellt.