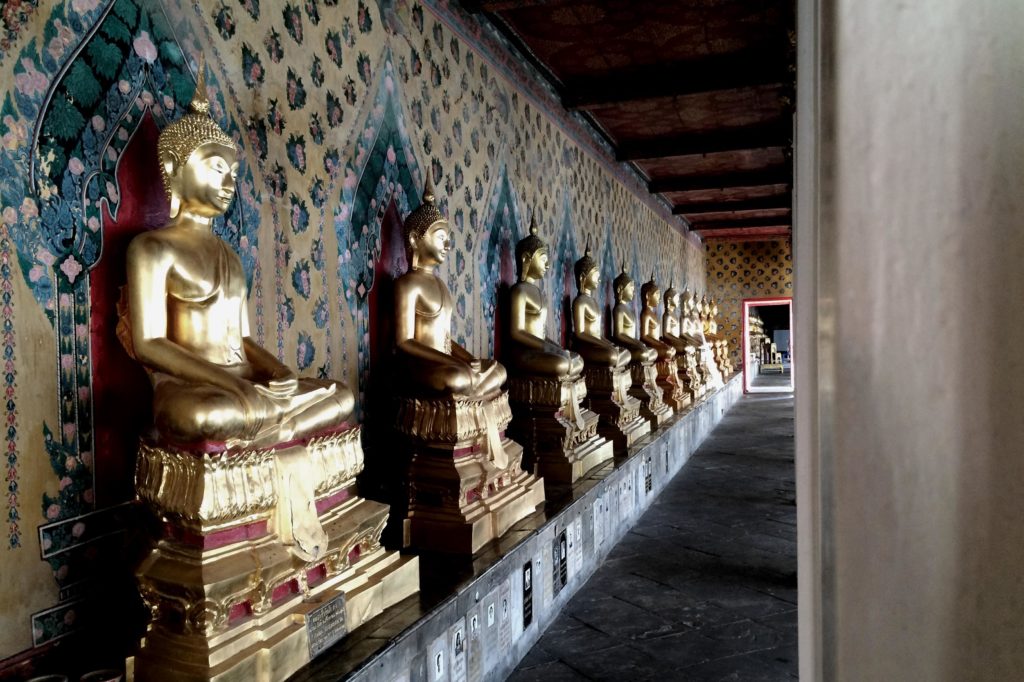 I am back! Our Thailand trip is unforgettable and those of you who follow my instagram account have already seen some of the many many photos I took. You can't imagine how difficult it was for me to select the photos that I like best because every single photo is connected to memories of our trip. But finally I can show you a selection and tell you about something about what we experienced in Bangkok and how we liked it. I have to mention that we were shocked when we arrived and it took us a while to see how exciting Bangkok is behind the smell and dirt.
Ich bin zurück. Zurück aus Thailand und zurück auf dem Blog mit dem ersten Post über unsere Reise. Unser Thailandabenteuer bleibt unvergesslich und vielleicht haben die ein oder anderen von euch schon ein paar Bilder unserer Reise aus Instagram entdeckt. Man kann sich wohl kaum vorstellen, wie schwierig es war, aus all den vielen Fotos die unterwegs entstanden sind und von denen jedes einzelne tolle Erinnerungen weckt, diejenigen auszusuchen, die ich euch letztendlich hier auf dem Blog zeigen möchte. Aber es ist vollbracht und heute starte ich mit einem Post über unseren ersten Stopp, nämlich Bangkok, und darüber, wie es uns dort gefallen hat. Ich muss zugeben, es hat eine Weile gedauert, bis es uns in Bangkok wirklich gefallen hat. Dreck und Gestank macht diese Stadt nämlich leider aus und dahinter die Schönheit der Metropole zu ernennen ist nicht ganz einfach.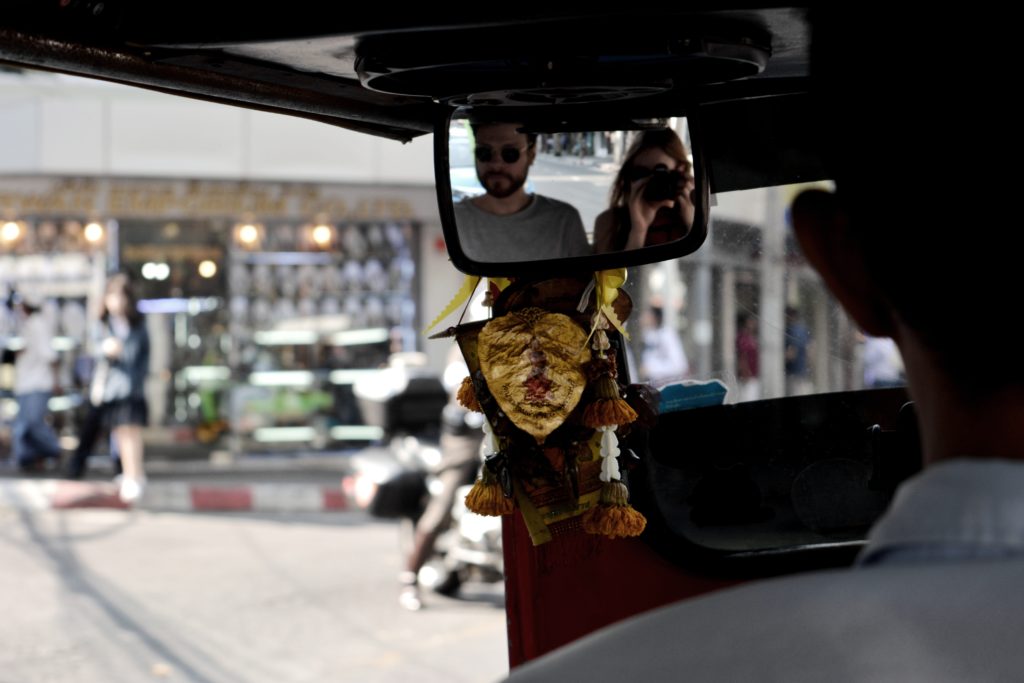 Our first Tuk Tuk ride brought us to a beautifully located restaurant in China Town right next to Chao Phraya river. The view was amazing and from there we walked through China Town.
Unsere erste Tuk Tuk fahrt führte uns zu einem hübschen, direkt am Chao Phraya Fluss gelegenen Restaurant in China Town. Von dort aus hatte man einen tollen Ausblick den Fluss entlang bis hin zur Skyline von Bangkok und anschließend ging es zu Fuß weiter auf Erkundungstour durch China Town.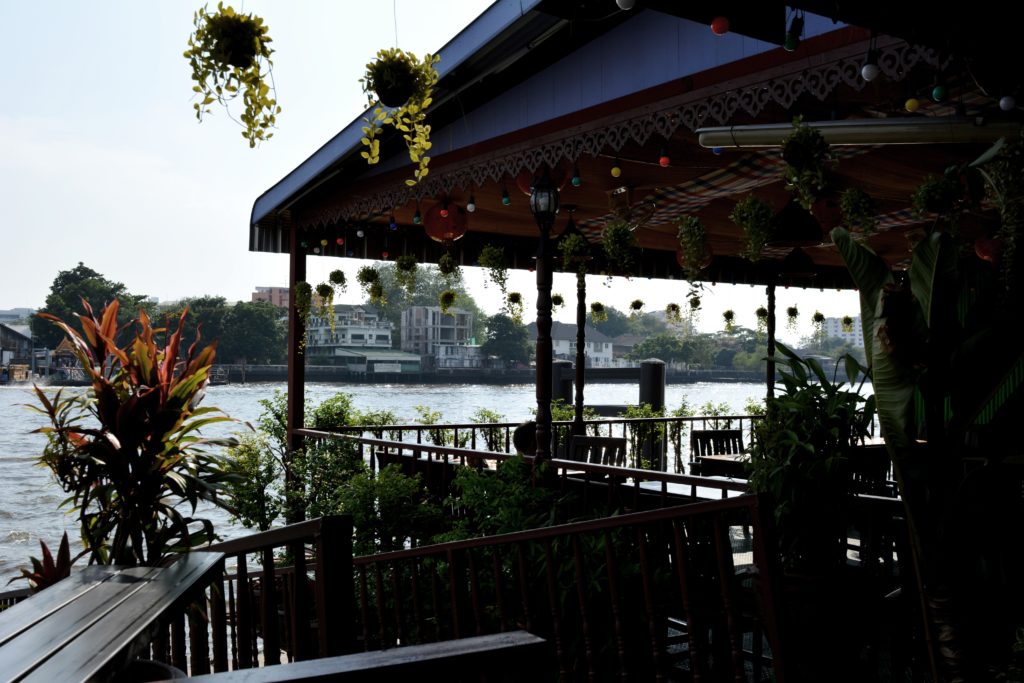 I have never been to any "China Town" which is why this district was very impressive to me. The many people in very tiny streets, colourful signes all over the houses and markets we found in almost every street were exciting and I had my very first fresh Mango there since a quite long time.
Ich war vorher noch in keinem anderen Land in "China Town", weshalb der Stadtteil einen bleibenden Eindruck hinterlassen hat. Die viele Menschen in den kleinen Gassen, farbenfrohen riesigen Schilder an den Häusern und Märkte wohin das Auge blickte machen China Town zu einem aufregenden Fleckchen Erde. Dort aß ich übrigens die erste frische Mango unseres Trips und die war lecker, sag ich euch!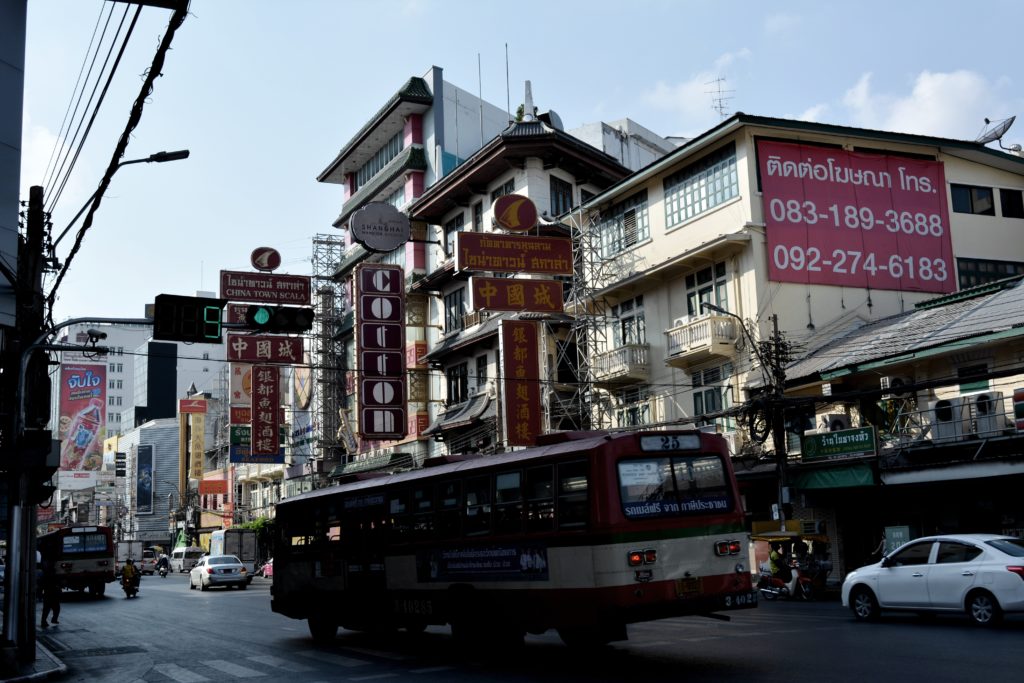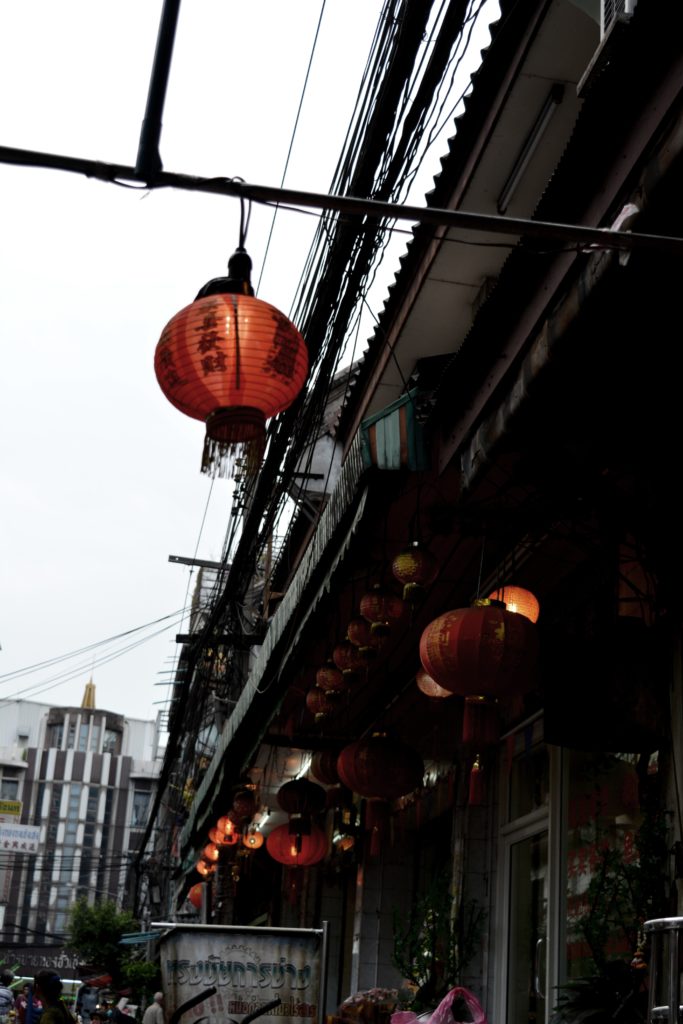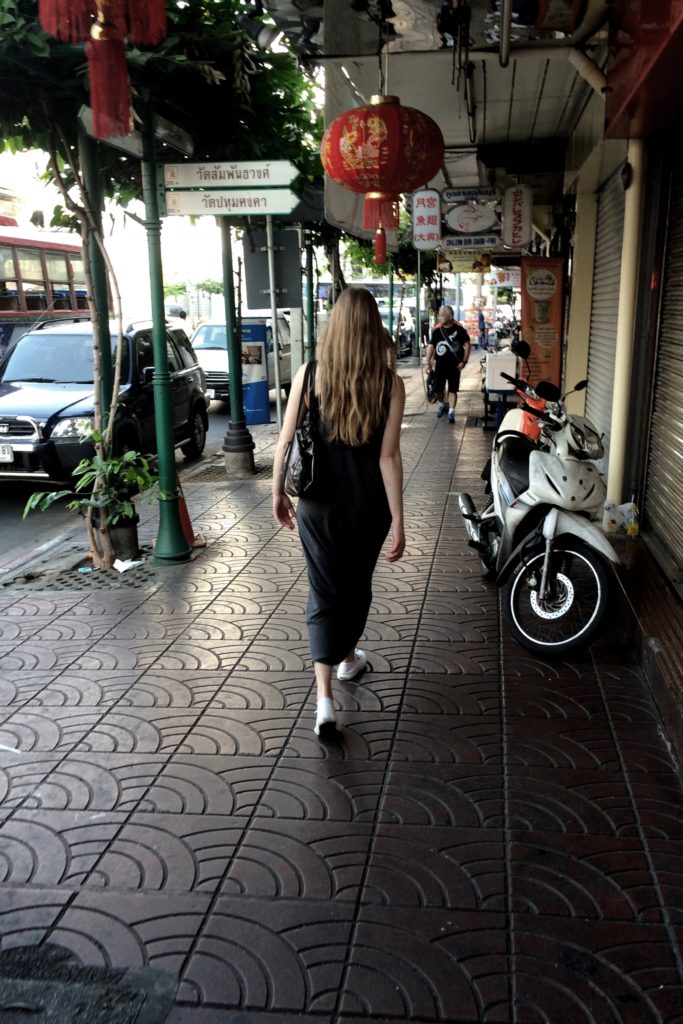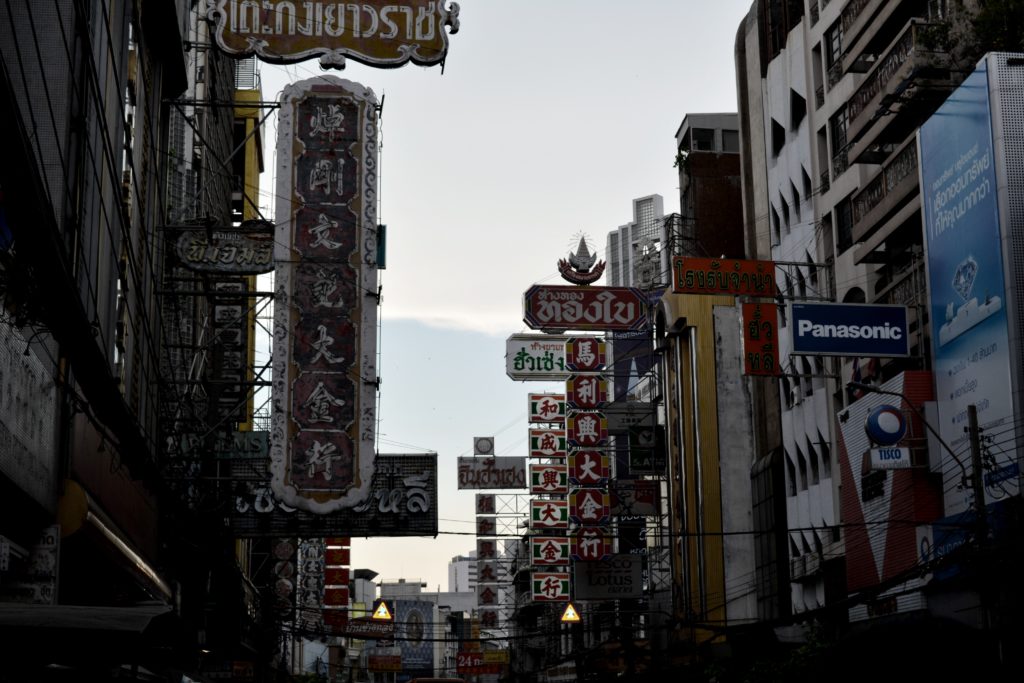 Another highlight of Bangkok was its famous Khao San Road which is the biggest open air party in the middle of a city that I have every seen. We actually went there to do a little shopping but ended up partying with some really nice Thais. They made the evening that special as they gave us insight into the very typical life in Bangkok and after Khao San Road even took us to another bar nearby where the evening ended in a relaxed atmosphere after very busy and noisy hours at Khao San Road. By the way, sunset in Khao San Road was stunning!
Ein anderes Highlight in Bangkok war die berühmte Khao San Road, die wohl die größte Open Air Party inmitten einer Stadt ist, die ich je gesehen habe. Wir sind eigentlich zur Straße gefahren, um ein wenig zu shoppen und der Abend endete damit, dass wir uns mit ein paar Thais angefreundet hatten, die uns ein paar Einblicke in das Leben der Einheimischen in der Metropole gegeben haben und die wir zum Schluss noch in eine Bar in der Nähe begleitet haben, wo der Abend bei Thai-Bier gemütlich ausgeklungen ist. Übrigens war der Sonnenuntergang in der Khao San Road traumhaft.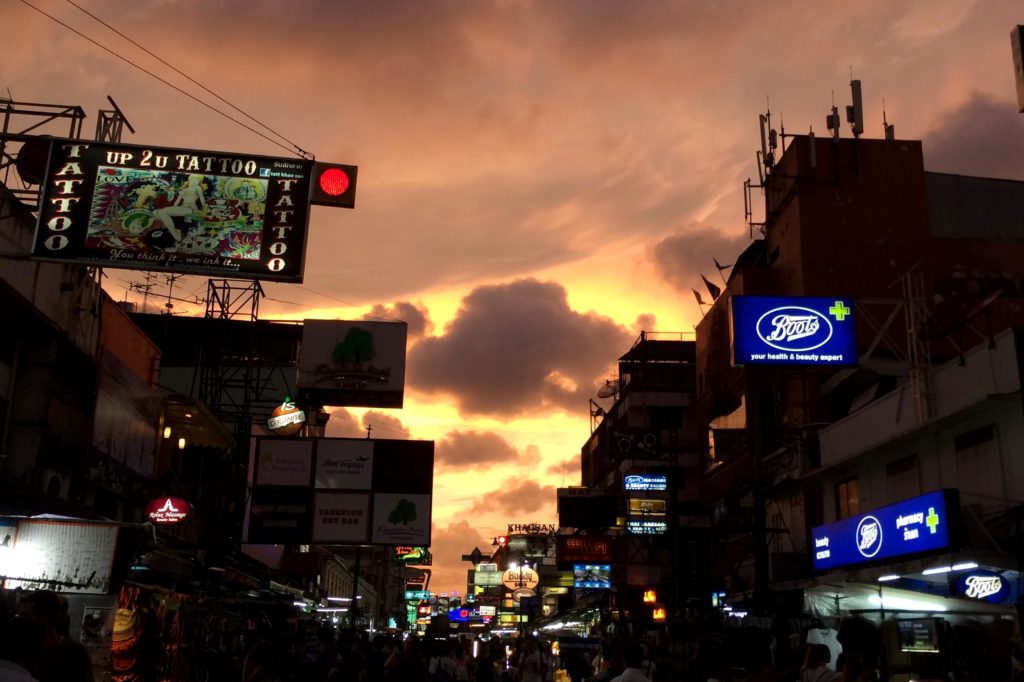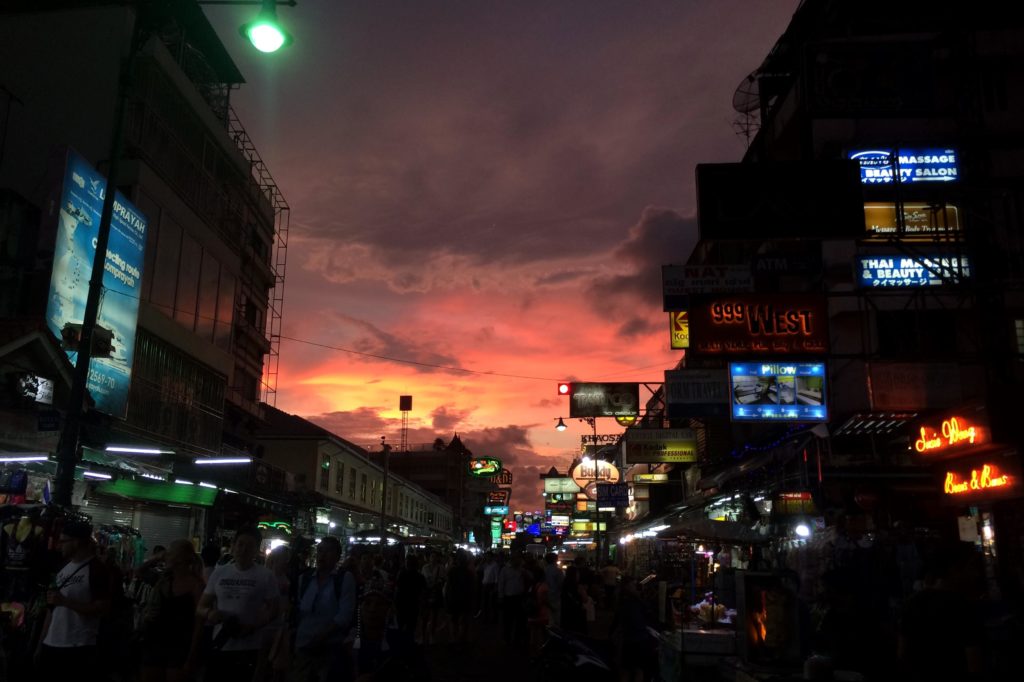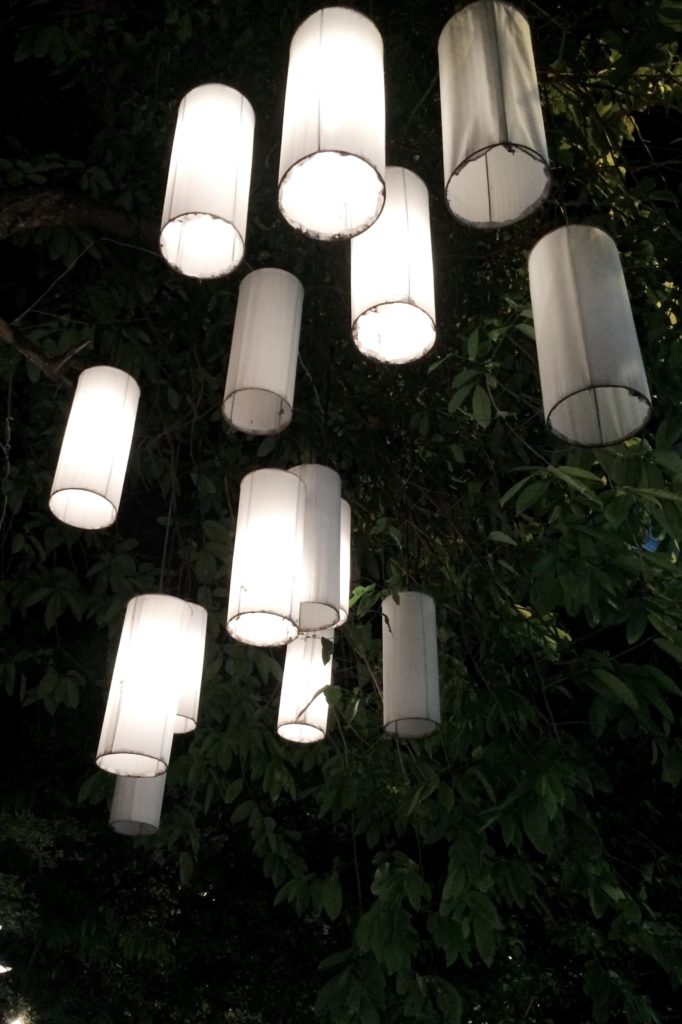 Last but no least visiting one of the over 400 temples must not be missing which is why we decided to take a taxi to Wat Arun. In general taxis by the way are cheaper than Tuk Tuks however you should not miss riding a Tuk Tuk as this is a funny way of driving from A too B. You should negotiate the prices of both taxis and Tuk Tuks very well as all drivers of course try to earn as much as possible. Tuk Tuks can be very cheap if you agree to make some stopps while driving to your final destination but this for us was annoying. They make you get of at suit stores, restaurants and the like and of course the people there try to sell you their products. Often if you are not interested they easily get angry – at least this is what happened to us when we listened to what they were telling but in the end did not want to buy a suit anyway.
Therefore I personally prefered going by taxi as you had to pay less than going by Tuk Tuk without any stopps and even had aircon.
But now: Wat Arun. The temples in Bangkok are art to me. The colours and love to detail are what impressed me most. This is why I would like to let my photos of Wat Arun speak instead of writing a lot.
Last but not least durfte natürlich der Besuch in einem der 400 Temple von Bangkok nicht fehlen. Dorthin brachte uns ein Taxi, denn wir hatten mittlerweile herausgefunden, dass man mit Taxis im Vergleich zu Tuk Tuks günstiger von A nach B fährt. Zwar sollte man immer schon vorher über den Preis verhandeln, jedoch fahren die meisten Taxis mit Taximeter und sind dadurch billiger als Tuk Tuks. Tuk Tuks sind ein amüsantes Verkehrsmittel, allerdings nur dann wirklich günstig, wenn man sich auf Stopp einlässt. Das bedeutet unterwegs wird ein oder mehrere Male angehalten, beispielsweise an Schneidereien. Im Idealfall für den Tuk Tuk Fahrer und die Mitarbeiter der Geschäfte, kaufen die Touristen dort etwas. Ist das nicht der Fall, kann so ein Besuch aber auch etwas unschön ausgehen, denn dann sind die Verkäufer oft beleidigt und werden unhöflich. Und will man ohne Unterbrechung zu seinem Ziel kommen, empfehle ich wie gesagt Taxis und in diesen genießt man noch dazu die Annehmlichkeiten einer Klimaanlage.
Aber nun zurück zum Thema. Der Tempel, den wir für unseren Besuch wählten heißt Wat Arun. Wie so ziemlich alle Buddah-Tempel, an die ich mich von unserer Sri Lanka Reise vor vielen Jahre noch erinnere, war auch dieser ein richtige Kunstwerk. Überall sind abertausende kleine Mosaiks angebracht, teils aus Keramik, teils aus Glas. Dadurch war der Tempel nicht nur farbenfroh, sondern funkelte im Sonnenschein auch noch wunderschön. Es ist tatsächlich schwierig in Worte zu fassen, welchen Eindruck so ein Tempel macht und deshalb möchte ich in diesem Fall gerne meine Fotos für sich sprechen lassen und hoffe ihr könnt erahnen, wie majestätisch der Wat Arun wirkte.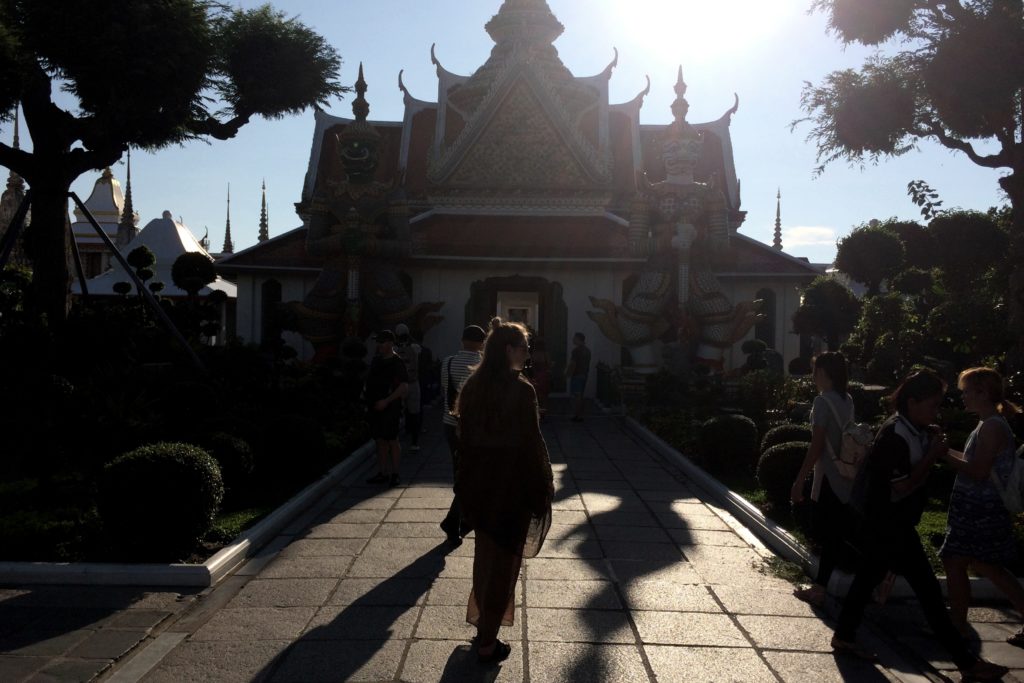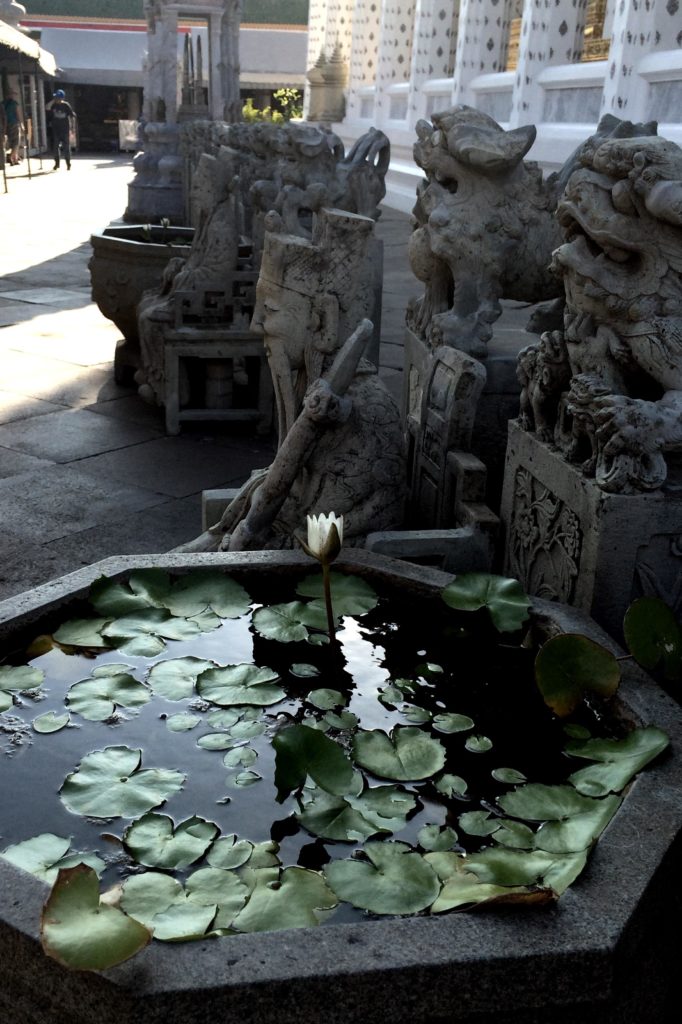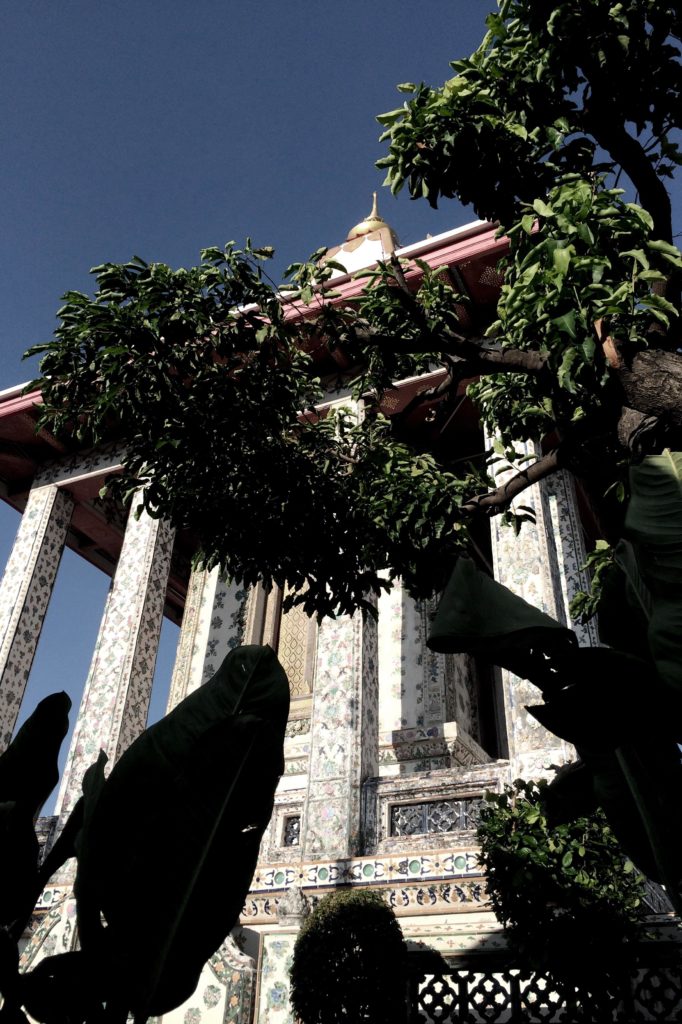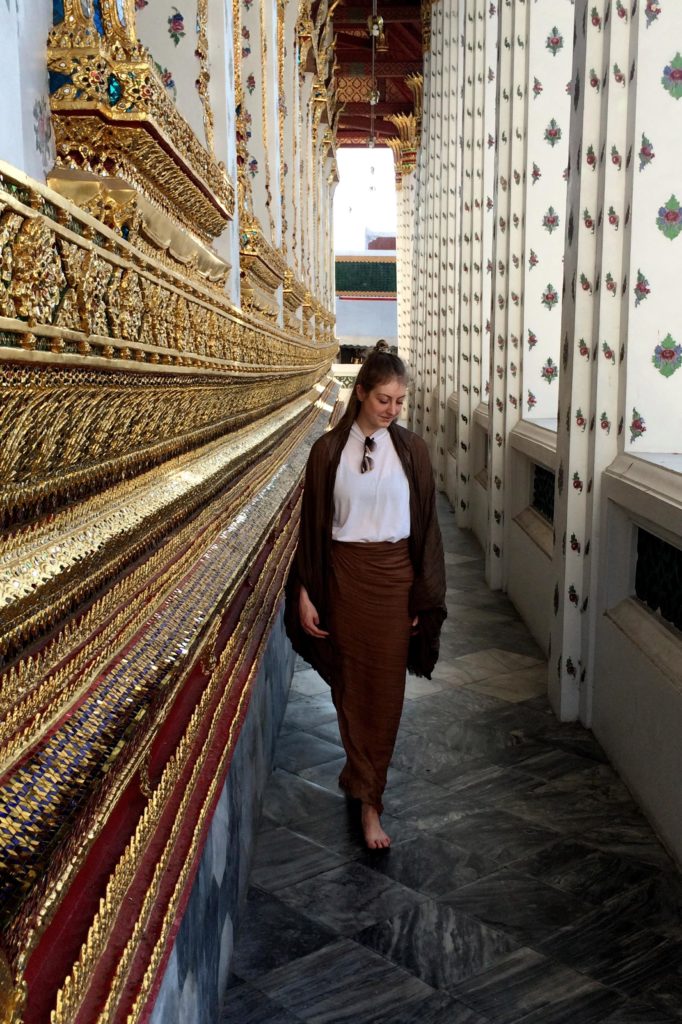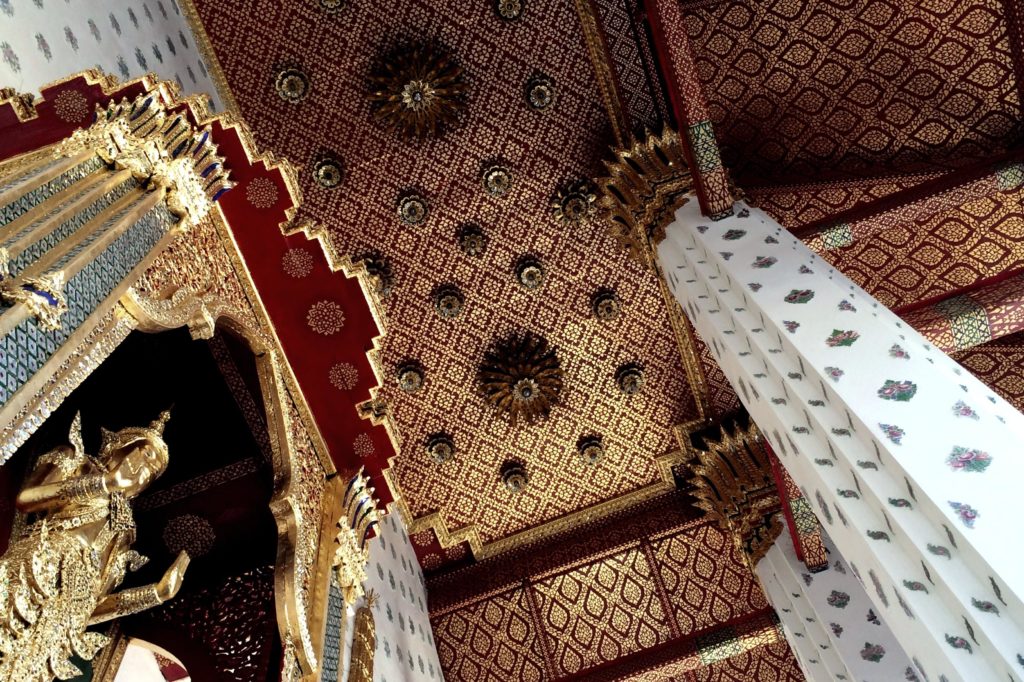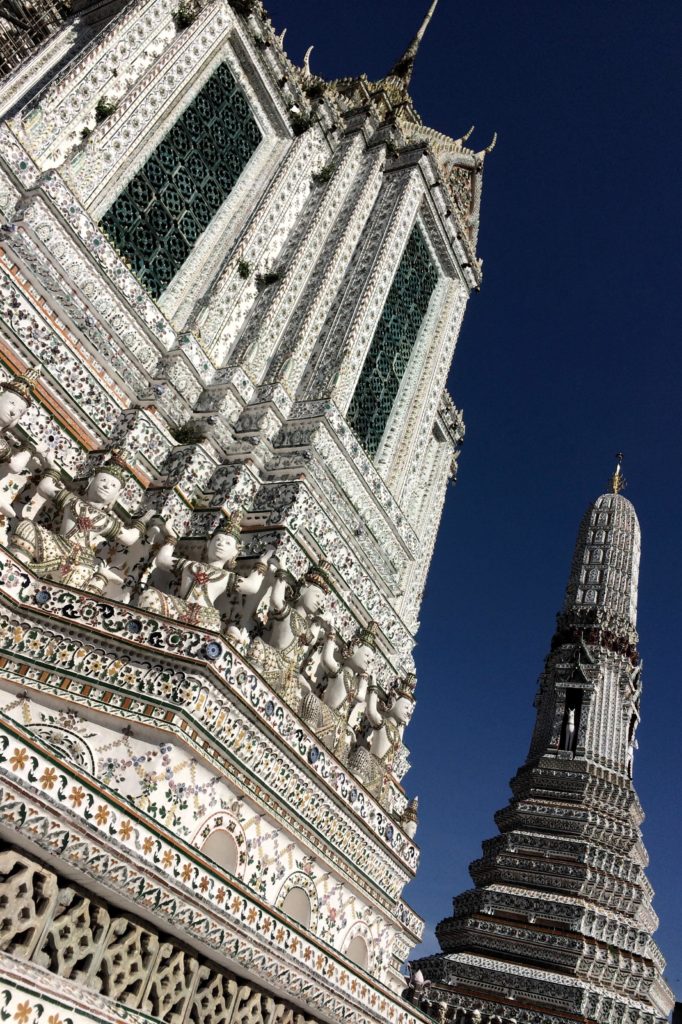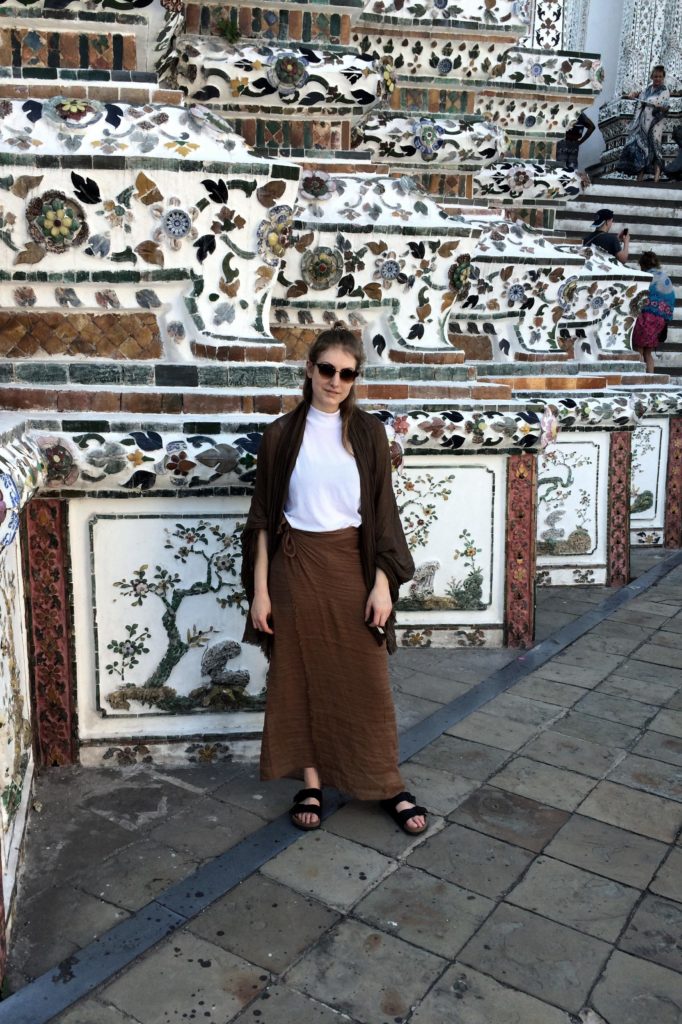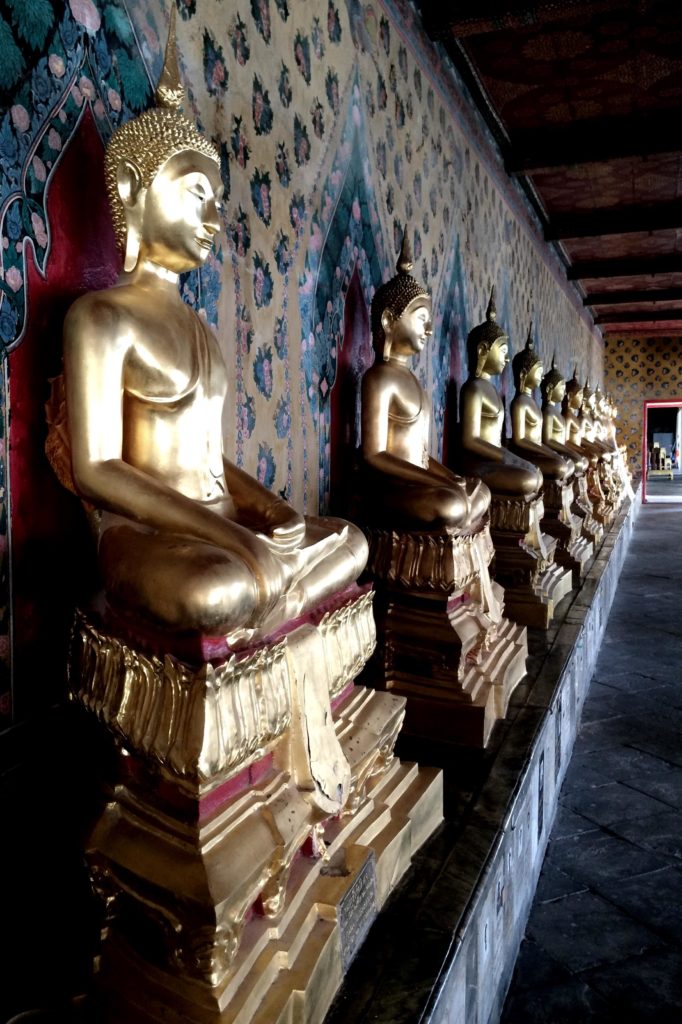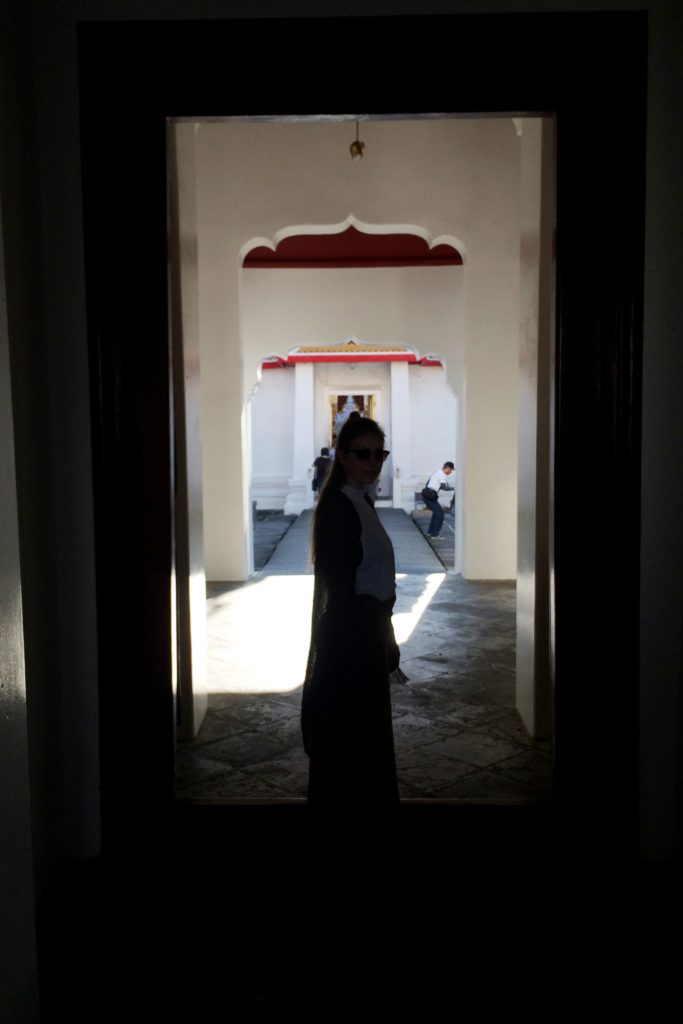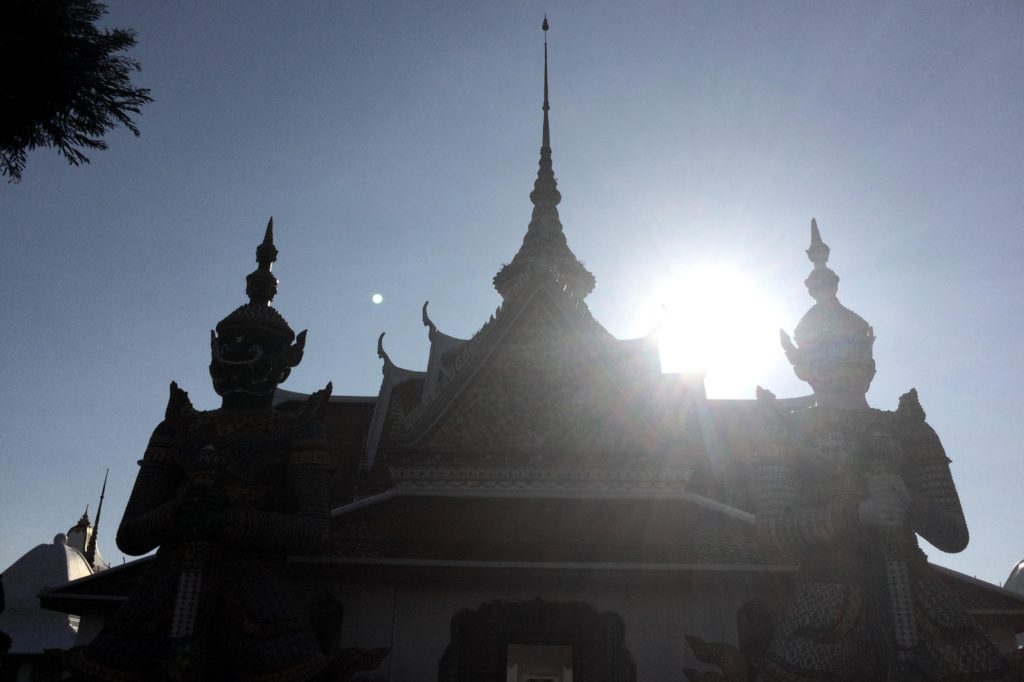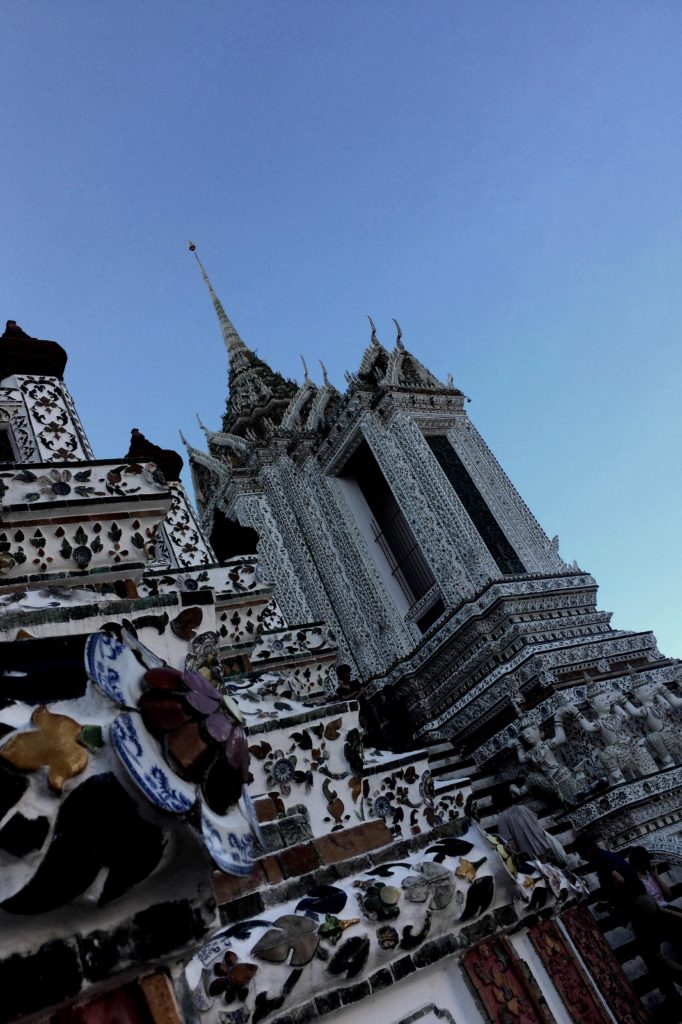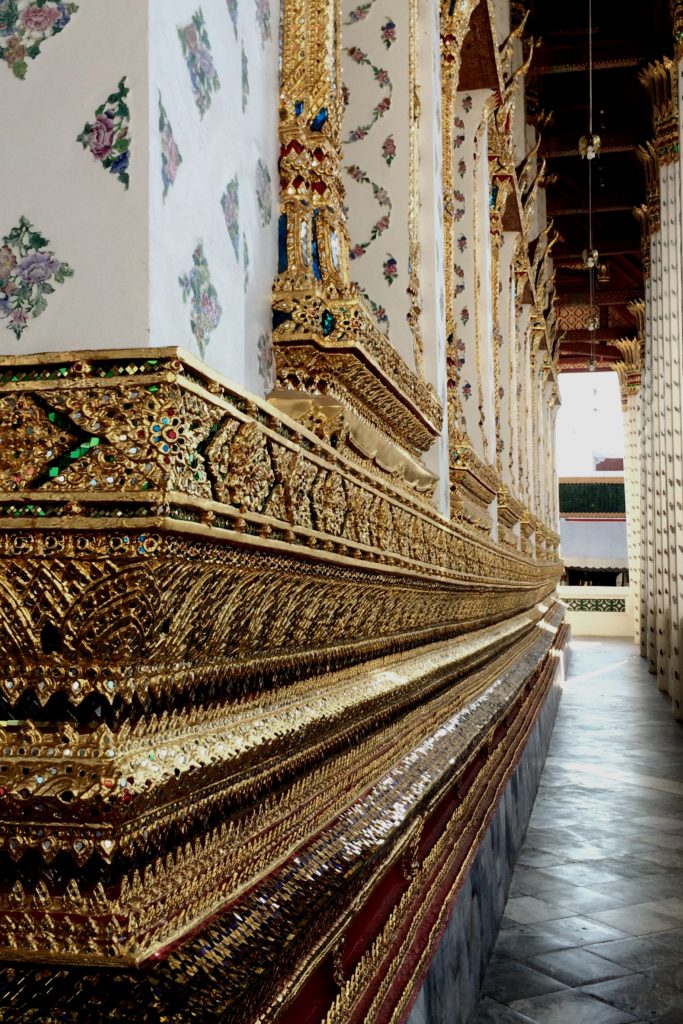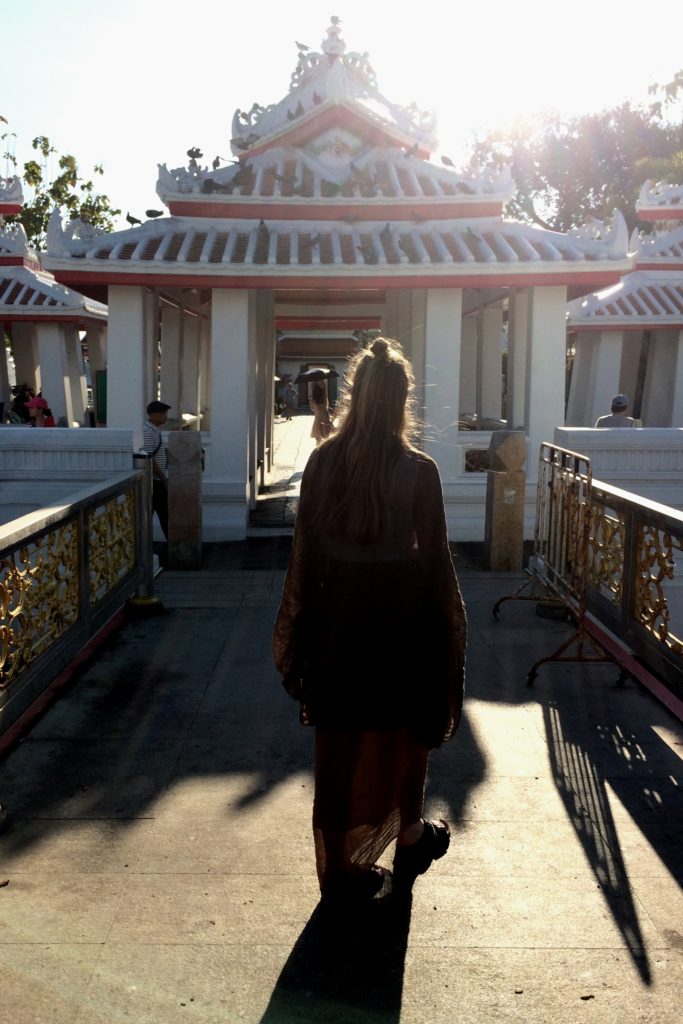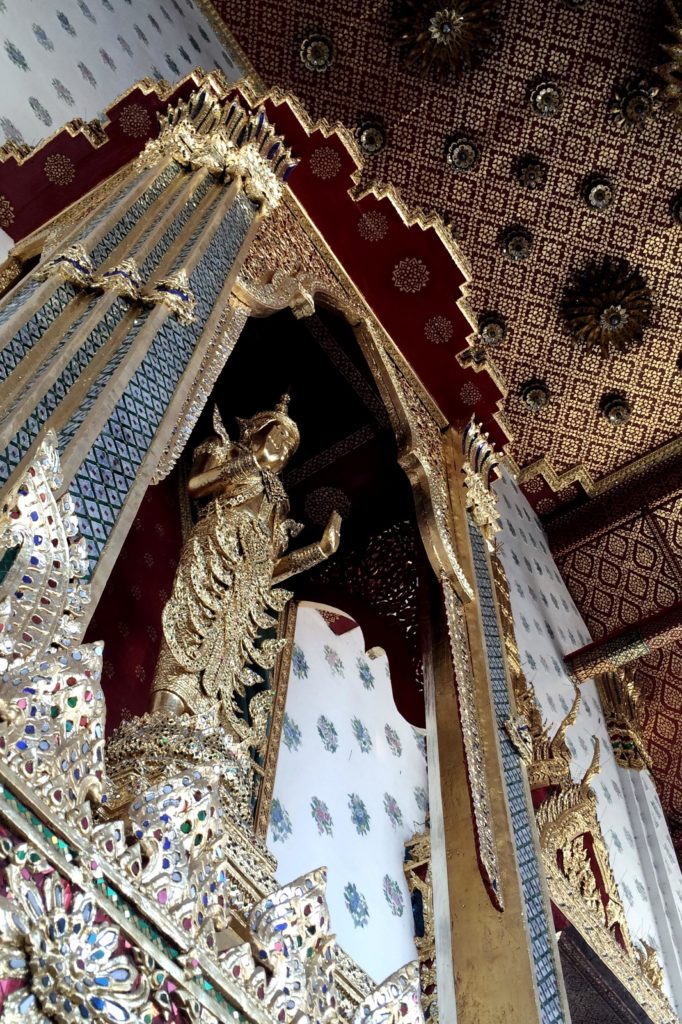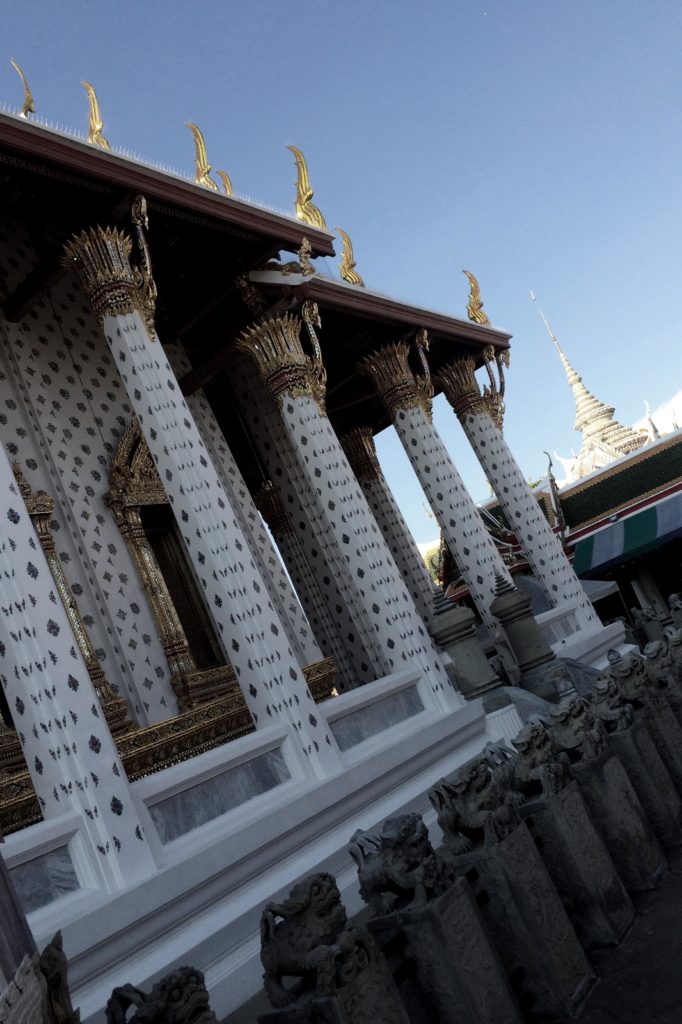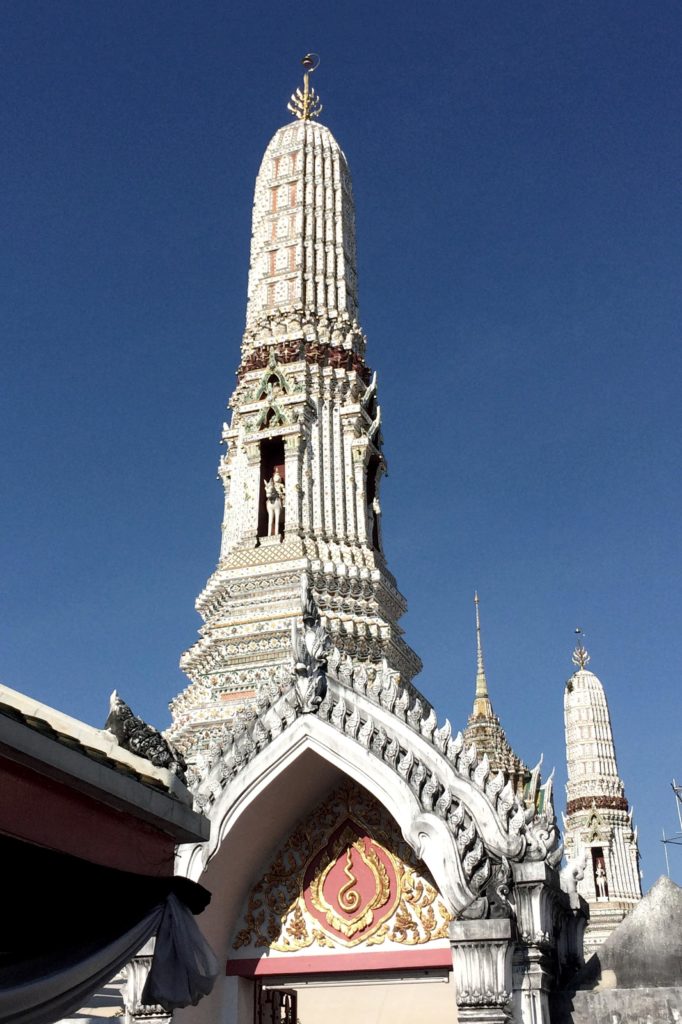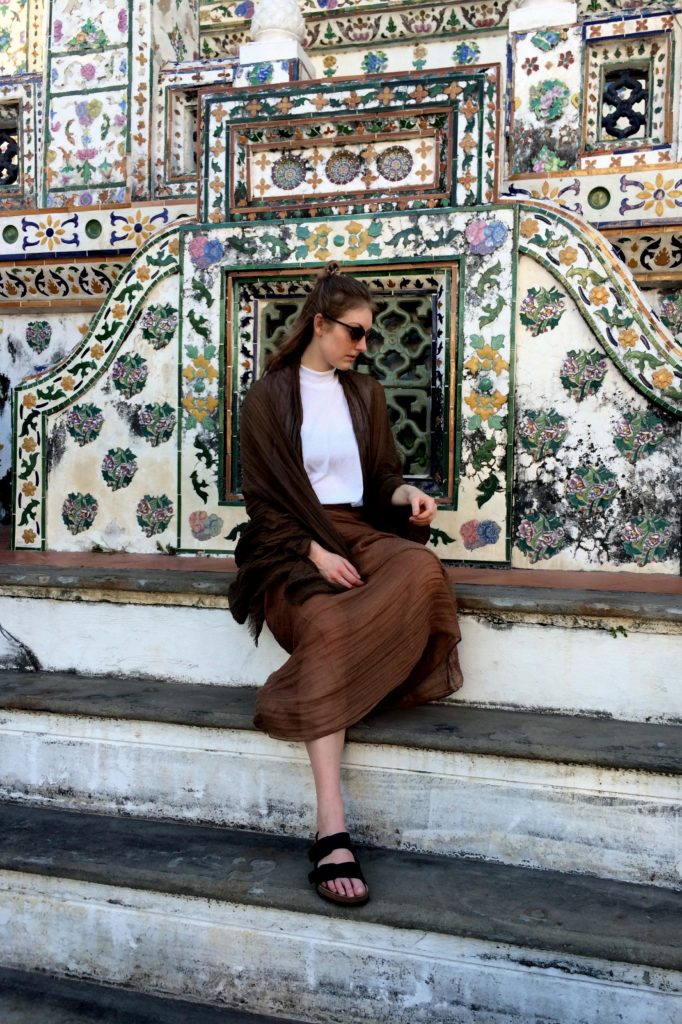 Scarfs/Tücher: American Vintage (similar here)
Top/Top: Suit (similar here)
Sunglasses/Sonnenbrille: KBL (similar here)
Sandals/Schlappen: Birkenstock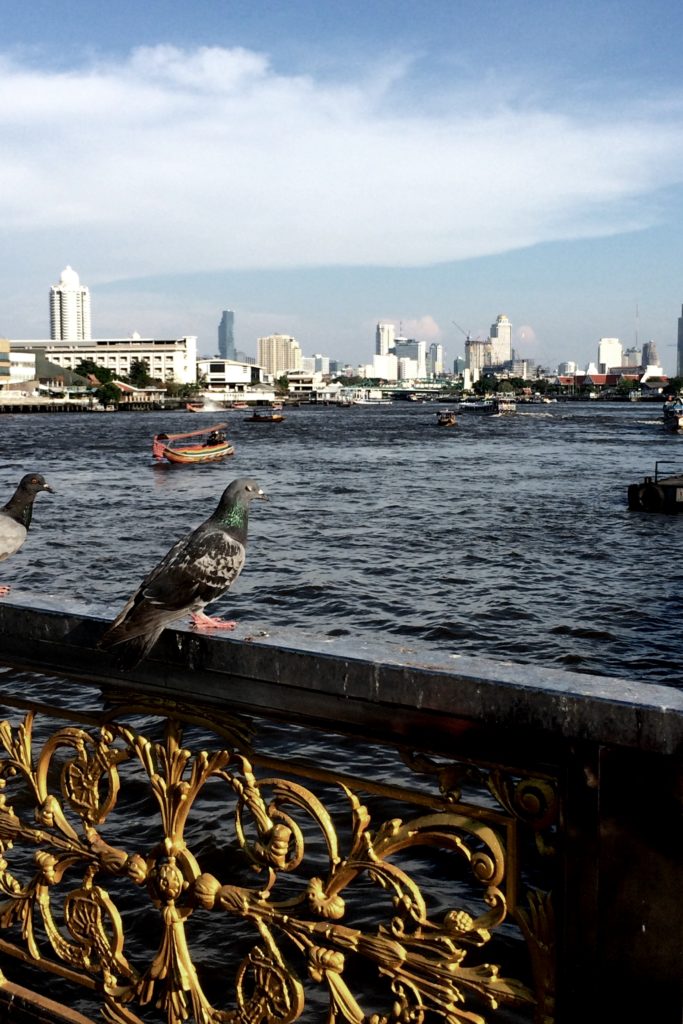 This should be it about the hightlights of our stay in Bangkok and you should stay tuned to not miss my posts about the other destinations of our Thailand trip. If you have any questions about Bangkok please feel free to send me an email!
More soon!
xx Feli
Das soll es nun erst einmal über die Highlights unseres Bangkok-Aufenthalts gewesen sein. Verpasst nicht die kommenden Posts über die anderen Orte, die wir während unserer Thailand-Reise besucht haben und falls ihr Fragen über Bangkok habt, schreib mit gerne eine Mail!
Bis bald!
xx Feli