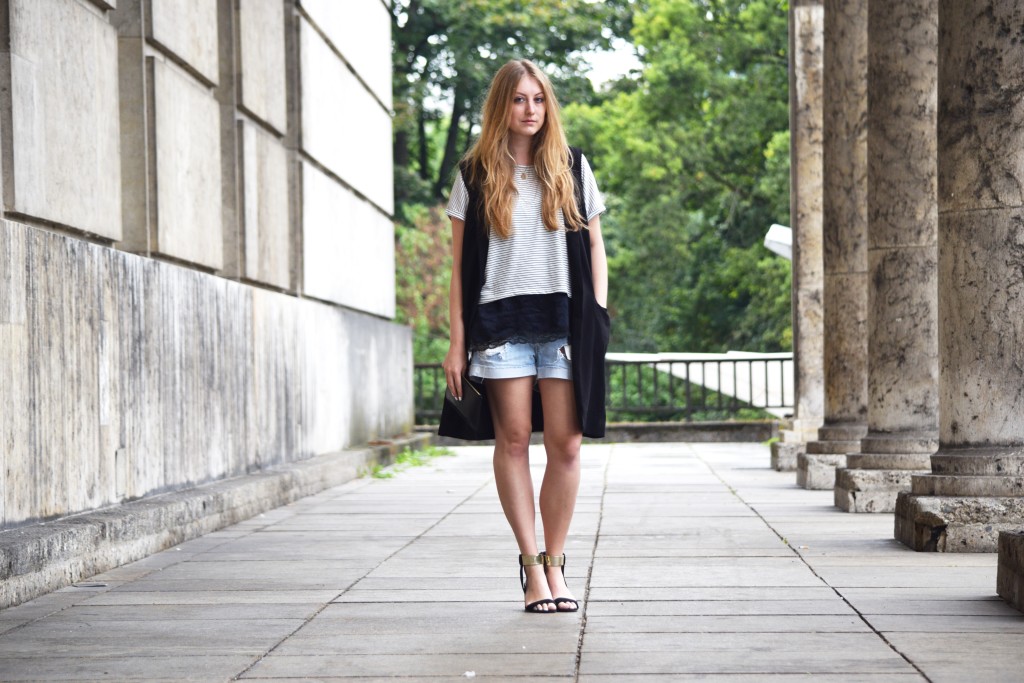 Hey my loves, hope you're all doing well! Shooting today's look was so much fun! I met my girls Lisa and Christina so we were three blondies on the road carrying loads of clothes probably looking like we were gone crazy but we definately had a blast! And so we spent a whole morning and afternoon shooting three outfits, having lunch and giggeling – is there anything more you can ask for?
Now a few words about my outfit: it is a mixture of casual and chic with my favourite lace top worn beneath a sporty striped shirt, ripped jeans shorts, a long vest and my super comfy heeled sandals. I added some fine golden jewellery and Mansur Gavriel clutch and ready it is – my outfit for a warm summer evening for being at a rooftop party or just sitting in a cute café enjoying the last hours of a hot day.
I hope you like it!
xx Feli
Hey ihr Lieben, geht's euch alles gut? Drei Blondies, Taschen voller Klamotten, Kameras und Handys und eine Menge Gekicher – das beschreibt so ziemlich genau unseren Shootingtag. Unseren, das heißt Lisas, Christinas und meinen an dem wir so viel Spaß wie lange nicht hatten und aus ein bisschen Fotografieren wurde gleich fast ein ganzer Tag inklusive Burger essen bei Hans im Glück und wilder Schuhe-Tauscherei. Und gut hat es getan – so ein richtiger Mädelstag!
Naja nun auch noch ein paar zu meinem Outfit, das ein Mix aus casual und schick ist und zwar habe ich mein Lieblings-Spitzentop unter ein sportliches gestreiftes Shirt gezogen, dazu zerschlissene Jeansshorts, eine lange schwarze Weste und meine super bequemen Sandaletten. Ein bisschen filigraner Goldschmuck und meine Mansur Gavriel Clutch runden den Look ab. Und fertig ist mein Outfit für einen lauen Sommerabend auf einer Rooftoparty oder im Café ums Eck.
Ich hoffe euch gefällt's!
xx Feli