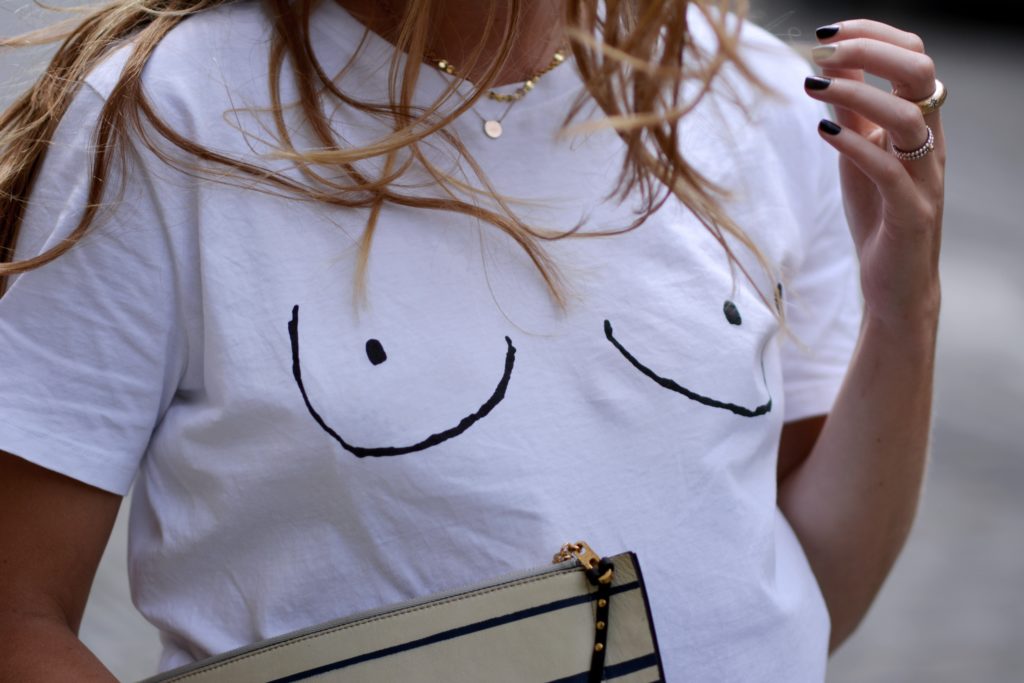 If I'd have to name my favourite denim brand that would definitely be AG. I do not only love the quality they offer but also the extremely wide but still we selected range of styles. And as I love that brand so much I felt very honored when I received a box from them some weeks ago. I showed you the pieces that were inside already in my fashion week outfit posts but I can't get enough of these cool mom jeans that I am wearing them over and over again and they found their way back here again.
I was wearing them with my comfy Superga flatforms, a striped leather clutch by Chloé and a print shirt. When I first saw that shirt on several social media accounts I was not quite sure if I liked it or not but the more often I saw it the more I was sure that I needed to find myself the perfect boob shirt too.  To be honest by boyfriend hates it but #sorrynotsorry I still love wearing it.
How do you like my outfit?
I can't wait to read your opinion in the comment section below soon!
xx Feli
Wenn mich jemand nach meiner Lieblings-Jeansmarke fragen würde, wäre meine Antwort defintiv AG. Nicht nur die Qualität ihrer Kollektionen, sondern auch die riesige und trotzdem sorgfältige gewählte Auswahl an Schnitten überzeugt mich immer wieder auf's Neue. Und weil ich die Marke to gerne hab, habe ich mich umso mehr gefreut, als mich vor ein paar Wochen ein Paket mit ein paar Teilen aus der neuen Kollektion erreicht hat. Ich habe euch die teile bereits in meinen Fashion Week Outfits gezeigt, aber von meine tollen neuen Mom-Jeans (das Modell heißt übrigens Phoebe) bekomme ich einfach nicht genug. Deshalb hat sie wieder ihren Weg in einen Outfitpost gefunden.
Dieses Mal trage ich die Jeans mit meinen coolen Superga Flatforms in nachtblau, einer gestreiften Lederclutch von Chloé und einem Print-Shirt. Als ich ein solche Shirt zum ersten Mal in irgendeinem Social Netzwerk gesehen habe, wusste ich nicht, ob ich es lieben oder hassen sollte. Brüste auf einem Shirt – für einige dann doch etwas befremdlich. Je öfter ich das Shirt aber irgendwo gesehen habe, desto lieber mochte ich es und dann ist es doch in meinem Schrank gelandet. Mein Freund hasst es, aber #sorrynosorry, ich trage es trotzdem gerne.
Wie findet ihr meine Outfit denn?
Ich freue mich eure Meinung in den Kommentaren zu lesen!
xx Feli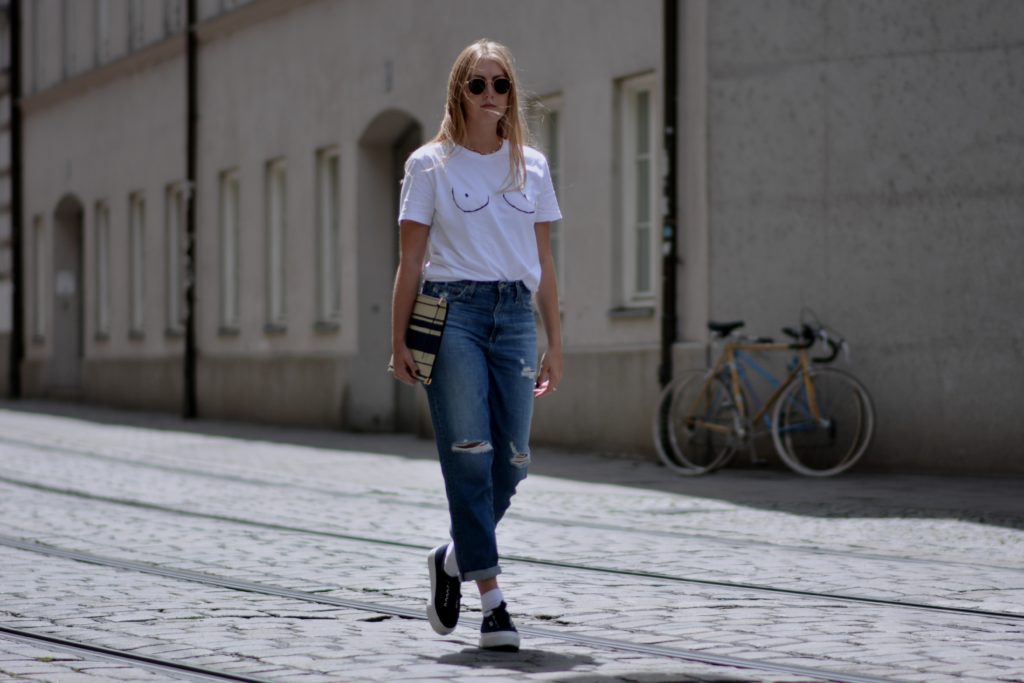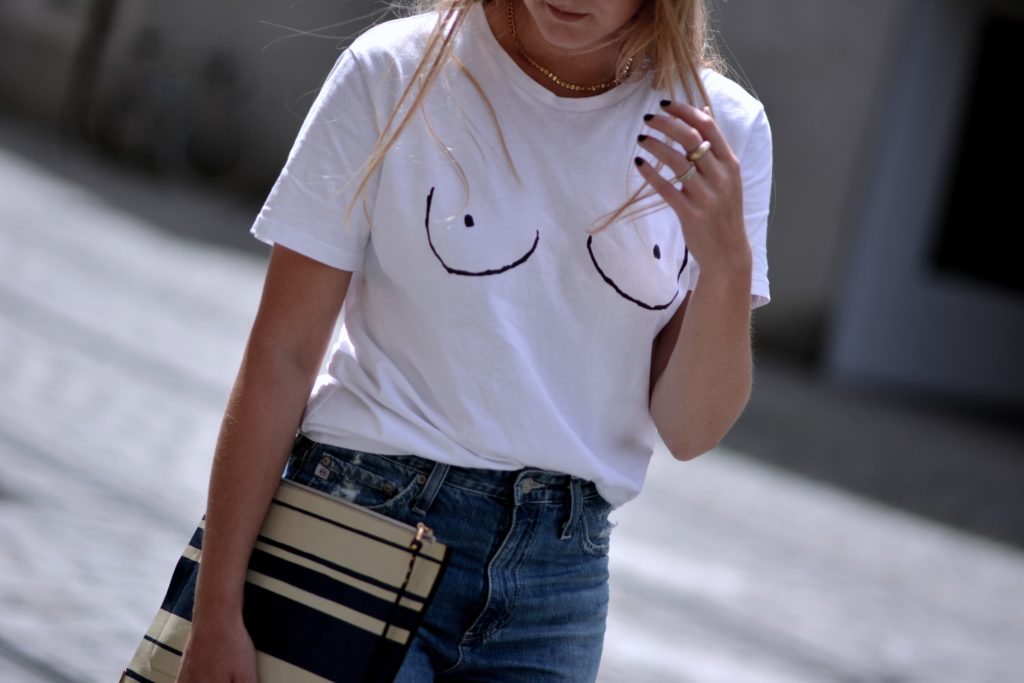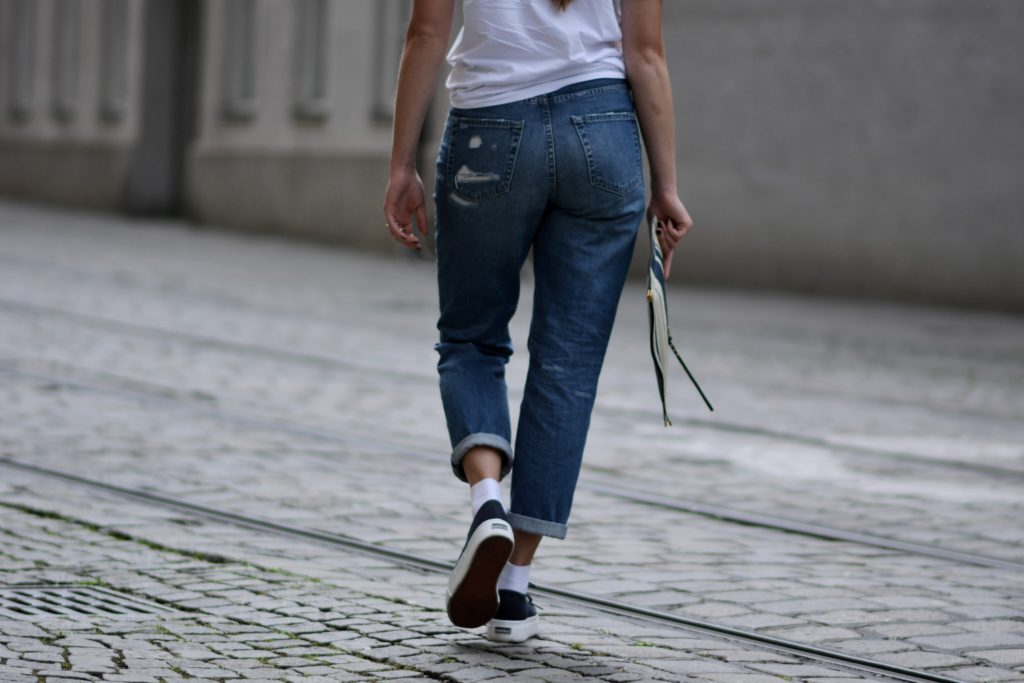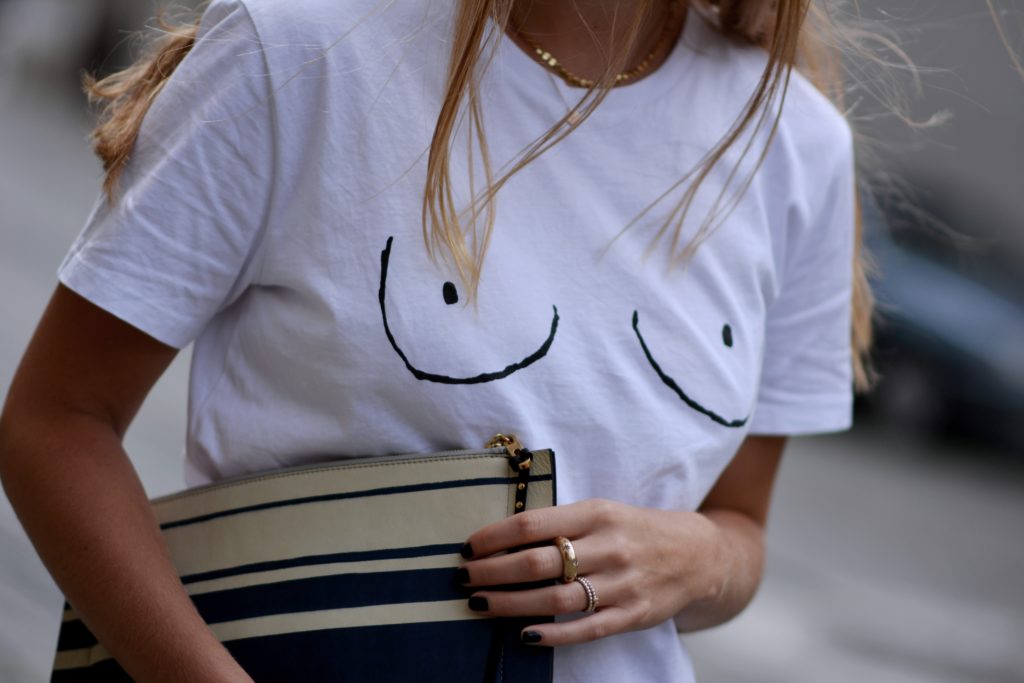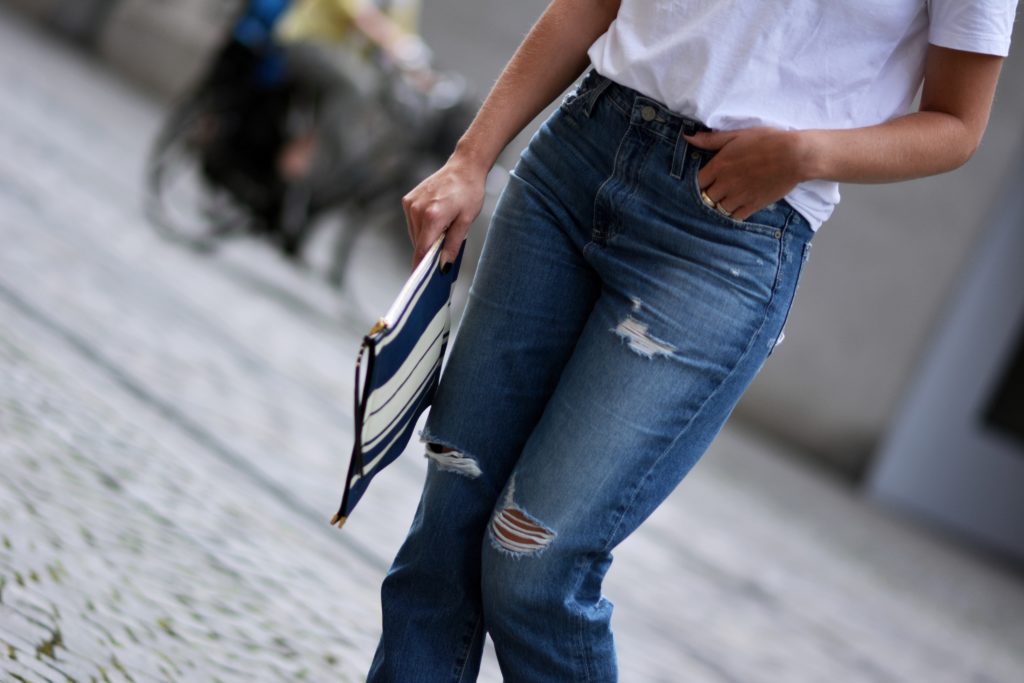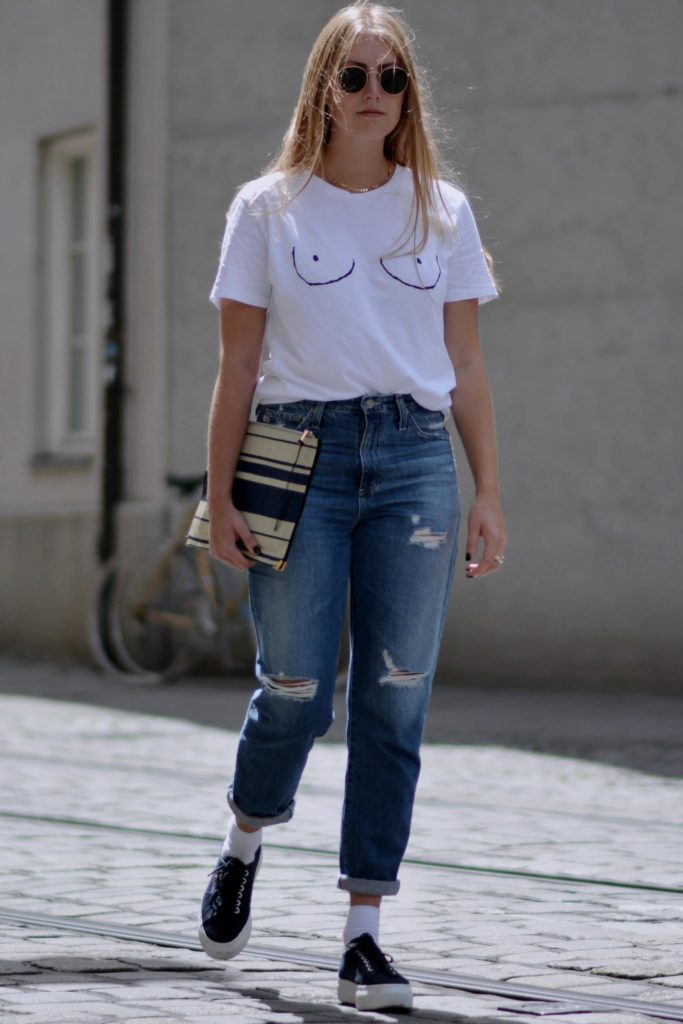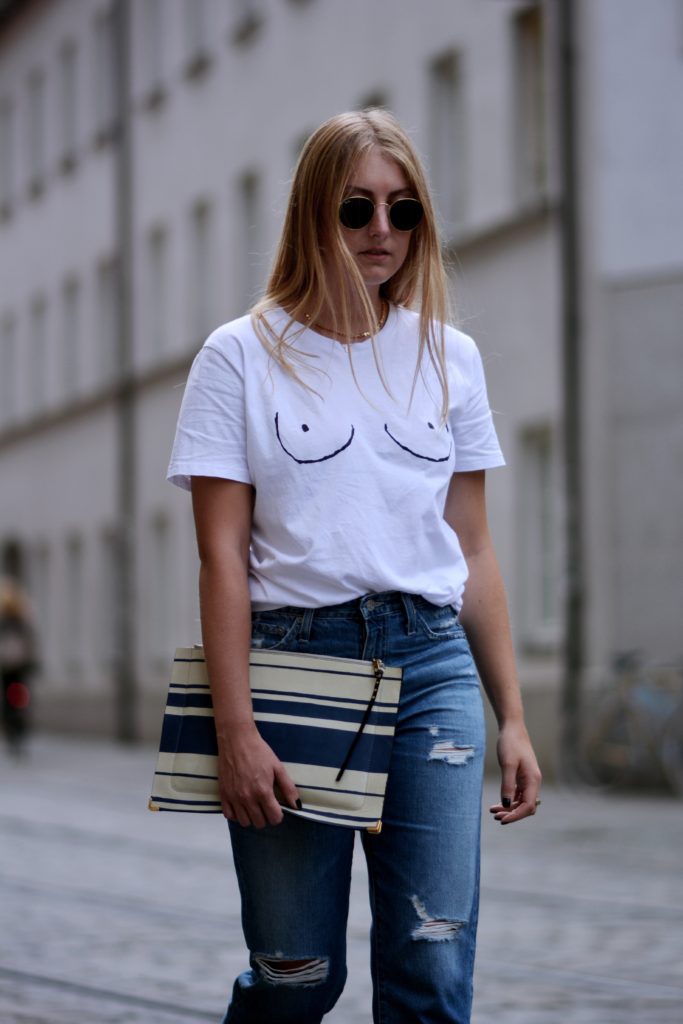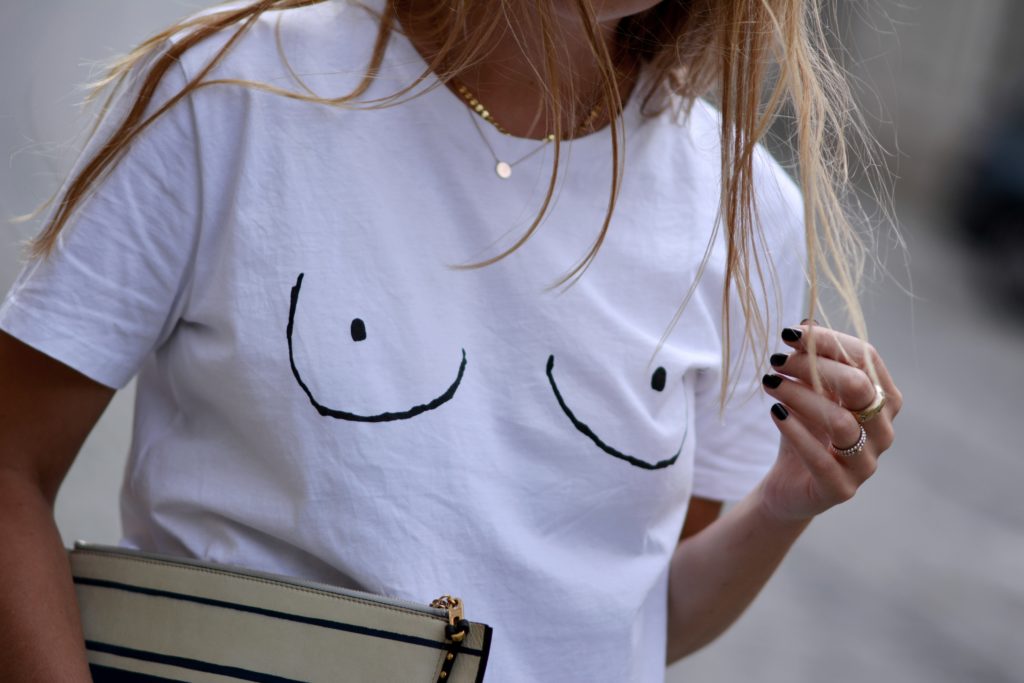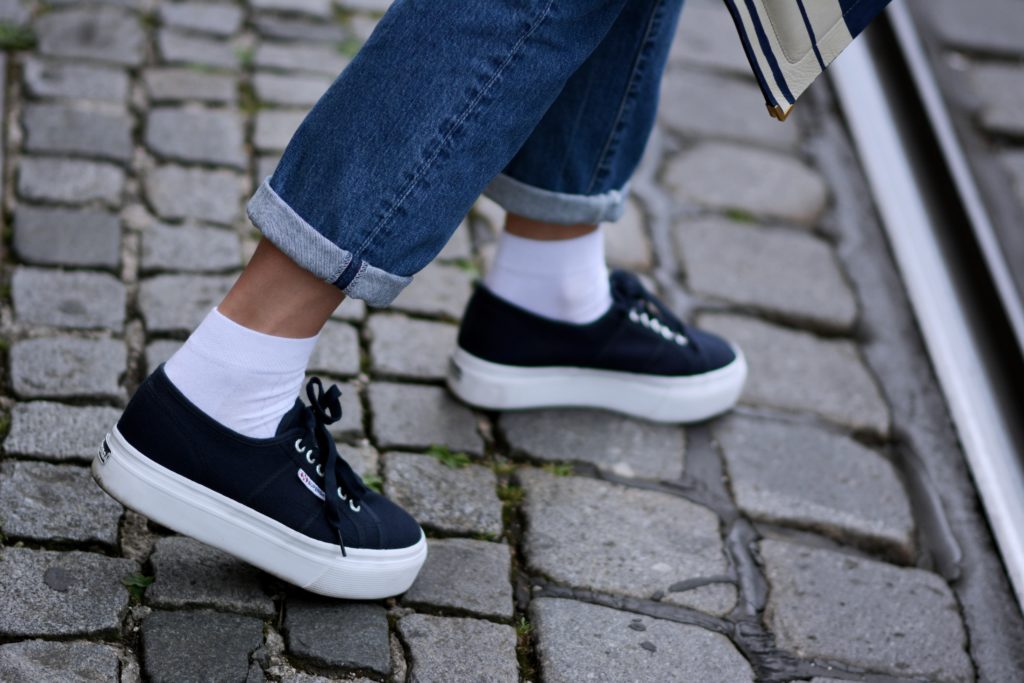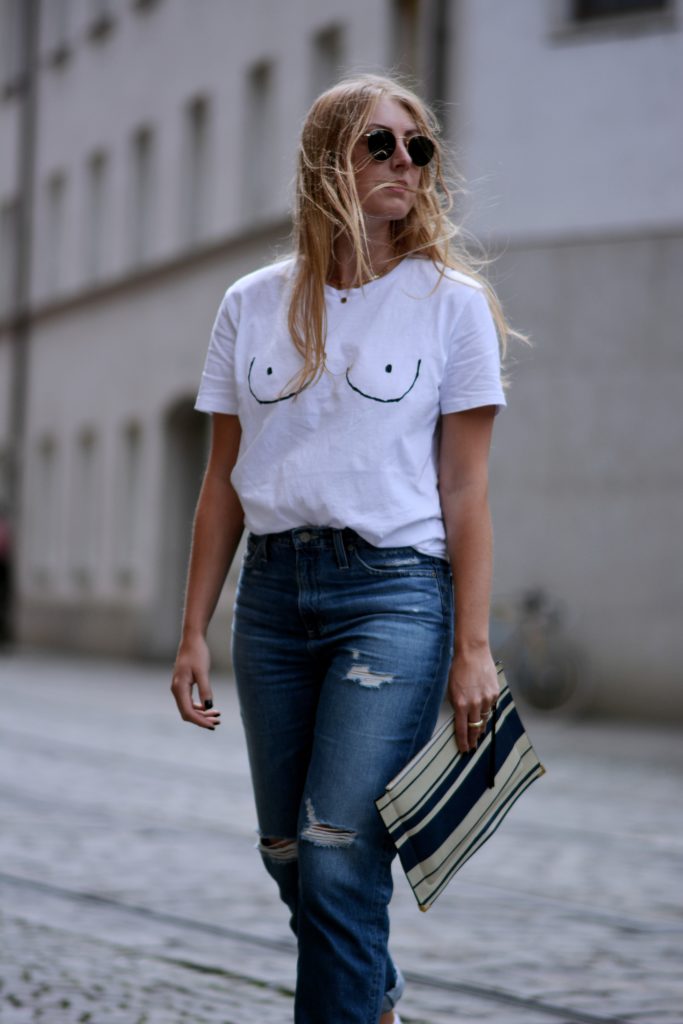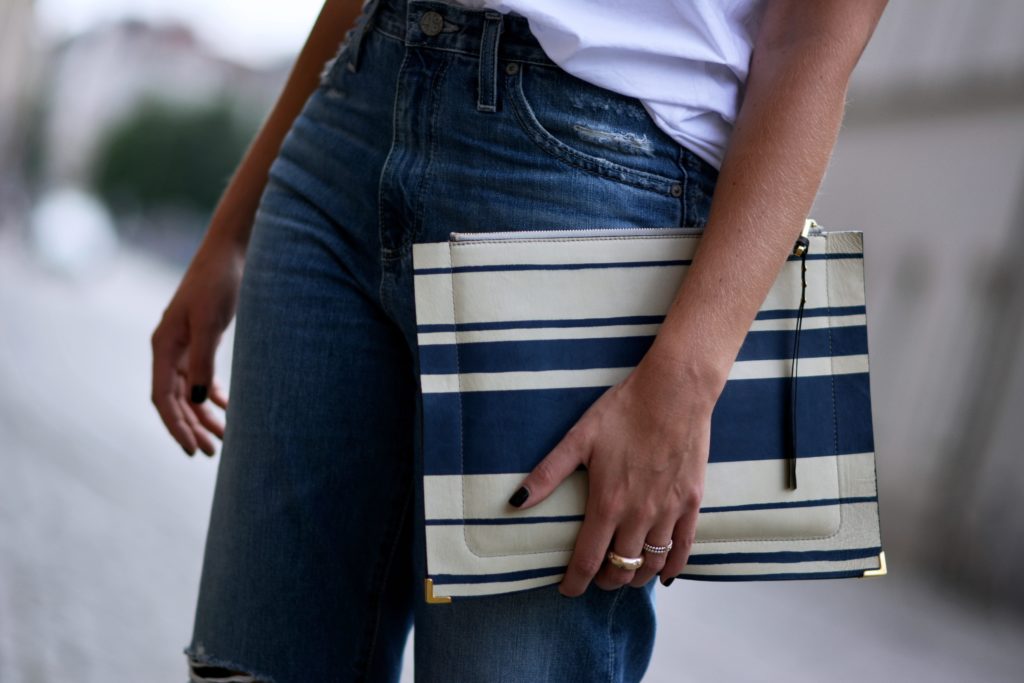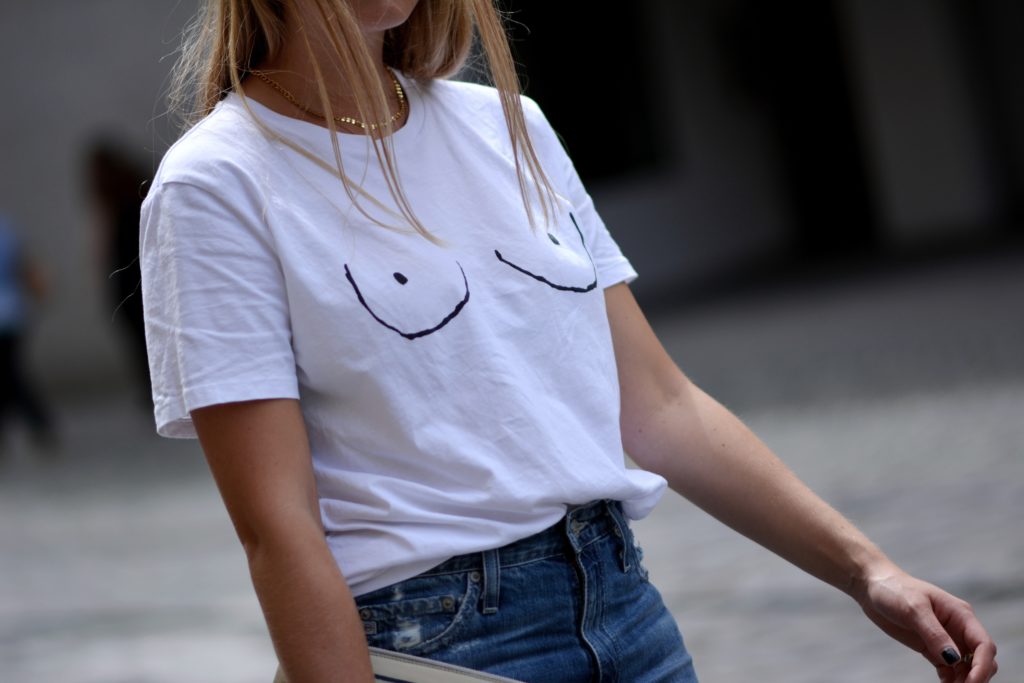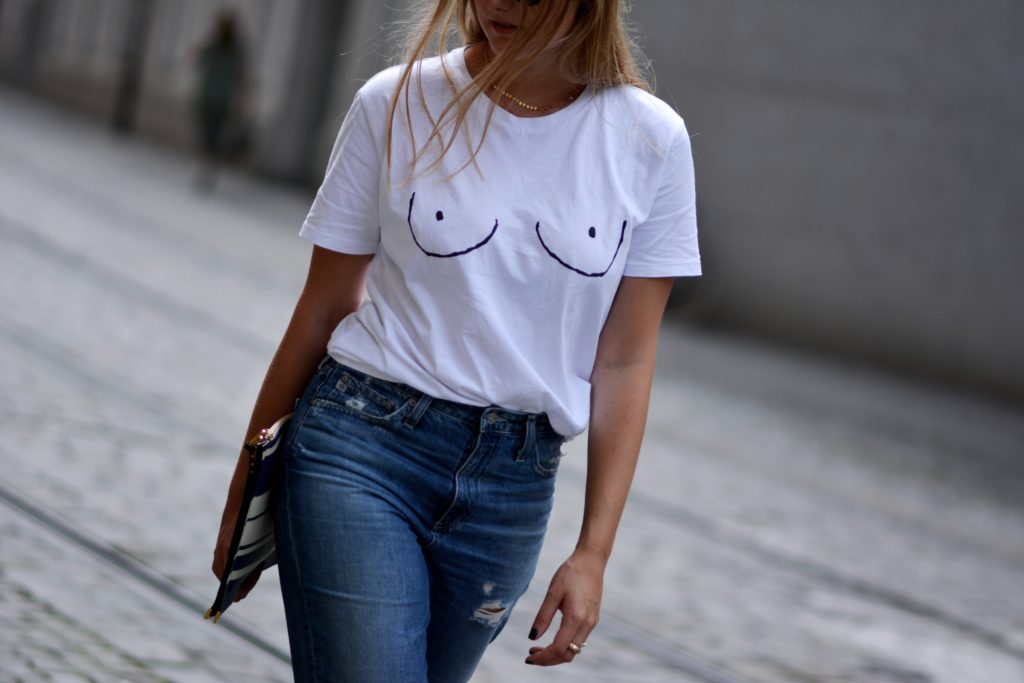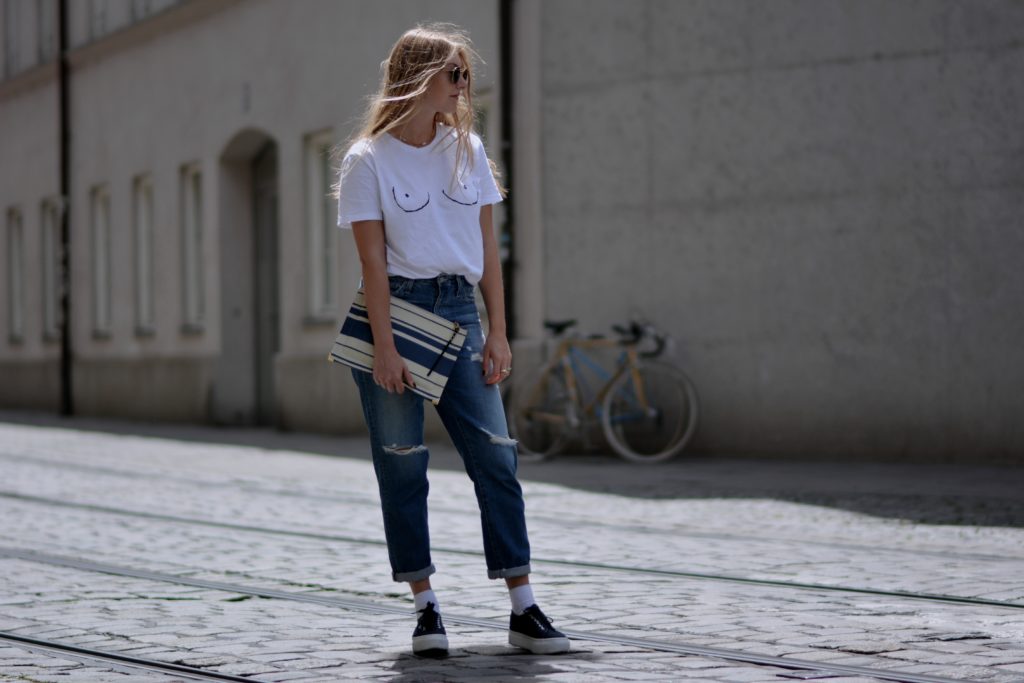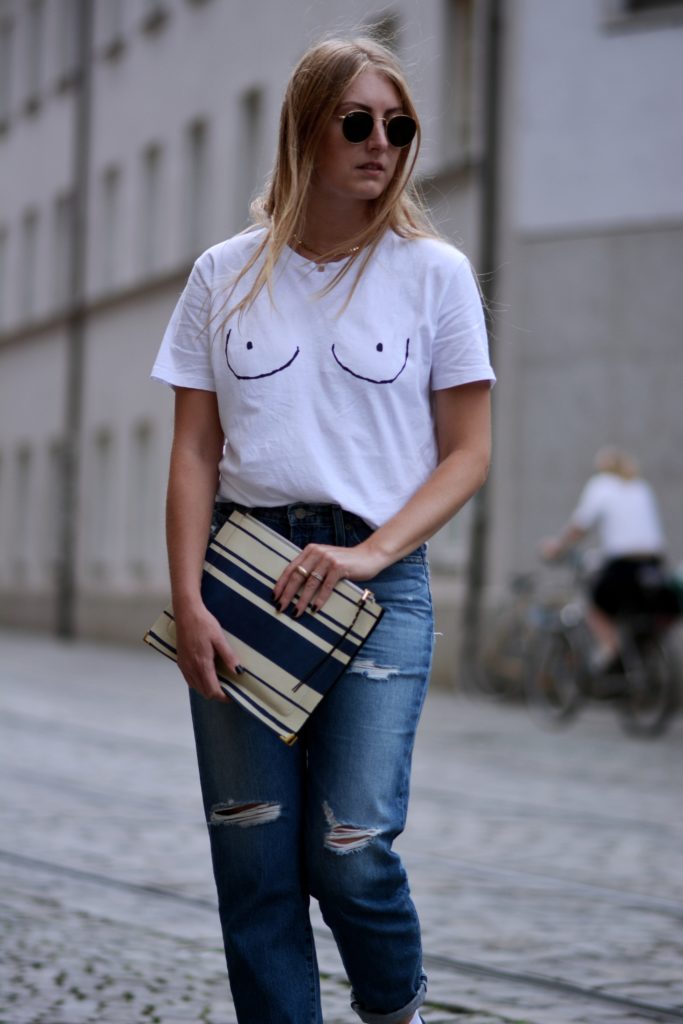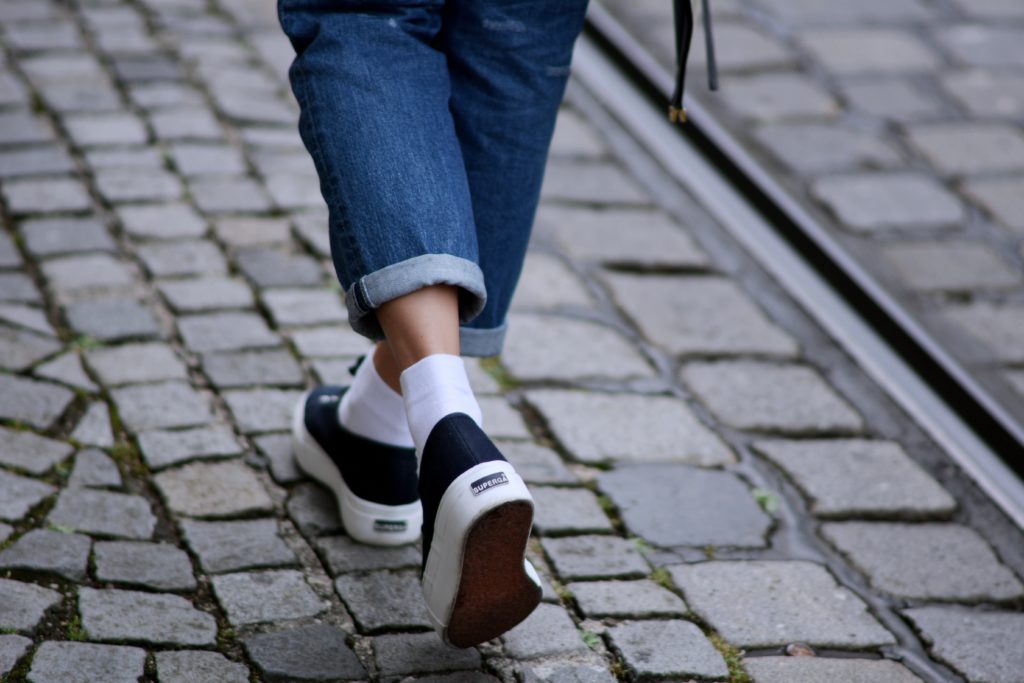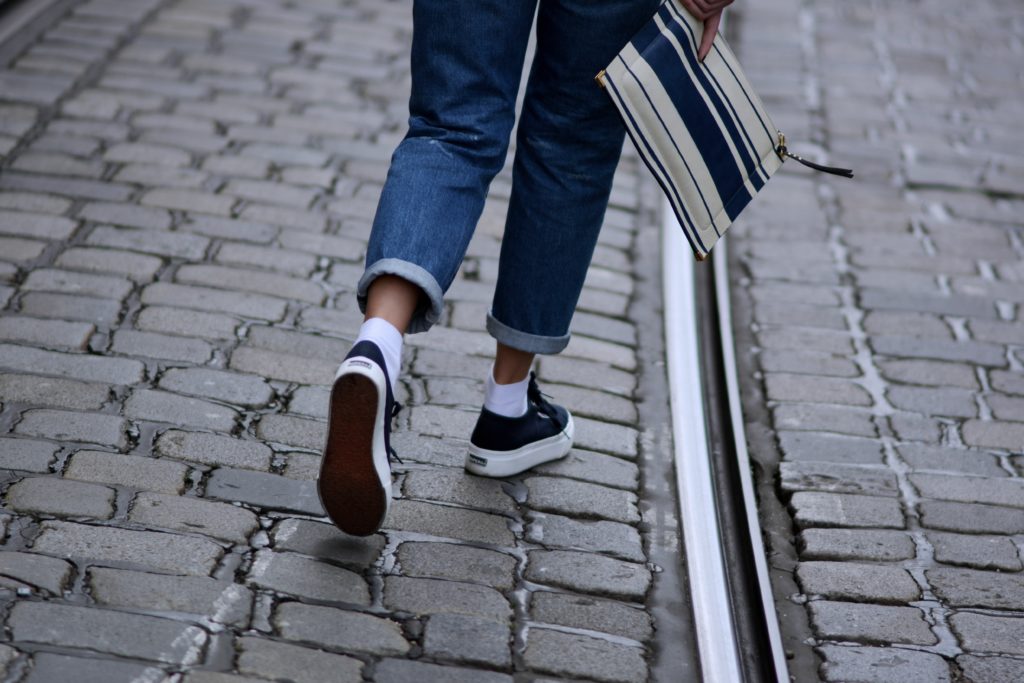 Shirt/Shirt: Stanely Stella
Jeans/Jeans: AG*
Bag/Tasche: Chloé
Rings/Ringe: Pandora + Vintage (similar here)
Sneaker/Sneaker: Superga°
*sponsored by AG
°sponsored by Superga