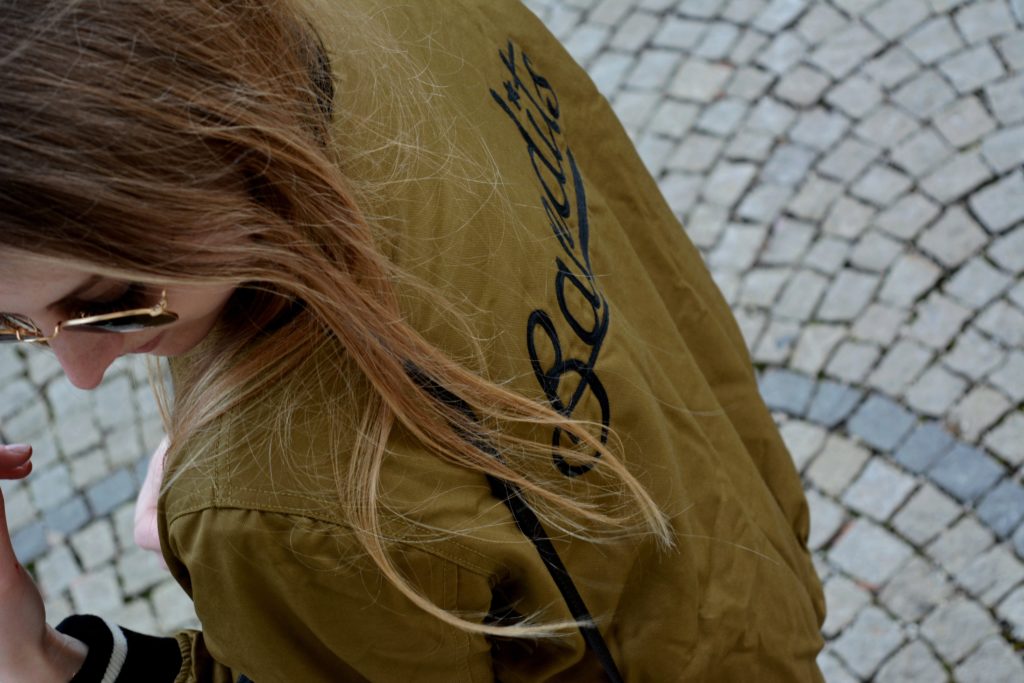 Transitional jackets are something that I have always had problems with. Too warm, too cold, too vernal, too winterly. I have several leather jackets and then always put on these classics. But this year it is different. I found the perfect transitional jacket. It's from Scotch & Soda and I found it on ABOUT YOU. The details are perfect – olive tones, a burning heard made from pearls on the front, a Bandits stitching on the back, black and white cuffs. I loved my boyfriends bomber jacket and almost bought the same one several weeks ago and now I am more than happy I did not. My new jacket is everything and right now it is even on sale. For this shooting I was wearing it together with a striped shirt, basic black jeans, my ACNE Jensen boots and a bag I was craving for a long time and now can call a member of my bag family – the Mansur Gavriel bucket bag.
By the way the jacket I chose was not the only one I had a crush on. There were several jackets that could have perfectly joined my other jackets on my closet. A visit on ABOUT YOU is definitely worth it! Many jackets are even on sale so be quick!
Happy shopping!
xx Feli
Das Thema Übergangsjacken ist ja immer so eine Sache… Zu warm, zu kalt, zu winterlich, zu frühlingshaft. Irgendwie tu ich persönlich mir damit immer schwer. Ich habe etliche Lederjacken und greife dann meist auf diesen Klassiker zurück. Nicht aber in diesem Jahr, denn ich habe die absolut perfekte Übergangsjacke gefunden. About You hat mich einmal wieder glücklich gemacht, denn dort gibt es dieses Traummodell von Scotch & Soda (das gerade im SALE ist!!!). Ich bin nicht nur ein großer Fan von Olivgrün-Tönen, ich bin außerdem total verliebt in die grüne Bomberjacke von meinem Freund und hätte mir kürzlich beinahe genau die gleich gekauft. Welch ein Glück, dass ich damit gewartet habe. Diese Jacke hier ist nämlich nicht nur genau passend von der Länge her, die Details machen es aus. Vorne ein brennendes Herz aus Perlen, hinten der Schriftzug Bandits. Kaum gesehen, war ich hin und weg und die Jacke sofort im Warenkorb. Kombiniert habe ich sie mit einem gestreiften Shirt, das super zu den gestreiften Bündchen der Jacke passt, einer schlichten schwarzen Jeans, meinen ACNE Jensen Boots und einer Tasche, die ich schon lange angehimmelt habe und mir nun für das neue Jahr endlich geleistet habe – die Bucket Bag von Mansur Gavriel. 
Übrigens war diese Jacke hier nicht die Einzige, die mir gut gefallen hat. Ich habe einige Jacken entdeckt, die super in meinen Schrank gepasst hätten. Ein Blick auf ABOUT YOU lohnt sich in jedem Fall, denn abgesehen von der tollen Auswahl an Jacken, sind hier sogar noch viele Teile im Sale. Ich rate euch also, schnell zu sein!
Viel Spaß beim Shoppen!
xx Feli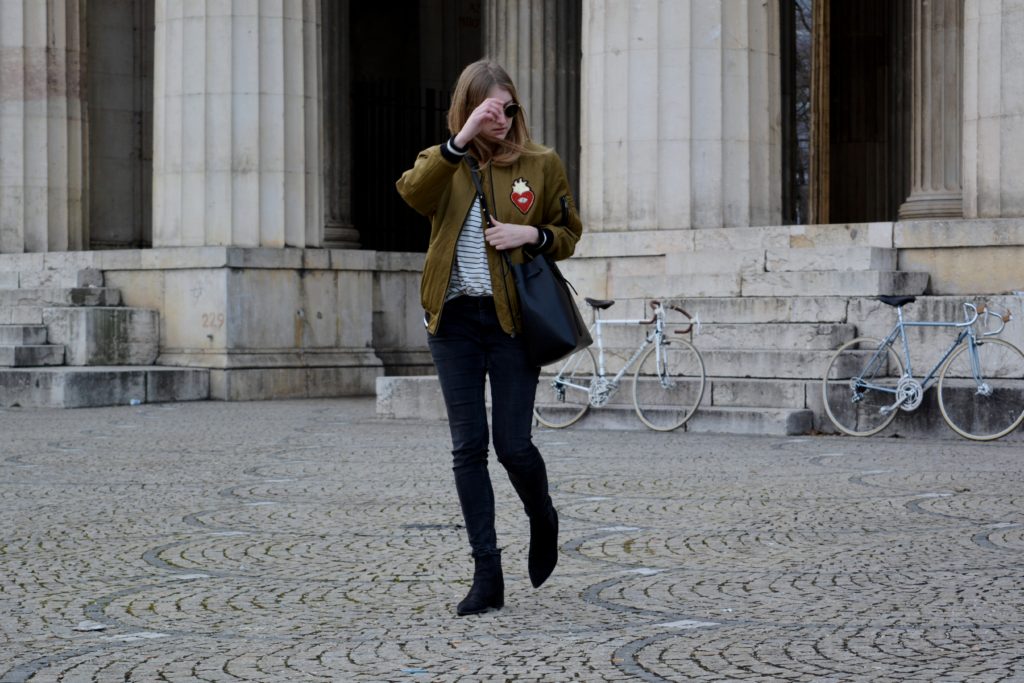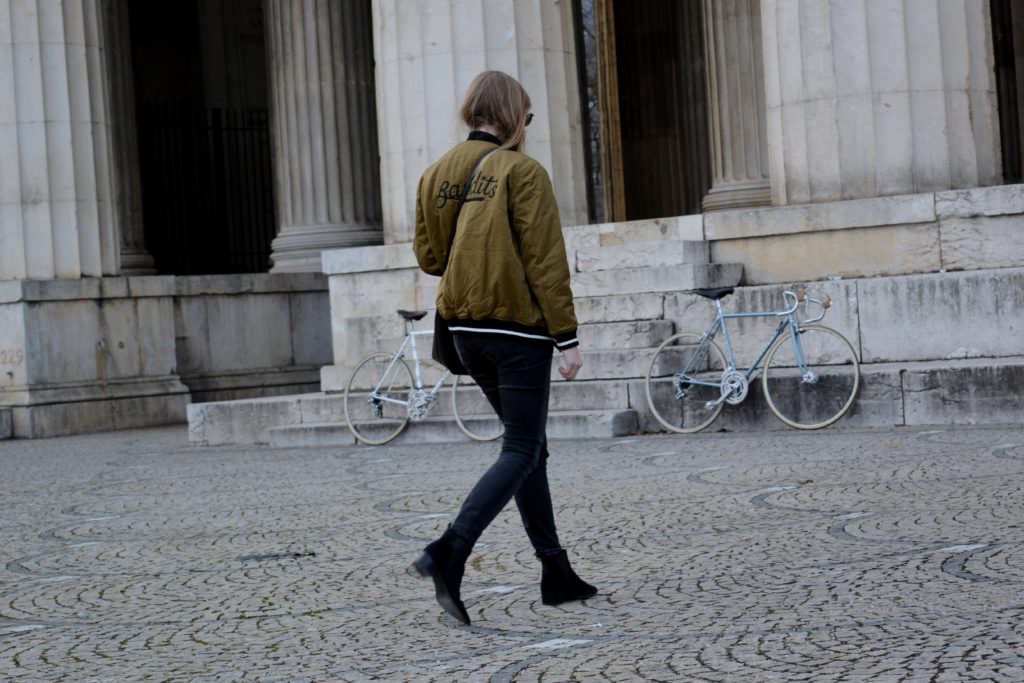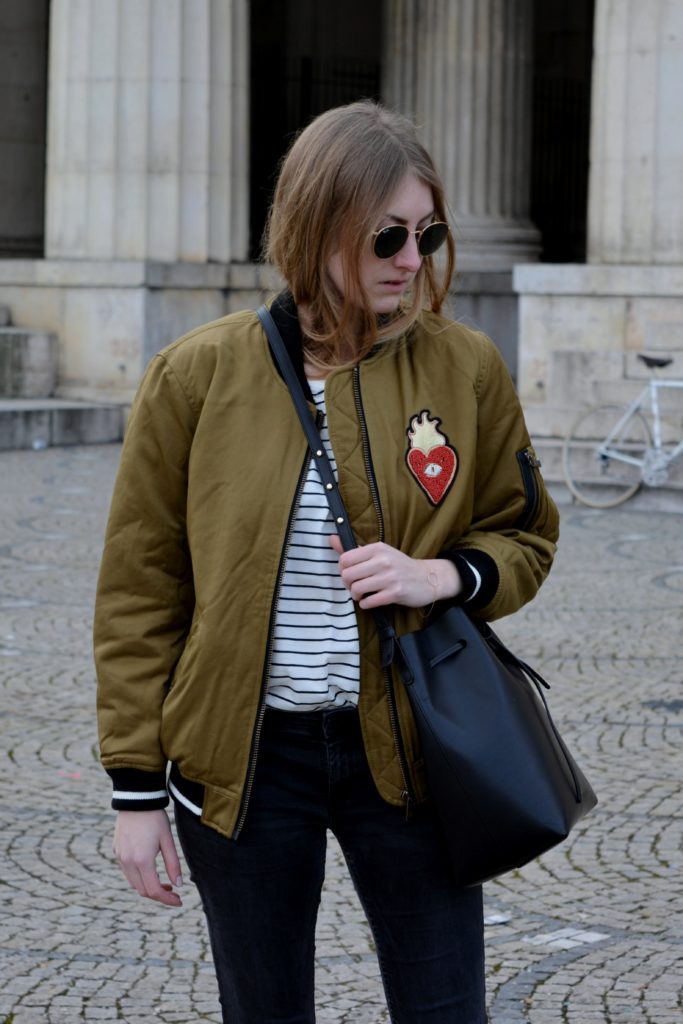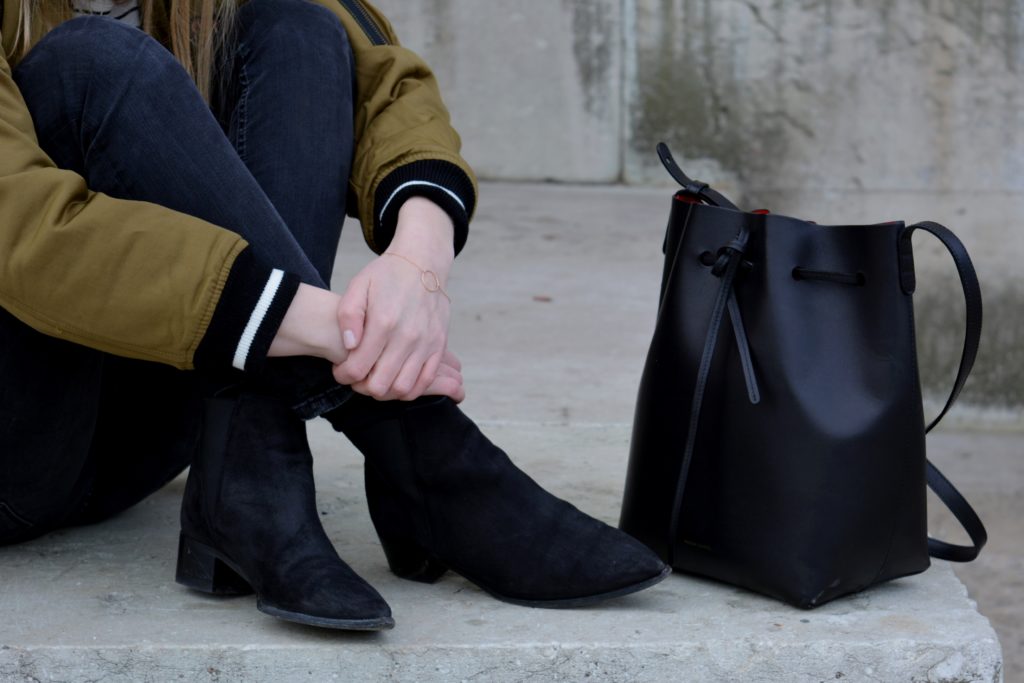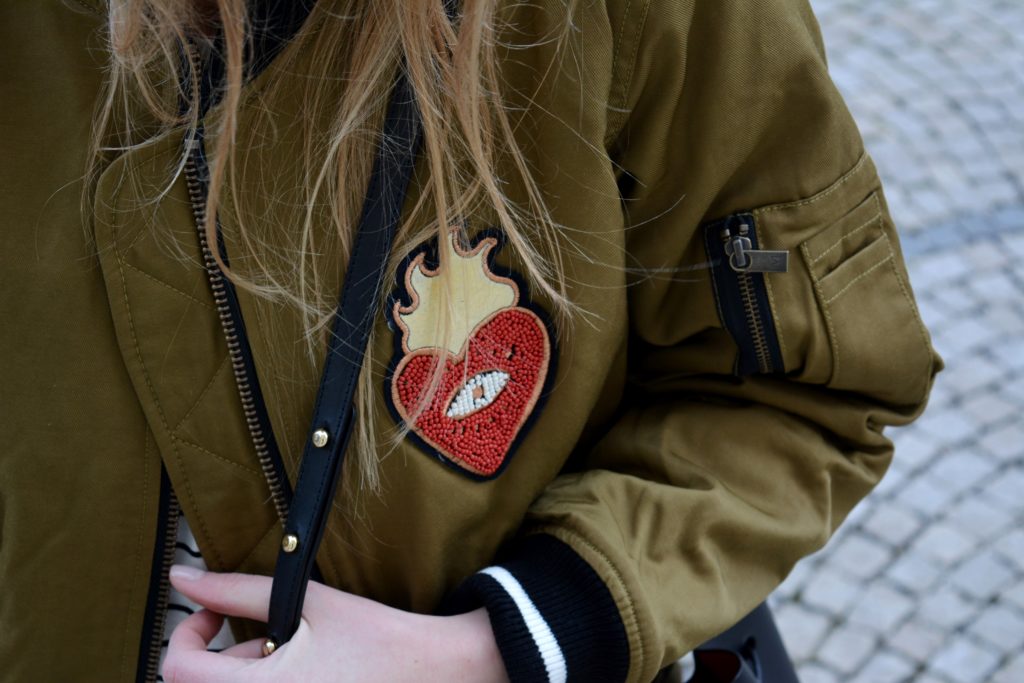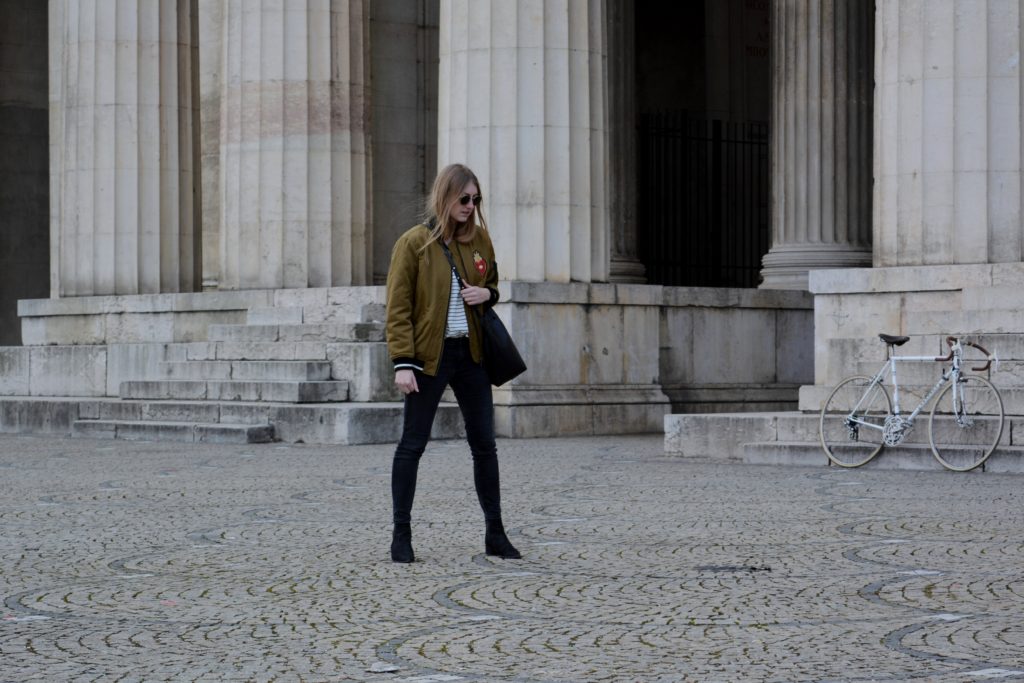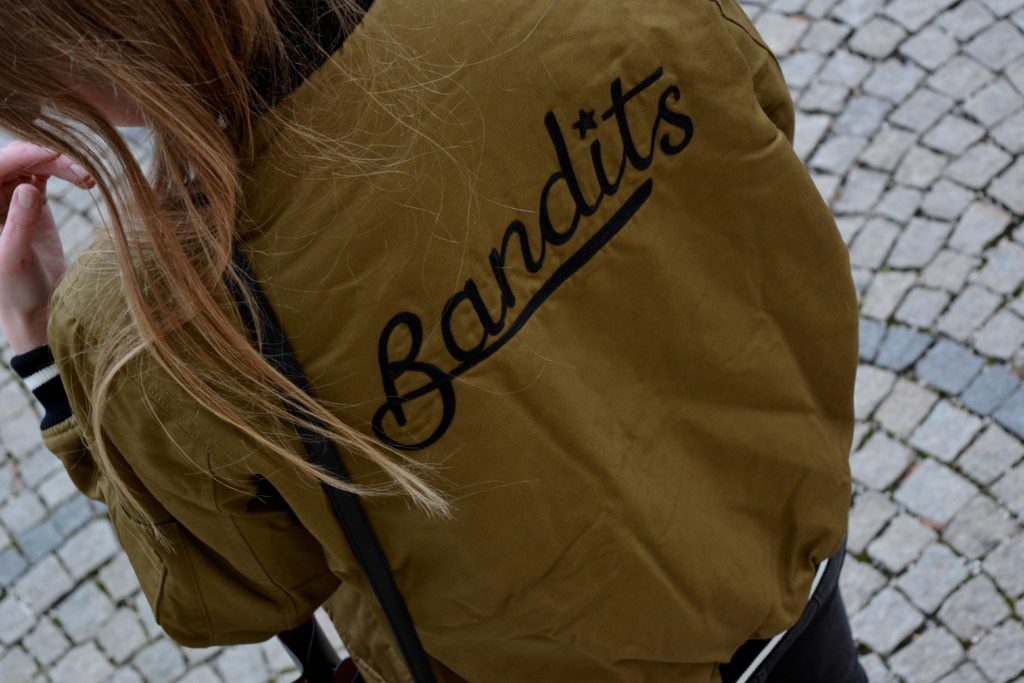 Bomber jacket/Bomberjacke: Scotch & Soda via ABOUT YOU
Shirt/T-Shirt: SET via ABOUT YOU
Pants/Hose: Zara
Sunglasses/Sonnenbrille: Ray Ban
Boots/Stiefel: ACNE Studios
Bag/Tasche: Mansur Gavriel
Bracelet/Armband: Jewelberry
in cooperation with ABOUT YOU