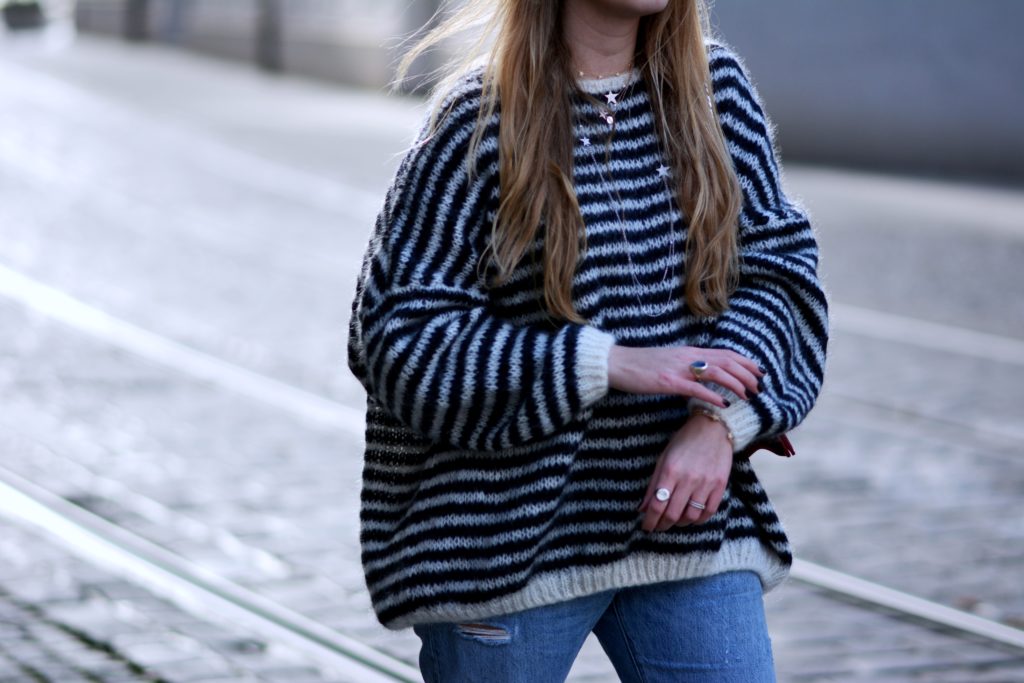 An unbeatable team for ages is stars combined with stripes. This is also what today's look is about. I am wearing Nomination Italy's new collection Stella which is a range of delicate jewellery with star details and cubic zirkonia. The huge variety of styles within the collection is amazing and what impressed me most is that each piece is available in silver, gold plated and rose gold plated. I am a huge fan of combining these three lately and the Stella collection makes it so easy.
I am wearing the collection with a cozy striped oversized sweater, ripped jeans and the most comfy lambskin slippers ever! When the EMU Australia box arrived I first thought I could only wear the slippers at home but together with this look I gave them a chance to see daylight 🙂 Well I have to admit I loved it. Is there anything better than wearing your slippers outside? With the striped fabric on the upper part they fit my new sweater perfectly. What a pity it will be too cold to wear the slippers again this year.
By the way, do you guys have Christmas presents for your beloved ones already? Keep the Stella collection in mind 😉 Maybe there is someone you would like to surprise with something special and then I can dearly recommend the collection.
And now have a happy weekend everyone!
xx Feli
Ein unschlagbares Team in der Mode ist seit jeher Stars & Stripes und darum geht es auch im heutigen Look. Ich trage nämlich die neue Kollektion von Nomination Italy. Das Motto der Stella Kollektion sind, wie es der Name schon erahnen lässt, Sterne. Jedes der hübschen zarten Teilchen hat Sternendetails  und diese sind mit Cubic Zirkonia besetzt undd funkeln unheimlich schön. Die Auswahl an Styles ist klasse und was ich besonders toll finde ist, dass jedes Stück in silber, vergoldet und rosévergoldet erhältlich ist. Und das spielt meinem aktuellen Schmuckgeschmack geradezu in die Karten, denn ich liebe es verschiedene Legierungen zu kombinieren. Die Stella Kollektion bietet hierfür unzählige Variationen. 
In diesem Fall trage ich die Kollektion zusammen mit einem gestreiften Oversize-Pulli, zerschlissenen Jeans und den wohl bequemsten Lammfell-Schlappen überhaupt. Als die in einem Päckchen von EMU Australia bei mir eingetroffen sind, dachte ich sie würden das Haus wohl eher nie verlassen, aber mit diesem Look kam doch alles anders. Ich liebe sie einfach. Und gibt's was Schöneres als seine Hausschuhe auch draußen tragen zu können? Mit dem gestreiften Stoff obenauf passen die Schlappen jedenfalls prima zum heutigen Outfit, nur leider werde ich sie wohl dieses Jahr nicht mehr draußen tragen können. Es ist einfach dann doch zu kalt.
Übrigens, es weihnachtet ja vor allem in den Supermärkten und Innenstädten schon sehr: Habt ihr denn bereits alle Weihnachtsgeschenke zusammen? Wenn es dieses Jahr für einen besonderes Menschen eine besondere Überraschung sein soll, kann ich euch die Stella Kollektion von Nomination Italy nur ans Herz legen. Ein bisschen mehr Glamour hat schließlich noch nie geschadet und mit diesen hübschen Teilen macht ihr bestimmt eine große Freude.
Jetzt wünsche ich euch allen ein prima Wochenende!
xx Feli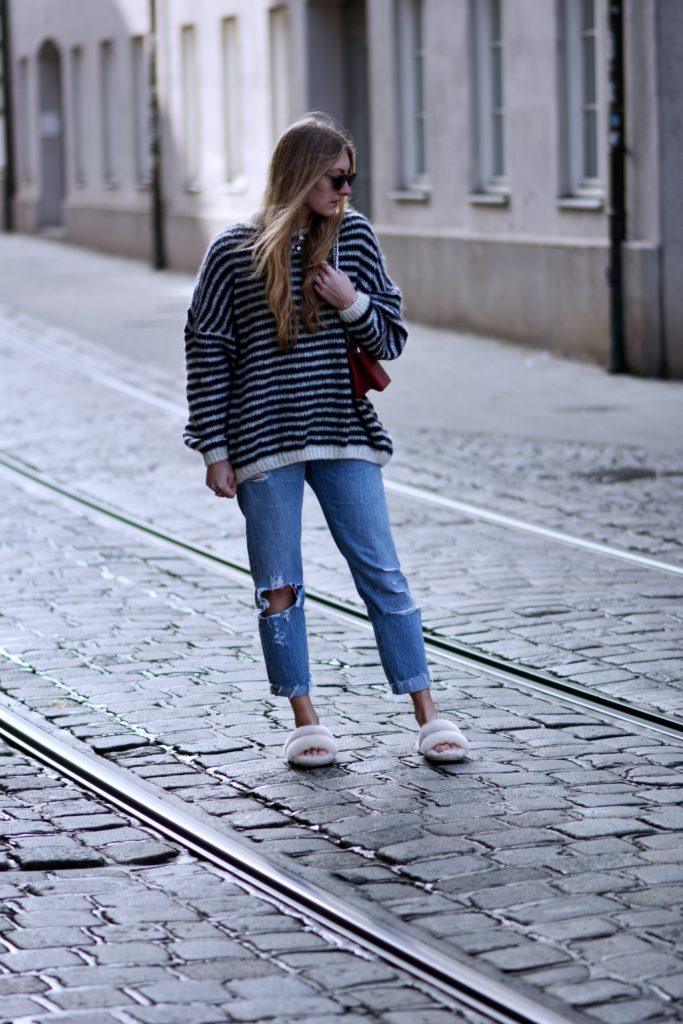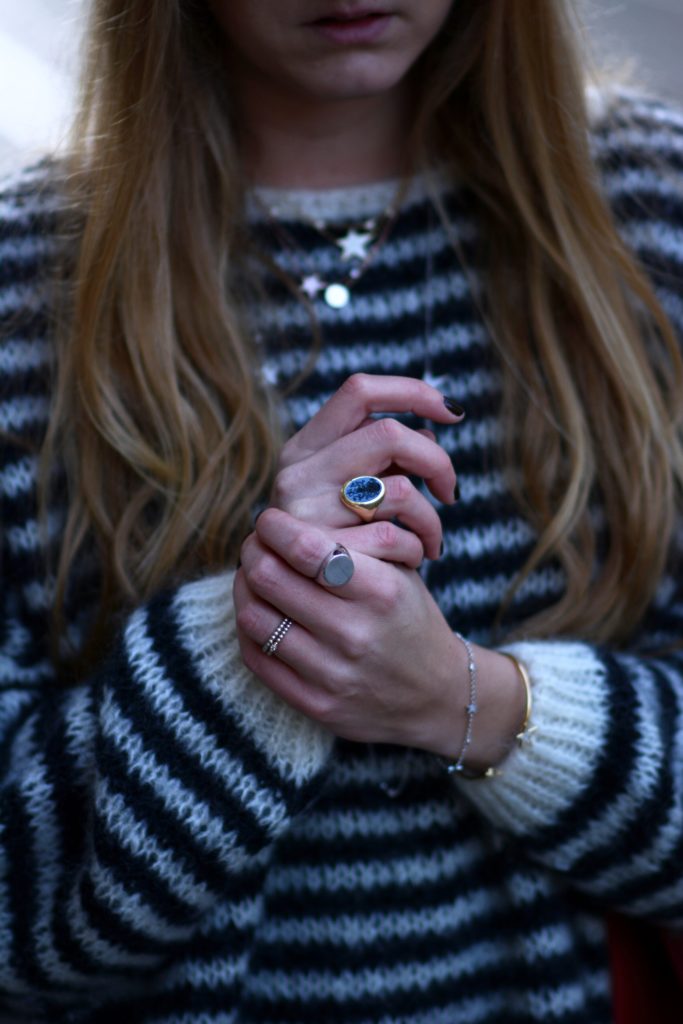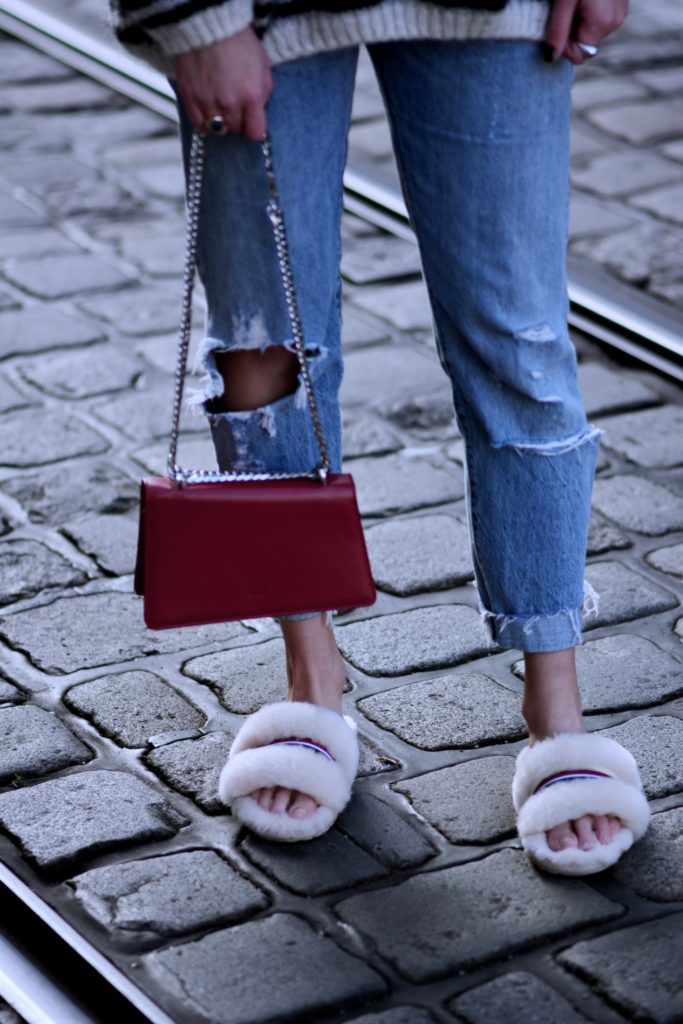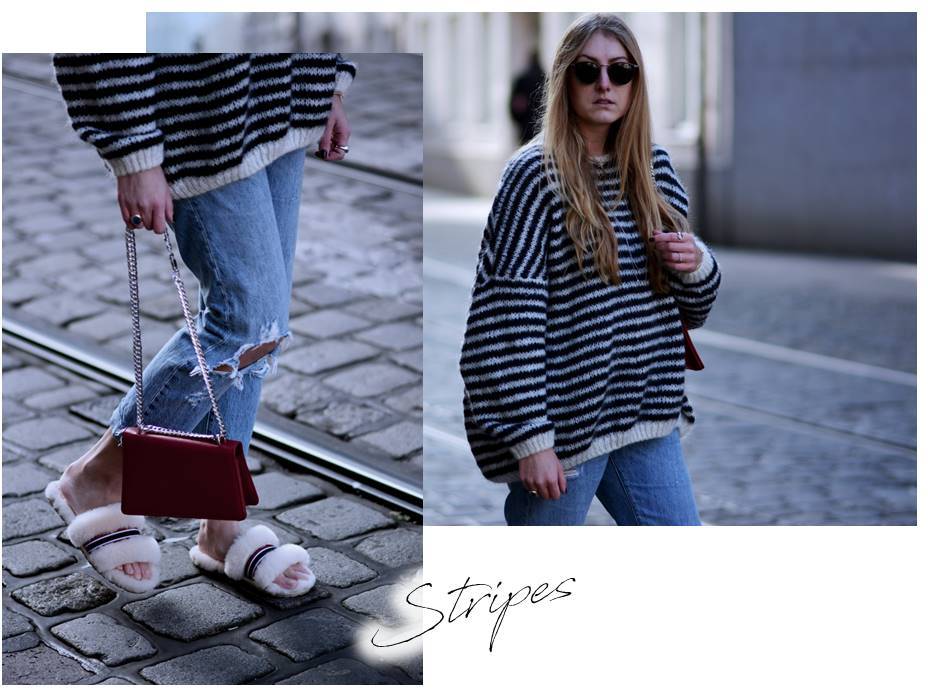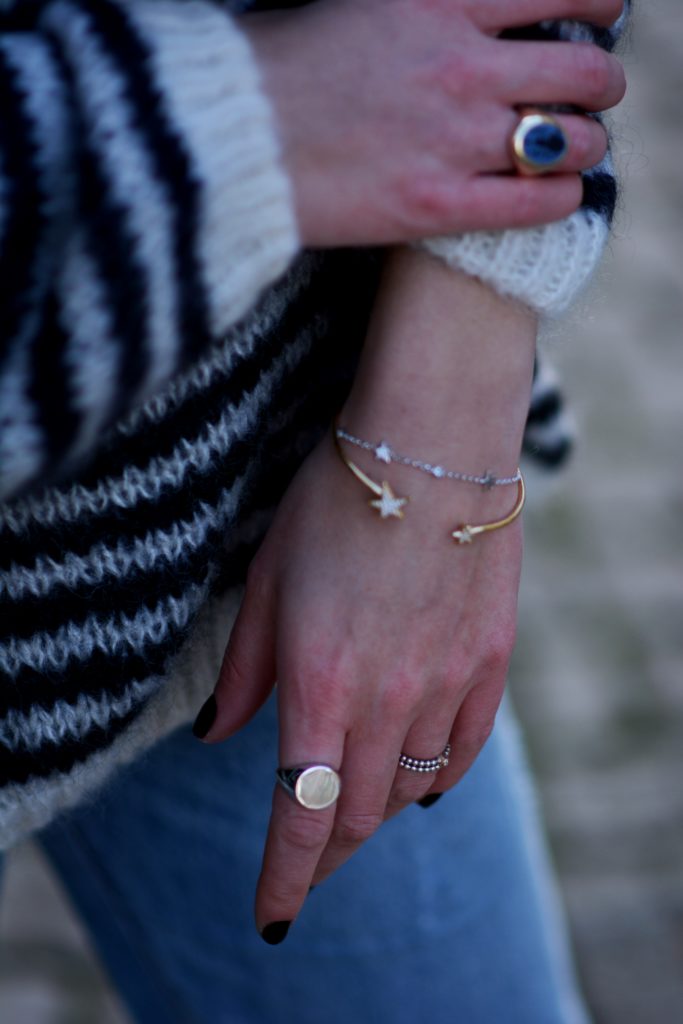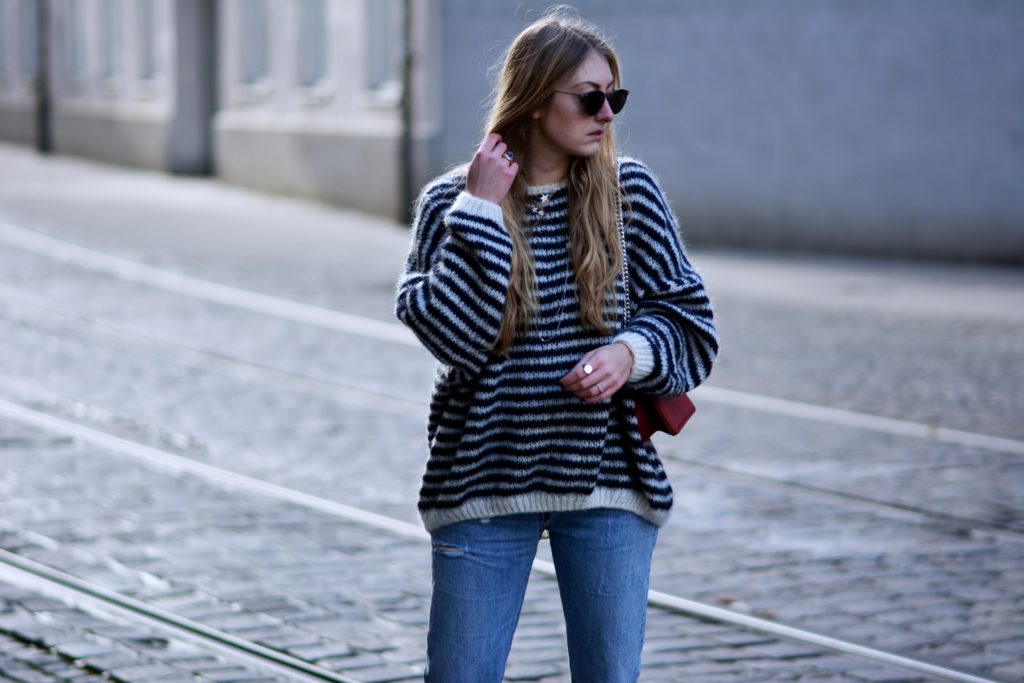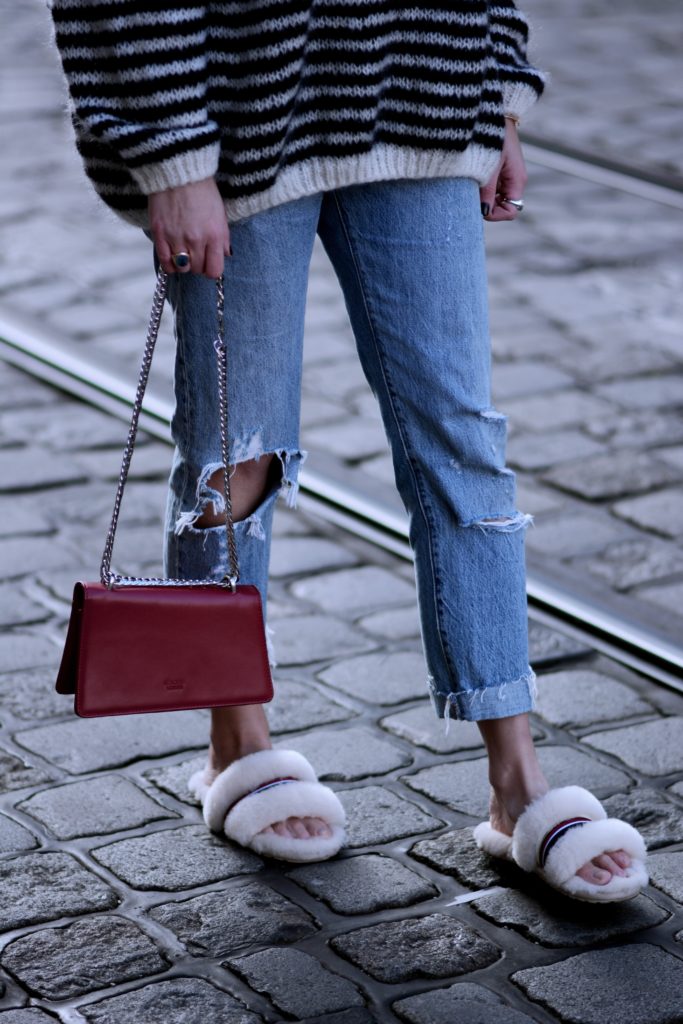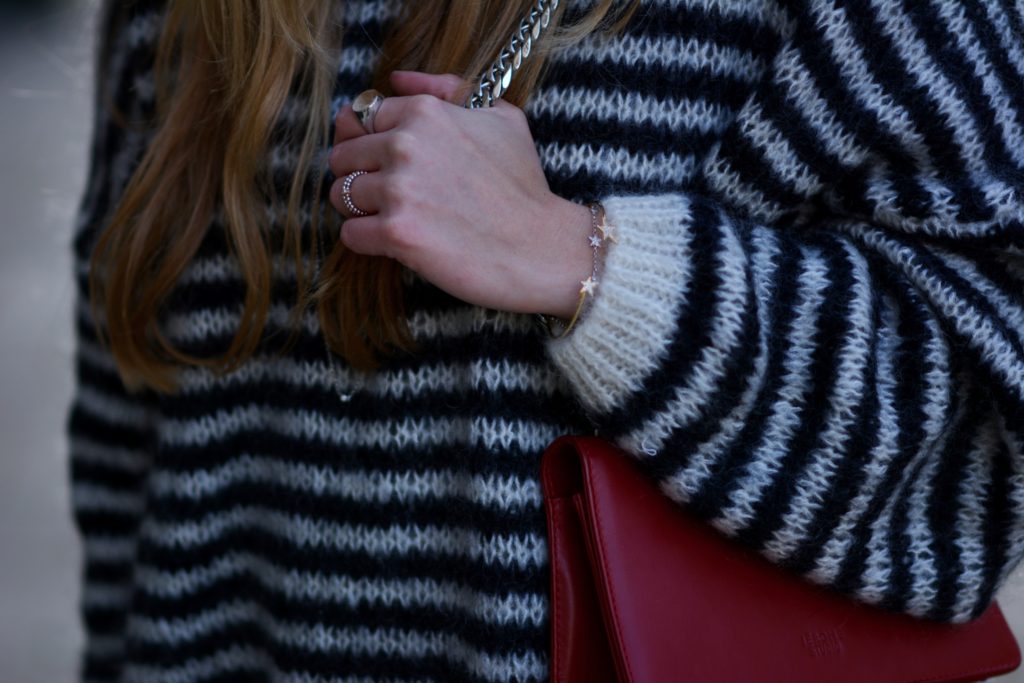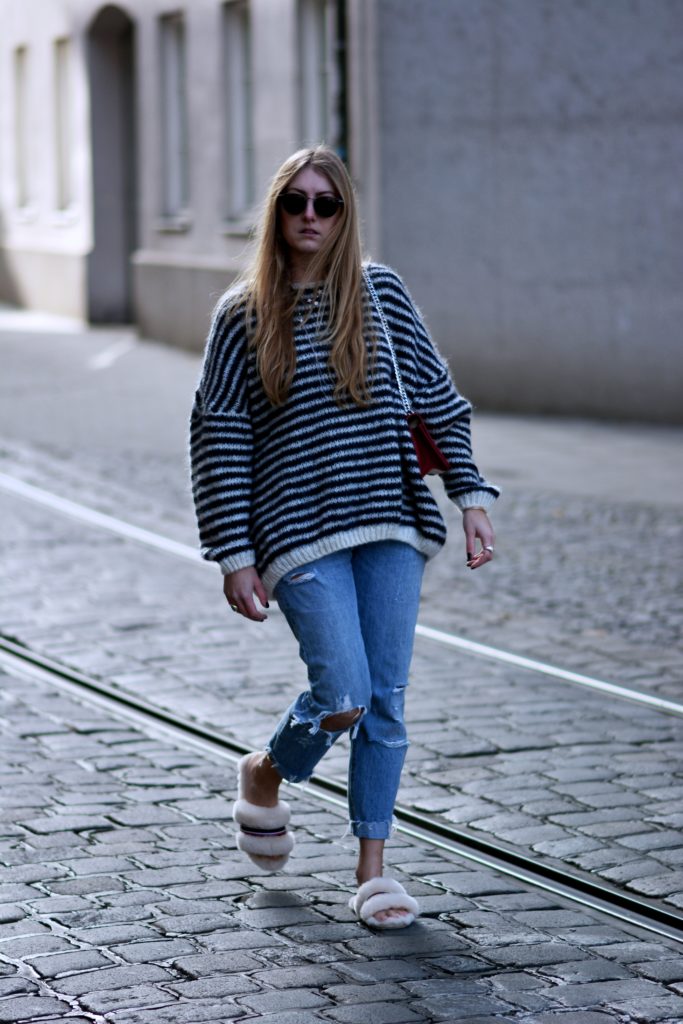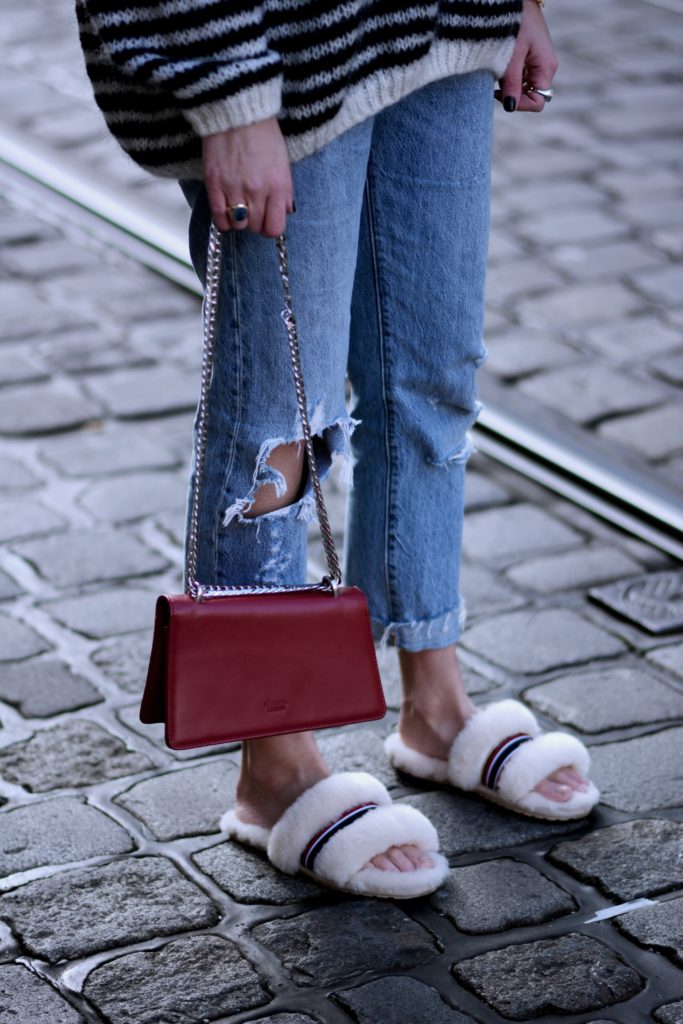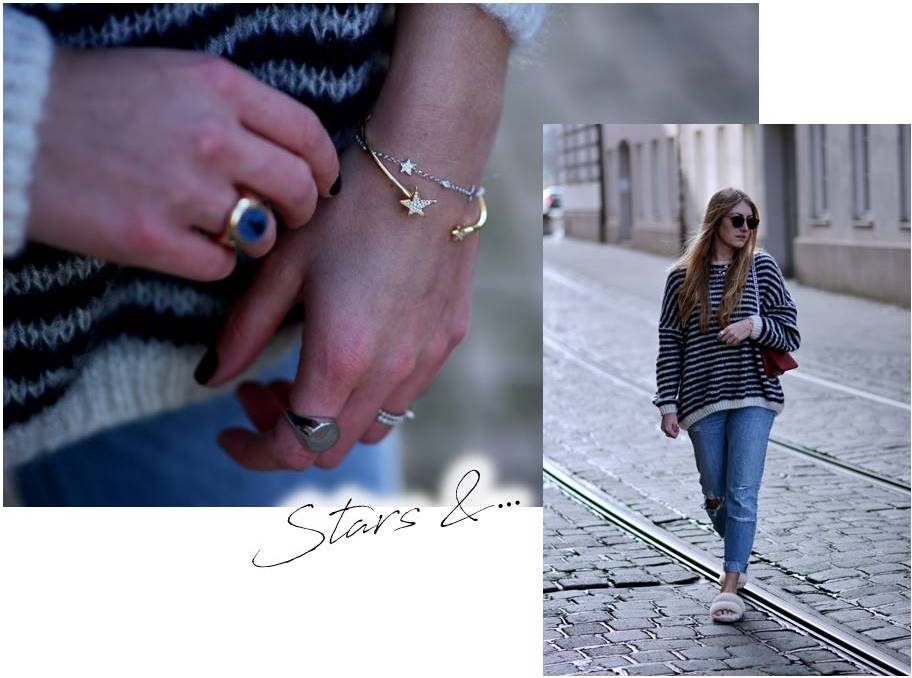 Shop the look:
Sweater/Pulli: American Vintage*
Jewellery/Schmuck: Nomination Italy* & privat
Sunglasses/Sonnenbrille: KBL*
Jeans/Jeans: Levi's
Bag/Tasche: Jérome Studio as seen here
Slippers/Schlappen: EMU Australia*
AD/WERBUNG: This post contains affiliate links. I receive a provision by sales from the links however the price itself doesn't change for you. The items marked with * were sponsored by the brands or shops named./Dieser Beitrag enthält Affiliate Links. Bei einem Kauf über einen Affiliate Link, erhalte ich eine Provision. Der Kaufpreis selbst verändert sich für euch dadurch nicht. Die mit * markierten Produkte wurden mir von den genannten Marken bzw. Shops kostenlos zur Verfügung gestellt.