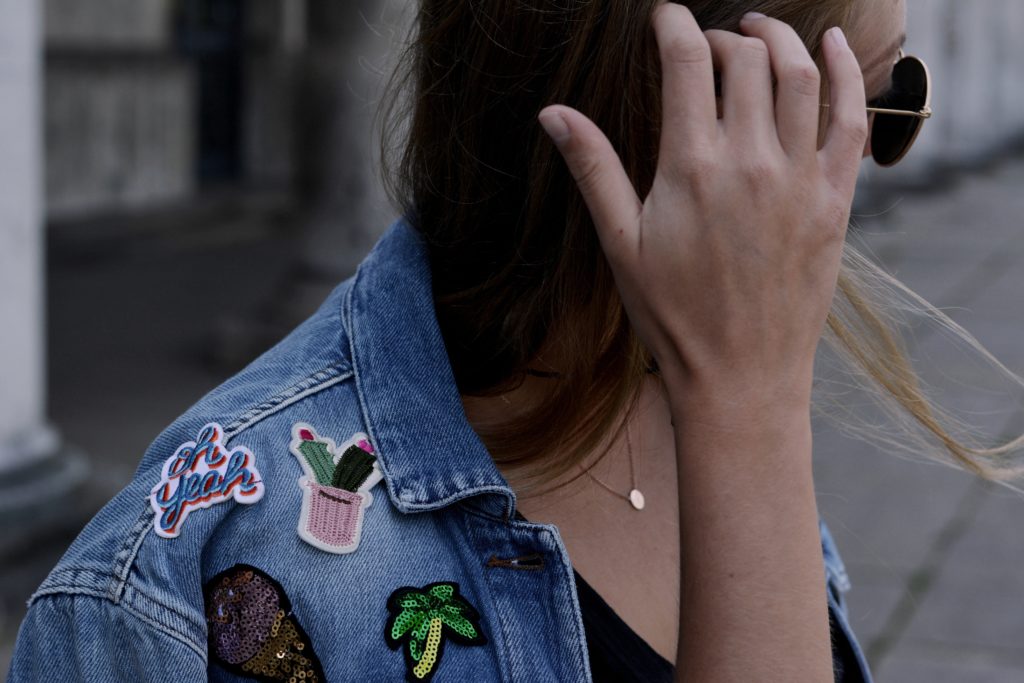 OH YEAH – patches and pins have been back in fashion business for a while now but it took me a while to find these cute ones in a online shop that just launched and that you should definitely get to know. SuperCalé offers about everything that makes my heart go while besides fashion. With their shop they compete head-to-head with the real big players. From pins and patches, cute jewellery to beautiful living accessories – if you are searching for that certain something for you flat, a special present for a good friend or just a piece that you want to gift yourself with, SuperCalé will have the perfect piece for you.
I pimped my denim jacket with some cute patches and pins from the shop and made it one of a kind. The little socks with it perfectely. And those of you who know me well also know how much I am into sunglasses. The only thing that was missing was a sunny cord to prevent me from searching for my sunnies all day long although I was wearing it on my head. SuperCalé had it and the one I am wearing has the cute name "Golden Girl". How cool is that?!
By the way at the end of this blogpost there are links to all the pieces of SuperCalé I am wearing in this post so hurry and check the shop out soon. I promise it will be worth it!
xx Feli
OH YEAH – Patches und Pins sind ja schon eine Weile zurück in der Modewelt. Die schönsten habe ich aber in einem Shop entdeckt, den es noch gar nicht lange gibt, den ihr aber auf jeden Fall kennen lernen müsst – bei SuperCalé gibt es so ziemlich alles, was mein Herz höher schlagen lässt, abgesehen von Klamotten. Denn dieser feine Concept Store hat es sich nicht nehmen lassen, die Welt der großen Webshops aufzumischen. Von besagten Pins und Patches, über Schmuck bis hin zu wunderschönen Wohnaccessoires – wer auf der Suche nach dem gewissen Etwas für die Wohnung, nach einem besonderen Geschenk oder einfach nach einem schönen Teil ist, das einem selbst den Tag versüßt, der wird bei SuperCalé definitiv fündig.
Meine Jeansjacke habe ich mit ein paar coolen Patches aus dem Shop zu einem Unikat gemacht und nicht nur das – es hat noch dazu einen riesen Spaß gemacht. Die Söcken passen dazu natürlich auch noch perfekt! Wer mich kennt, weiß außerdem von meiner Schwäche für Sonnenbrillen und was mir immer gefehlt hat, war ein Brillenband, damit ich meine Sonnenbrillen nicht ständig verlege, sie in meinen Taschen zerkratzen oder ich sie mal wieder auf dem Kopf trage, verzweifelt suche aber einfach nicht finde. Die Mädels von SuperCalé machen die hübschen Sunny Cords übrigens selbst und per Hand. Das schwarz-goldenen Band, das ich trage heißt "Golden Girl" und so trägt jedes Band einen eigenen Namen. Wie cool ist das denn bitte?!
Am Ende den Blogposts habe ich euch die Patches, Pins das tolle handgemacht Brillenband und auch die süßen Söcken verlinkt. Also los, los – schaut direkt einmal auf SuperCalé vorbei. Ich verspreche, das lohnt sich!
Bis bald,
xx Feli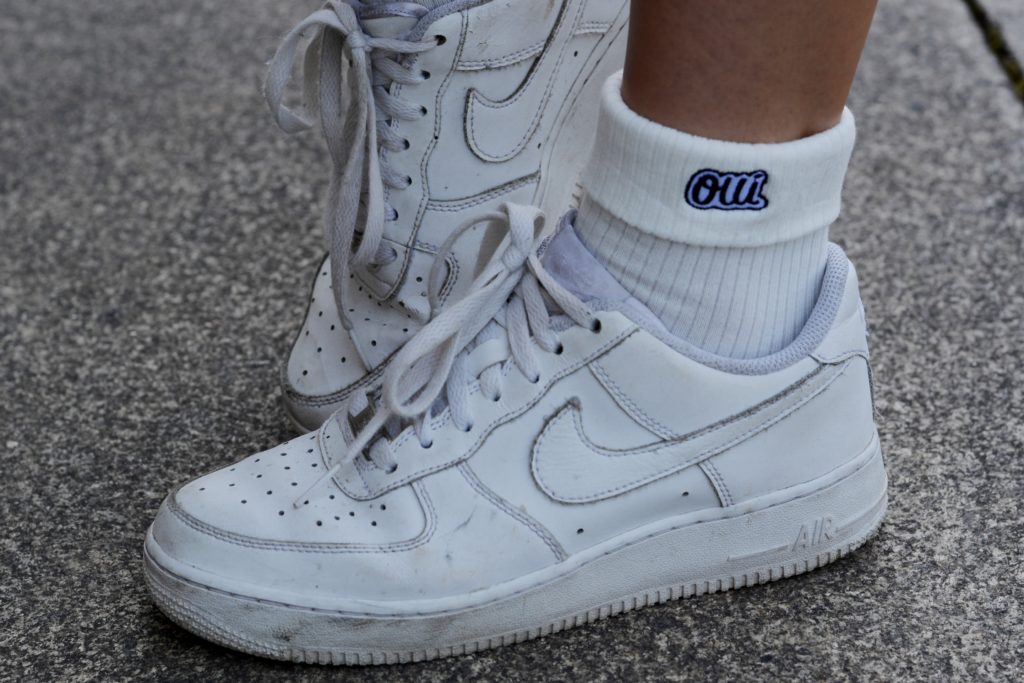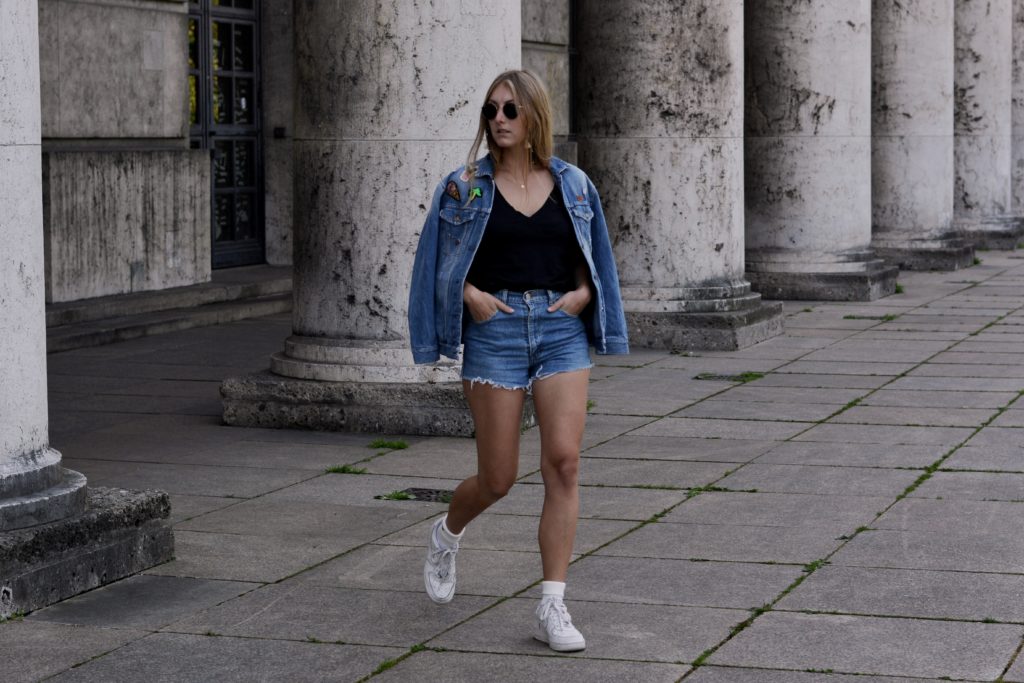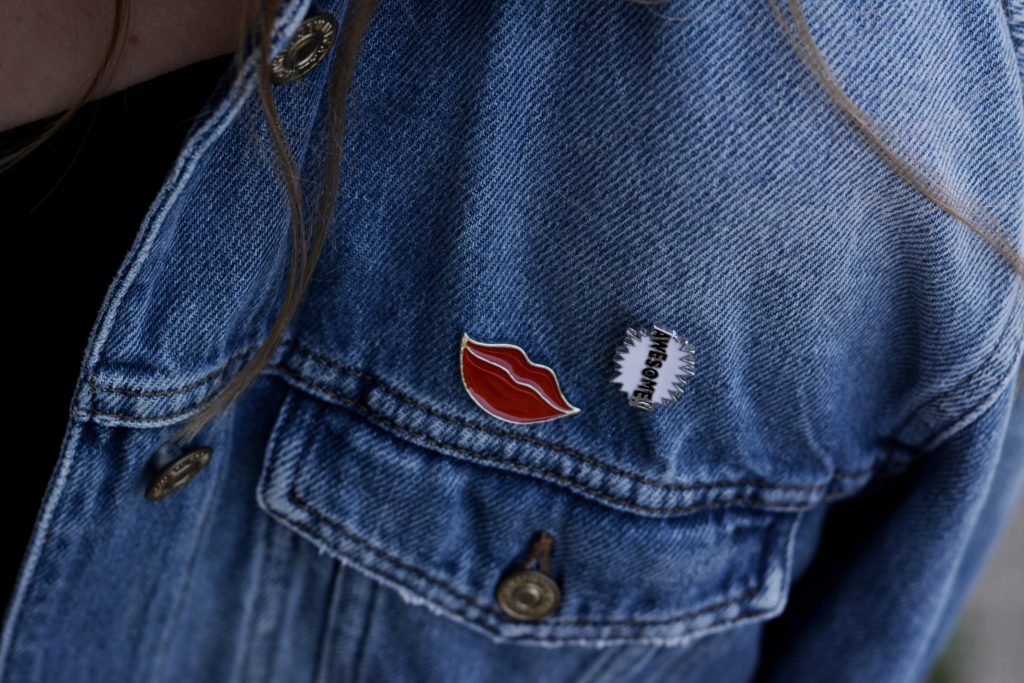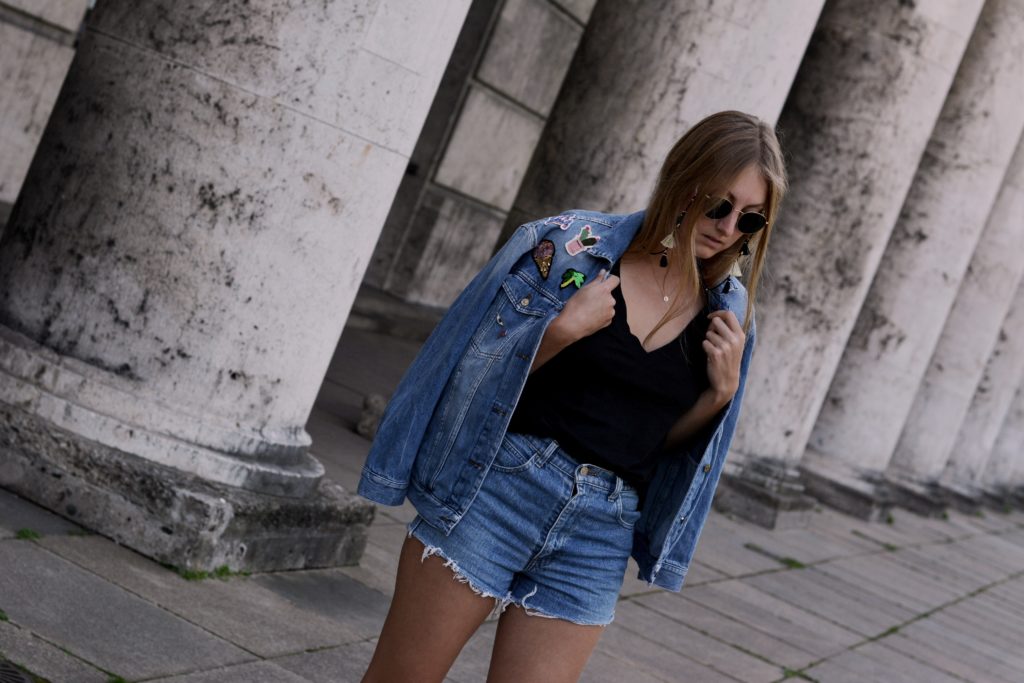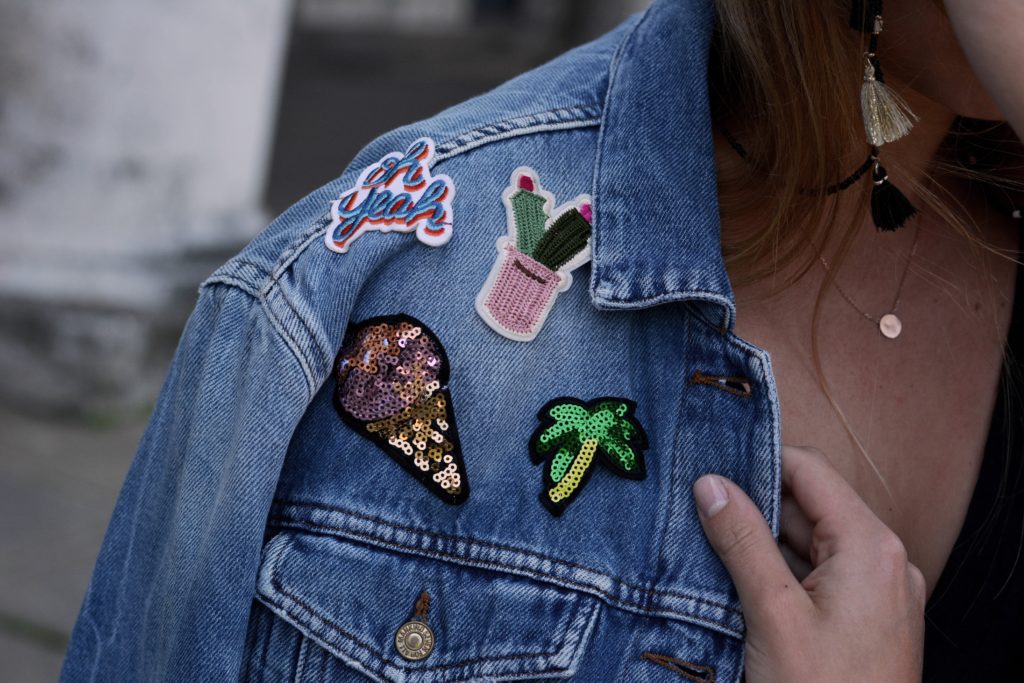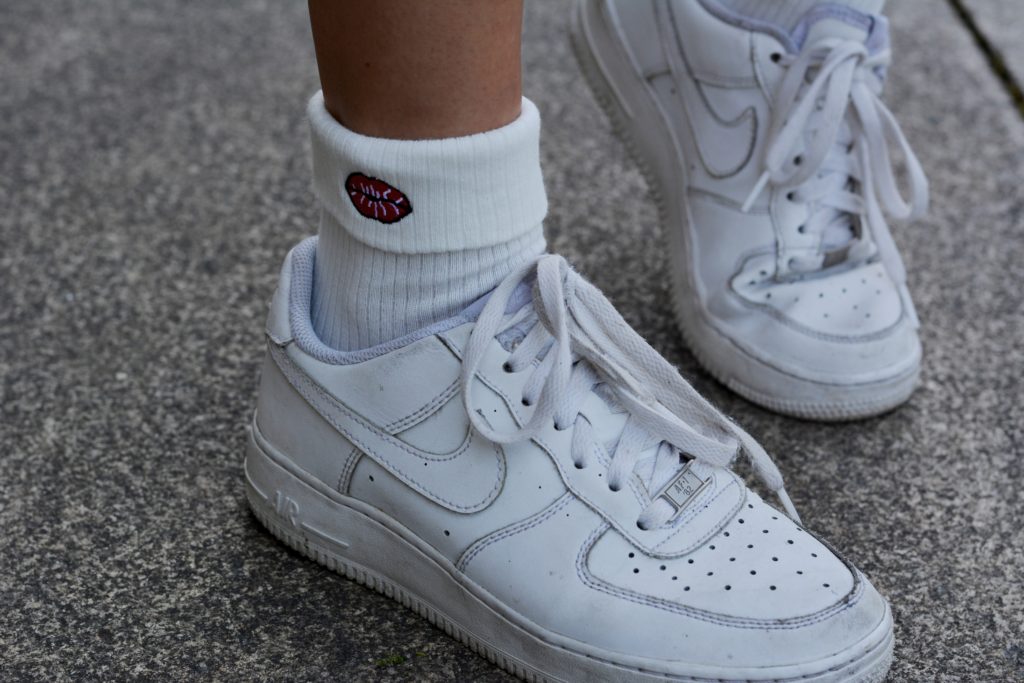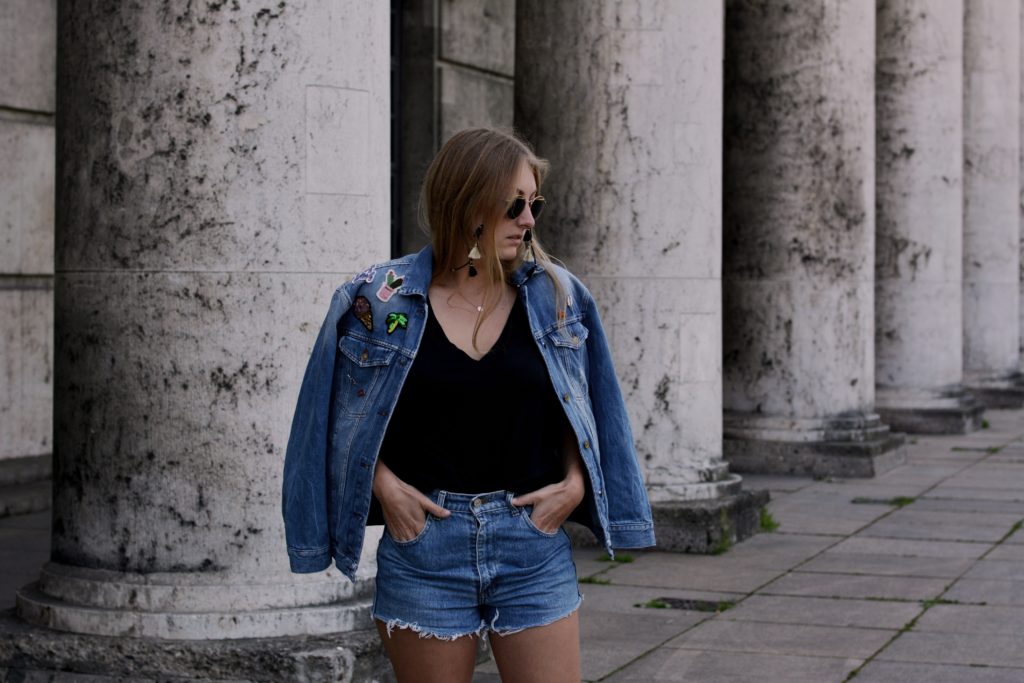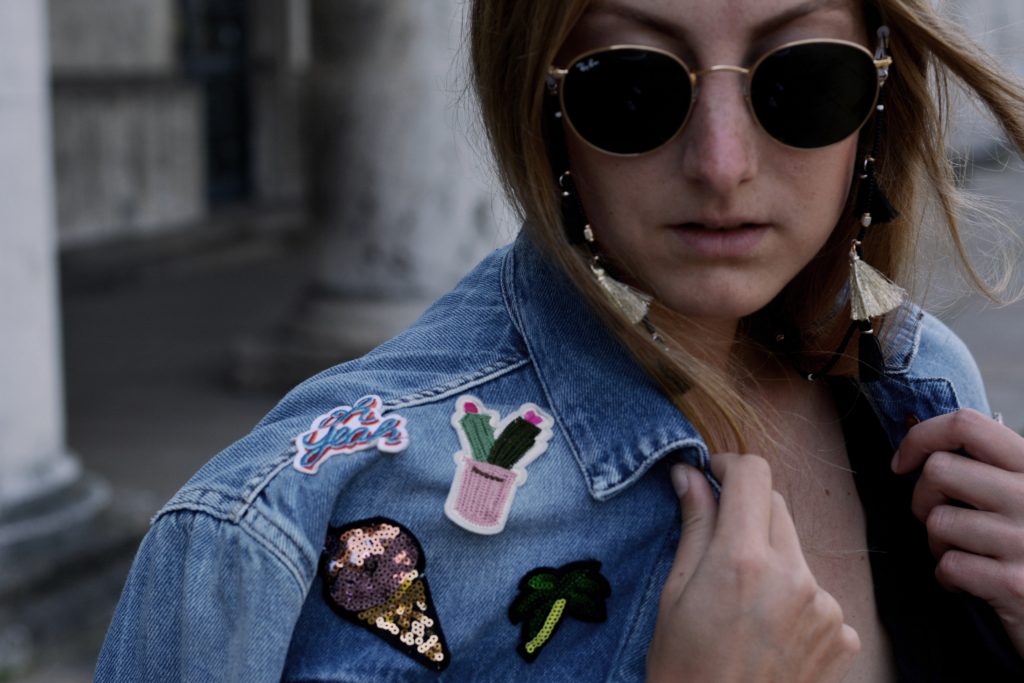 Pins/Pins: SuperCalé* (same here and here) 
Patches/Patches: SuperCalé* (same here, here, here and here)
Socks/Socken: SuperCalé*
Sunny cord/Brillenband: SuperCalé*
Jacket/Jacke: 7 for all mankind (similar here)
Shirt/Shirt: LNA (similar here)
Sunglasses/Sonnenbrille: Ray Ban
Sneakers/Sneaker: Nike
Shorts/Shorts: Esprit (similar here)
*Sponsored by SuperCalé