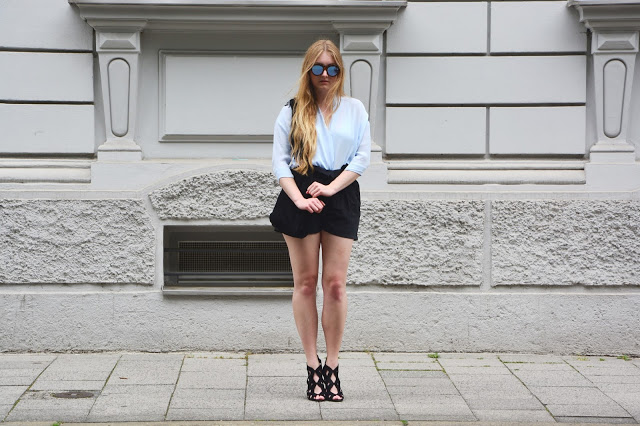 Hi guys, I hope you had a nice week! Last weekend I have been to Southside Festival and again had a great time there. So next year the festival will definately be on the timetable again. See you there maybe?
Well now let's talk about today's outfit. I wanted to show you one that I would wear for one of those rooftop parties. In Madrid I enjoyed several of those and I sometimes wish I could do a semester there again. I had the best time there together with my friends and flatmates and I miss them all a lot! Well I though this look with shorts my Kora Rae Cameilla blouse (get yours here), black Zara high heels and mirrored Le Specs sunnies would fit such an occasion perfectly. It is both – comfy and chic at the same time and isn't this how we all want to enjoy our evenings?
Unfortunately this weekend I will probably not be able to enjoy one of those as I am lying in bed having a bad cold but maybe next weekend I will be more lucky! And soon I will be in Berlin for this year's fashion fairs. I am super excited already and will of course keep you updated – so stay tuned my loves!
xx Feli
Hi Leute, hattet ihr eine schöne Woche? Letztes Wochenende war ich wieder beim Southside Festival und es war wieder einfach unglaublich dort. Nächstes Jahr steht das Festival also auf jeden Fall wieder auf dem Plan – vielleicht sieht man sich ja dort?
Und jetzt zum heutigen Outfit: ich habe mir gedacht ich zeige euch heute einmal einen Look, den ich genau so auf eine Rooftop Party anziehen würde. In Madrid war ich auf einigen solcher Parties und was gibt es Schöneres, als sich vom lauwarmen Abendwind die Haare zerzausen zu lassen und dabei von weit oben die Lichter der Stadt zu bestaunen? Und das heutige Outfit erinnert mich irgendwie genau an dieses Feeling. Shorts, meine Kora Rae Cameilla Bluse (hier erhältlich), schwarzen Zara High Heels und verspiegelte Le Specs Sonnenbrille – gemütlich und trotzdem schick und damit genau das richtige für einen solchen Abend.
Leider liege ich total verschnupft im Bett und werde dieses Wochenende wohl keinen solchen Abend verbringen können, aber dann eben nächste Woche! Und bald bin ich zur Fashion Week in Berlin und wirklich schon super aufgeregt! Ich halte euch natürlich auf dem Laufenden!
xx Feli
THANK YOU!